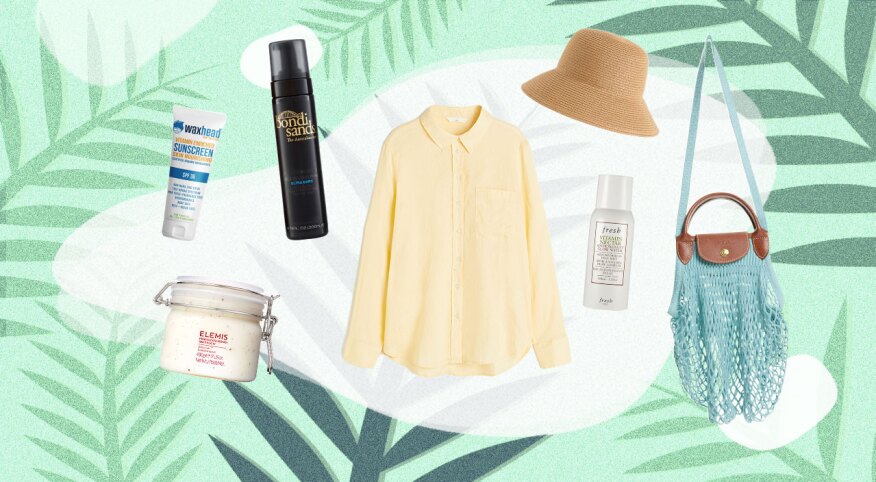 Every season has its calling card. Warm breezes and whiffs of jasmine belong to summer. Navigating these steamy months requires a slower pace and relaxed expectations. It's summer, and there's a soundtrack playing in the background. No need to rush or think too hard. Just breathe deep and enjoy. These few suggested items may help you feel good and look good in the process. Play on.

Smooth operators

Coast to coast, summer demands a backdrop of smooth skin. But as we age, our cells turn over more slowly. Layers of dead skin cells build up, contributing to dry patches, flakiness and even wrinkles, says award-winning makeup artist Casie Lucas. Gently exfoliating with skin-sloughing scrubs rather than loofahs and other bacteria-carrying sponges is the best path to smooth summer skin. To buff your body, choose from: Kiehl's grapefruit-scented Gently Exfoliating Body Scrub ($38, kiehls.com), Elemis Frangipani Monoi Salt Glow ($51—$68, us.elemis.com) and Origins' best-selling Ginger Body Scrub Smoothing Body Buffer ($48, origins.com).

Summer breeze

Easy, breezy days on the beach or backyard deck call for a light, breathable layer that effortlessly adds chic and maybe even a bit of camouflage. Rising to the occasion is the loose and long-sleeved linen shirt, which can be tossed over all things summery — from a slip dress and halter to a sports bra and swimsuit. Styles that typically produce outstanding results include Gap's Linen Boyfriend Shirt in a range of solids like Wind Blue and Purple Lotus along with a couple of cabana stripe options ($55-$70, gap.com). H&M's linen shirt shop is stocked with airy organics and linen-blend selections in a rainbow of solids and the occasional print ($15-$40, hm.com/en_us). Zara delivers some edgier styling with deep cuffs on its 100% Linen Shirt and with back-button detailing for a hint of southern exposure on the Buttoned Linen Shirt ($46 each, zara.com).

Let the sunshine in

But put on your sunscreen first! For recreational purposes, the zinc oxide and titanium dioxide sunscreens we dabbed on our noses while listening to the 5th Dimension are again being recognized for their superior effectiveness by the Food and Drug Administration and the watchdog nonprofit Environmental Working Group. And those sky-high SPF values? FDA experts caution they may provide consumers with a false sense of security about the level of protection they're actually getting. For its part, the EWG's annual Guide to Sunscreens advises skipping spray-on sunscreens, a position now endorsed by the Australian government, due to wind interference and spotty application techniques.

Instead, smooth on convenient sunscreen sticks or apply a shot-glass amount of mineral-based sunscreen lotions like these to your entire body every two hours: Blue Lizard Sensitive Mineral Sunscreen Stick, SPF 50+ ($10, target.com), Waxhead Sun Defense Zinc Oxide Vitamin D Enriched Sunscreen Lotion, SPF 35 ($34, gowaxhead.com) and Coppertone Sport Sunscreen Stick, SPF 40 ($13, CVS.com).

You can leave your hat on

When it comes to summer, Joe Cocker and Randy Newman had the best advice: You can leave your hat on. Whether you're headed to the pool, beach or farmers market, adding a hat provides an essential level of protection for your hair and skin — plus bonus points for style.

As coastal grandmas can attest, the bucket hat packs plenty of appeal whether in neutral or pastel straw ($13, hm.com/en_us) or in sturdy canvas with frayed edges ($10-$20, oldnavy.com). For more coverage and the drama of a wider brim, look for a tightly woven straw style like the Janae Straw Sun Hat from California-based Brixton ($35, nordstrom.com).

Play misty for me

Give mature skin the extra hydration it needs throughout the day — not just when you're moisturizing in the morning and at bedtime. It's easy to become obsessed with bottled face mists that refresh and revive when you're outside for prolonged periods, running errands or need a midafternoon pick-me-up, says Lucas.

To add a burst of cooling relief, have a fling with options like Caudalie Beauty Elixir ($20-$49, sephora.com), Evian Brumisateur Natural Mineral Water Facial Spray ($8.50-$46, amazon.com) and fresh Vitamin Nectar Antioxidant Face Mist ($27, ulta.com).

Papa's got a brand new bag

And so does Mama, because we know who really gets stuck carrying all those random odds and ends. Summer's essential bag looks like these lightweight totes — open and airy so you can take them to the beach without bringing sand home with you, but also chic enough to pair with denim and sundresses. Most collections offer a range of neutrals such as henna and straw as well as pastels of lilac and lagoon aqua. Sizes and price points vary to fit your need and budget. Some to consider: Old Navy's Straw-Paper Crochet Tote Bag ($12, oldnavy.com), the Crochet Tote from Bloomingdale's exclusive Aqua collection ($68, bloomingdales.com) and the sturdy cotton and leather Le Pliage Filet Knit Shoulder Bag by Longchamp ($110, nordstrom.com).

Styling tips: Tuck small items that could slip out through the open weave into a clear plastic makeup bag. Or take a page from the Longchamps stylists and tie a printed, summery scarf around the contents then artfully drape the tails over the edge.

Here comes the sun

When you live in Florida like I do, everyone assumes you are a sun worshipper with a year-round tan. That can be hard to live up to if you are fair-skinned with a desk job. But it's alright. Self-tanning products can create the illusion of a tan without the ultraviolet exposure. Throughout the years, three brands have become the go-tos for our household, and they are all well-represented on "best" lists from reliable sources like Allure magazine, The New York Times and CNN. Depending on the occasion, advance notice and disposable income of the moment, these are the three we lean into:

Bondi Sands: The Aussies know a thing or two about tans and deliver a do-it-yourself version in the Bondi Sands Self Tanning Foam. With a neutral undertone that works well on a range of skin tones, it comes in three shades and develops in one to six hours ($26, ulta.com). Jergens: The convenience of finding Jergens Natural Glow Daily Moisturizer at most drugstores makes this a fan favorite. Its built-in moisturizers are well-suited to mature skin, but keep in mind this formulation requires multiple applications to achieve a golden glow ($12, cvs.com). St. Tropez: A quick-drying, lightweight mousse, St. Tropez Self-Tan Express Bronzing Mousse lets you customize your color from light tan to deep bronze in one to three hours. Just shower off once you've reached your desired glow ($36-$46, sephora.com).

Now you're all set to look and feel your best throughout the summer months ahead!

Have you ever tried any of the above? Let us know in the comments below.