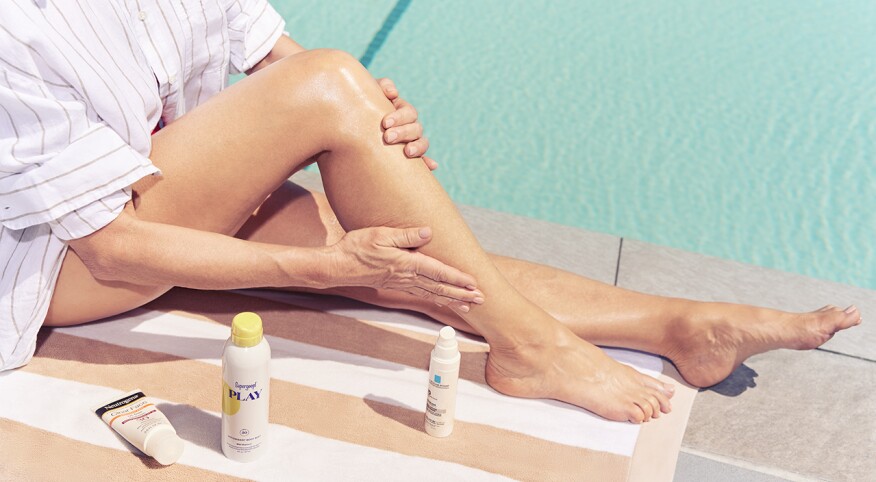 Once, on the way to a beach vacation, I realized my then-boyfriend and I weren't going to get there before sundown — so I asked him to pull the car over. We found a grassy hill not far from the road, I fished a towel out of my suitcase and proceeded to spend the next hour lying down in my short shorts and cropped top "getting some rays" before we headed to the summer house we'd rented.

Well, at least I didn't, as many of my contemporaries did, slather on baby oil and use a sun reflector. But the sun, the glorious sun, how I worshipped those warming rays and the pretty tan that gave me the healthy glow that my naturally pallid complexion lacks.

Remember those 1960's surf movies — like Where the Boys Are and Beach Blanket Bingo — that encouraged us to frolic in the sun? Turns out Annette Funicello and Frankie Avalon weren't as headless as most of us; they wore sunscreen and full body makeup to avoid getting sunburned.

Porcelain-skinned stars such as Julianne Moore, Nicole Kidman and Gwen Stefani have always protected their skin, opting for long-sleeved wetsuits, hats, giant beach umbrellas and sunglasses. Alas, I now have brownish sunspots on my face, chest and legs, commemorating my hedonist past. In the meantime, I've learned to take precautions to prevent more skin damage (or skin cancer!) and how to fake that healthy glow.

According to basic rules set by the Skin Cancer Foundation, the first line of protection is sunscreen, and you'll need a vocabulary lesson before making a purchase. SPF refers to "sun protection factor," and the number tells you how long the sun's ultra-violet B rays (UFB) would take to redden your skin when using a particular sunscreen compared to the amount of time without it. SPF 15, for example, indicates it would take you 15 times longer to burn than if you weren't wearing sunscreen.

"Broad spectrum" means that the sunscreen contains ingredients that protect against UVA as well as UVB rays. No sunscreen is waterproof, but "water resistant" sunscreens work for 40 to 80 minutes and need to be reapplied when you're in the water.

The Skin Cancer Foundation advises that everyone use a broad-spectrum sunscreen of SPF 15 every day, and SPF 30 or higher for extended outdoor activity. "Sunscreen helps prevent wrinkles, brown spots, photoaging," says New York City dermatologist Mary L. Stevenson, M.D. "It's the cheapest cosmetic thing you can do for your skin."

I have sensitive skin but have finally found a sunscreen that works without causing breakouts, EltaMD UV Clear Broad-Spectrum SPF 46. I'm also a big fan of Ilia Super Serum Skin Tint SPF 40 Foundation, which, being tinted, eliminates the need to use sunscreen and foundation, La Roche-Posay's Anthelios UV Correct Face Sunscreen SPF 70 With Niacinamide is another nongreasy sunscreen with the extra benefit of ingredients that help correct past sun damage. Apply moisturizer first, then sunscreen — if you're putting on makeup, wait another few minutes before applying your foundation. If you're using a spray sunscreen, however, you can use it after you've applied your moisturizer and makeup, with the added benefit that it's easy to spritz on throughout a beach day.

Neutrogena's Ultra Sheer Face Mist Sunscreen is lightweight and oil-free. If you like a spray, Supergoop Play Antioxidant Sunscreen Body Mist SPF 50 is nonaerosol, contains hydrating glycerin and is water resistant. Black Girl Sunscreen Lotion SPF 30 is formulated especially for melanated skin, and is infused with natural ingredients, including jojoba, cacao and avocado.

For a bargain, you can't beat Hawaiian Tropic. This old favorite is available in lotion or spray in SPFs going up to 50. The familiar floral scent will bring back memories of childhood family vacations — and teenage beach parties.

For after-sun lotion to soothe sun-ravaged spots, you might try Sun Bum Cool Down After Sun products in spray, lotion or gel. They contain cocoa butter for moisturizing, and tea tree oil, which has anti-inflammatory benefits. Benton Aloe Propolis Soothing Gel works to calm the skin and helps retain moisture; it's also good for people with sensitive skin.

Do not, even once, hop into a tanning bed — just one indoor tanning session before the age of 35 increases a person's risk of melanoma by a whopping 75 percent, according to the Skin Cancer Foundation — and permanently ages the skin.

Choose sunless self-tanners like Dr. Dennis Gross' Alpha Beta Glow Pads for Intense Glow, which is a streak-free, exfoliating self-tanner that tightens pores and helps reduce sunspots. I apply the pads lightly to my face, in a circular fashion, before going to bed, to make sure I don't get too much color and the result in the morning is a luminous glow.

Jergens Natural Glow is also a favorite for decades. It comes in spray, lotion and mousse, and in different strengths. I like the medium lotion, which I apply nightly on my legs, chest and arms until I build up my desired color.

There are hats that are a big help along with these potions and sprays. Coolibar has toppers in all shapes and sizes, as well as a sharp clothing line, with UPF sun protection that never washes out.

UPF stands for Ultra-Violet Protection Factor, and the Skin Cancer Foundation recommends choosing clothing with a rating of at least 30. Special clothing and hats add to protection — they don't replace sunscreen. Look for styles made by Cabana Life 50-Plus UPF Clothing. The brand's cofounder is a skin cancer survivor, inspiring the company's top-to-bottom fashions offering overall coverage and protection, including chic cover-ups and maxi dresses.

Or, like me, you can wear a long-sleeved caftan, shawl, sunglasses, double layers of SPF 50 sunscreen and a sun hat the size of an umbrella.