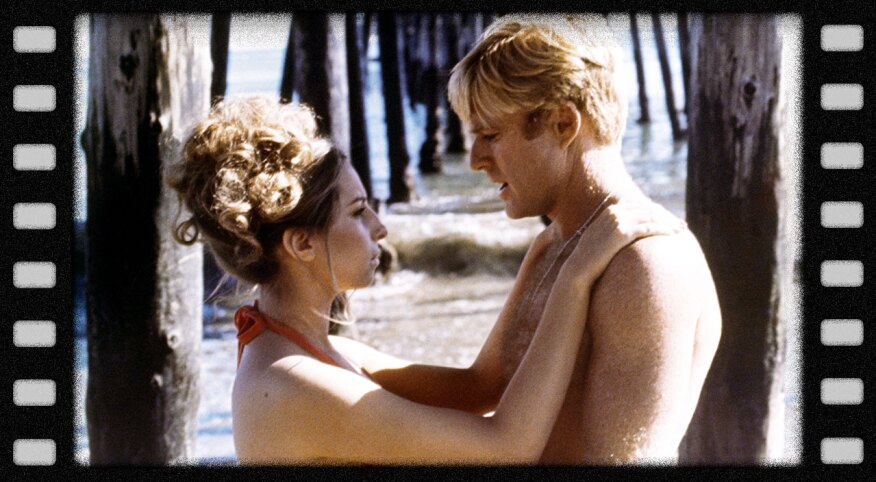 I was 14 when The Way We Were premiered a half a century ago, and I thought Robert Redford was the most beautiful man on earth.

At the time, I'd had one short-lived romance, more of a crush. I was looking for a relationship blueprint and got swept up by the make-believe love affair between Redford's Hubbell Gardiner and Katie Morosky (Barbra Streisand), but my teenage mind could not wrap itself around why they just could not keep it together.

So what if they came from two different worlds? They loved each other, and to quote songwriters John Lennon and Paul McCartney, "Love is all you need," right?

Well, after many decades, I can attest that love is indeed not all you need.

In celebration of this Oscar-winning film's milestone, I rewatched The Way We Were. Decades later, I spotted all the red flags I missed as a teen. If only I'd paid as much attention then to the movie as I did to beautiful Robert, it would've saved me a lot of time and trouble in future relationships.

Opposites do attract — up to a point. Curly-haired Jewish activist Katie could not resist blond, blue-eyed WASP Hubbell's good looks, and he was admiring of her activism and independence.

After a while, though, dissimilarity wears thin. Hubbell's penchant for not challenging himself professionally whipped Katie into frothy disappointment. This, while she was an ardent political activist and protester, a passion and focus that exhausted her husband.

During my young preppy years, I had a dalliance with Mr. Bohemia, who was so cool, until I started to see his counterculture as counterproductive to my penchant for nice things, nice places and general congeniality.

One-sided hero worship does not a healthy partnership make. "You'll never find anyone as good for you as I am, to believe in you as much as I do, or love you as much," Katie told Hubbell one of the many times he tried to break up with her. She always looked at him as though she couldn't believe he was with her; Hubbell looked at her as though he too couldn't believe he was with her either.

I remember being on the receiving end of that look from a tall, handsome model I met in my early 20s when I worked at an ad agency. I flirted each time he came to audition and ignored that he acted as though he was doing me a favor just by saying hello. (I was preoccupied with his Redford-esque face.)

After several encounters, when it was clear he didn't remember my name, I started ignoring him.

Some couples can only exist in a bubble. There are those who enjoy each other's company and together also have an active social life. Then there was Hubbell and Katie.

When he invited her to join his crowd of socialites, Hubbell's advice — "Something terrible might happen. You might have a good time."— was never the game-changer he'd hoped it would be. Katie never looked more miserable than when she had to share her husband with his friends, whom she deemed superficial.

When you can't leave the house without getting into a fight, it may not be the outside world that's the problem. I wish I would've paid closer attention to that scene. I'd have broken up sooner with the guy with whom I observed, "If only we lived on a desert island, we'd get along great." Yes, your friends who loathe your partner can definitely put stress on a relationship.

Politics can ruin a perfectly good union. In the case of Hubbell and Katie, he was apolitical. As he put it: "I can't get negative enough. I can't get angry enough. I can't get positive enough." This somehow seemed to make things even worse for his partner who was woke before the concept of "woke" even existed.

As we saw with the 2016 election and beyond, passionate opposing views can make enemies out of friends, colleagues and even family members. With the exception of James Carville and Mary Matalin, the havoc it can wreak on lovers is immense. I was never so happy that my husband, Neil, and I were on the same side of the aisle.

Old love (lust) can be renewed. Sometimes, this can be a good thing. In fact, after her divorce from Rudy Giuliani, Donna Hanover wrote a book called My Boyfriend's Back about reuniting with her long-lost high school sweetheart.

Other times not so much. (Get your scorecard ready.) In college, Hubbell was with Carol Ann (Lois Chiles). After graduation, she moved on to his best friend J.J. (Bradford Dillman) and Hubbell married Katie. Years later, when both couples were simultaneously having trouble in their marriages, Hubbell and Carol Ann consoled each other over chilled champagne between hot sheets.

As a teenager, this was one scenario I actually took notice of — and not for the better. It made me believe that love (or at least attraction) never totally dies. I've always been wary of the exes of my significant others, especially since I've had some of my exes express that they've still thought of me; and worse, because I've thought of them.

Love can make us see someone as we want them to be, not as they are.

Katie: "Are you still a good gentile boy?"

Hubbell: "I never was."

It may have worked for Gwyneth, but conscious uncoupling is not for everyone. Sometimes a break has to be clean. Hubbell tried leaving Katie a number of times but after much pleading on her part, he'd always give things another try.

In a 1999 documentary about the film available on YouTube, Streisand said Katie finally had to accept it was time to let him go. The reality was that he wanted to work in Hollywood but but couldn't get a job if he remained married to a politically subversive wife.

When I broke up with the man I thought I was going to marry, he wanted to remain friends. I, however, thought that in order to move successfully into the future, I had to let go of my past and make a clean break — even to stop sending holiday cards. A year later, at the age of 23, I met Neil. We just celebrated our 35th wedding anniversary.

In honor of this movie's golden anniversary, Applause publishers released a behind-the-scenes book titled The Way We Were: The Making of a Romantic Classic by Tom Santopietro. Yes, this half-century-old film seems to still have an appeal for everyone who has ever loved deeply, yet not wisely.

What did you think of "The Way We Were"? Let us know in the comments below.