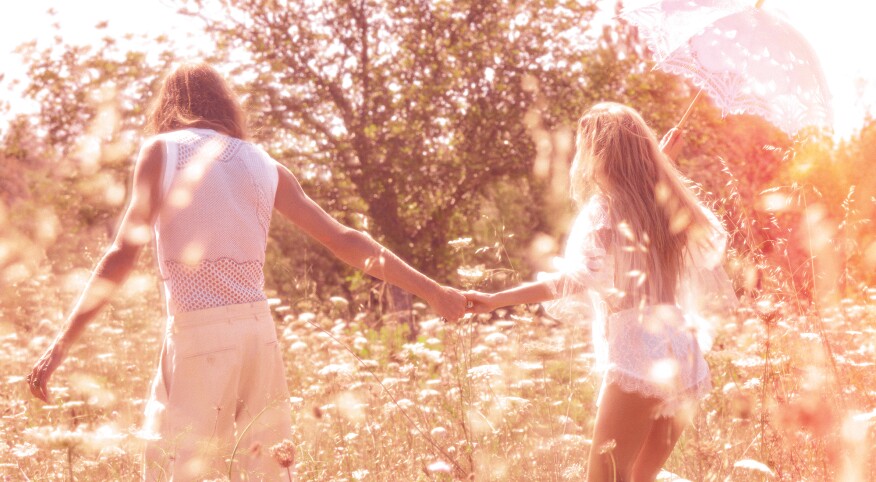 Turning 60, it felt like now or never. To heal what happened 40 years ago. To quiet the regret that streamed like a slow bleed through my life because I had missed the opportunity to see my teenage love again, before he died at age 23.

"Why them, not me?" had become my automatic response to Facebook posts and magazine articles featuring high school sweethearts reunited as friends, lovers or spouses. Their smiles and hugs looked as comfortable as their oldest pair of blue jeans.

I learned to brush away self-pity with a stroke of shame.

Because when I sought a reunion with my teenage love after college, it was too late. I'd heard the word "cancer" through the withering high school grapevine but not the key word: "terminal." I missed a last chance to see him by four months.

Seven years before, Robbie and I had been inseparable. In our respectable New York suburb, he was the ultimate "cool" boy — a most unrespectable catch, according to parents. I was heading into ninth grade when I noticed the tall, blond basketball player a class ahead of me. He smoked Marlboros, hung out with druggies and roamed the neighborhood free of curfews.

To me, he was perfect.

I was pretty enough to capture his attention with my wavy brown hair, shy smile and peasant shirts. With two big hitches: a disapproving mom and dad. First love became a covert operation. Despite the occasional leak, we pulled it off for a year.

Sure, we underwent the usual teen drama, but we also shared unabashedly — about his father who left home, drank too much, imposed his authority with his fists. About my parents, a marriage that seemed loveless, and the loneliness swallowing me at home.

How I would have loved to tell him, "You were my first understander, the measuring tape of emotional connection for all that came after."

Experts agree that the unheard voice in one's first romantic relationship is a cliffhanger. As Cynthia Post, a couple's therapist in Silver Spring, Maryland, explained: "It's in closure — stories with a beginning, middle and end — that we understand something more about ourselves. When that doesn't happen, we are left with a question mark within."

For decades, I heard that nostalgia and idealization ran away with my reason. But Post told me she heard something else: complicated grief. An intense, prolonged response to death that defies normative cultural expectations about healing.

Yes, it can last for decades.

None of my many efforts had brought closure. Not my correspondence with his mother after his death, or the doctoral thesis I wrote on literary responses to loss and grief. Neither therapy nor talks with my oldest friends who grew up with us. Ditto for marriage (that ended in divorce), two children and two more intimate relationships.

Yes, I moved ahead with my life, but inside that early loss had sunk into my core.

I was hardly alone. Through MRI brain scans, neuroscientist Helen Fisher, best-selling author of The Anatomy of Love, documents how romantic love at any age can act in the brain like alcohol and cocaine.

As Fisher writes: "Even a happy lover shows all of the characteristics of an addict. Foremost, besotted men and women crave emotional and physical union with their beloved. This craving is a central component of all addictions. Lovers also feel a rush of exhilaration when thinking about him or her, a form of 'intoxication.' As their obsession builds, the lover seeks to interact with the beloved more and more, known in addiction literature as 'intensification.'

I know this intensity. I will never again feel the delirium of the first dose.

I'm confident in my theory about why Robbie never called me. It involves his other teen romance — with risk. He was busted for pot, arrested for illegal driving, summonsed to juvenile court. Just before his expulsion from high school, I called it quits. His degree of "cool" became beyond me. One summer night the police arrested him in my driveway, in a drug-addled daze, when my parents reported "an intruder" on the roof.

Which explains my hesitation to contact him. Yet when the longing to see him — to review our past together as newly minted grown-ups — overwhelmed me, I had delayed too long.

Fast forward to age 60. Driven by a need to find closure and peace with this relationship, I decided to embark on a memoir of first love, to write my way to a story that included an end.

So, I quit my job in suburban Maryland and headed to Maine. There I would reconnect with six summers at sleepaway camp where, in those same teen years, Mother Nature gifted me a spirit of freedom unknown to me in my tidy, genteel suburb.

Maine, it turned out, was the gift that kept on giving.

With the internet at my fingertips and my teen diaries by my side, I started to wonder, Where is Robbie's sister?

I knew her from two letters we exchanged after his death. In 12 typed pages, she described how his battle with cancer remade him. How a responsible son and loving brother reemerged from a reckless and rebellious young man.

Her letter was a singular source of comfort, my faith in him validated by his final caretaker.

Imagine then my surprise when in a local newspaper I found his sister's name. She, too, had relocated to Midcoast Maine — a mere 20 miles down one country road from the town I now call home.

Today, we are like sisters. Companions for long walks in the woods, or coffee at the local bakery. Our memories of Robbie form an interwoven tapestry more complete than I ever could have imagined.

Just like first love, life's mystery blew reason to smithereens. I got my later-in-life reunion after all.

Have you lost a first great love? Let us know in the comments below.