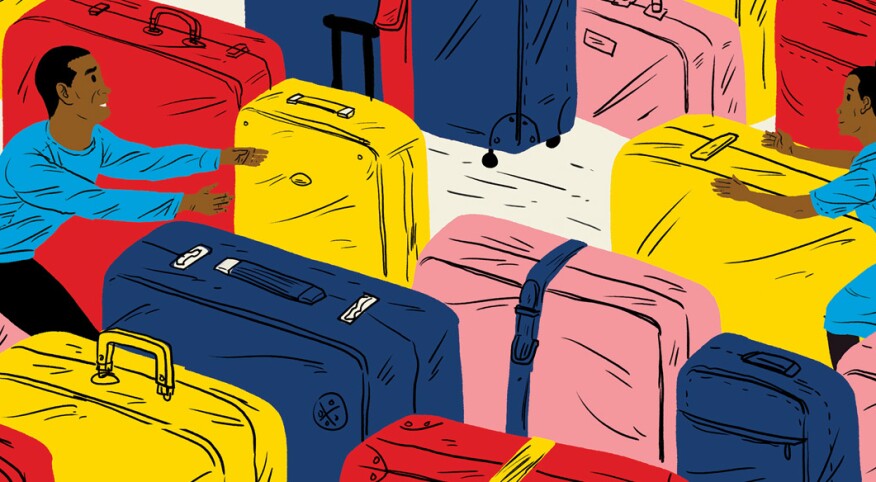 When I met Luis, I'd been divorced for two years. I'd been married for over 20. I'd spent the last quarter of my marriage trying to stitch together a relationship that had clearly torn beyond repair. The scars from a failed pregnancy, challenges with my children, my spouse's affairs, two careers that didn't turn out as I'd planned, and a lifetime of triumphs and failures were etched across my face. When I first agreed to go out with Luis, I wondered if he, too, could feel his life story in his aching joints and if he also had gained confidence from the silent wisdom that comes from experience, survival and time.

I may have seemed a bit worse for wear, but the truth is that when I started dating the man who would become the second love of my life, I was in my prime. I'd never been better positioned to love myself, and as a result, accept another person for who they are.

Luis is five years older than me. He was married twice. His first marriage lasted only a year, and his second wife passed away at too young an age. He has no children, something he regrets, and like me, he never thought he'd find love again after age 50. Remember that 1986 report in Newsweek that said an older, single woman had a better chance of dying in a terrorist attack than ever getting married again? You'd be amazed how many of us do. I never saw Luis coming, and I was a total surprise to him, too.

When I was dating my husband in my early 20s, I remember trying to be the woman he wanted me to be, and not hesitating to ask him to make major changes. I grew my hair long. I stopped traveling for work. I sometimes stayed quiet when his work buddies made misogynistic comments. He became a vegetarian for me and quit smoking. He watched less football, and he spent less time with certain family members who I didn't gel with.

This time around, I didn't consider changing anything about myself. The first time I went on a date after divorce, I wouldn't let my daughter help me with my hair because I didn't want to have to try to impress a new man. "He's going to have to take me as I am, warts and all," I told her. Eventually I was able to see that getting dressed up for a man isn't the same thing as changing the core of your being (lucky for Luis!).

I talk a lot. I'm a neat freak. I am still struggling with trying to understand my own religion, and I tend to fiercely defend my children even when they are in the wrong. I know these things about myself. They're just a few of my most challenging qualities that have been a part of me my whole adult life. I have enough self-awareness to keep these qualities in check, but I either cannot or will not take steps to change them. I like being outgoing. I have no intention of stopping my never-ending spiritual journey. And I will defend those little monsters of mine to the end of the earth and back because I am a fierce, loving mama bear.

Luis works too hard, maybe to fill the void from not having children. He gets frustrated too easily and lets stress affect his health. He has a vacation home that I would completely redo if I could. But like his habits and attitudes, the house is a part of his past, and trying to change it would mean I'm trying to change him.

Twenty-year-old me would have seen Luis as a project. A diamond to be polished. But middle-aged me is no gem herself. No matter what changes my first husband and I made for each other, our true selves eventually took over, and the very qualities we tried to change in each other just became more pronounced with age. I'd rather find someone I can embrace from the start — so that the only surprise is how much you can love someone the second time around.

I carry a lot of baggage. Everyone my age does, including Luis. At times when I'm patient while Luis is fuming over something trivial, or when I help clean up the vacation home after another romantic weekend getaway, Luis is reminded that he can trust me to always be there to love him. And when Luis recognizes my shortcomings and decides to love me all the more for them, I feel not just loved, but safe. I know that when he says he loves me, he really means it, because he knows the challenging parts of me just as well as the wonderful.

As Iris Krasnow, author of Sex After ...: Women Share How Intimacy Changes as Life Changes, puts it: "Starting over in a romantic relationship after you've lived a few decades, accumulating baggage from raising kids, divorce or death of a spouse and just dealing with aging is a tough passage. [But] while helping each other lighten your past loads, you get to build something fresh together."