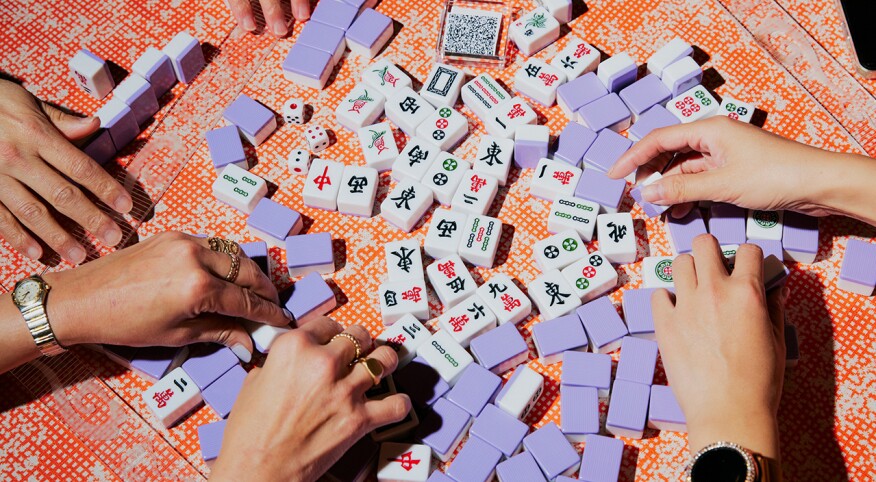 My love for mah-jongg began with viewing social media posts of friends, seated around a table covered with tiles. I imagined the camaraderie of me playing poker, though without cigars and maybe with glasses of wine. As I work from home, I was also enticed by the idea of having companionship — and fun.

I signed up for mah-jongg lessons with Janet Heller, a retired public school principal, who organized games pairing women at tables of four whose skills — or lack thereof — complemented each other. Janet circled the room advising us which hand to pursue — craks, bams, winds, flowers, dragons or dots — from the random tiles we picked.

I learned the Charleston was not only a dance but also the first steps of passing tiles in the game.

My table of women included a judge, a retired FBI agent and a 70-year-old artists' model, who poses nude. This group of playmates was as fascinating to me as the game, as between pondering our moves the all-women group spoke briefly about our families and backgrounds.

I found myself laughing and making faces of surprise at various strategies, at someone obviously hoarding the tiles I needed, and having a great time, especially when I unexpectedly drew a wild Joker that made me a winner shouting "MAH-JONGG."

Between games, we quietly listened to the melodic shuffling of the smooth tiles clinking against each other, thought to echo the sound of sparrows. Mah-jongg is the name of this bird in Chinese, the language of the country where the game was popularized in 1880 — though some form of it has been played there since the 1300s.

In a May 2021 Time magazine interview, Annelise Heinz, the author of Mahjong: A Chinese Game and the Making of Modern American Culture, talks about how the game became a timeless hobby for an intercultural audience.

According to Heinz, who is Chinese American, "In between each round, you have a pause, where you are shuffling the tiles, or 'washing' the tiles. And it's just the right amount of time to have a little bit of conversation. I think that tempo is perfect for building new relationships. When you're in a new community or connecting across a generational divide, maybe you don't want to have deep heart-to-heart or can't have one, but you can have a little bit of conversation and over time, those rhythms, especially if you're playing with the same group of people, can build incredibly deep, long-lasting relationships."

I certainly have found new friendships that are deepening amid the rhythmic clink of the gorgeous tiles, painted with flowers and dragons. Many women grew up watching their mothers and grandmothers play the game; I did not. I discovered mah-jongg later in life, and the game has become one of my favorite hobbies, along with hiking and kayaking.

Even though this game does not involve physical prowess it certainly gives my mind a healthy workout. Mah-jongg uses the same brain power as chess, though it has added visual and tactile appeal.

Linda Feinstein, 75, told me she'd been enjoying the game since she was a child, watching her mother and aunts play in a Coney Island bungalow. After playing consistently as a suburban young mother, she moved to Manhattan and began teaching and setting up games in New York City restaurants, a ritual that became the Manhattan Mah Jongg Club.

"The women I taught became friends," Feinstein said. "When you know mah-jongg, you're never really alone."

Mah-jongg does help us sustain our health in two important ways as we age: The friendships we develop decrease the loneliness that can cut years from our lives. And this brainy sport may help keep us sharp. According to an October 2021 report in Market Business News, studies show that mah-jongg is actually recommended to the elderly to help maintain good brain health and improve memory skills.

Yoshiro Katsuura, an orthopedic spine surgeon and author of The Spine Encyclopedia, treats many older patients. He echoed these findings, "The ability to quickly solve and respond to different problems deteriorates as people grow older," he said. "Participating in games of strategy like mah-jongg can be protective against this decline. Meaningful, intellectually stimulating social engagement prevents the depression of isolation."

I look forward to my weekly game nights of warm company and exercising my brain. I've joined a subculture where instead of a secret handshake we have verbal jokes like It craks me up or May the winds be with you.

And I am grateful to have new friends with whom to share our past experiences and enjoy each other in the present, sitting for several hours around a cozy table. As our familiarity with each other grows, so does the ease of playing.

It takes a great deal of concentration to remember which suits and sequences of numbers produce the thrill of a winning hand, which I've had five times so far. The more I play the faster I can sort my tiles according to categories and adjust them during the game.

Besides being stimulating, socially and cerebrally, mah-jongg has transformed me in a larger sense. If one strategy doesn't work you quickly try another, depending on your hand. Isn't that what success in life is about?

Do any of you play mah-jongg? Let us know in the comments below.