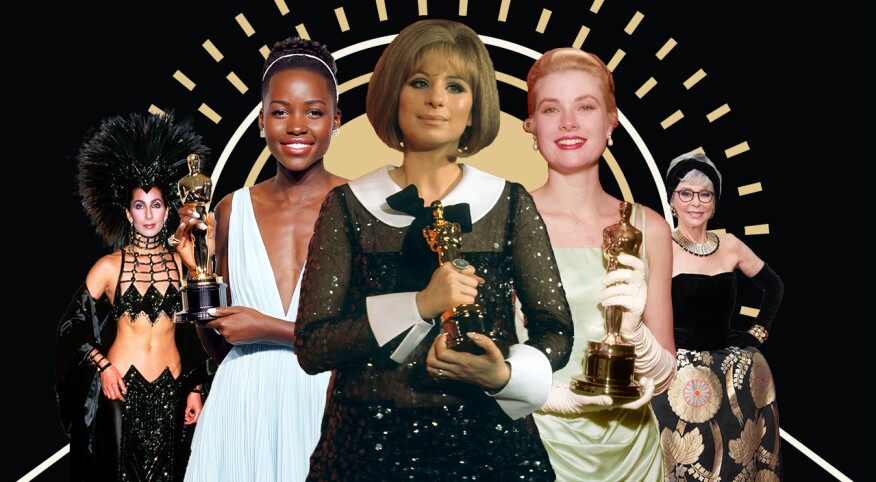 Sure, there have been some great sartorial moments on the red carpet provided by the outfits the stars wore to the Academy Awards. Who can forget the completely transparent trouser suit Barbara Streisand donned in 1969, when she tied with Katherine Hepburn for best actress for her role in Funny Girl; Cher's showgirl-worthy black headdress and bare-midriffed, jewel-encrusted costume (her "revenge" on the Academy for their refusal to nominate her in '86 for her performance in Mask); or the crystal-covered body stocking, complete with long, swanlike neck and orange beak resting on her chest, that best original song nominee, Icelandic singer Björk, wore in 2001?

But those, of course, were attention-grabbing moments (though Streisand insists she didn't know her outfit would be see-through until the stage lights hit her). Some lasting trends have been born at the Academy Awards, too.

Audrey Hepburn accepted her 1954 best actress award for Roman Holiday in a boat-necked, belted dress by Hubert de Givenchy that was both sophisticated and sweet, proving you don't have to wear something glitzy to look glamorous. In 1955, when Grace Kelly accepted her Oscar for The Country Girl, she wore an ice-blue silk gown by costume designer Edith Head that was literally fit for a princess — which is exactly what Kelly became the following year when she married Prince Rainier III of Monaco.

When Kelly wore the dress for a second time in '55, on the cover of Life magazine, she showed the world there's no shame in re-wearing a favorite outfit, even for very public occasions. EGOT winner Rita Moreno went Kelly one better when, in 2018, at age 86, she restyled the dress she'd worn 46 years earlier to the 1962 Oscars to pick up her Academy Award for West Side Story by simply making the gown strapless. And in 1999, when Sharon Stone paired her then-husband's crisp white shirt from the Gap with a glamorous Vera Wang skirt, she advanced the trend of high-low dressing.

The stunning powder blue Prada ballgown with a plunging V-neckline and a low cut back that Lupita Nyang'o wore to accept her 2014 statue for 12 Years A Slave was one of the best Oscar fashions of all times. And, her outfit made Nyang'o someone to watch not only on the screen but on the red carpet — it was influenced by a dress worn to the Oscars 45 years before, by none other than Elizabeth Taylor.

Also in 2018, four-time Oscars host Whoopi Goldberg walked the red carpet in a bold cerulean blue-splattered-with pink-and-yellow-flowers off-the-shoulder gown with pockets by Christian Siriano which, for extra comfort, she paired with Timberlane-like grey combat boots, anticipating the "ugly shoe" trend that has dominated the runway in recent years.

And then there are the trends that, instead of being born on the red carpet, are inspired by what the stars wore in their on-screen roles. With the Academy Awards just behind us, it's a good time to take a look at how styles from the movies have influenced fashion.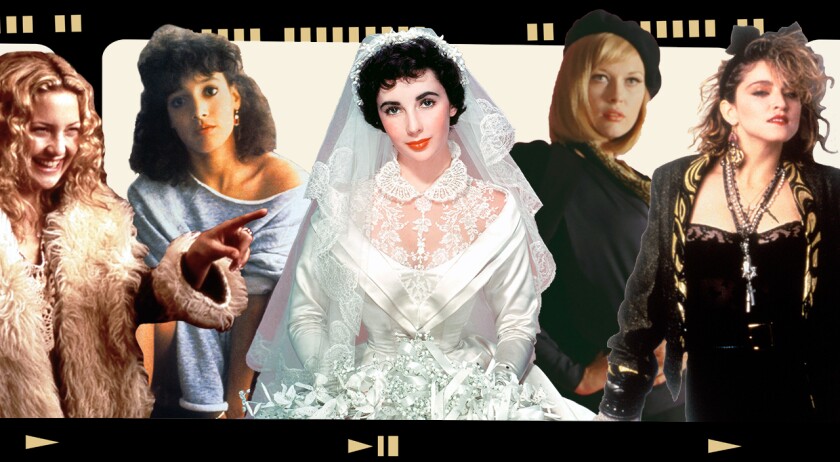 In 1994, Chanel debuted a shocking red-black nail polish, dubbed Vamp (now known as Noir Rouge), that took the world by storm — particularly after Uma Thurman sported the femme fatale nail color in Pulp Fiction. Soon there was a six-month to a yearlong waiting list for the style, which went on to become Chanel's best-selling beauty product ever.

For her role in 1950's Father of the Bride, Elizabeth Taylor wore a demure lace wedding dress, designed by the legendary Helen Rose, with a nipped-in waist, high neck and Peter Pan collar. The film premiered just two weeks after Taylor's first wedding, to hotel heir Nicky Hilton, and the studio capitalized on the star's nuptials by funding the event, at which Taylor wore another gown by Rose that was almost identical to the one she wore in the film. When a copy of the dress was made available to the public, it became a best-seller in New York bridal shops.

In the late 1930s, when women could be arrested for wearing pants and "masquerading as men," the late, great Katherine Hepburn favored loose-fitting blazers, pantsuits and, of course, trousers, on and off the screen. It was rumored that MGM was so determined to put Hepburn in dresses that they had someone steal her pants out of her dressing room while she was on the set. Instead of panicking, the star simply walked around in her underwear until her pants were returned to her. Hepburn helped make trousers acceptable for women, and in 1986, she received a lifetime achievement award from the Council of Fashion Designers of America in recognition of her influence on women's fashion.

Jennifer Beals' deconstructed off-the-shoulder sweatshirt in 1983's Flashdance ushered in the street-wear craze that's still going strong today.

The night after the French premiere of 1967's Bonnie and Clyde, a box full of berets was delivered to star Faye Dunaway's hotel room. They were a thank you present from factory owners in a small French village where the traditional berets were made. After the movie's release, demand pushed production of the hats from 5,000 to 12,000 a week. Life magazine declared that "Dunaway did for the beret what Bardot did for the bikini."

In 1977, Woody Allen had to fight with his Annie Hall costume designer, who insisted that Diane Keaton couldn't wear the quirky mash-up of masculine and feminine styles from her personal wardrobe. Allen protested that "Keaton's a genius, let her be." Soon women everywhere were mimicking her big hats, oversized tweed jackets worn over feminine skirts, wide belts, ties and waist-accentuating pants.

In 1985, Madonna started the underwear-as-outwear craze by letting hers hang out in Desperately Seeking Susan.

Seeing Meryl Streep in 1985's Out of Africa was all that was needed to usher in a safari clothes craze, and soon cotton shirts, wide skirts, breeches, billowing linens and leather riding boots were seen everywhere from New York subways to California cocktail parties.

In 2000's rock and roll epic, Almost Famous, Kate Hudson's glamorous groupie Penny Lane helped repopularize the hip-hugging bell-bottoms, shearling-trimmed coats and peasant blouses worn in the 1970s. By the following year, haute couture designers Yves Saint Laurent, Tom Ford and Dolce & Gabbana had all jumped on the boho bandwagon, debuting the hippie looks that are making a second comeback these days. (Lily Tomlin's character in TV's Grace and Frankie looks like she never stopped wearing them.)

Cat-eyed glasses, with their flattering oval shape and upturned rims, were introduced in the 1930s and soared to popularity after Marilyn Monroe wore them in 1953's How to Marry a Millionaire. Their place in the pantheon of great styles was sealed when Audrey Hepburn wore a pair in 1961's Breakfast at Tiffany's. Cat-eyed glasses are not only popular today — worn by stars like Rihanna — they're our Ethel logo!