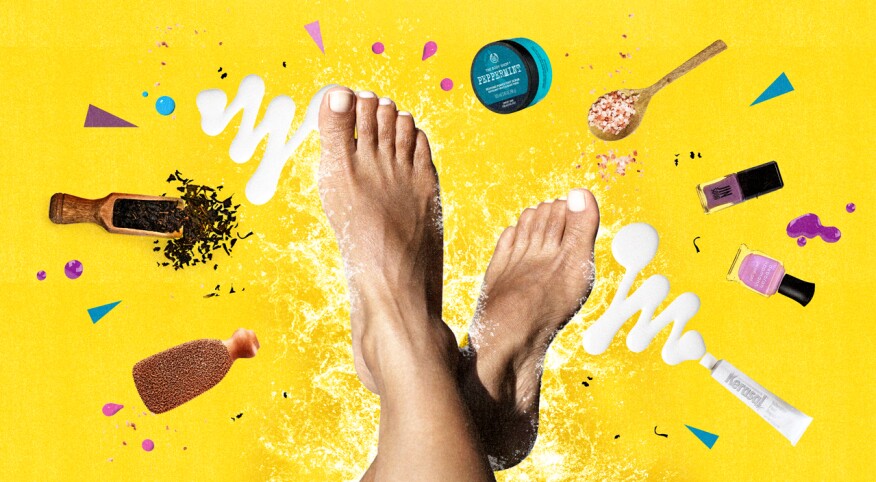 What are pretty feet anyway? That answer is cultural. According to several studies, respondents from Lithuania, Brazil, the United States and India rated women with small feet more attractive. Those from Cambodia, Papua New Guinea and Tanzania preferred women with big feet. Alas, I was born on the wrong continent.

"You're tall. You'd look silly with small feet," my mother tried to reassure me. And she was right — when I turned 12, my height (5-foot-7) and my shoe size (9½) were compatible. Still, with bunions at an early age no one would have mistaken me for a foot model. But this hasn't stopped me from wanting to get my feet prepped for sandals season. After all, when the sun comes out, so do our toes.

Here are tips for getting our feet summer-ready from Jin Soon Choi, editorial manicurist and founder of JINsoon Spas and JINsoon Nail Lacquer, and board-certified podiatrist Saylee Tulpule.

If, like me, your feet are "sensitive," there's a good reason: Each foot has thousands of nerve endings, more than anywhere else in our bodies. Then, too, our feet do some heavy lifting: They support the whole weight of our bodies they could use a rest and some well-earned pampering, especially in the summer when we're outside more — gardening, biking, hiking, even just walking more.

"Elevating your legs at the end of the day can help relieve aches and pains, and a footbath relieves muscle tension — not to mention that it'll wash off the bacteria from all of that outdoor activity," says Tulpule. She recommends a 15- to 20-minute soak in lukewarm water. Add to the water that old standby Epsom salts or black tea (tannic acid), which is a natural antibacterial agent. For a more luxurious soak, try mineral-rich Aveda Stress-Fix Soaking Salts.

The skin on our heels and metatarsal pads is the thickest skin on our bodies and it's a good idea to eliminate these hard spots on a regular basis, as frequently as weekly. After soaking, pat excess water off your feet and carefully use a pumice stone to get rid of calluses. Popular choices: Zenda Natural's Earth Lava Pumice Stone; Gilden Tree 2-in-1 Pumice Stone (on one side is rough terra-cotta to buff away dead skin and on the other, a smoother surface to polish the skin); and for $3, you can't beat the price of an Equate Beauty Oval-Shaped Foot Pumice Stone with Grip Massager.

Wet the pumice stone and move it in circular motions, increasing pressure until you see that it's removing excess skin. Do not use anything sharp such as a foot file because you might cut or scrape yourself, which can lead to infection. And if you have bunions or corns, see a board-certified podiatrist to have them removed. (Tulpule also recommends an annual checkup with a podiatrist to check circulatory, skin and muscular changes in your feet.)

Next, pamper your feet by gently massaging them with a foot scrub to remove any other patches of dead or dry skin and to soothe tired and sore muscles. CND Pro Skincare Exfoliating Sea Salt Scrub s a vegan product that will leave the skin on your feet glowing. Londontown Foot Scrub and the Body Shop Peppermint Reviving Foot Scrub will also buff away hard skin and dry patches. Finally, moisturize your feet with a cream, which will provide more hydration than a lotion. I like L'Occitane Shea Butter Intensive Foot Balm, a buttery formula with a delicious scent. And for about $10, AmLactin Foot Repair Cream Therapy is a rich concentrate that contains 15 percent lactic acid to gently exfoliate and help soften calluses. CeraVe Moisturizing Cream, with ceramides to lock in moisture, is another well-liked choice.

For a serious nighttime treatment, Choi recommends Kerasal Intensive Foot Repair skin healing ointment. "After applying the ointment, put on a pair of white cotton socks without removing them or the ointment overnight," she says.

And don't forget your toenails! To trim them, "Follow the natural curvature of the nail, don't cut the nail straight across," Tulpule advises. A dry pedicure works in a pinch, but if time allows, you'll want to soak your feet for five to 10 minutes to soften up cuticles.

For a cleaner look, apply a cuticle remover, though be mindful to push back your cuticles and never cut them, which can cause ingrown nails or infect the skin around the nails. (Check online for tools ranging from orange sticks to stainless steel cuticle pushing devices.)

You're now ready to apply a base coat polish (to avoid yellowing) and a top coat to help your pedicure last longer. Avoid products that contain formaldehyde or any harsh chemicals. Opi, Essie, JINsoon and Deborah Lippmann are among the top brands to look for.

Remember, it's summer. In terms of color, why not opt for a banana yellow, cerulean blue, magenta or even a neon green polish? After you've gone through a lot of trouble to make those tootsies sandal-ready you may as well make sure they get noticed!

As for the sandals to wear to show off those pretty feet? Three favorites: Any style by Fitflop, an uber-comfortable brand created to work with your body alignment and natural movement. They're flattering to the leg and come in a range of chic shades. Stylish Aerosoles Dada sandals can take you from daytime into the night, with their elegant ruched design. The Birkenstock Arizona Big Buckle sandal is lightweight and waterproof and features a molded footbed and double adjustable straps for a perfect fit.

Or like me, when indoors, you can just go barefoot. Whether you're padding around the house or on your patio, there's nothing like the feel of cold tile or smooth wood on those pretty feet.

What's one thing you do for your feet? Let us know in the comments below.