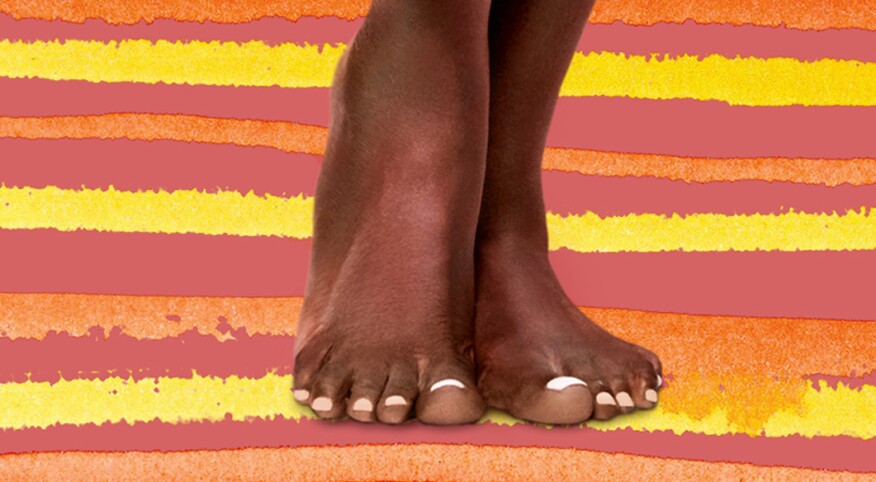 Every winter I sigh when I send my cute summer feet underground into socks and boots for the season. There they go, buh-bye, all sun-kissed and wonderfully moisturized, flaunting a sassy pedicure. Perpetually covered, they will not see the light of day all winter. Let's be honest, when spring comes my feet are not ready for public consumption. Oh no, they are pasty white and wrinkly from being cooped up in winter boots. You've heard — if not seen — what a broken arm looks like after it's healed and emancipated from its plaster cast, right? Pale. Yep. Wrinkly. Yep. A bit unsightly. Yep.

Toenails hastily clipped during winter so they don't blow a hole through socks have clearly been neglected. For goodness' sake, there's the telltale sock fuzz stubbornly embedded around the nail. And my heels? Reddened and protruding, looking freakishly disfigured, because, sigh, there was that new pair of Michael Kors suede boots that took most of last winter to break in. I went through boxes of Band-Aids and felt triumphant when I could finally wear the boots without any heel pain! But damn, I looked good. The pain was worth it, I thought, until I evaluated the damage as I returned to summer wear: corns, calluses, Haglund's deformity and heel spurs. Lots to wrap your mind around, how well I know.

Here are eight ways to practice kindness on your feet this winter.


Pedicures. Keep them coming through the winter. Why stop the TLC? Give your feet the professional attention they deserve, because after all, they need all the help they can get! In between those indulgent pedicures, there are many ways you'll want to shower kindness on your feet, such as …
Epsom salts bath soaks. They benefit the whole body, feet included. Add several drops of your favorite essential oil to boost your soak, and relish the "work" of taking care of your feet. Or, try the Epsom Salt Tea-Tree Oil Foot Soak, mixed with your needy feet in mind.
Pumice stone. It's the humble go-to: affordable and easy to find. The varieties are endless, from the natural lava-infused to the general two-sided variety you can find at the grocery store. Give your stone a warm soak before setting about the grim business, because dry stones are a big no-no.
Ped Egg. Who hasn't heard of it?! For those needing — ahem — more (you know who you are), try this popular little tool that offers three different ways to address calluses and corns, leaving feet smooth and shiny. Caution: Always use on dry feet.
Toenails. Buffing your toenails — like you would fingernails — helps keep the surface smooth and increase circulation. Toenails knock up against the tops of your shoes all winter and will benefit from a light sanding. Gently push back cuticles. If cuticles are overly dry during winter, try a dab of olive oil or vitamin E oil.
Socks. You read labels all the time, why stop when you're selecting what to clothe your feet in all winter long? The cardinal rule: Avoid cotton socks. They. Don't. Breathe. They create the perfect sweaty environment for fungus to grow (yuck), adding to your misery. Athlete's foot is so yesterday, my friend. Instead, try winter socks made with merino wool, which provides wicking action and warmth.
Moisturizing. Keep feet silky and healthy by faithfully moisturizing through the winter. Shake up your routine by adding coconut oil to your assembly of options. Consider moisturizing before bed and throwing on some therapeutic aloe socks

to lock in moisture overnight.
C'mon! Be smart when you buy. Don't be deceived — being kind to your feet and fashionable are not mutually exclusive ambitions. The marketplace has many great labels built to love on your feet and make you look like a boss when you float down the sidewalk.
Kathryn Streeter's writing has appeared in publications including the Washington Post, the Week and Austin American-Statesman. Find her on Twitter @streeterkathryn.