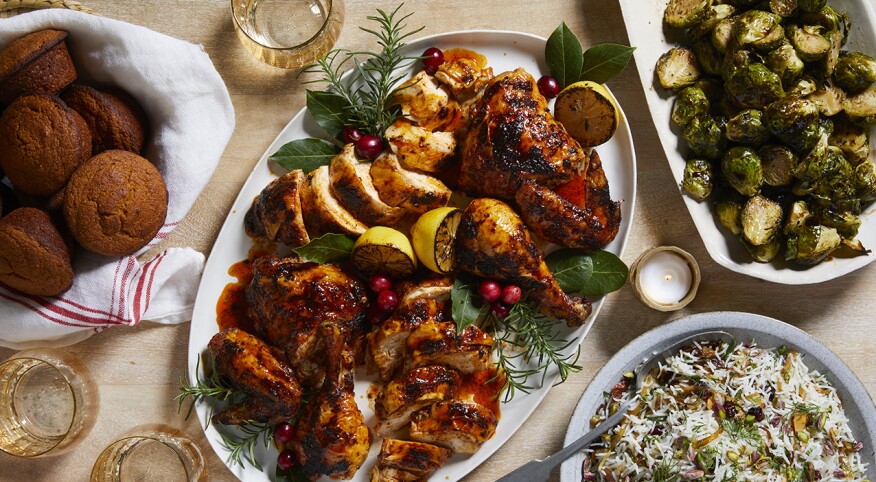 Whether your Christmas plans involve a big feast for a family get-together or just a lovely dinner for two, the menu still calls for special recipes to add to the joy of the occasion.

This year more than most, I'm searching for recipes that can enhance and protect my family's health. Notice I didn't say "healthy recipes," a term that seems to prompt less than enthusiasm among some of the people sitting at my dining table. But there are plenty of ways that foods full of natural immunity boosters, important vitamins, maybe even a tad less fat or salt can be part of an elegant holiday menu without making people feel like they're being deprived.

"I don't want people to feel guilty for eating a food they love, but they should realize that foods that come in a casserole or heavy sauce are often high in salt and saturated fat," says Ginger Hultin, a Seattle-based dietitian and spokesperson for the Academy of Nutrition and Dietetics. There are many great ingredients to choose from to make appetizing dishes that are also good for you, she adds.

Hultin recommends choosing seasonal, brightly colored foods like butternut squash, pumpkin, cranberries and oranges that are at their peak of freshness in winter. Their vivid colors also indicate they are rich in antioxidants and vitamins, like A and C. Many of Hultin's older clients tell her they want to add more plant-based foods to their diet — another good reason to offer your guests salads, roasted vegetables or side dishes of grains mixed with veggies and nuts. Even if you're having a meat main dish, offering a variety of appealing and healthy side dishes provides choices for vegetarian and vegan guests and ensures that those cutting back on their meat portion have lots of other delicious items to fill up their plates.

In coming up with a holiday menu, I aimed for easy, good-for-you recipes: a beautiful roast chicken with smoked paprika; a crowd-pleasing red-and-green-flecked rice dish; roasted brussels sprouts with a simple balsamic-maple drizzle; and pumpkin cornbread. For dessert, I went with something store-bought: a pretty tray of cookies or a selection of sorbets and nondairy oat milk ice cream, which gives you all the creaminess, but less fat, of regular ice cream.

Roast Smoked Paprika Chicken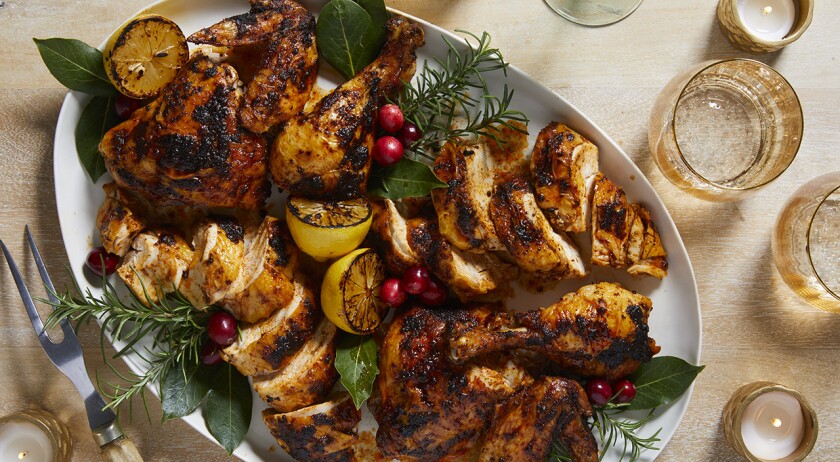 This is one of my family's favorites. Smoked paprika is at the top of many shoppers' grocery lists lately because of its rich, smoky, slightly spicy flavor that seems to improve everything. This smoked paprika rub uses three types of paprika: smoked, regular (also called sweet) and hot. I've used it on a whole chicken, on a whole chicken cut in half lengthwise and roasted flat for more crispy skin, and on chicken parts. It all worked. It'll be the star of your meal. Serves 6 to 8

Ingredients

1 4- to 5-pound whole chicken

1 teaspoon kosher salt

1 tablespoon lemon juice

1 teaspoon garlic powder

1 tablespoon smoked paprika

1 tablespoon sweet (regular) paprika

1/4 teaspoon hot paprika, or to taste

2 to 3 tablespoons olive oil

Half a lemon for inside the chicken cavity, if desired.

Directions

Preheat the oven to 450 degrees F. Thoroughly pat the chicken dry with paper towels. This will help the skin get crispy. In a small bowl, mix together the salt, lemon juice, garlic powder, three paprikas and enough olive oil to make a smoothly blended paste. Spread evenly over the entire surface of the chicken. (I put on latex disposable gloves, like food prep servers wear, and use my hands to spread the seasoning into all the nooks and crannies.) If desired, a lemon half can be placed inside the chicken cavity. Place the chicken on sheet pan lined with lightly greased foil and roast for 15 minutes. Reduce the heat to 400 degrees F. and continue roasting for about 35 to 45 minutes, until the chicken is well browned and a probe thermometer inserted into the thickest part of the thigh registers 165 degrees F. Remove from the oven and let rest for 10 to 15 minutes before cutting, to allow the juices to be fully absorbed by the meat.


Sababa Jeweled Rice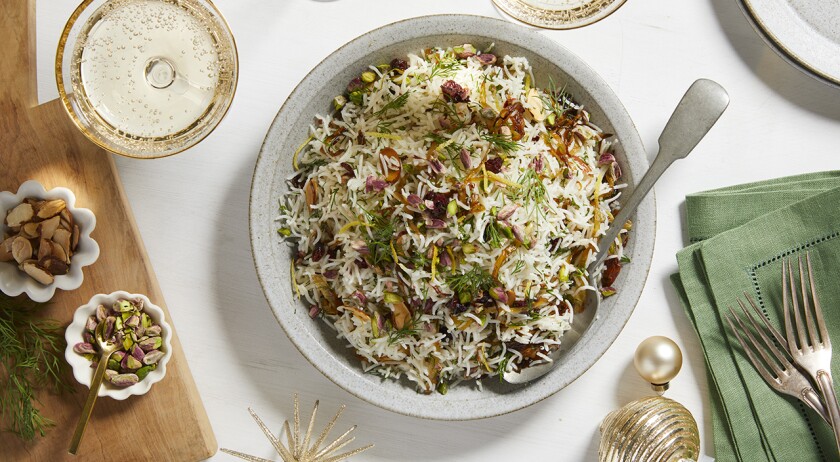 Adapted from the cookbook Sababa: Fresh Sunny Flavors From My Israeli Kitchen by Adeena Sussman

This beautiful red-and-green-flecked rice dish comes from Sussman's best-selling Israeli cookbook Sababa. Easy to make, the dish uses dried cranberries, caramelized onions and fresh dill to give it sweet, savory and herby elements that go with everything. Plus, the dill and cranberries are good sources of vitamin C. It's a hit whenever I serve it. Serves 4 to 6

Ingredients

6 tablespoons extra-virgin olive oil

1 large onion, thinly sliced

1 teaspoon kosher salt

1 1/2 cups basmati or jasmine rice

1/2 cup finely chopped fresh dill, plus more for garnish

1/3 cup chopped dried cranberries

1/3 cup toasted pistachios or other nuts, coarsely chopped

1/4 cup toasted sliced almonds

Zest of 1 lemon

Freshly ground black pepper, to taste

Directions

In a large skillet, heat 3 tablespoons of the olive oil over medium-high heat. Add the onions and cook, stirring frequently to prevent burning, until they begin to soften, about 5 minutes. Reduce the heat to medium and cook, stirring often, until the onions begin to turn light golden, another 20 minutes. Reduce the heat to medium-low, add 1/4 teaspoon of the salt to the onions and cook, stirring, until the onions are caramelized and a deep golden, another 15 to 20 minutes. In a colander, rinse the rice until the water runs clear. In a large saucepan, bring the rice and 2 1/4 cups of water to a boil, reduce the heat to low, cover, and simmer until the rice has absorbed all the water and is fluffy, about 16 to 17 minutes. Uncover the rice and stir in the caramelized onions, dill, cranberries, pistachios, almonds and lemon zest along with the remaining 3 tablespoons of olive oil and the remaining 3/4 teaspoon of salt and pepper. Garnish, if desired, with a little more fresh dill and nuts.


Roasted Brussels Sprouts With Balsamic-Maple Glaze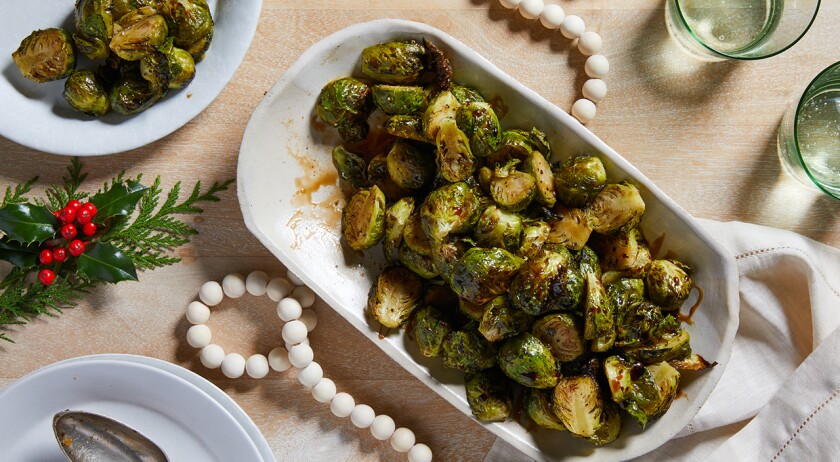 I admit I wasn't a big fan of brussels sprouts, but I found that roasting them brings out their natural sweetness. Adding a tangy-sweet glaze makes them even better in this super-simple recipe. Serves 4 to 6

Ingredients

2 pounds brussels sprouts, rinsed, ends trimmed, outer wilted leaves removed, cut lengthwise

4 tablespoons extra-virgin olive oil

1/2 teaspoon garlic powder

Salt and pepper, to taste

4 tablespoons balsamic vinegar

2 to 3 tablespoons maple syrup

Directions

Preheat the oven to 425 degrees F. and line a baking sheet with parchment paper. In a large bowl, mix together the olive oil, garlic powder, salt and pepper. Add the brussels sprouts and gently toss to coat evenly. Place the sprouts on the prepared baking sheet in a single layer, flat side down, and roast for 25 to 30 minutes, stirring halfway through, until the sprouts are nicely browned. Meanwhile, prepare the glaze: Mix the balsamic vinegar, maple syrup and a pinch of salt in a small saucepan. Taste and adjust — adding a little more vinegar for tang or syrup for sweetness. Warm in a saucepan over medium heat, stirring until the sauce thickens and the glaze forms, about 4 to 5 minutes. Remove from the heat. When the brussels sprouts are done, place in a serving dish and drizzle with the glaze. Serve immediately.


Pumpkin-Cornbread Muffins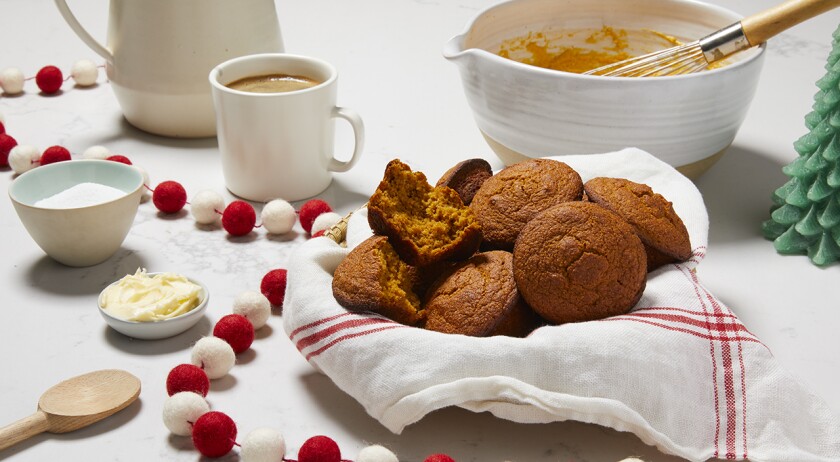 Cornbread gets a major nutrient boost from pumpkin in this recipe from former chef Jennifer Segal, author of the cookbooks Once Upon a Chef and the new Once Upon a Chef: Weeknight/Weekend.

Jenn Segal was a chef at fancy restaurants before she turned to cooking for her family and producing a highly rated blog with dependable recipes. You can make muffins with this recipe or bake it in an 8-inch square pan. Leave out the spices if you want it to taste more like traditional cornbread, but they add a nice pumpkin bread-y warmth. The recipe uses less fat than regular cornbread, but you'd never know it. Makes 12 muffins

Ingredients

1 cup (8 oz.) canned pumpkin

1 cup (8 oz.) low-fat milk

1/4 cup plus 2 tablespoons honey

1/4 cup sugar

2 large eggs

1 1/4 cups yellow cornmeal

3/4 cup all-purpose flour, spooned into a measuring cup and leveled off

1 tablespoon aluminum-free baking powder

1/2 teaspoon baking soda

3/4 teaspoon salt1 teaspoon cinnamon

1/4 teaspoon nutmeg

1/4 teaspoon cloves

4 tablespoons unsalted butter, melted

Directions

Preheat the oven to 400 degrees F. Spray a 12-cup muffin tin generously with nonstick cooking spray or grease with butter. In a medium bowl, whisk together the pumpkin, milk, honey, sugar and eggs. In a large bowl, whisk together the cornmeal, flour, baking powder, baking soda, salt and spices. Add the wet ingredients and melted butter to the dry ingredients and mix until just combined. Do not overmix. Spoon the batter into the prepared muffin tin, filling each cup full, and bake for 20 to 23 minutes, or until the tops are a golden-orange color and set. (If you're using a greased 8-inch square pan, bake for around 25 to 30 minutes.) Let cool in the pan for about 10 minutes, then serve warm with butter or transfer to a rack to cool completely.