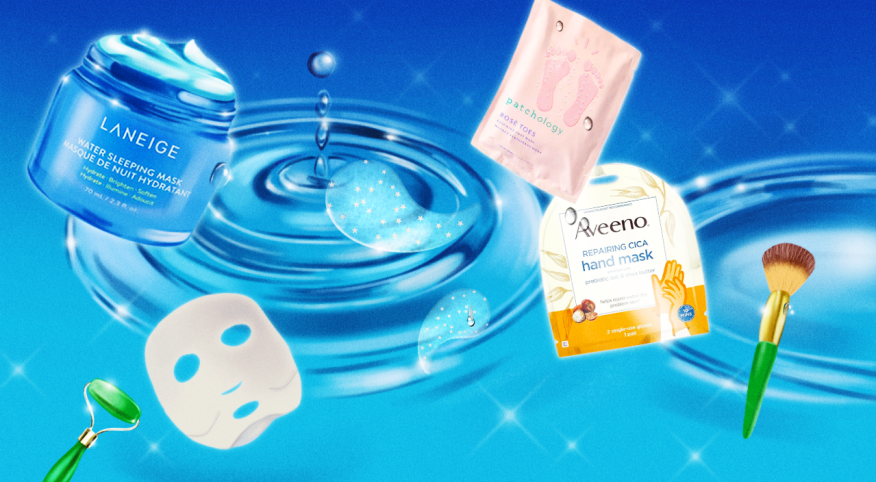 While others are busy selecting pumpkins and Halloween masks for the big night, we have different masks and a different season on our minds. For us, the annual ritual of ringing doorbells and chattering trick-or-treaters means that cold temperatures and drying winds are just around the corner. And this year, we are determined to avoid winter itch — those patches of dry, flaky skin that plague most of us by age 60.

A time-tested solution to this annual annoyance is intense moisturizing — the kind found in beauty masks that soften and protect from head to heel. We've sorted through the options and come up with a dozen treats worth trying.

Head first

Super-conditioning hair masks provide an extra jolt of hydration that mature hair needs. Coarse or wiry locks? Hair masks to the rescue. Use once or twice a week in place of your regular conditioner to deeply moisturize and even repair split ends, says award-winning makeup artist Casie Lucas, who has 20-plus years of experience working in the fashion, entertainment and film industries. "Shampoo as normal and then work the mask in, starting near the scalp and moving down to the ends of your hair," she says. Leave on 10 to 20 minutes before rinsing out with cold water.

Lucas is a fan of Christophe Robin's Regenerating Mask With Prickly Pear Oil ($25, christopherobin.com). This hydrating mask is rich in vitamin F and can smooth frizz and restore gloss with a dime-sized dollop. Loaded with moisturizing shea butter, African Pride Moisture Miracle Masque With Moroccan Clay & Shea Butter ($6-$9, walmart.com) is another standout for dry hair. It's heat activated, so if you don't have a hooded dryer handy, slip on a shower cap and wrap with a hot towel.

Face time

Get your glow back with a mini-facial masquerading as a sheet mask. Lucas relies on Tatcha's Luminous Deep Hydration Lifting Mask ($25, tatcha.com) with its trio of anti-aging Japanese superfoods. Each mask is distilled from an entire coconut to help restore radiance while boosting moisture up to 200 percent.

Another of her favorites is Pacifica's Disobey Time, which contains hyaluronic acid, peptides, and fruit and flower extracts ($4, amazon.com). This combination makes for a soothing, hydrating mask. "Plus, it's a more affordable option but just as effective," says Lucas. Whichever mask you choose, leave it on for up to 20 minutes and then massage leftover product into face, neck and chest.

Eyes on the prize

A smaller version of the typical sheet mask, the under-eye patch is specifically formulated for this delicate area. Most eye pads and patches require no more than 15 minutes to work their magic — which includes reducing puffiness, brightening the eye area and eliminating dark circles. The pros know to store theirs in the refrigerator for extra refreshment. Frequent flyers can apply their pad of choice at takeoff to arrive looking bright-eyed and well rested.

Packed with caffeine, vitamin C and hyaluronic acid, Winky Lux's Wakey Wakey Under Eye Patches ($22 for 30 pairs, ulta.com) are like a morning cup of coffee for your eyes. The cooling sensation and star design are immediate mood boosters, but what really stands out is how these patches can depuff the under-eye area within minutes.

A fan favorite and Best of Beauty Award winner from Allure magazine, Wander Beauty Baggage Claim Eye Masks ($26 for 6 pairs, sephora.com) have a unique, three-layer design for maximum effectiveness. The bottom layer delivers a hydrating, aloe-infused serum while the elastic middle layer keeps the masks from slipping and sliding (a frequent complaint in this category). The golden outer foil locks in the serum for optimal absorption.

Give yourself a hand (mask)

Hormonal changes, frequent handwashing and sun exposure all take their toll on hands. Fight back with a nourishing 10-minute treatment. These spa-like gloves moisturize and soothe delicate skin to give hardworking hands the pampering they deserve.

Enriched with shea butter and prebiotic oat, Aveeno Repairing Cica Hand Mask ($4) helps restore essential moisture to extra-dry skin. This product earns bonus points for being easy to find at national drugstore and beauty chains. Formulated for sensitive skin, the single-use Aveeno gloves are fragrance-free.

With the same insulation technology as space blankets, Patchology Perfect Ten Self-Warming Hand and Cuticle Mask ($10, amazon.com) puts a unique twist on hand softening. "The amazing thing about this hand mask is that it's self-warming," says Lucas. "It works by locking in your natural body heat, which allows the coconut-infused formula to penetrate and absorb into your skin."

Playing footsie

To moisturize and soften heels and soles, slip a pair of sock-style masks on your feet after some me-time bath time. Lucas likes Que Bella Intensive Foot Sock Mask ($5, target.com), enriched with shea butter, peppermint oil and apple extract. "It's great for dry, cracked heels and improves overall tone, texture and hydration," she says. Leave on 15 to 20 minutes.

Another option is Boscia's Fruit Acid Smoothing Foot Peel ($18, ulta.com), an intense, peeling treatment that breaks down rough, calloused skin on the feet. Alpha hydroxy acid along with papaya, orange and other fruit extracts help dissolve dead skin cells. "This foot mask is a little different from others in that it starts to exfoliate skin cells within a week of use," says Lucas. It also needs to stay on longer, up to 90 minutes.

Sleep on it

First came Americans' obsession with K-pop music, and now the latest inspiration from South Korea is K-beauty. One of the foundational products of the K-beauty regimen is the sleep mask. Applied once or twice a week before bedtime, overnight face masks seal in moisture otherwise lost during sleep and then are rinsed off in the morning.

A personal favorite of Lucas' is the Dr. Brandt Hydro Biotic Recovery Sleeping Mask ($54, ulta.com). "This is an extremely lightweight gel that intensely hydrates and locks in moisture for up to 72 hours," she says. "I personally use it twice a week. It's one of the best nighttime moisturizers I've used. Besides strengthening the skin's barrier, it also reduces redness and irritation."

The best-selling Laneige Water Sleeping Mask ($32, sephora.com) also boasts a lightweight gel formula that's loaded with hydrating green tea probiotics. Another Best of Beauty Award winner from Allure magazine, this subtly scented overnight mask also has a day job. Apply before a flight or on a cold day under makeup to protect skin from the elements.

With these six types of masks in your beauty kit, you're ready to fight off winter's drying effects from head to heel.

What's YOUR favorite beauty product? Let us know in the comments below.