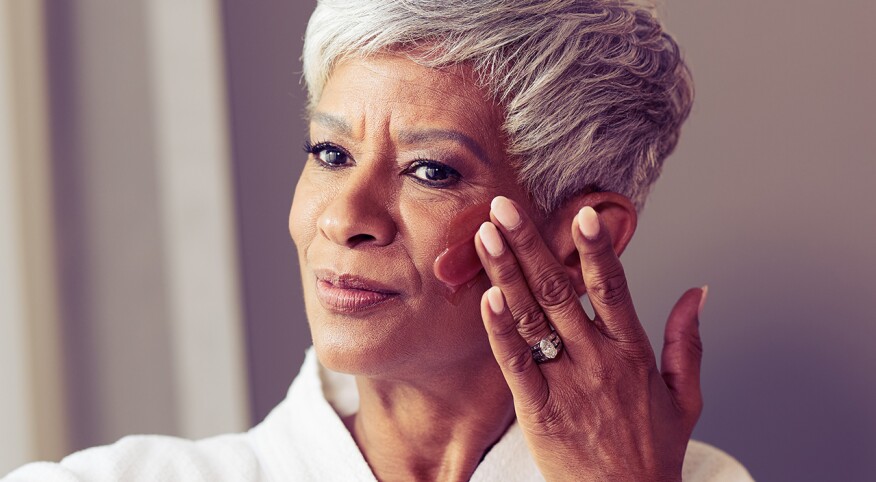 Don't feel like spending the bucks or the travel time to get a professional facial? Although I've been an aesthetician for years, and of course love doing this work myself, I understand that many women would prefer to do their own facials at home. Here I share, step-by-step, some of my best secrets and favorite skin care potions so that you can give yourself a spa-level facial — just like you'd get from the pros.

Cleanse

With all cleansers, apply to skin evenly, and once you have gently massaged into all nooks and crannies, remove with a microfiber towel or microfiber reusable makeup remover pad.

An oil-based cleanser is ideal for skin types in the normal range, and my personal favorite cleansing oil is Cosmedix Purity Solution. This product is ideal for not stripping the skin of its natural moisture while not leaving it feeling greasy.

For sensitive skin, an easy pick and under $10 is Neutrogena's Ultra Gentle Daily Cleanser, which is hypoallergenic and free of soap and dye. Another go-to would be AnteAGE Cleanser. I love this one for sensitive skin because of the anti-inflammatory botanicals it contains.

For skin bordering on oily, I suggest a gel cleanser. My hands-down pick is Image Total Facial Cleanser. This glycolic-acid-based cleanser leaves your skin feeling so soft and refreshed from the menthol burst! Another one of my faves is CeraVe Foaming Facial Cleanser. Both are fragrance-free.

For a complexion on the dry side, I recommend a hydrating potion like Hero's Gentle Milky Cleanser, with ingredients like jojoba and oatmeal that leave a lovely glow. Another choice for surefire hydration is CosMedix Crystal Cleanse, made with coconut oil and prickly pear extract, which are both hydrating and refreshing.

Steam

This next step is suitable for all skin types and gives you that real-deal spa experience. I recommend steaming for no more than five minutes.

Soak a microfiber towel in hot water, wring it out, lie down and drape it over your face. Steaming not only feels amazing but also opens the pores, which helps loosen dirt and oil.

If you plan on making at-home facials a regular routine, invest in a facial steamer, such as the Kingsteam Nano Ionic Hot Mist Face Steamer. You might also want to check out True Glow by Conair Warm Steam Moisturizing Mist Facial Sauna System. However, I do not recommend using the aesthetician tools that extract blackheads on your own; that delicate process should be left to the pros.

Exfoliate

The time to exfoliate is immediately after steaming. Go gentle on sensitive skin with products such as Athar'a Pure's Indian Glow Face Scrub, a vegan Ayurvedic mixture of fragrant and nourishing sandalwood, turmeric and clay as well as orange peel and guava fruit powders. Those with skin in the normal range can choose from many products. For my own face, I am a big fan of Elemis Skin Buff Deep Cleansing Exfoliator. Rub it into the skin for up to three minutes, and remove with a microfiber towel that has been soaked in warm water. I alternate my routine with CosMedix Pure Enzymes, which is enriched with cranberry enzymes that leave a zing to the face and a velvety complexion.

Apply a mask

Now that your skin is feeling silky smooth, the next step is a treatment mask. Many brands offer sheet masks, which are super easy to apply and only take about 15 minutes to replenish your complexion. One of my top picks is the Image Hydrating Hydrogel Sheet Mask. Laced with hyaluronic acid, aloe vera and amino acids, this product will leave your skin plumped and radiant.

Another face changer is Neutrogena's Hydro Boost Hydrating 100% Hydrogel Mask, also a big drink of hyaluronic acid. Use a cold jade roller (plucked from the freezer) over the sheet mask while it is recharging your skin. Cold rollers start at around $7 and are wonderful for depuffing, lymphatic drainage and helping all the amazing ingredients in your sheet mask penetrate the skin. Once you remove the sheet, don't rinse with water — leave all the serum on the skin for sustained softening.

Moisturize

Seal the deal with the right luxe moisturizer. While glycolic acids and retinol are a boost for your daily brand, I suggest staying away from these strong ingredients after your facial. On my hit list for most skin types are CeraVe Daily Moisturizing Lotion and Cosmedix Humidify & Imagine Hydrating Repair Creme .

All skin types can use an application of eye cream on the orbital bone. There are many brands to choose from, and you may have to test a few. One popular go-to for my clients is the affordable and effective Olay Age Defying Classic Eye Gel, with rejuvenating cucumber extract and pro-vitamin B5.

After this regimen, hold on to the calm by drinking some chamomile tea, slipping into a plush robe, telling Alexa to play some easy-listening tunes and lying down. Remember to put on a fresh pillowcase for your fresh, clean face.