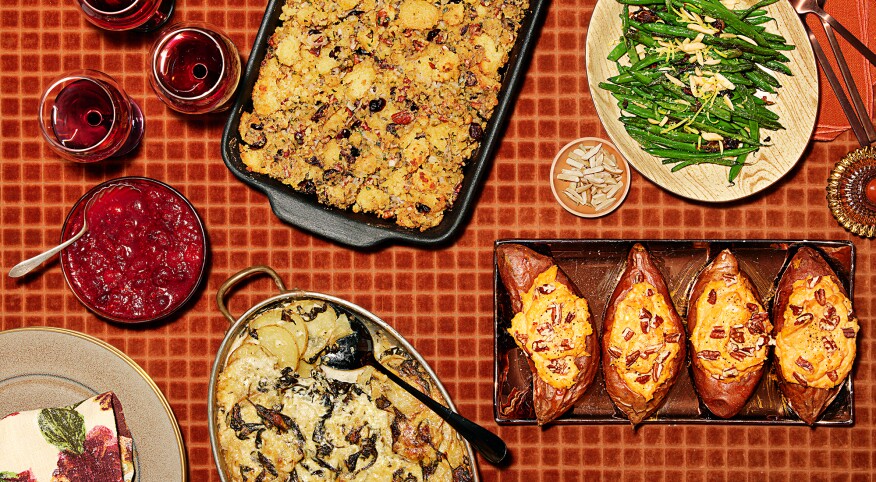 I love the scent of pumpkin pie baking in the oven, and the sound of laughter when my family gathers together on Thanksgiving Day. As tempting as it is to stick with my mother's traditional recipes, there's an undeniable joy in bringing something new to the dinner table. These traditional sides still remain on the menu — sweet potatoes, dressing, green beans and cranberry sauce. But the recipes below feature modern twists to those classics.

Creamy Twice-Baked Sweet Potatoes

If you like regular twice-baked potatoes, you'll love the extra creaminess of this recipe made with sweet potatoes and brown sugar. Stuff them the night before to save time on the big day.

Serves 8

8 medium to large sweet potatoes

Vegetable oil for rubbing the outside of the potato skins

6 tablespoons butter softened

6 tablespoons brown sugar

6 ounces cream cheese softened

12 ounces sour cream

2 teaspoons salt

1 teaspoon cinnamon

1/2 teaspoon nutmeg

Pinch of cayenne pepper

1 cup chopped pecans

Heat oven to 400 degrees. Rub potato skins with oil, pierce each with a fork, then place on a foil-lined baking sheet. Cook 45-50 minutes until potatoes are soft in the center. Cut a thin oval slice off the top of each potato (length-wise) and scoop out the soft potato part, leaving a firm skin wall. Place potato in a mixing bowl with remaining ingredients (except for pecans). Mix until smooth, then spoon back into the potato skin shells. Heat oven to 350 and return the stuffed potatoes to the baking sheet. Bake for 10 minutes until lightly golden brown on top. Remove from oven, top with pecan pieces, and run under broiler for 1-2 minutes until pecans are toasted, then serve.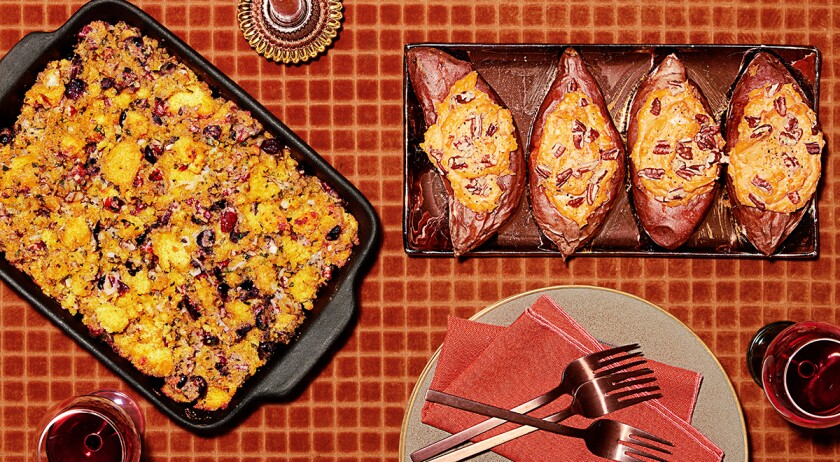 Roasted Green Beans With Shallots, Almonds and Garlic

This recipe is a healthy switch from the traditional green bean casserole with canned soup and packaged onion rings.

Serves 8

2 pounds green beans

4 tablespoons olive oil

4 medium to large shallots, peeled and thinly sliced

6 garlic cloves, peeled and thinly sliced

Kosher salt and black pepper to taste

1/2 cup toasted almond slivers

2 teaspoons lemon zest

Preheat oven to 450 degrees. Clean and dry beans. Mix beans with oil, shallots, garlic, and seasonings in a bowl. Spread beans across a greased roasting pan and cook for 15-20 minutes, until beans turn golden brown and shallots are caramelized. Use tongs to toss the beans midway through the cooking. Transfer to a serving dish, then sprinkle lemon zest over the top, followed by the toasted almond slivers.


Scallop Potatoes With Spinach, Garlic and Parmesan

Although mashed potatoes are a staple at the Thanksgiving table, your company won't miss them when you serve these scalloped spuds, laced with fresh spinach and a sprinkle of nutmeg.

Serves 6-8

3 pounds Yukon Gold potatoes sliced 1/8"

6 tablespoons butter

4 cloves garlic, minced

1 yellow onion, diced

10 cups fresh spinach

3 cups Half & Half

Salt & pepper to taste

Pinch of nutmeg

2 cups grated parmesan

8 ounces of spreadable garlic cheese (like Rondele)

Preheat oven to 350 degrees. Melt butter in a sauté pan over medium heat. Sauté garlic for one minute until fragrant. Add onion, cook for another minute, then add spinach and sauté until wilted. Pour cream into pan then stir in garlic cheese, 1 1/2 cups of the parmesan cheese, and follow with salt, pepper, and nutmeg. Stir until the cheeses have melted. Reduce heat to low and let simmer for 5-6 minutes, stirring occasionally until well blended. Taste and adjust seasoning if needed. Layer half of the sliced potatoes in a large greased casserole dish. Top with half of the spinach/cream sauce spread evenly over the potatoes. Repeat a second layer of potatoes and sauce. Lightly cover the casserole with foil, and bake for 30 minutes. Remove foil, sprinkle remaining parmesan cheese over all, and bake uncovered for 30 more minutes.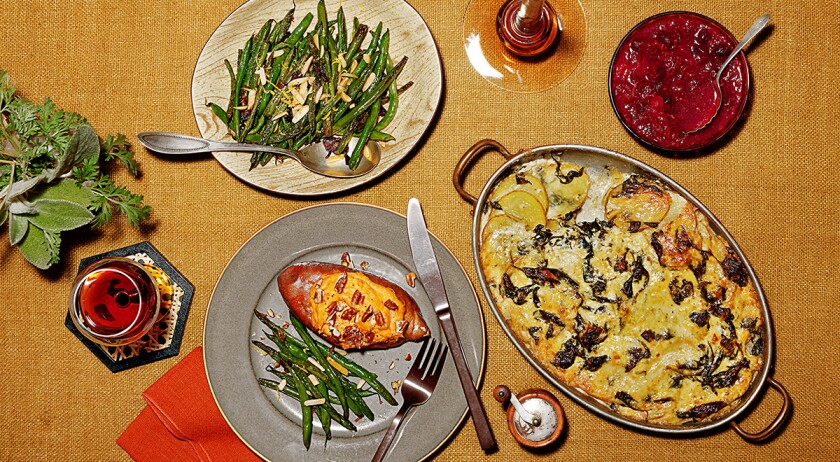 Cornbread Stuffing With Toasted Pecans, Cranberries And Wine

What would turkey be without stuffing? The surprise addition of wine gives this dish a unique flavor, proving that vino isn't just for your glass.

Makes roughly 24 cups

12 cups cooked cornbread crumbled into large chunks (homemade or store-bought)

1 cup butter

3 cups shallots, thinly sliced

2 cup celery, diced

2 teaspoons sage

2 teaspoons rosemary

2 teaspoons thyme

Kosher salt & pepper to taste

1 cup white wine

2 cups toasted pecans, chopped

2 cups dried cranberries

3 cups chicken or vegetable broth

2 eggs

1/2 cup fresh parsley, chopped

Melt butter in pan and sauté shallots, celery, and all seasonings (except parsley) until veggies are tender, about 6-8 minutes. Add wine, turn up the heat, and cook another 2-3 minutes, stirring occasionally. Set aside. In a bowl, mix egg and broth together. Set aside. Place crumbled cornbread into a large bowl, then add sautéed veggies, toasted pecans, cranberries, parsley, and 2 cups of the egg/broth mixture. Mix gently until thoroughly blended. If the stuffing is drier than you'd like, add the remaining egg/broth mixture for a moister stuffing. Place in a large greased casserole dish and bake covered at 375 for 30 minutes. Remove the cover and bake another 15 minutes until the top is golden brown.


Cranberry Sauce With Orange, Cointreau, And Toasted Pecans

Skip the canned stuff this year and make your own cranberry sauce from scratch. It's easier than you think and far tastier!

Makes roughly 4 cups

24-ounce bag of frozen or fresh cranberries, rinsed clean

1 cup water

1 cup orange juice

1 cup brown sugar (or 1/2 cup more if you prefer a sweeter sauce)

4 teaspoons orange zest

Pinch of nutmeg

Pinch of cinnamon

4 tablespoons Cointreau

2 teaspoons vanilla extract

1 cup toasted pecans, chopped fine (this is optional)

In a saucepan, bring the water and orange juice to a boil. Add sugar and stir until dissolved. Add cranberries while the sauce is still boiling, then reduce heat to medium and simmer for 10 minutes or until the cranberries have burst. Stir in the zest, seasonings, and Cointreau until well blended. Remove from stove, stir in the vanilla, then add pecans. Let cool to room temperature to thicken before serving.

Now you have an array of recipes that are modern takes on the traditional Thanksgiving dishes we love. May your holiday be joyful and delicious!

What's YOUR favorite Thanksgiving side dish? Let us know in the comments below.