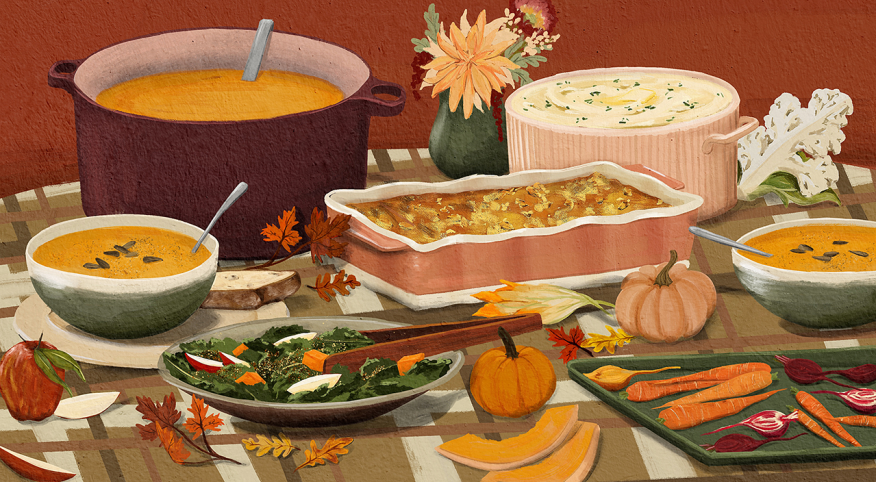 Before the hectic holidays, fall is the season to unwind amid the beauty of nature and reflect on our many blessings. Evenings are cool and crisp, and the days are a prism of leaves turning magnificent hues of red, orange and yellow. It's also the season of delicious cooking, incorporating freshly picked fruits and vegetables. Here are some of my favorite recipes that honor the bounty of the harvest.

Creamy Pumpkin Soup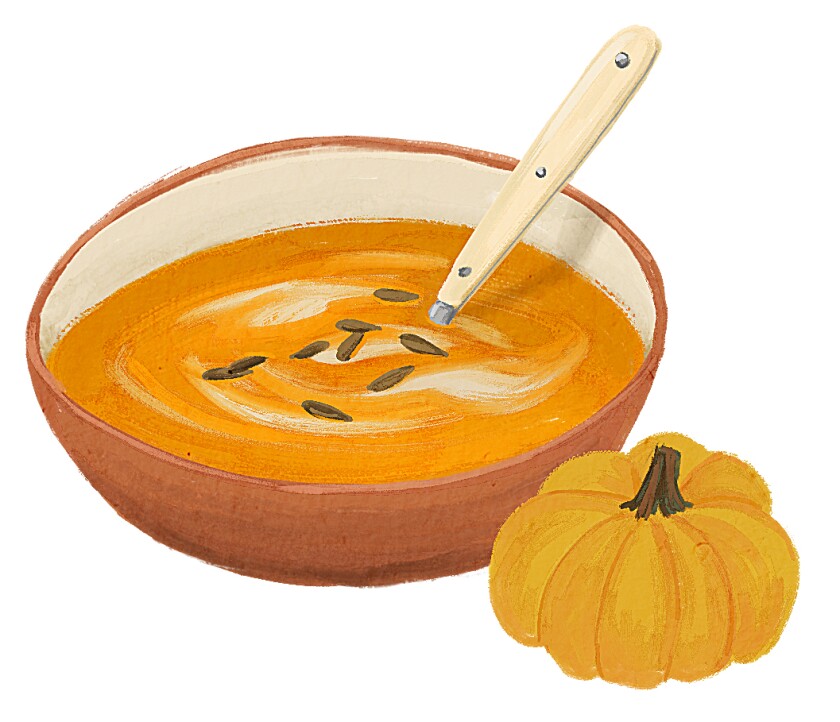 Nothing says fall like a warm bowl of creamy pumpkin soup. Serve with a loaf of crusty bread and warm butter laced with honey.

Serves 6

1 tablespoon olive oil

1 cup diced yellow onion

2-3 cloves garlic, minced

4 cups pumpkin puree

6 cups vegetable broth

1 large carrot, diced

2 medium-sized yellow potatoes, cut into smaller chunks

Salt and pepper to taste

Pinch of nutmeg

1/2 cup heavy whipping cream

Optional toppings: fresh chopped parsley or toasted pumpkin seeds

Heat oil in a large saucepan. Add onion and garlic and sauté until golden brown. Stir in the broth, pumpkin, carrot, potatoes and seasonings. Bring to a boil, reduce heat and simmer for 30 minutes until veggies are soft. Blend using an immersion blender (or carefully pour hot ingredients into a food processor) until it is creamy. Stir in the cream, then serve with chopped parsley or toasted pumpkin seeds over the top.


Roasted Beets and Carrots

This savory recipe has all the fall flavors with roasted veggies in a delicious vinaigrette. It's a healthy dish that's easy to make and vegan-friendly.

Serves 4

4 large beets, peeled and washed

2 large carrots, peeled and washed

3 tablespoons olive oil

Salt and pepper to taste

2 tablespoons maple syrup

1 tablespoon Dijon mustard

2 tablespoons red wine vinegar

1 tablespoon fresh thyme, chopped

Preheat oven to 450 degrees. Mix together beets, carrots, olive oil, salt and pepper. Spread veggies on a rimmed baking sheet and roast for 30 minutes, tossing once midway through the cooking process. Whisk together syrup, mustard, vinegar and thyme in a bowl. Pour vinaigrette over veggies, toss until well coated, and cook an additional 5 minutes before serving.

Cheesy Cauliflower Mash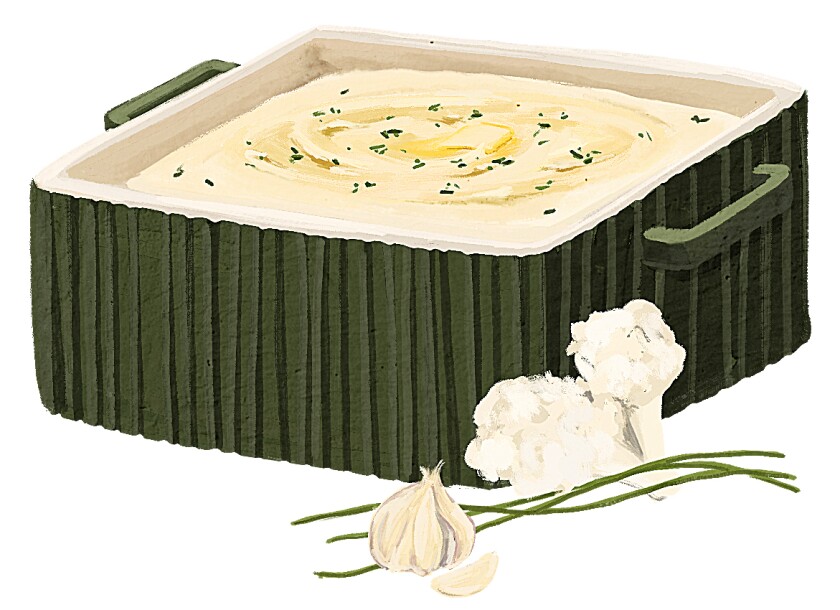 I love mashed potatoes but not starch, so I make a mock version with cauliflower and low-fat cream cheese that even the picky eaters in my family enjoy as a side dish.

Serves 8

2 large heads of cauliflower, chopped into chunks

6 tablespoons butter

6 cloves garlic, minced

1/2 cup grated Parmesan cheese

6 tablespoons softened, low-fat cream cheese

Salt and pepper to taste

4 tablespoons chopped chives

Boil cauliflower until soft, 10-20 minutes. Remove and drain well. Set aside. Heat butter in the same pot, then sauté garlic until golden brown. Add the cauliflower to the other ingredients (except the chives). Using an immersion blender or hand mixer, beat the mixture in the pot until smooth. Serve with chives sprinkled over the top.

Squash Casserole

Every now and then, I crave comfort food, and there is no better recipe to satisfy that craving than a cheesy, creamy casserole. The crackers on top add an extra buttery crunch that I find irresistible.

Serves 6

1 tablespoon olive oil

4 medium-sized squash, sliced

1 Vidalia onion, thinly sliced

2 eggs

3/4 cup grated cheddar cheese

1/4 cup grated Parmesan

1/4 cup mayo

1/4 cup sour cream

Salt and pepper to taste

1 cup crushed Ritz crackers

2 tablespoons melted butter

Preheat oven to 350. In a large skillet, heat olive oil and sauté the squash and onion until tender, about 10 minutes. Remove and set aside. In a separate bowl, whisk eggs, then mix in the cheese, mayo, sour cream and seasonings. Stir this into the skillet with the squash and onion. Pour into a greased casserole dish. In a small bowl, mix together the crackers and melted butter. Sprinkle over the top of the casserole. Bake for 30-35 minutes until golden brown on top.

Sweet Potato, Apple and Kale Salad With Quinoa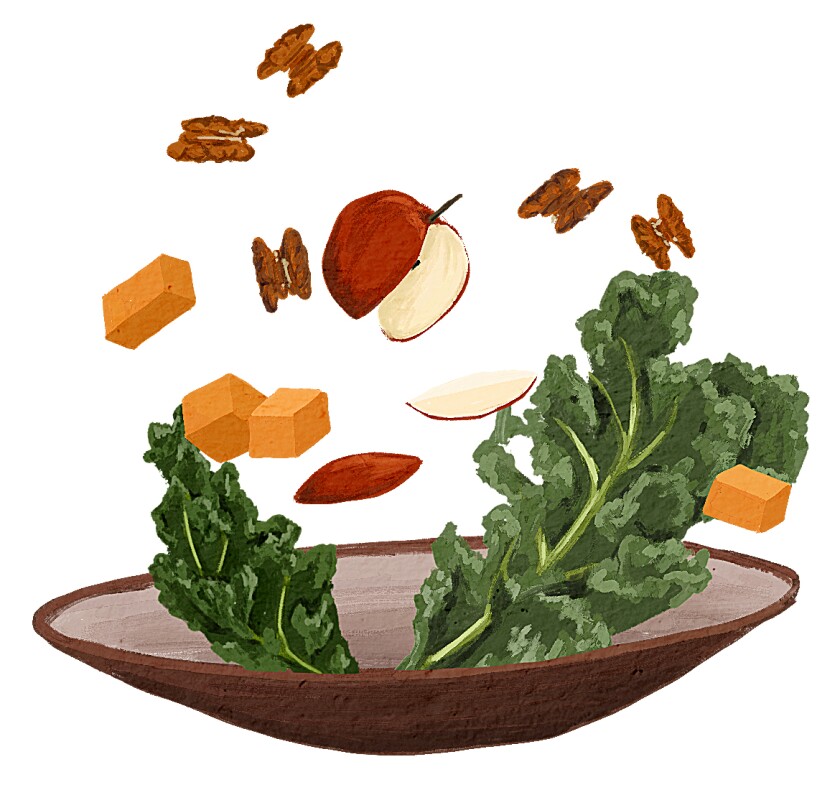 This salad has it all with its sweet and savory autumn flavors, plus the added crunch of apples, onions and pecans. I usually serve it as a side dish but have also served it in larger portions as a meal for lunch.

Serves 4-6

2 medium sweet potatoes, diced

2 tablespoons olive oil

1 1/2 cups quinoa

1 cup dried cranberries

1 Granny Smith apple, cored and diced

2 cups shredded kale

1/2 medium red onion, thinly sliced

1/4 cup cider vinegar

1/4 cup olive oil

2 tablespoons Dijon mustard

2 tablespoons maple syrup

Salt and pepper to taste

Juice from half an orange

1/2 cup chopped, roasted pecans

1/4 cup shaved Parmesan cheese (or you can use feta chunks)

Preheat oven to 400. Toss sweet potatoes with 2 tablespoons olive oil and roast on a baking sheet for 15 minutes, stirring every few minutes. Prepare quinoa according to package directions. In the last five minutes of cooking, stir in the cranberries. Set aside and let cool for 10 minutes. Mix sweet potatoes, quinoa with cranberries, apples, kale and onions in a large bowl. Mix vinegar, olive oil, mustard, syrup, seasonings and orange juice in a blender or food processor until well blended. Pour over salad and toss. Top with pecans and Parmesan cheese.

Share your culinary skills during this bountiful season by inviting friends and family over for a cozy, autumnal meal. And count your blessings!

What's your favorite meal to make in the fall? Let us know in the comments below.