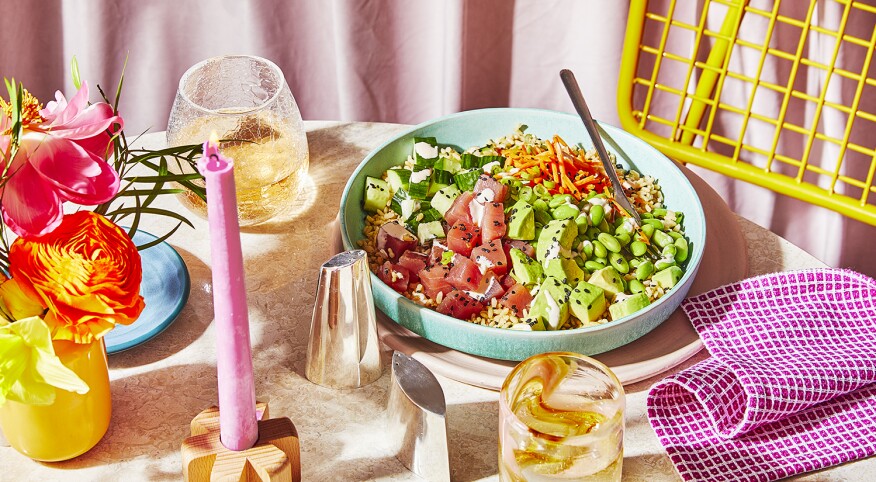 Have you been living on frozen foods like Lean Cuisine or not-so-lean Stouffer's lasagna because you think cooking for one isn't worth the effort? When I was single, I was a big fan of these pop-in-the microwave dishes and had the local pizza parlor number on speed dial. Once I learned how simple (and fun!) it was to follow a recipe, there was no stopping my creativity in the kitchen.

Dinner for one can be easy and elegant! Don't you deserve it? So, get out a nice tablecloth, light a candle, and enjoy one of these four recipes for sumptuous solo dining.

TUNA POKE BOWLS

I live on the east coast of Florida, so I always look for simple seafood dishes to prepare for dinner. Tuna Poke Bowls are as easy as it gets (plus super healthy!)

1 serving

1/4 lb. sushi-grade ahi tuna, diced into bite-size chunks

1 1/2 tsp. soy sauce

1/2 & 1/4 tsp. sesame oil

1/2 & 1/4 tsp. rice vinegar

1/4 tsp. honey

1 Tbls. mayo

Dash of Sriracha sauce

Salt and pepper to taste

1 cup brown rice, cooked

1/4 cup diced cucumber

1/4 cup shredded carrot

1/4 cup shelled edamame

Half of an avocado (skin removed and sliced in chunks)

1/2 & 1/4 tsp. black sesame seeds

1 tsp. green onion, chopped

Mix 5 ingredients together in bowl and set aside. Mix mayo, Sriracha sauce, salt, and pepper in a smaller bowl. Set aside. Place rice in a single-serve bowl. Put tuna on one side, then add a side each of the cucumber, carrot, and edamame. Spread avocado chunks over all, then drizzle mayo sauce across the top. Sprinkle sesame seeds and green onion over everything and serve.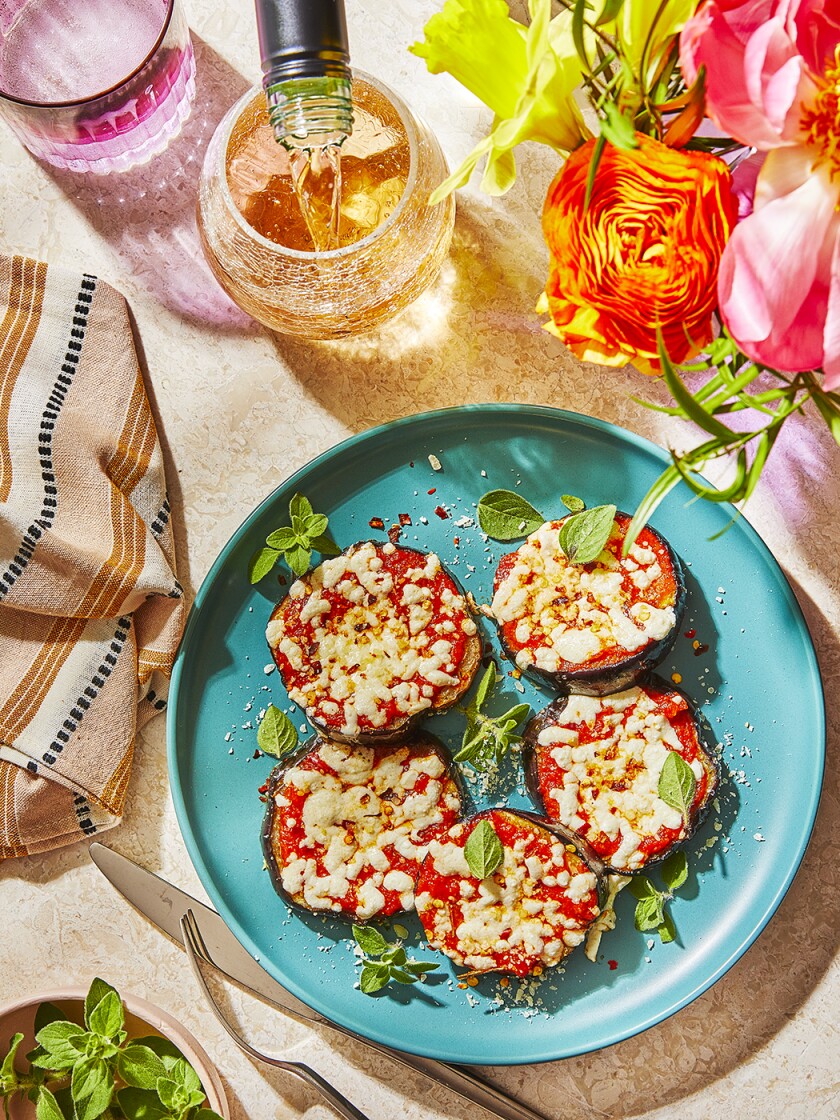 VEGETARIAN EGGPLANT PIZZA

I had a strong craving for pizza one night but didn't want the extra carbs of the crust. So, after rummaging around in my refrigerator, I found the ingredients for a healthy alternative. These easy eggplant pizzas have all the flavor and none of the starch.

1 Serving

1 medium eggplant cut into 1/4-inch slices

*Sea salt for removing moisture from the eggplant

1-2 Tbls. Extra Virgin olive oil

1-2 tsp. Italian Seasoning

1-2 cloves garlic, minced

Black pepper to taste

1/2 cup low-sugar Marinara sauce

1/2 cup Part Skim Mozzarella, shredded

Freshly grated parmesan cheese to taste

Sprinkle eggplant with sea salt and let sit on paper towels for 10 minutes, then wipe dry to remove excess liquid. In bowl, combine oil and seasonings. Brush both sides of each eggplant slice with this mixture and bake at 400 for 15 minutes. Remove from oven and flip each piece over. Top with 1 Tbls. of marinara sauce and then a light sprinkle of mozzarella cheese. Bake 10 more minutes or until cheese has melted. Serve with grated parmesan over the top.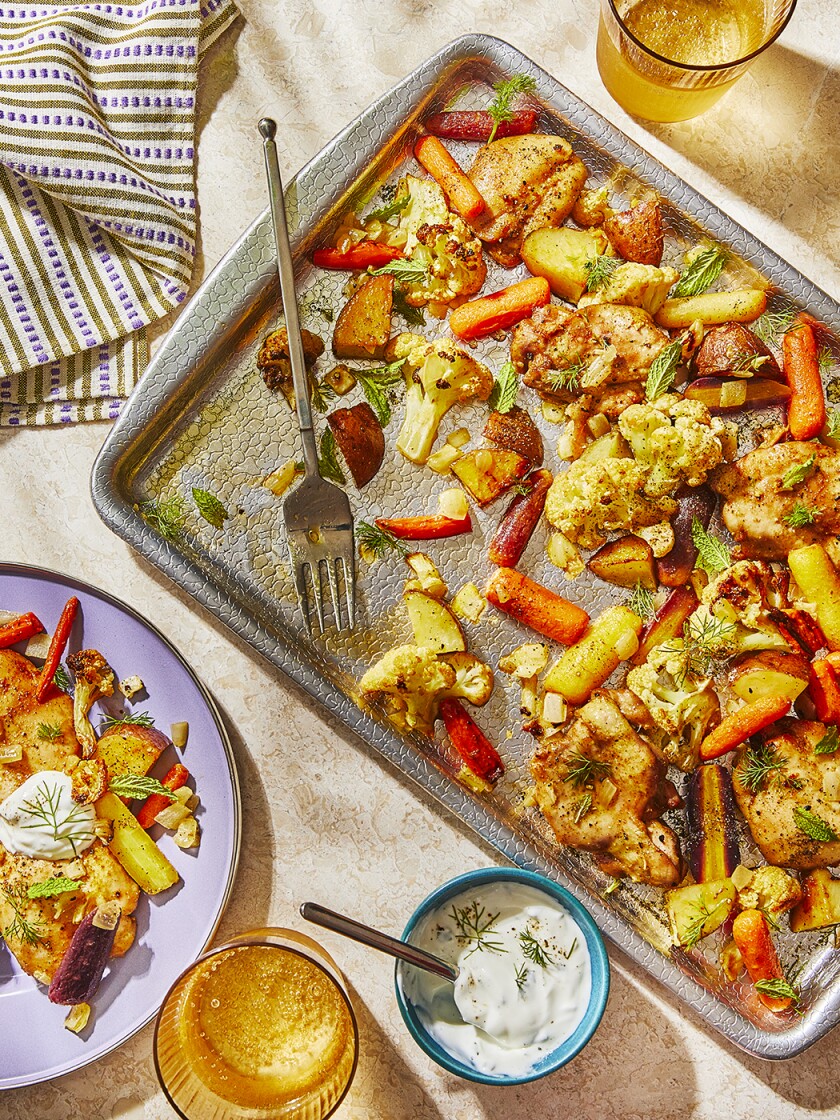 ONE-PAN WONDER CHICKEN AND VEGETABLES WITH GARLIC YOGURT SAUCE

A friend me on to this recipe she calls the "one-pan wonder" since it is relatively simple and overly delicious. In fact, is so good that you'll want enough leftovers for another meal---which is why I doubled the recipe. I've also increased measurements for plenty of yogurt sauce, and you'll want the extra. This minty sauce makes anything tastier, from fish to lamb to veggies.

2 Servings

1 lb. skinless chicken thighs. Cut into halves.

Half a small head of cauliflower cut into chunks.

3 medium-sized carrots cut into inch-and-a-half chunks (or two handfuls of organic baby carrots)

4 small red potatoes (skins on) cut into apricot-sized chunks

1/2 of a small sweet onion, diced

Marinade:

1/4 cup olive oil

A healthy dash of coriander, cumin, and smoked paprika

Kosher salt and black pepper to taste

Garlic Yogurt Sauce:

1 1/2 cups plain Greek yogurt

3 mint leaves, finely chopped

2 cloves garlic, minced (if you don't like raw garlic, roast it first, then smash and mix it in)

*optional: a dash of fresh dill

Preheat oven to 400. Make the marinade in a large bowl, then mix in chicken, cauliflower, carrots, and potatoes until well-coated. Marinate for 30 minutes. Remove chicken and place in center of a small, greased sheet pan. Arrange the vegetables on either side of the chicken in equal portions. Sprinkle onion overall. Roast on the top shelf of your oven (or the second shelf if it's too close to the burner) for 45 minutes or until chicken is no longer pink and veggies are tender. While the chicken is cooking, prepare garlic yogurt sauce and set aside for a bit so the flavors combine. Plate chicken and veggies, with garlic yogurt sauce on the side.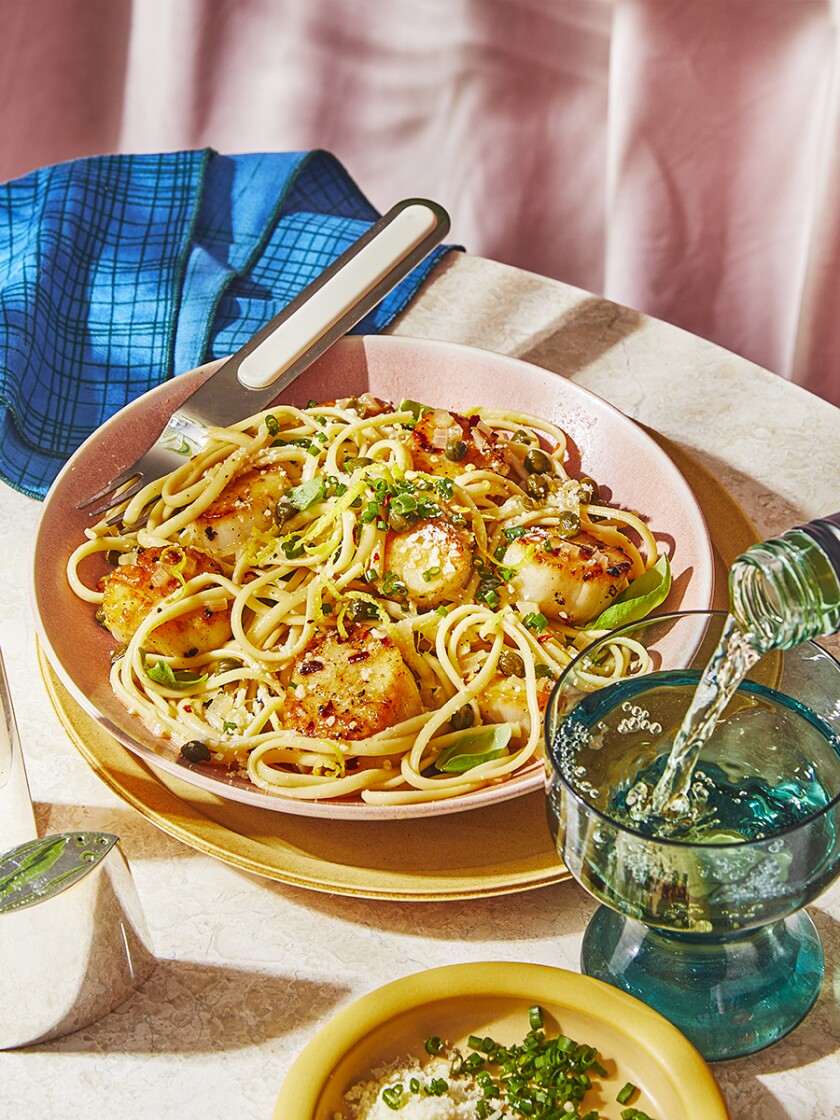 SEARED SCALLOPS WITH LEMON BUTTER LINGUINI

This yummy dish combines two of my favorite things---fresh seafood and pasta. Although it calls for capers, if you find them too salty, substitute them with peas to add color and texture to the dish.

1 Serving

4 oz. linguini

1/4 lb. fresh, medium-sized scallops (if frozen, thaw the night before in the refrigerator)

2-3 tsp. olive oil (plus a splash more for the pasta)

Salt and pepper to taste

1 Tbls. butter

1 clove garlic, minced

2 Tbls. shallots, chopped

2 Tbls. dry white wine

2 tsp fresh lemon juice

1-2 Tbls. capers (or 1/4 cup cooked peas)

Dash of lemon zest (about 1/4 of the rind)

1-2 Tbls. freshly grated parmesan cheese

*optional toppings: red pepper flakes, chopped chives, or fresh chopped basil

Cook linguini according to package directions, reserving a few spoonfuls of the pasta water after you drain it. Add a splash of olive oil to the pasta and mix it in, so the noodles don't get sticky. To prepare scallops, make sure there's no extra muscle on the sides of the scallops (if there is, remove it) and place them on a paper towel. Pat dry, then season liberally with salt and pepper. Heat a skillet on medium-high, then add 1-2 tsp. olive oil. Once it becomes shimmery (but not smoking), add the scallops and cook them on each side for 1 and 1/2 to 2 minutes until light golden brown. Remove scallops from skillet and set aside. Turn heat down to medium-low and add butter plus the last teaspoon of olive oil to the skillet. Stir in garlic and shallots; sauté until they start to brown. Add wine to the pan, scraping up the brown bits, and let simmer for 1-2 minutes. Add 2 spoonfuls of reserved pasta water, lemon juice, zest, and capers (or peas), frequently stirring while bringing the sauce to a simmer. Remove from heat and stir in the cooked pasta. Plate, cover with grated parmesan and then top with seared scallops.

Dig into some decadent chocolate truffles as your sweet finale to self-care and indulgence. And after -- how about a soak in the tub infused with a lilac bath bomb, with Aretha Franklin tunes playing in the background?

What's your favorite meal to make for yourself? Let us know in the comments below.