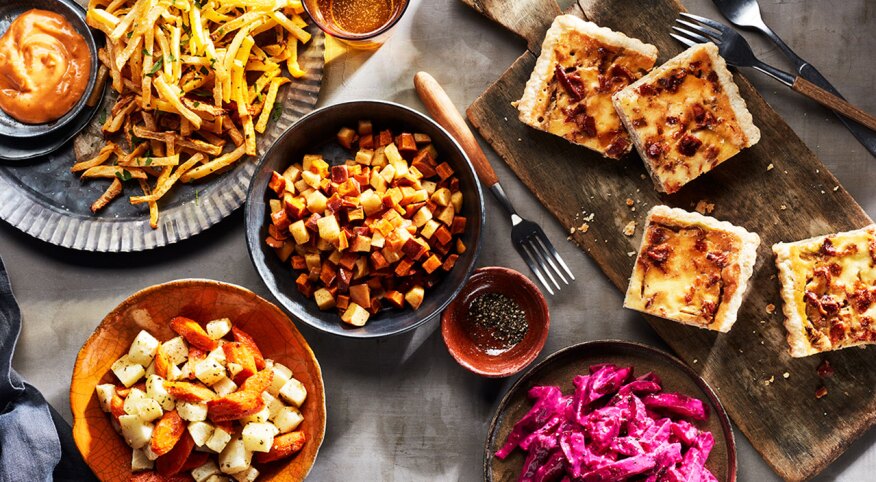 Root vegetables are the veggies that grow under the soil, such as carrots, beets, radishes, potatoes, turnips, rutabagas and many more. These hearty and healthy vegetables come in various colors, sizes and flavors, making them an ideal side dish for any meal. The best time to harvest root vegetables is spring to fall, so if you're looking for a unique addition to bring to an autumn feast, check out these delicious recipes!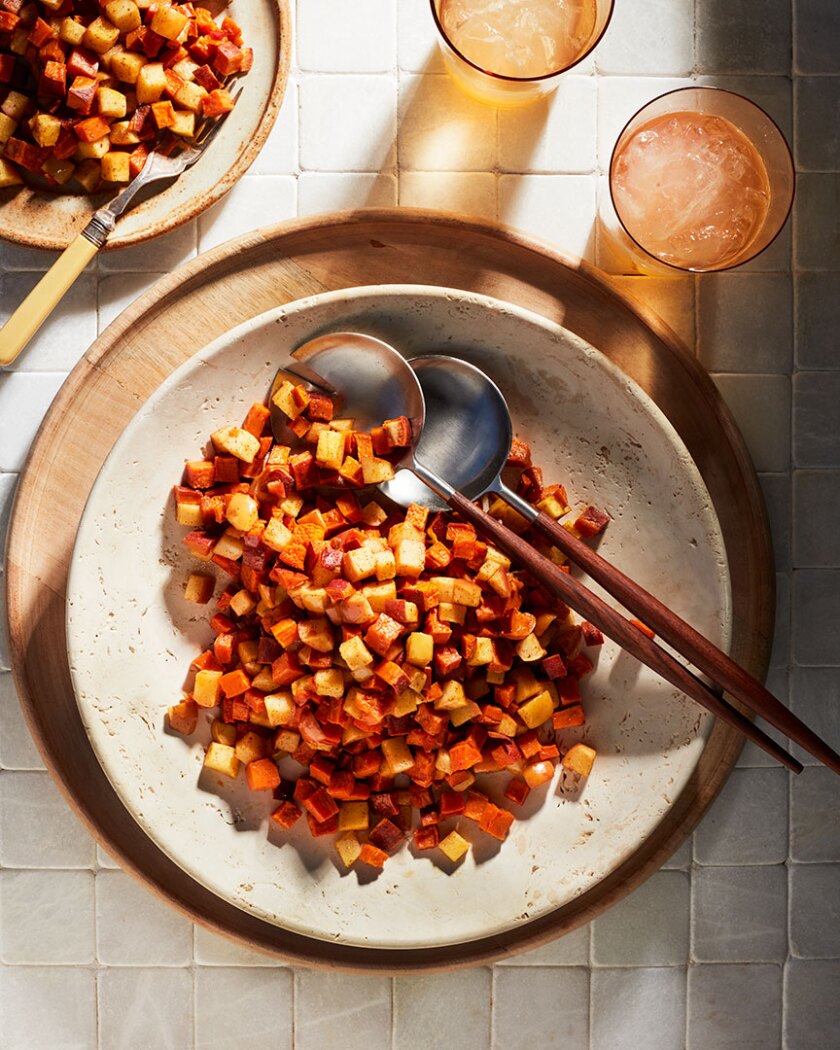 Cinnamon-Roasted Sweet Potatoes With Apples

Whenever I smell anything cooked with cinnamon, I'm reminded of the coziness of fall weather. The apples and maple syrup add extra sweetness to this recipe, which pairs well as a side dish to pork or a firm-flesh fish. Yams can also be substituted for sweet potatoes.

Serves 4

1 lb. sweet potatoes, washed and cut into 1/2-inch cubes (skins on)

3 Tbsp olive oil

1 tsp. sea salt

1 lb. apples, washed and cut into 1/2-inch cubes (skins on)

2 Tbsp. pure maple syrup

1 tsp. ground cinnamon

1 tsp. ground ginger

In a bowl, combine potatoes, 2 Tbsp. olive oil and sea salt. Pour onto a baking sheet and cook at 425°F for 20 minutes, stirring potatoes after 10 minutes. In the meantime, mix apples with the remaining 1 Tbsp. of olive oil and add syrup, cinnamon and ginger. Remove potatoes from the oven, mix in the apples, then cook for 20 more minutes, or until tender and the syrup has caramelized, stirring halfway through the cooking time.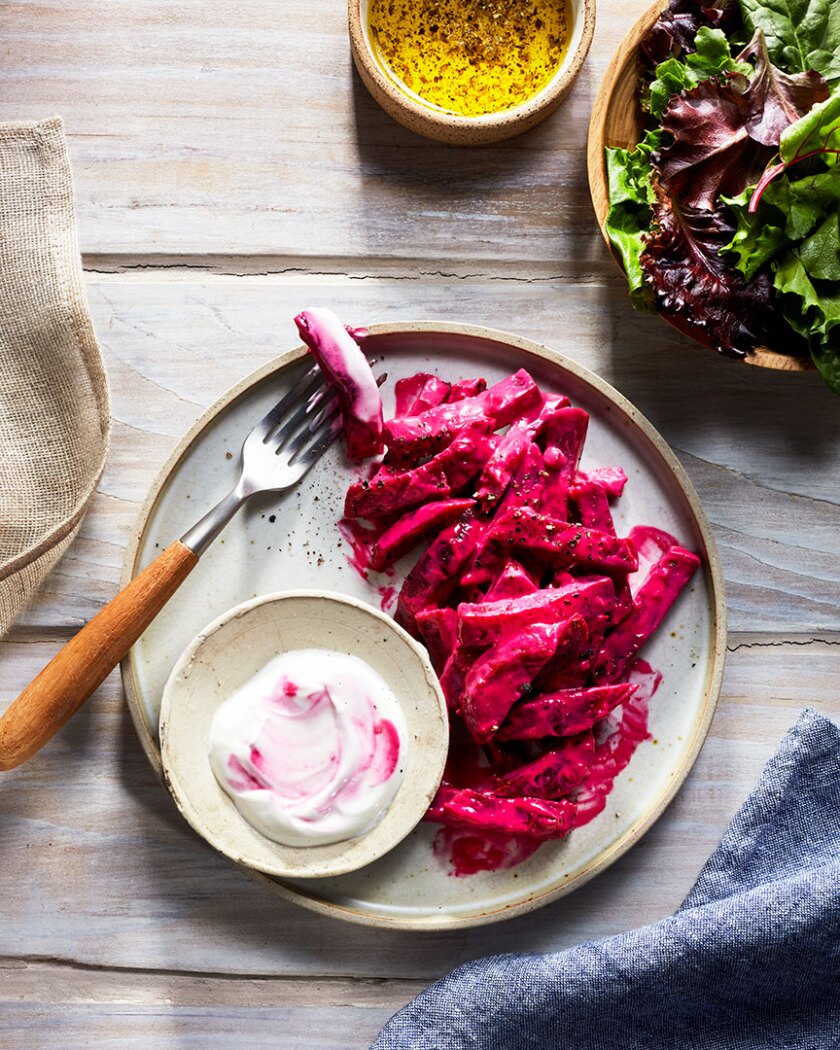 Beets in Sour Cream

I love beets no matter how they are prepared — with a sweet-and-sour sauce, as a salad topper or just roasted with butter and salt. When mixed with sour cream, they're unusually creamy and delicious and turn a pretty pink color to complement other foods on your plate.

Makes 4 small side-dish servings

1 lb. fresh beets, peeled, cooked and sliced into thin strips

2 Tbsp. vinegar

2 Tbsp. sugar

2 Tbsp. flour

1/2 cup sour cream

Salt and pepper to taste

Mix all ingredients together in a pot over low heat; stir frequently until well blended and thoroughly heated.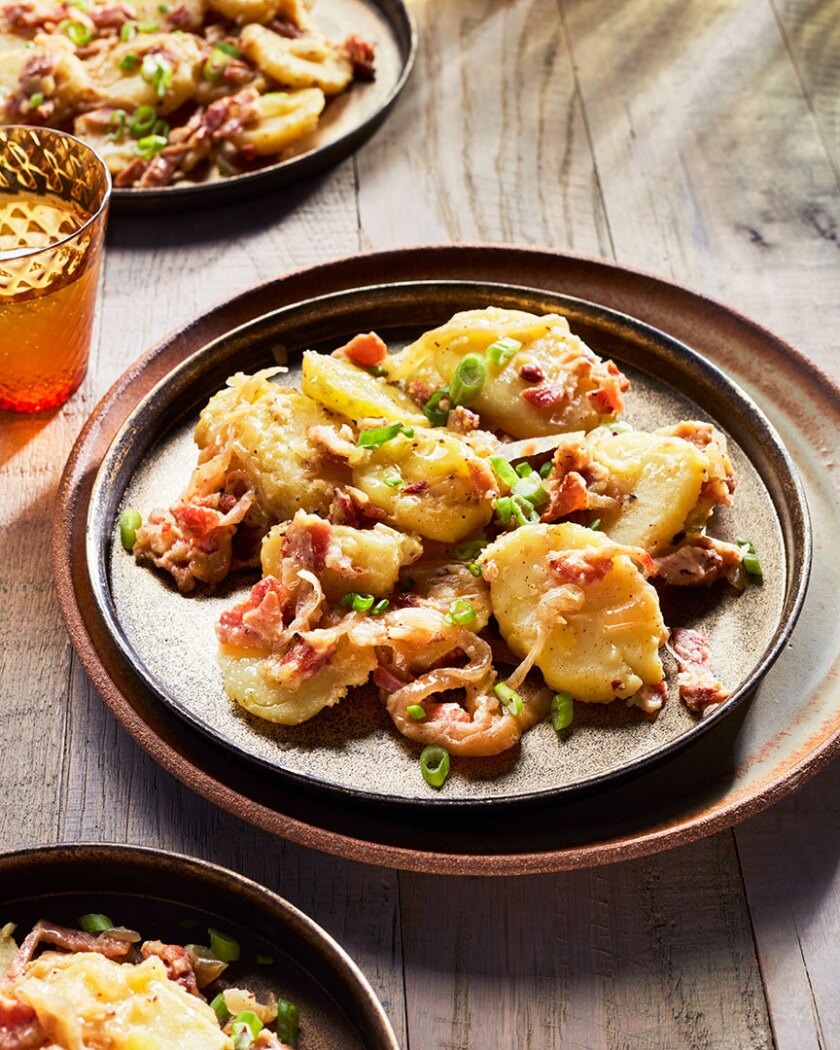 German Potato Salad

My father loved German food, and nothing made him happier than a plate of bratwurst with a side of German potato salad. But this is no ordinary potato salad; this one is served warm right out of the skillet. Even better, it makes a perfect side dish if you're hosting an Oktoberfest dinner party.

Serves 6

10-12 small potatoes, peeled

7 strips of raw bacon

1 large onion, sliced thin

1 tsp. sugar

1/4 tsp. celery seed

Salt and pepper to taste

1 Tbsp. flour

1/4 cup white vinegar

1/2 cup water

1/2 tsp. Dijon mustard

In a large pot, boil potatoes in water to cover until tender but still firm. Drain, cool and slice thin. Cook bacon in a skillet, drain strips on paper towels and crumble into small pieces once cool. Sauté onion slices in bacon fat until golden brown. While they are cooking, mix sugar, celery seed, salt, pepper and flour together in a small bowl. Stir into the sautéed onions until well coated. Remove the pan from the stove. In another bowl, whisk vinegar, water and Dijon mustard together. Add to the onions and return the skillet to the stove. Bring to a boil and stir constantly for one minute. Add bacon bits, then slowly add potato slices, turning gently in the skillet until blended. Serve warm.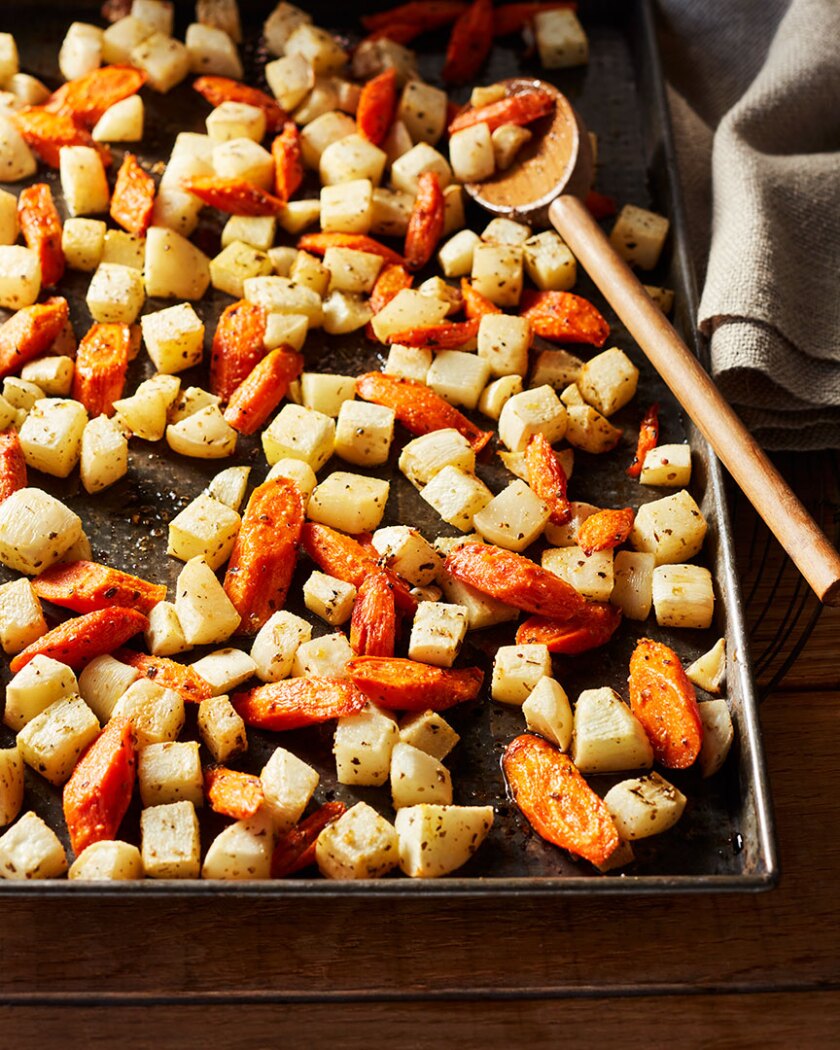 Roasted Turnips and Carrots

Turnips are a member of the mustard family and, when eaten raw, have a peppery taste. As a rule of thumb, the larger the turnip, the more bitter it will be. Choose turnips that are no larger than a tennis ball. Carrots are used in this recipe to counteract some bitterness, but you can also roast the turnips with sweet potatoes for added sweetness.

Serves 4

4 medium-sized carrots, peeled and cut into 1-inch slices

4 medium-sized turnips. peeled and cut into 1-inch cubes

2 Tbsp. extra-virgin olive oil

1 Tbsp. Italian seasoning

1 tsp. garlic powder

1/2 tsp. sea salt

1/2 tsp. black pepper

1 tsp. lemon zest

1-2 Tbsp. melted butter

2 Tbsp. fresh parsley, chopped fine

Mix carrots, turnips, olive oil, Italian seasoning, garlic powder, sea salt, pepper and lemon zest in a large bowl. Toss until well coated, then spread veggies out on a baking sheet. Bake at 400°F for 30-40 minutes until vegetables are tender. Drizzle with melted butter, and serve with fresh parsley sprinkled over the top.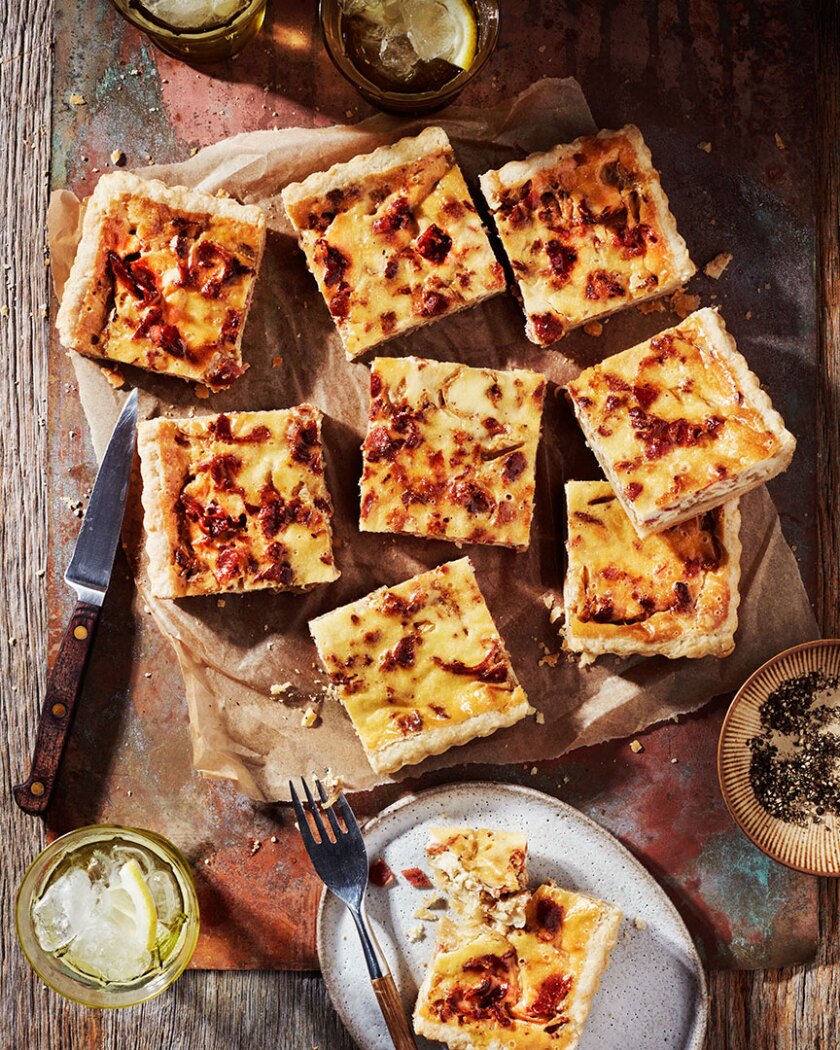 Onion Tart

This decadent vegetable tart is great right out of the oven or served at room temp. I often bake it for fall dinners in our twilight garden and serve it with a leafy green salad and homemade zucchini bread.

Serves 4-6

6 slices of raw bacon

3 cups thinly sliced onions

1 (10-inch) pie crust

2 large eggs

1/2 cup milk

4 oz. softened cream cheese

3/4 cup sour cream, divided into 1/2 cup and 1/4 cup

Salt to taste

3 Tbsp. flour

Cook bacon in a skillet, place strips on a paper towel to drain and crumble into small pieces once cool. Sauté onions in the bacon fat until tender and lightly browned. Drain off half the grease. Pour onions into pie shell, then add crumbled bacon over the top. Mix eggs, milk, cream cheese and 1/2 cup sour cream in a bowl. In a separate bowl, mix flour with remaining 1/4 cup sour cream. Add this to the egg mixture until well blended. Pour over onion and bacon in pie shell. Bake at 325°F for 35-45 minutes or until the center is cooked.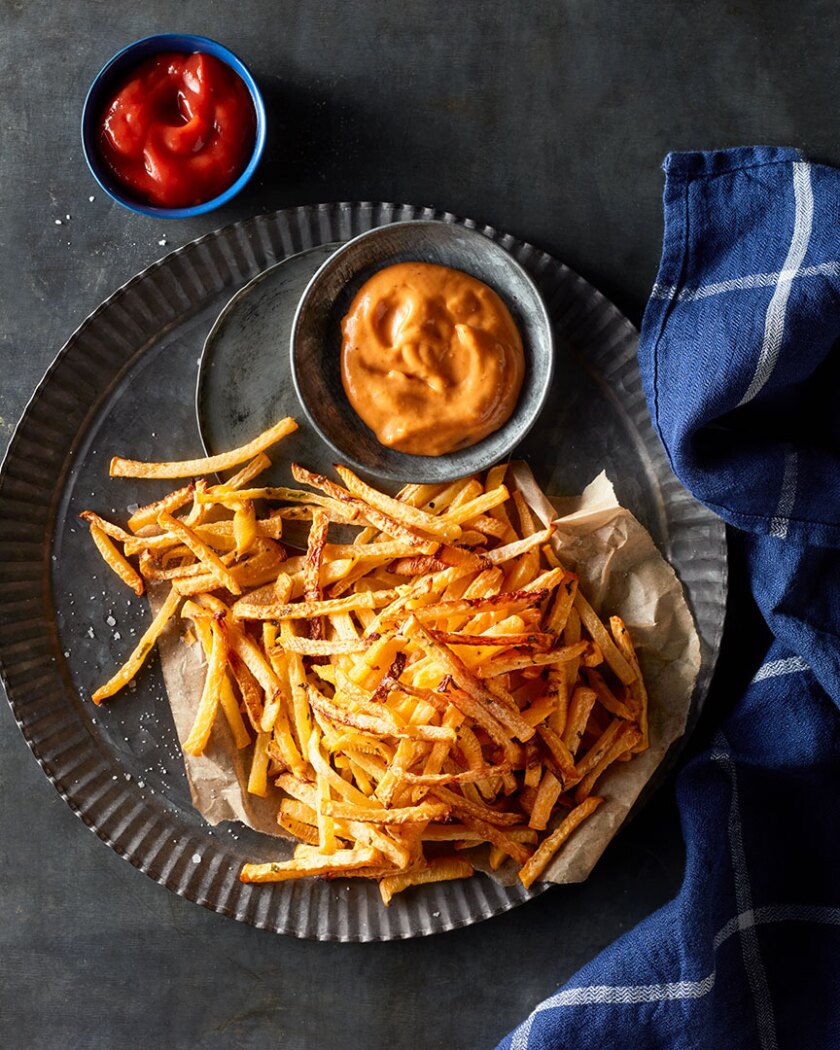 Rutabaga French Fries

It doesn't get any easier than this dish, and it's healthier than regular french fried potatoes. Serve it with a side of ketchup when the grandkids come by for dinner!

Serves 4-6

2-3 medium rutabagas

1/4 cup avocado oil

2 Tbsp. fresh rosemary, chopped

1/2 tsp. sea salt

1/4 tsp. black pepper

Peel rutabagas, then slice them into 1/4-inch-thick circles

Cut the circles into 1/4-inch-wide sticks.

In a bowl, toss the rutabagas with avocado oil and seasonings. Arrange fries in a single layer on a greased baking sheet and bake at 400°F for 35-40 minutes, until tender on the inside and crisp on the outside.