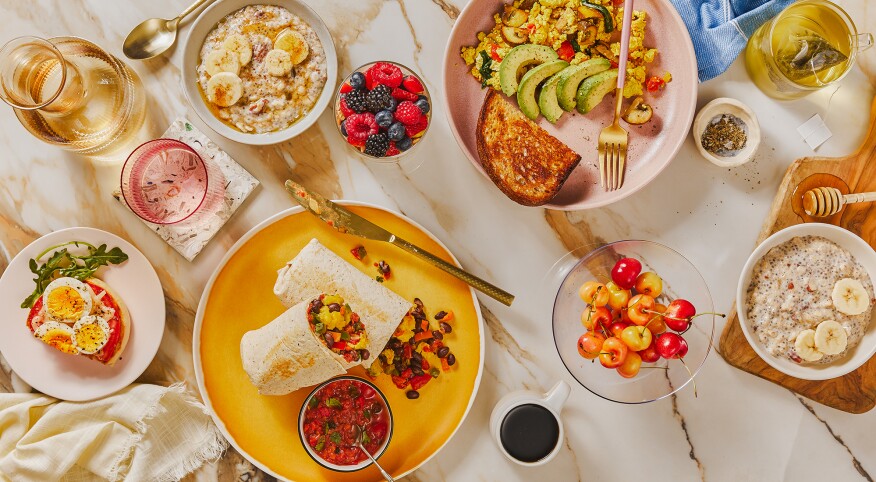 I can't imagine starting my day without a nutritious breakfast, especially if I'm planning a morning workout. But if I don't have time to cook, it's easy to toss fruits, veggies and Greek yogurt into a blender for a protein- and vitamin-packed smoothie. Another favorite go-to breakfast is whole grain toast topped with avocado, sliced tomatoes and seasoning.

Many studies have credited breakfast as the most important meal of the day, as it kick-starts our metabolism with nutrients that have all sorts of health benefits. A 2021 review of 14 studies published in Medicine found that those who eat breakfast daily have a reduced risk for a range of maladies, from heart disease to diabetes to obesity. So while "intermittent fasting," or switching between fasting and eating, has risen in popularity, and science has found that, too, works to manage obesity, I just feel a whole lot better when I put good food in my belly every morning.

Here are five of my go-to breakfasts, all delicious and nutritious. Most are crafted for solo servings, though it's easy to double or quadruple the recipes. (Also, here are a few smoothie ideas to check out.)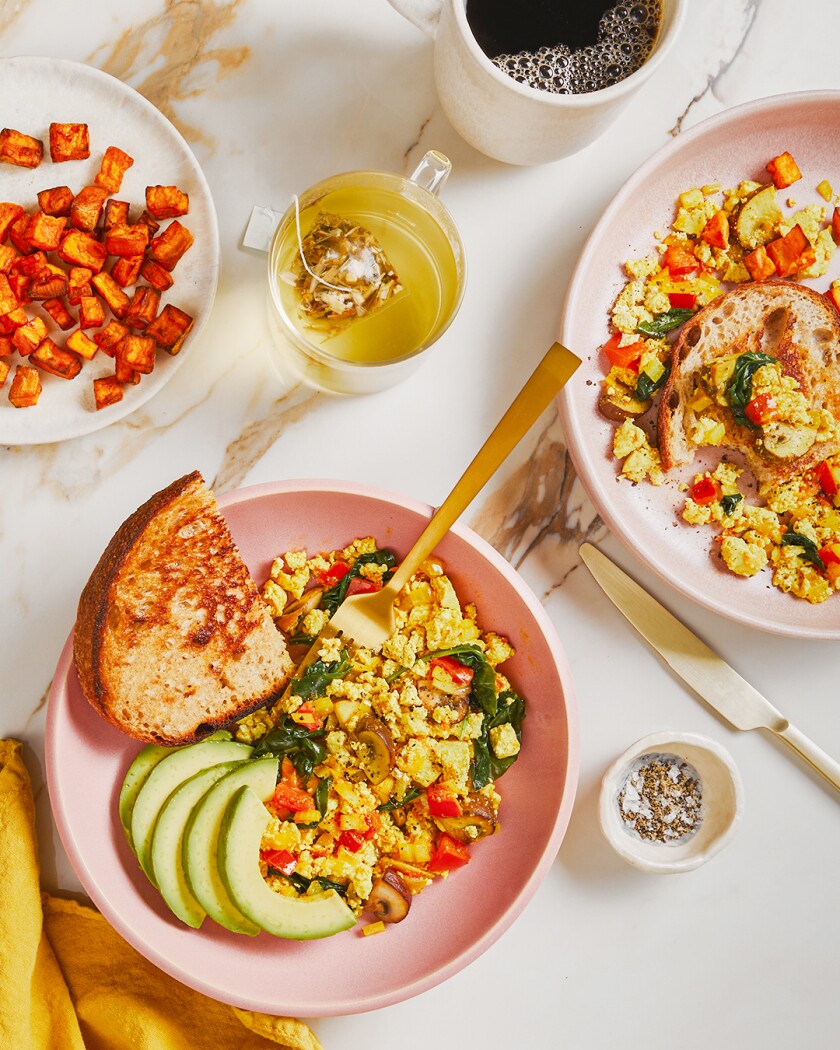 Loaded Tofu Scramble

This recipe is perfect for the vegan or vegetarian who wants a hearty breakfast to keep energy levels high.

Makes 2 large servings

2 tablespoons olive oil
¼ cup chopped onion
½ cup chopped bell pepper
½ cup chopped mushrooms
½ cup diced tomatoes
16 ounces tofu
¼ cup shredded vegan cheddar (you can add more cheese if desired)
½ teaspoon turmeric
½ teaspoon garlic powder
Salt and pepper
2 cups fresh spinach
Whole wheat toast, avocado or sweet potatoes for serving (optional)
Heat oil in a skillet and sauté all 4 vegetables together until tender. Drain tofu completely and add to the skillet. Break up the chunks until it resembles scrambled eggs. Stir until heated through. Add spinach, cooking until it has wilted. Stir in the cheese and serve the dish by itself or over whole wheat toast with avocado slices, or roasted sweet potatoes on the side.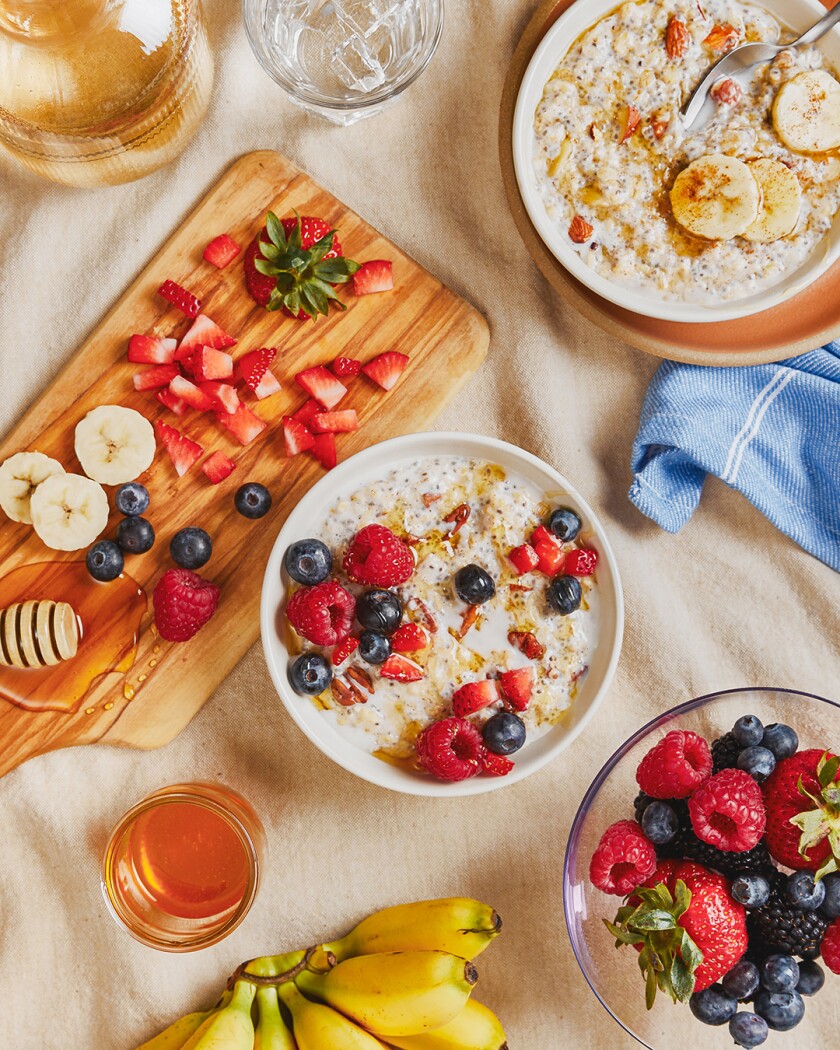 Oats With Chia Seeds and Fruit

Oats are a great way to add fiber to your diet for promoting intestinal health. Not only do they keep things moving along, they also are linked to lowering blood glucose and cholesterol levels.

Makes 1 serving

½ cup old-fashioned oats
1 cup unsweetened almond milk
1 tablespoon chia seeds
2 tablespoons chopped almonds or pecans
Dash of cinnamon
½ cup fruit (strawberry, blueberry, banana, etc.)
1 teaspoon honey or maple syrup
Place oats, milk, seeds and nuts into a small saucepan and bring to a boil. Reduce heat to medium and stir occasionally for 5-7 minutes until oats have softened. Stir in the cinnamon. Pour oatmeal into a bowl, add fruit and top with a drizzle of honey or syrup.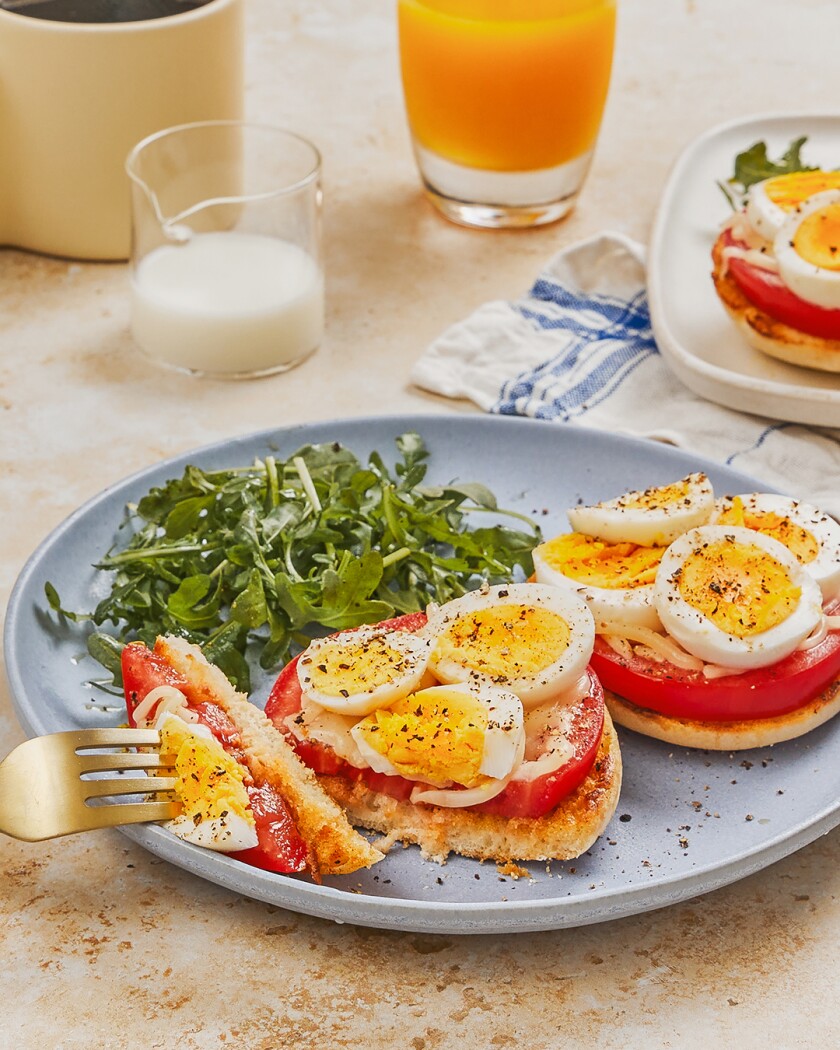 English Muffin With Egg, Tomato and Cheese

This simple recipe has all the components of a healthy breakfast with the perfect balance of protein, calcium and carbs.

Serves 1

1 large egg
1 regular or whole wheat English muffin
2 slices of tomato
¼ cup shredded mozzarella (or any cheese of your choice)

Place the egg in a small saucepan and cover with water. Bring to a boil, then remove from the stove and let sit for 10 minutes. Remove the egg and place it in a small bowl of cold water. Set aside. Split the English muffin open and toast until golden brown. Place one slice of tomato on each half, then sprinkle the cheese evenly over both. Peel the egg, slice it and place half on each muffin. Season with salt and pepper, then run muffins under the broiler (in a regular oven or toaster oven) until the cheese starts to melt. Serve warm.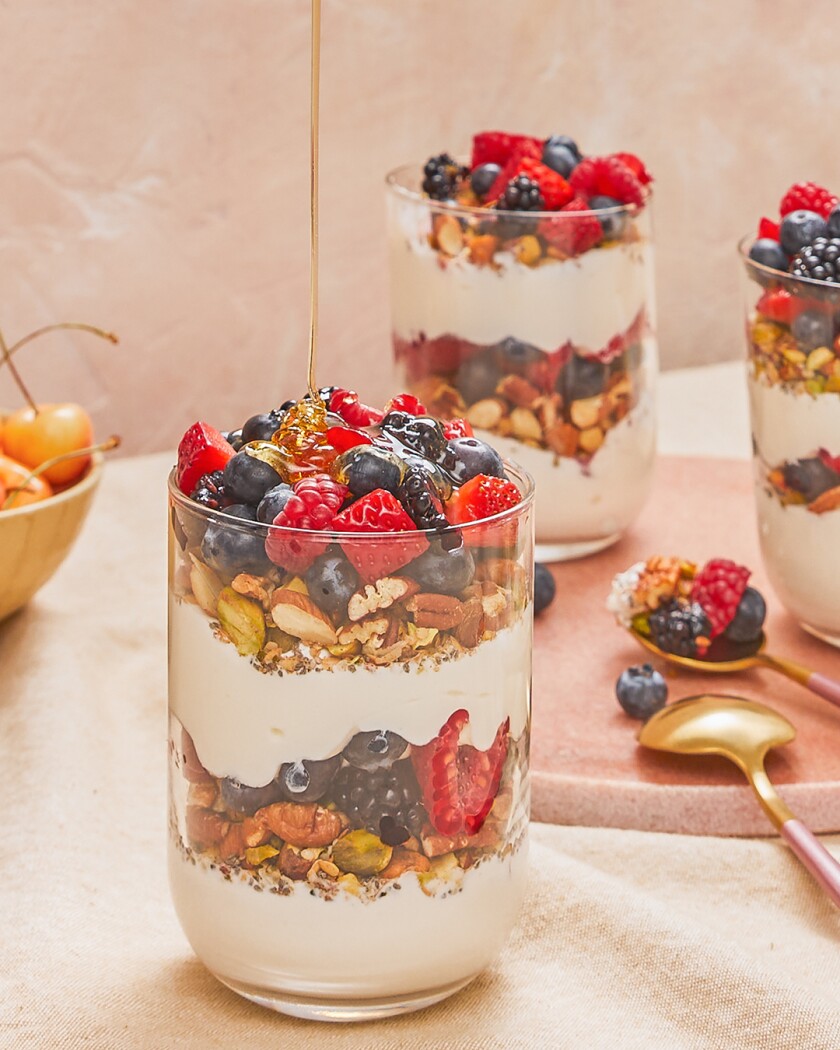 Greek Yogurt Parfait

If you prefer something sweet for breakfast and don't have a lot of prep time, this simple parfait checks many of the boxes that bolster overall nutrition.

Serves 1

¾ cup plain Greek yogurt
¼ teaspoon vanilla
1 teaspoon honey or maple syrup
¼ cup chopped almonds (or any nuts)
1 teaspoon flax seed, chia or hemp hearts
Pinch of cinnamon
Pinch of nutmeg
¾ cup mixed berries of your choice
Whisk together yogurt, vanilla and honey. Set aside. In a small bowl, mix together nuts, seeds and seasonings. Set aside. To assemble parfait, pour half of the yogurt into a tall glass. Top with half of the nut mixture, followed by half of the berries. Repeat layers with the remaining ingredients and serve. Optional: Drizzle a little extra honey or syrup on top.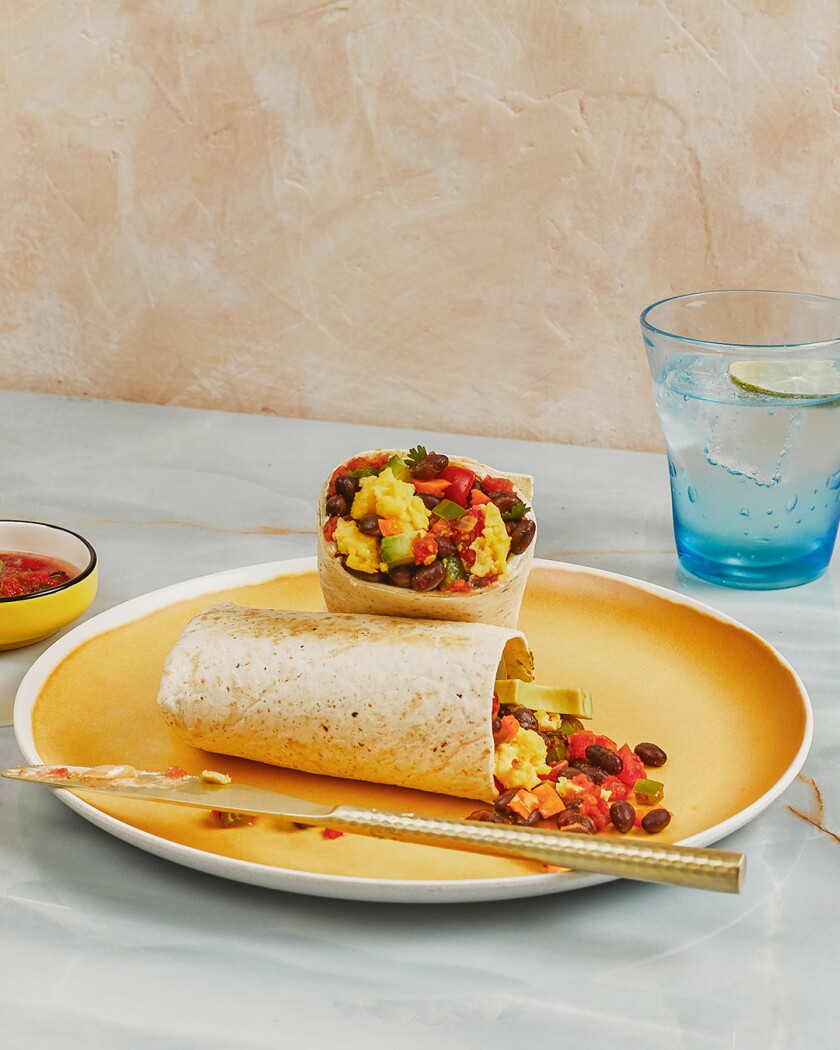 Whole Wheat Mexican Breakfast Burrito

What I love about burritos is that you can stuff them with just about anything and they always taste great. I usually grab whatever healthy ingredients I have left over in the fridge. Although this recipe doesn't include meat, you can add cooked beef (grass-fed is best) chicken or a fish of choice.

Serves 2

1 tablespoon olive oil
2 tablespoons minced onion
½ cup bell pepper, seeded and diced
½ cup canned black beans, drained and rinsed
½ cup diced tomatoes
Dash of red pepper flakes, salt and chili powder
3 large eggs
2-3 tablespoons grated Pepper Jack cheese
2 (10-inch) whole wheat tortillas
4 tablespoons plain Greek yogurt (or sour cream)
4 tablespoons salsa
1 small avocado, sliced
In a skillet, sauté onions and bell pepper over medium heat until tender, about 5-6 minutes. Add beans, tomato and seasoning, and cook another 3 minutes. Pour bean mixture into a bowl and set aside. In a separate bowl, whisk together eggs and cheese. Pour into the skillet and cook over medium heat, stirring occasionally, until eggs are firm. Warm tortillas in microwave for roughly 30 seconds, until soft. Spread 2 tablespoons of yogurt over each tortilla, followed by 2 tablespoons salsa. Divide the bean-veggie mixture into two parts and pour half over each tortilla. Spread equal amounts of the egg and cheese mixture over the beans, then top with slices of avocado. Roll up burrito-style and serve.
*Optional: heat a tablespoon of olive oil in the skillet and lightly brown both sides of the burritos before serving.

If your mornings are generally rushed, most of these recipes can be made in advance and stored in the refrigerator for the following day. Now go have yourself a healthy and energizing breakfast to help fuel your ability to seize the day!

What's your go-to breakfast? Let us know your favorite in the comments below.