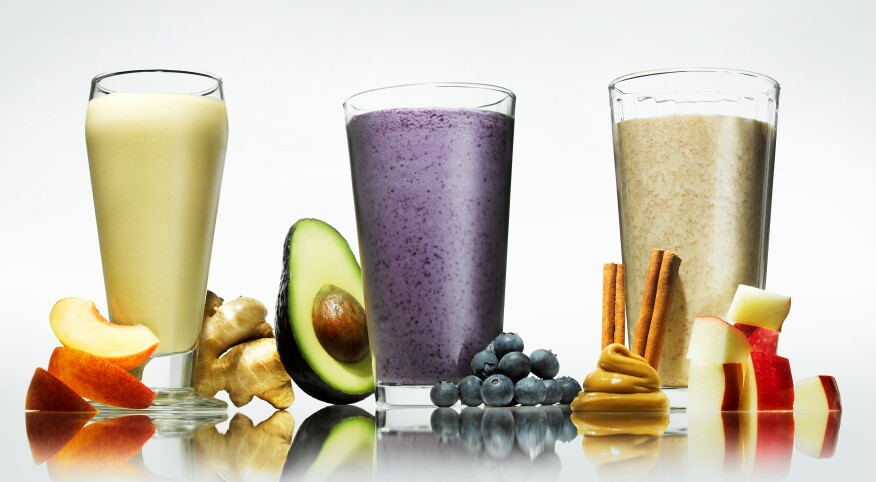 Should I ever forget to set my alarm, I don't need to worry. The sound of my husband blending his breakfast smoothie is loud enough to wake the dead. I shouldn't complain, though. Like most Americans, he needs to eat more fresh fruits and vegetables, and a smoothie is a good way to drink a couple servings' worth, plus get some calcium and protein from the Greek yogurt he adds. And smoothies, especially during the summer, taste so good — all cool, creamy and sweet in such beautifully appetizing colors.

But are smoothies really that healthy for you? Or are they just "a sloppy dessert you drink through a straw," as a testy British writer for The Guardian put it recently?

Smoothies' roots as a health drink actually go back nearly a century, starting with a 1926 orange juice stand in Los Angeles that sold a frothy sweet-tart drink called the Orange Julius. The blended mix of fresh OJ, milk, powdered egg whites, vanilla and ice was developed by the stand's owners to be less acidic than straight orange juice for those with a sensitive stomach. The drink soared in popularity by the 1950s and '60s. And then there was Steve Kuhnau, the original Smoothie King, who was lactose intolerant and in 1970 decided to develop a blended fruit shake as a healthier alternative to the milkshakes he couldn't have. His first Smoothie King store opened in 1973 and the idea was a hit, eventually becoming a global chain.

By the 1990s, the rapidly expanding smoothie industry really began to take off, soaring to a $12 billion worldwide market as of 2019. Still going strong today, recent trends include green smoothies that add antioxidant-rich spinach or kale to the fruit mix, as well as Instagram-worthy smoothie bowls that skip the straw and instead serve a thick smoothie in a bowl, topped with colorful fruit plus nuts or seeds, all eaten with a spoon.

But hold on before you get that blender revving, say dietitians. Yes, fresh fruit (and greens) are a good idea, both for their fiber and their vitamins, but if you're not careful, you could be consuming a calorie bomb of excess sugar and too little protein.

Beth Czerwony, a registered dietitian with the Cleveland Clinic's Center for Human Nutrition, says that the biggest misconception about smoothies is that they're all super healthy.

"They can be, but often mistakes are made that make them less than ideal," she said in an email.

Common mistakes include not including any protein to keep you feeling full longer, and only using juice, not fiber-rich whole fruits, she said. Plus, "people often put in more fruit than is needed and end up with too many calories, causing unintentional weight gain."

Dietitian Katherine Tallmadge, who does nutrition and wellness counseling via her website, personalizednutrition.com, says for older adults living alone who may not be cooking as much, or who are recovering from illness, smoothies can be a helpful way to get enough protein and nutrition.

For older women especially, a smoothie made with yogurt can be an easy way to add protein and calcium "to help replenish the muscle and bone mass we lose at a faster rate as we age," Tallmadge said in an interview. Yogurt also contains probiotics that may help women's gastrointestinal system, she added.

However, Tallmadge is not a fan of the premade smoothies in the refrigerated section of grocery stores, which she says often have too much sugar from juice and not enough fiber from fruit. "The first ingredient listed on the label, which means it's used in the greatest amount, is almost always apple juice. Even the mango smoothie only has mango as its fourth ingredient, she said.

Although Tallmadge occasionally buys a real mango smoothie — made with whole chunks of mango — from a local coffee shop near her house, she admits she doesn't make smoothies for herself.

"I want to sit down and eat and chew my food. I want crunch, different textures, a little salty, a little sweet. When you drink your meal, you don't get the same psychological satisfaction," she said.

For smoothie lovers, Tallmadge and Czerwony have these important tips:

The slower you sip, the better.

It's easy to gulp down a smoothie, but it's better for your health to take it slow. The stomach takes about 20 minutes to signal the brain that it's full. When people finish their meal too quickly, they tend not to feel satisfied and are more likely to overeat — raising their risk for obesity, heart disease and other health problems, recent studies show. "Drinking from a straw can make some people consume the smoothie faster," says Cleveland Clinic dietitian Czerwony. "Maybe reconsider the straw option" and use a spoon instead. Slowly.

Don't skip the protein.

Did your breakfast smoothie keep you feeling full until lunch? If not, says Tallmadge, make sure it has enough protein, fiber from fruits and vegetables, and a heart-healthy fat, like a quarter of an avocado or two tablespoons of nut butter. Plain Greek yogurt, because it contains less water, has about twice the protein as regular plain yogurt — 18 grams versus 9 grams in a six-ounce container. If you can't do dairy, plain soy milk yogurt or unflavored tofu are good substitutes. (Tofu is also a good source of vegetarian calcium.) Nondairy yogurts made from coconut milk or nut milk tend to be much lower in protein (1 to 5 grams), so check their nutrition label.

Frozen fruit is your friend.

Many smoothie experts recommend using frozen fruit, instead of fresh fruit plus ice, for best smoothie results. Frozen fruit gives a smoothie the ideal cool, thick texture. Using ice, which quickly melts, can dilute the flavor. Plus, if you have overripe fruit you're trying to use up, cut it into chunks and freeze it to use in smoothies. Frozen overripe bananas are the perfect sweetener, and they add that luscious creamy texture.