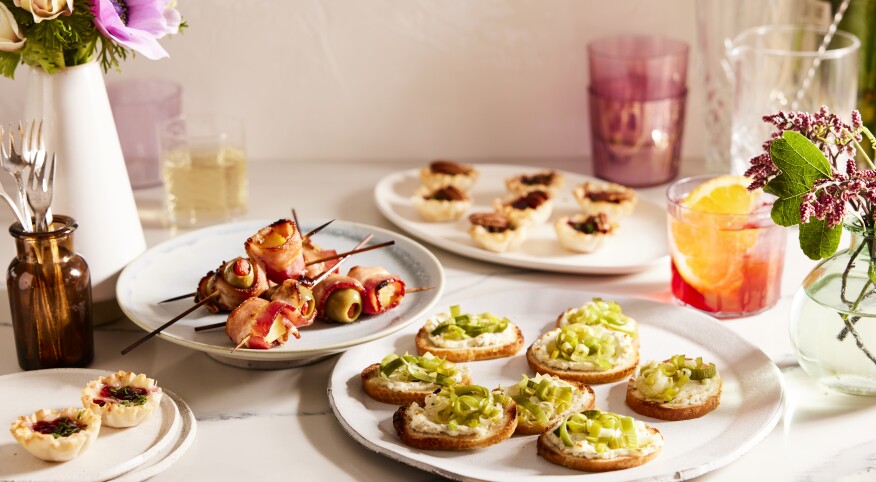 My mother was an exceptional cook who loved to entertain, and although my father never knew his way around the kitchen, he was a whiz behind the bar. Together, they were the perfect duo for hosting weekend parties at our house. They kept the pantry and bar well-stocked for unexpected guests so that no matter who showed up for an impromptu party, my folks were ready with delicious cocktails and trays of tasty appetizers.

I inherited my mother's love for entertaining and concocting new appetizer recipes for my guests. Like her, I keep simple staples in my house, turning them into bite-size snacks that pair well with any beverage. One of Mom's favorite impromptu appetizers involved toasted white bread cut into fourths that she topped with a mixture of mayo, grated parmesan and finely chopped onion. She ran the cheesy squares under the broiler until the parmesan was bubbly and then served it to her guests, who raved about the combination of flavors. I've made this dish several times as well, sometimes adding chopped artichoke hearts or mushrooms, and it's always a big hit.

If you want to impress the guests at your next gathering, try some of these easy appetizer recipes, which are made with simple ingredients you probably already have in your kitchen.

All recipes feed about 10 to 15 people as a snack.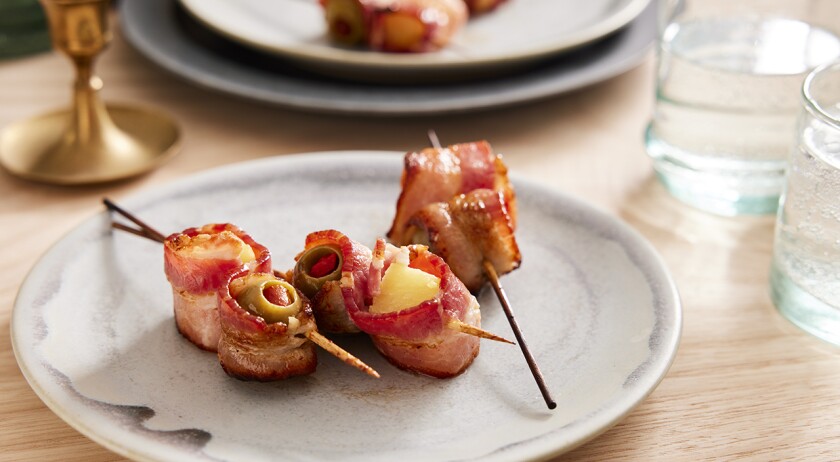 Pineapple And Olive Rumaki

Rumaki is traditionally made with water chestnuts and chicken livers, but when my mother made it, I picked out the liver because I don't care for the texture or taste. In this unique version of rumaki, the pineapple mixed with olive and bacon is the perfect combination of sweet and salty.

Ingredients

24 pineapple chunks

24 green olives (stuffed with pimentos)

12 slices bacon, cut in half

Directions

Top each strip of bacon with one pineapple chunk and one olive. Wrap bacon around each and secure with a wooden toothpick. Place rumaki on a greased broiler pan (or a baking sheet with a raised rim) and broil for 4 minutes. Flip rumaki over and broil an additional 4 minutes until bacon is done. Let cool five minutes before serving.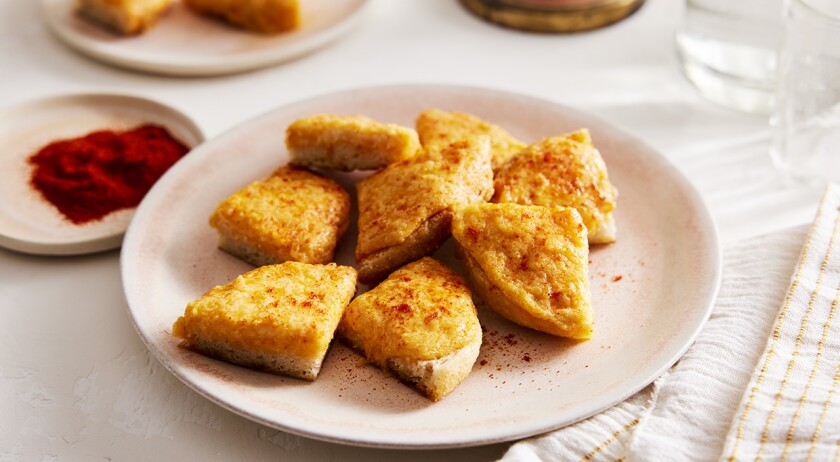 Crab Canapés

The great thing about this recipe is that it can be assembled ahead of time and kept in the freezer for several weeks until you're ready to cook them for guests.

Ingredients

1 stick butter, softened

2 tablespoons mayonnaise

1 teaspoon garlic powder

½ tsp. seasoned salt

1 jar Kraft Old English Cheese (or 1 cup processed cheese)

Dash of Worcestershire sauce

1 6-ounce can lump crabmeat

6 English muffins, split in half

Paprika for topping

Directions

In a bowl, mix the first 7 ingredients together. Spread crab mixture evenly over English muffins. Sprinkle paprika over top. Cut each muffin half into fourths and place on greased baking sheet. Bake at 400°F for 12 minutes or until cheese is bubbly.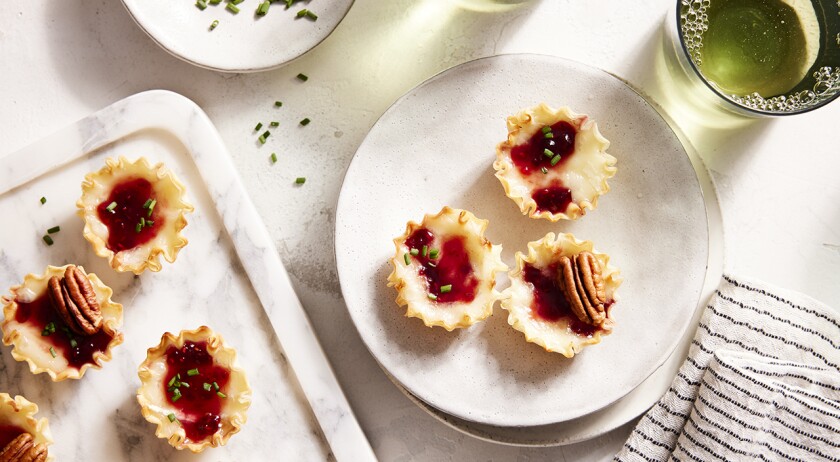 Raspberry Brie Cups

These little cups filled with melted Brie and raspberry preserves are both pretty and oh-so delicious!

Ingredients

1 8-ounce wheel of Brie cheese, cut into 1-inch cubes

15 frozen phyllo tart cups

½ cup raspberry preserves

3 tablespoons minced chives

15 pecan halves

Directions

Preheat oven to 350°F. On a greased baking sheet, arrange phyllo cups and place one piece of Brie in each. Spoon a little of the raspberry preserves over the cheese. Bake for 7 minutes or until Brie has melted. Remove from oven and top each cup with one pecan half, then sprinkle minced chives over all the cups.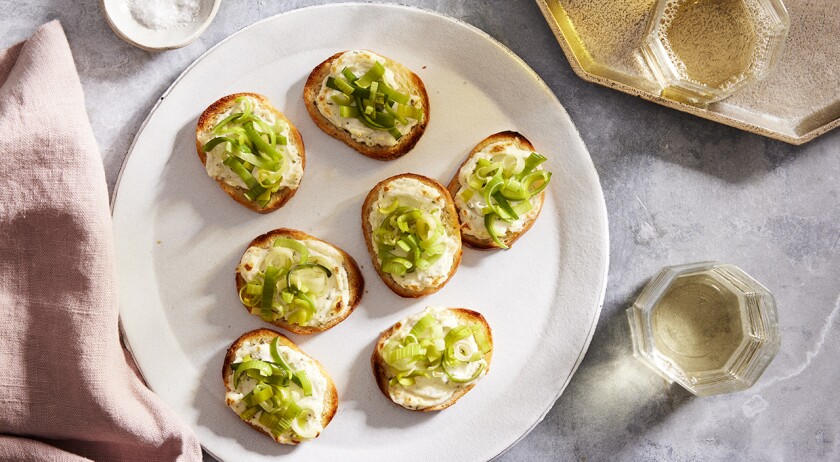 Garlic Cheese Crostini

These ridiculously easy crostini appetizers are both elegant looking and delicious. Bet you can't eat just one!

Ingredients

1 baguette (8-10 ounces) sliced in ¼-inch-thick rounds

¾ cup olive oil (plus a little extra to sauté leeks)

1 8-ounce container gourmet garlic and herb cheese spread

3-4 leeks, chopped

*A little extra olive oil to

Directions

Brush crostini slices with the ¾cup olive oil. Place on a baking sheet and bake at 350°F for 5-7 minutes on each side or until lightly toasted. While they're cooking, sauté chopped leeks in extra olive oil until tender. Set aside. Remove crostini and spread each toast round with the cheese, then top with sauteed leeks. Run under broiler for 1-2 minutes until cheese is bubbly and lightly browned.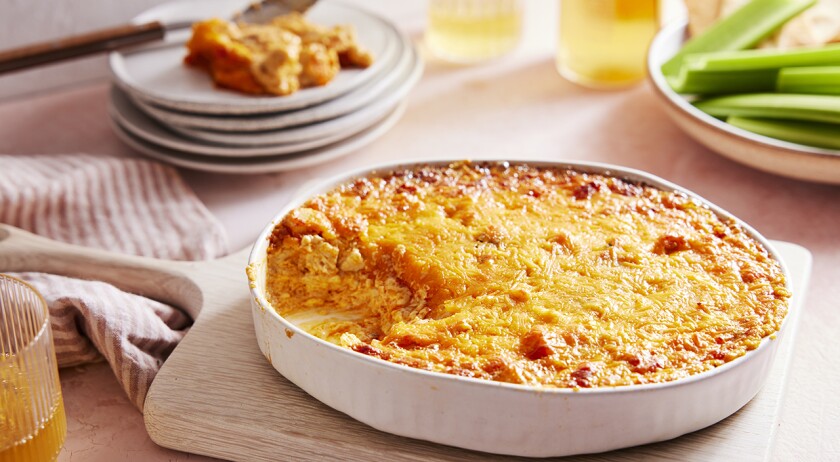 Buffalo Chicken Wing Dip

What would a party be without some sort of dip? This one is a classic at our house during Superbowl parties. It's the perfect combination of our beloved chicken wing flavors mixed with gooey cheese, eaten on a crunchy celery stalk or tortilla chip. But beware: This dip is addictive!

Ingredients

1 8-ounce package cream cheese, softened

1 cup cooked chicken, chopped small

½ cup buffalo wing sauce

½ cup blue cheese dressing (or ranch)

½ cup crumbled blue cheese

1½ cup shredded sharp cheddar cheese

Directions

Mix all ingredients together, reserving 1½ cup of the cheddar cheese. Pour mixture into a greased casserole dish, then top with remaining cheese. Bake at 350°F for 30 minutes, or until cheese is bubbly. Serve with celery sticks, crackers or tortilla chips. I'm a sucker for a nice cheesy quesadilla, and this one fits the bill—but at half the calories and fat. This recipe is great for a summer appetizer if you're enjoying the outdoors and cooking dinner on the grill.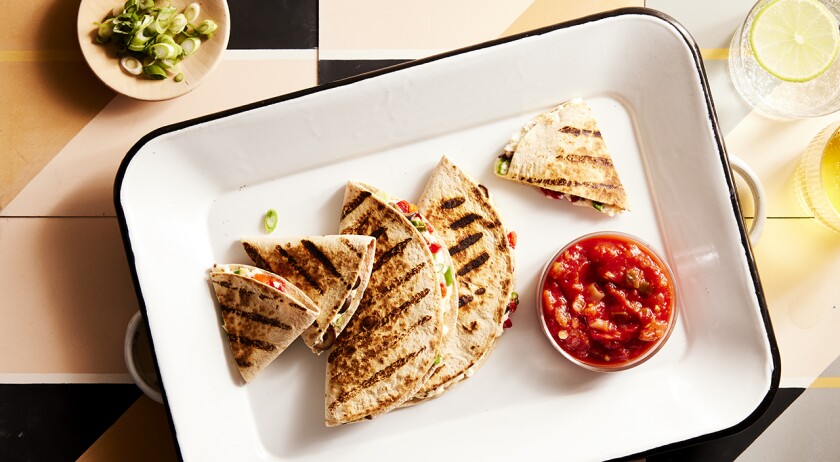 Low-Fat Grilled Feta Quesadillas

Makes 12 wedges

Ingredients

3 ounces fat-free cream cheese

½ cup shredded reduced-fat Mexican cheese blend

1/3 cup low-fat or fat-free crumbled feta cheese

½ teaspoon dried oregano

4 6-inch low-carb flour tortillas

¼ cup chopped black olives

2 tablespoons diced pimentos

1 green onion, chopped

Directions

Mix cheeses with oregano until smooth. Spread 3 tablespoons of cheese mixture over half of each tortilla. Top with olives, pimentos and green onions. Fold tortillas over. Coat grill with nonstick cooking spray. Grill the tortillas, uncovered, over medium heat for 1-2 minutes on each side. Cut each tortilla into three wedges. Serve warm. Optional: Serve with salsa or low-fat sour cream.