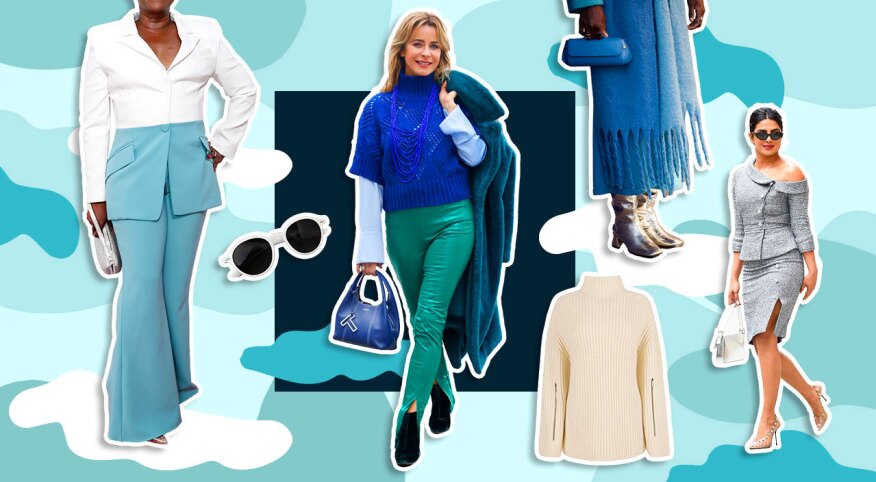 Birds in the trees do it. Fish in the seas do it. Hunters in the woods do it. All have mastered the art of camouflage. Now it's your turn. Making figure challenges fade into the background — while the rest of you enjoys the spotlight — means leaning into some spring trends and some time-honored styling tricks.

As they say, "It's not the challenge that sinks you, but how you deal with it." These 10 strategies will help make sure you float gloriously into spring and beyond.

Ruching and drawstring accents

The soft folds created by ruching and adjustable drawstrings are ideal for hiding any lumps, bumps or fluff we've accumulated through a life well lived. And they are everywhere in the warm-weather months ahead — from skirts and dresses to mass-market swimwear and designer cocktail dresses. They are the antidote to clingy, body-con styles that tend to hug in all the wrong places.

Waist-ing away

Spring's romance with high, rib-hugging waistlines may not flatter us, but other trends will. The return of pleated pants can camouflage a tummy, while the continued prominence of boot-cut and flared jeans can balance wider hips. You'll also find brands adding more spandex and elasticized waistlines (often hidden in back or within linings) to avoid emphasizing trouble spots.

Neck and neck

Two warm-weather styles offer suitable solutions for an area that challenges many of us — our necks. The mock neckline (shortened from a mock turtleneck) extends an inch or two above the collarbone to draw attention upward to the face. Another popular spring option is the sweetheart neckline, which draws attention downward to the bust. Both effectively redirect the eye to other assets.

Layering it on

We usually relegate talk of layering to the winter months and adding extra warmth. But spring trends of whisper-thin layers make easy work of camouflaging. Look for ruffled chiffon blouses — or more tailored cotton voile styles — to slip on over tank tops, sports bras and camisoles. Lightweight, open-front sweaters in linen or ramie can cover up troublesome arms, waists and hips. Longer lengths lend drama but also prove practical at distracting from thighs.

Favorite spring trends such as mesh, lace and fringe can serve double duty in your camouflage campaign. Layered over or under a short skirt — or along the hem in the case of fringe — they give instant fashion credibility to any outfit. And like the old Hollywood photo trick of using petroleum jelly to soften facial wrinkles, these fabrics provide a filmy layer to cover veins and discolorations on the legs.

Going monochrome

Just as summer 2022 and its "coastal grandmother" trend paid homage to the many shades of off-white, spring 2023 embraces these nuances of color in a slightly more saturated palette. Instead of sandy tones, spring is awash in icy pastels — and pale, cloudy grays have become the new neutral. Besides being a look of the moment, monochromatic dressing is perfect for camouflaging. By enveloping you in the same color, there's less focus on separate pieces that can call attention to figure challenges. It's also a great strategy for spring and bridging that cold-to-warm gulf, by enabling you to mix different weights and textures in the same color.

The plus-one

Add a bit of edginess to a monochromatic outfit with a single burst of a complementary color. The best accomplice is a well-placed handbag. A short-handled burnt orange style hanging from the shoulder of an ice blue sweater lifts the eye upward. A bubblegum pink cross-body bag slashing across a gray outfit (even athleisure wear) automatically elongates. Both look decidedly elevated. As with the magician's sleight of hand, these single splashes mesmerize and draw attention elsewhere.

Peep show

In the hierarchy of sartorial distractions, a glimpse of skin ranks near — if not at — the top. Spring promises plenty of opportunities to capitalize on this winning approach. One-shoulder tops and dresses — along with cutouts in everything from sleeves to hemlines — let you tease the eye to look here, not there. Asymmetrical hemlines and slit skirts draw attention away from hips, with a leggy flash of skin. The cross-body slash of a wrap top, and its corresponding V-neckline, enhances the bust as it distracts from the waist.

Eye-catching accessories

The drama of an expertly positioned accessory can distract from a multitude of challenges. Sunglasses add instant color to your face while also covering up any dark circles or under-eye puffiness. Bold handbags — whether shopping-bag-size satchels or petite purses with texture and hardware — grab the spotlight, pushing flaws into the shadows. Shiny, metallic finishes on leather goods — from belts to ballet flats — provide another level of distraction.

Styling trick 1

The front tuck may be the best camouflaging trick ever. By tucking a few inches of your blouse, top or sweater into the front waistband of your pants or skirt, you immediately shift the focus of the eye up from the hips while simultaneously hiding most of the waistline. Genius. There's the added benefit of some coverage in the rear view, depending on the length of the garment. If you haven't mastered this technique yet — and it does take some practice to be effective without looking forced — you are definitely missing out.

Styling trick 2

If you absolutely must tuck your top in all the way around, there's no need to do a tight tuck that's secured within one or more elastic-edged garments. Instead, create a gentle blousing effect that's less severe and can hide any waistline fluff.

Keep these camouflage strategies in mind as you update your spring look. They'll help ensure the best version of you is on view — and the rest fades into the background.

What do you think of the above? Let us know in the comments below.