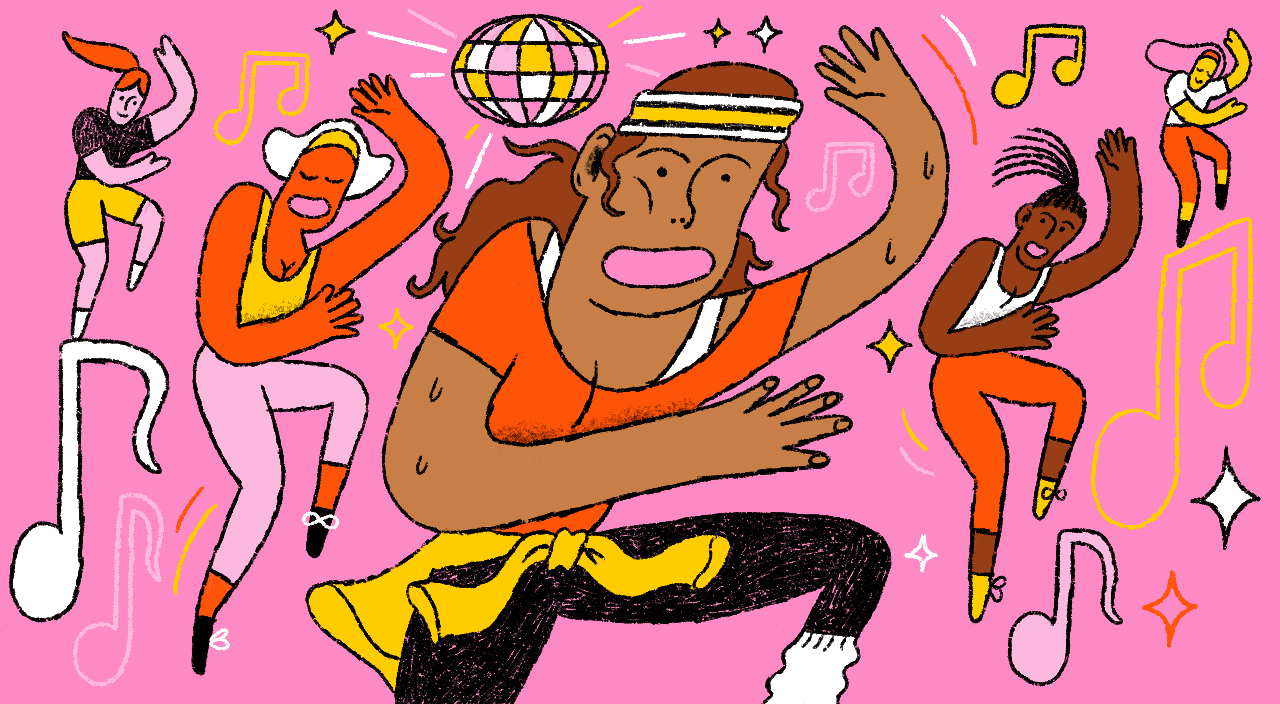 Our Zumba class is heating up with 20 women, ages 60 and beyond. We are all dressed in bright leggings, tank tops, and sneakers as we salsa our way across the floor.

The young instructor swivels his hips to the sultry beat of a Luis Fonsi song, and we cheer him on. I laugh, wipe the sweat from my brow and retreat for a quick water break. My friend swigs from her sports drink and high-fives me before returning to the dance floor.

I catch a glimpse of myself in the large wall-to-wall mirror, damp hair sticking to my face, my cheeks bright red — and I know I've never looked better.

I never imagined that I would enjoy Zumba this much. Growing up, I was the kid who hated exercising, the last one picked for relay race teams during PE and the first one to hit the couch after school. While my friends were out riding their bikes or playing softball, I was watching Scooby-Doo reruns with a bowl of chips in my lap.

Exercise was too hard, too hot and too boring. In a nutshell, I was lazy. Years later, when a friend raved about a new gym nearby that offered Zumba classes, my interest was piqued by her enthusiasm for a workout that combined Latin and international music with aerobic dance moves and resistance exercise. I knew that it was time to get off the couch and get my body moving if I wanted to stay healthy as I age.

The first time I attended Zumba, I was surprised at the variety of people in the class. Women (and a few men) of all ages and sizes filled the room. There was none of the workout competitiveness that I'd remembered from the gyms of my youth, and no one cared whether or not I could keep up with the music. Instead, it was clear that we were there to have fun, get our hearts pumping and make a few friends along the way.

That was seven years ago, and I've been hooked ever since. When the music takes over and I'm dancing in class, I completely forget that I'm 62. I feel like I'm in college again, shaking my booty at the clubs and gyrating my hips with my girlfriends. Zumba classes have upped my dancing skills — I can salsa, merengue and mambo with ease. (And yes, there's even a little bit of twerking involved!) The benefits of Zumba are numerous. Not only does it make you feel youthful, but it also helps you burn calories, tone your body and improve your balance, coordination and memory skills. And it is a major boost to your self-confidence. Some of the women in my class are well into their 70s and early 80s, and they have no problem dancing the cha-cha and throwing in a few samba steps.

For Angel Kinssies, a licensed cosmetologist and fitness instructor in Deerfield Beach, Florida, Zumba has been a lifesaver. Devastated by the passing of her husband and a melanoma diagnosis two years later, Angel sank into a deep depression. She was 63, overweight and had difficulty getting around on her bad knees.

Finally, a friend convinced her to try a Zumba class to get into shape. Struggling to keep up, Kinssies felt intimidated and left the class after 10 minutes. But her love for dancing motivated her to return the next day. This time, she let the music carry her away.

After six months, her instructor noticed her enthusiasm and encouraged her to be a substitute teacher in his class on occasion. That was the beginning of a new career! Kinssies has been teaching Zumba for nine years now at doctor's offices, memory care units and numerous senior communities.

"My oldest [student] is 103," she says. "My first class is isometric exercise to strengthen muscles and increase bone density. The second is a Zumba Gold dance class. I get testimonies almost daily from people who have experienced pain relief, improved memory and flexibility. Three of my students were healed of osteoporosis and got off their medication."

The physical and emotional transformation of Zumba lovers has been a testament for people of all ages who want to join in.

Mimi Botscheller, an artist from Pompano Beach, Florida, started classes when she was 64. She loves Latin rhythms and dancing, so the classes were a perfect fit.

"It takes concentration to learn the steps, but it's a workout that can't be beaten," says Botscheller. "Each class teems with positive energy that lasts long after the session is done. It doesn't matter how you look doing it; just pace yourself and dance to your own drum. Shout, hoot and have fun. After a few classes, the moves become second nature. Dancing is life!"

You can find Zumba classes just about anywhere, even online if you don't feel comfortable mingling with people. But a big part of the fun is dancing with others. Most gyms offer classes (they run roughly an hour), as do many community centers.

My devotion to Zumba means I no longer suffer from body aches or fatigue, and I have lost several pounds in the process. Even better, I've made many fun new friends in the Zumba community who share my enthusiasm. Together, we're dancing our way to a healthier lifestyle, one salsa step at a time.

And I've never looked better!