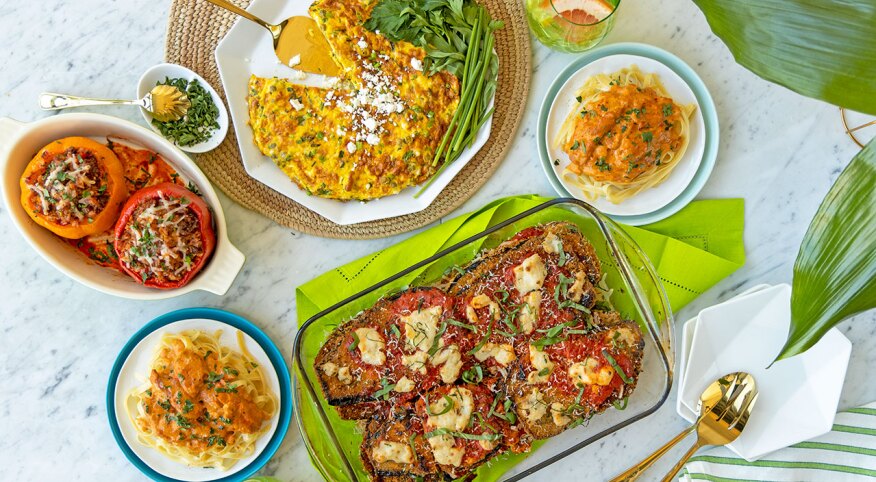 When my daughter decided to become a vegetarian at 14, I thought it was just a passing phase. But 18 years later, she's still on a plant-based diet and creates some of the best meatless meals I've ever had — disproving my earlier belief that vegetarian foods lack flavor or variety.

High-fiber diets are known to lower the risk of heart attacks, which is especially beneficial to vegetarians, who eat fewer calories and less fat, and often weigh less than nonvegetarians. People who consume a meatless diet are also 25 percent less likely to die of cardiac disease and also have a decreased risk of colon cancer, according to a 2020 Harvard Medical School study titled "Becoming a Vegetarian."

There are many other benefits to a plant-based diet. Jackie Day, a certified health educator and author of The Vegan Way: 21 Days to a Happier, Healthier, Plant-Based Lifestyle That Will Transform Your Home, Your Diet, and You, has been vegan for 34 years. "A plant-based diet is low in saturated fat and rich in fiber, vitamins and minerals which help lower blood pressure and LDL (bad) cholesterol," Day told me. "It also reduces the risk of diabetes and helps you maintain a healthy weight."

Day is proof of the benefits of a vegan lifestyle. At 57, she has never had weight issues, high blood pressure or high cholesterol and, unlike many her age, she does not require medications. She adds: "In addition, clean eating keeps me energetic — I hike and can play a solid game of tennis with ease."

Here are 5 recipes so delicious you won't miss the meat!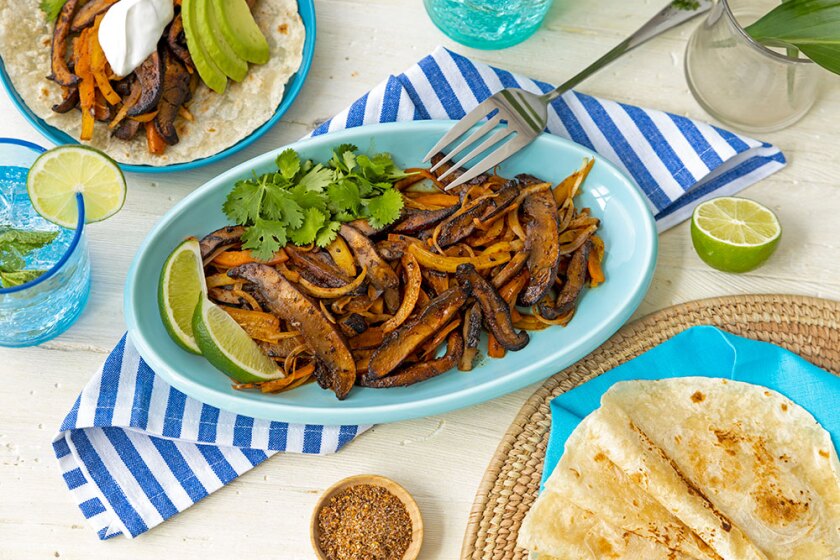 Vegan Mushroom Fajitas

This recipe is an adaptation from Audrey Castonguay's Wholesome Culture Cookbook.

Serves 5 to 6

Ingredients

6-10 medium-sized flour tortillas

3-4 tablespoons olive or vegetable oil

3 bell peppers (any color), sliced in thin strips

2 medium onions, sliced

2 cups mushrooms, sliced

1 teaspoon chili powder

1/8 teaspoon cayenne pepper

2 cloves garlic, minced

1 teaspoon cumin

1/2 teaspoon smoked paprika

1 teaspoon salt

1/4 teaspoon black pepper

Dash of lime juice

Optional toppings

Vegan sour cream

Avocado slices

Fresh cilantro, chopped

Tabasco sauce or any other hot sauce of your choice

Heat the oil in a skillet, add the peppers and cook, stirring occasionally, for 2 to 3 minutes. Add the onions and mushrooms and cook for 8 to 10 minutes or until the veggies have softened. Add the seven seasonings and cook another 3 to 4 minutes. While the filling cooks, lightly toast the tortillas in a separate skillet on medium heat. Remove the fajita filling from the stove, stir in a dash of lime juice, then scoop the mixture into your tortilla shells. Add a dollop of vegan sour cream, a dash of Tabasco or any other hot sauce of your choice, and a few slices of avocado, and top with a sprinkle of cilantro.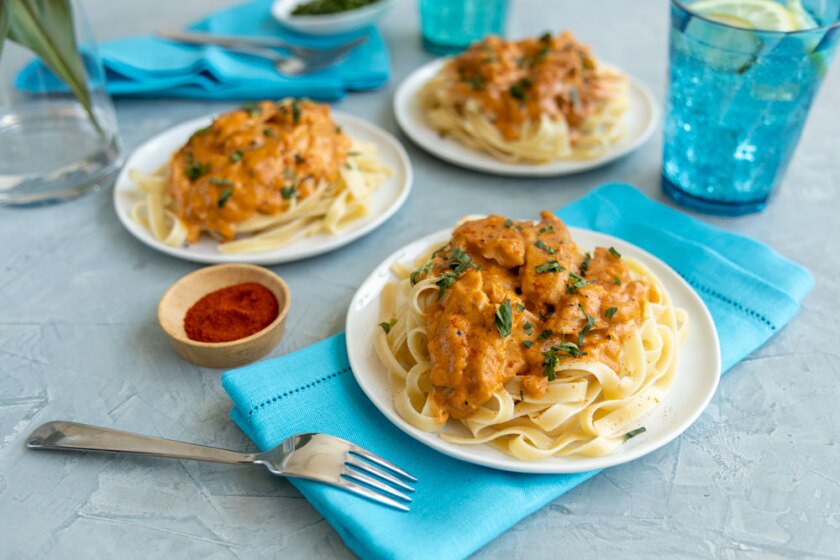 "Chicken" Paprikash

Serves 4

Ingredients

20 ounces plant-based chicken strips (I prefer Gardein brand)

1 1/2 tablespoons butter

1 1/2 tablespoons olive oil

1 large onion, sliced

2-3 teaspoons smoked paprika

1 teaspoon salt

1/4 teaspoon black pepper

2 cups vegetable broth

2 teaspoons flour

1 cup sour cream

1 package egg noodles

Sauté the onion in the butter and oil until tender. Add the seasonings and broth, bring to a boil, then add the chicken and simmer until it is heated through. In a separate bowl, add the flour and slowly mix in 1/4 cup of the broth with a whisk until smooth (to prevent lumps). Pour this into the skillet, then stir in the sour cream. Simmer 3 to 4 minutes or until blended. Serve over egg noodles or any pasta you prefer.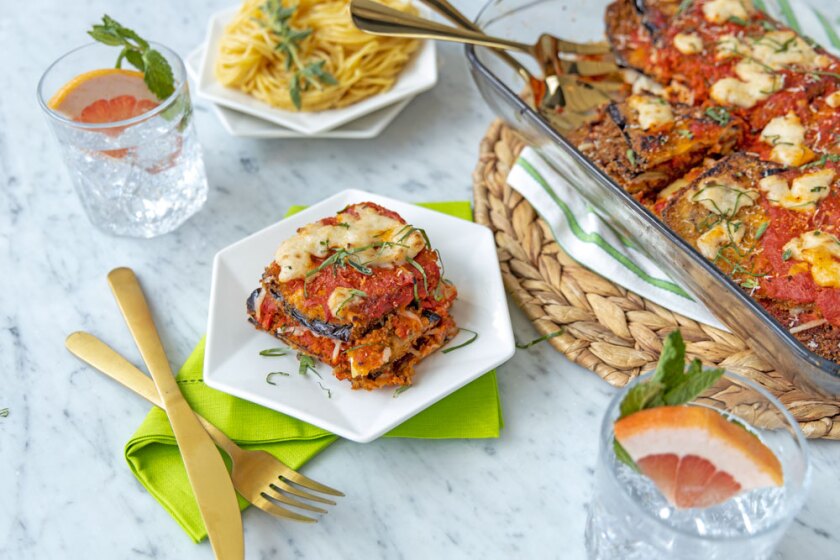 Eggplant Parmesan

Serves 4 to 6

Ingredients

2-3 eggplants (peeled if preferred), sliced ¼- to ½-inch thick

Salt (as needed)

1/2 cup flour

1 1/2 cups dry Italian breadcrumbs

4 eggs

1/4 cup olive oil (or more if necessary for frying eggplant slices)

1 pound fresh mozzarella or provolone cheese, sliced

1/2 cup fresh grated Parmesan cheese

2 15-ounce jars vegetarian marinara sauce

2 tablespoons chopped fresh basil

1 tablespoon chopped fresh oregano

Cooked spaghetti noodles

On a large baking sheet, spread the eggplant slices and sprinkle both sides with salt. Let sit for 10 to 20 minutes to pull out the moisture. Pat dry with paper towels, removing excess salt. Whisk the eggs in bowl and set aside. In another bowl, mix the flour and breadcrumbs. Heat a skillet with 2 tablespoons of oil for each batch of eggplant slices. Dip the veggies in the egg, then dredge in the flour/breadcrumb mixture. Fry in the oil for 2 minutes on each side. Set on paper towels to drain the excess oil. In a greased casserole dish, spread a thin layer of marinara sauce, then one layer of the fried eggplant. Top with mozzarella or provolone, several spoonfuls of marinara sauce, and a sprinkle of Parmesan cheese. Repeat layers, finishing off the last layer with marinara and Parmesan. Bake at 400 degrees F for 30 minutes. Top with fresh basil and oregano. Serve over cooked spaghetti with any extra marinara sauce left in the dish.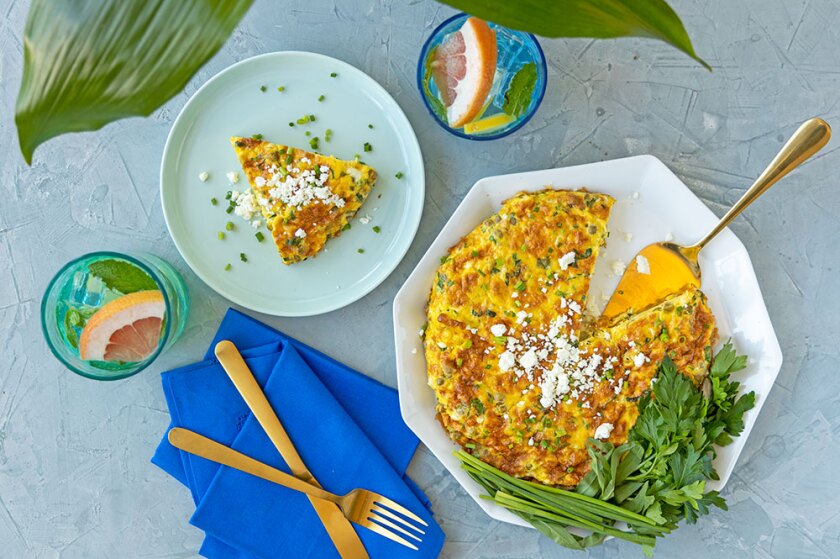 Herb and Feta Frittata

Serves 4

Ingredients

2 teaspoons olive oil

8 eggs

4 ounces crumbled feta cheese

1/3 cup cooked peas

1/4 cup chopped onions

1/4 cup milk

1 tablespoon each chopped parsley, chives, tarragon

Salt and pepper to taste

Beat the eggs together, then add the feta, milk and seasonings until blended. Heat the oil in an oven-safe 10-inch skillet over medium heat. Sauté the onions until tender, pour the egg mixture into the skillet, and cook until the edges begin to set, about 3 to 4 minutes. Remove from the stove and place the skillet in the oven at 400 degrees F. Bake 13 to 15 minutes or until firm. Let stand for 5 minutes before serving.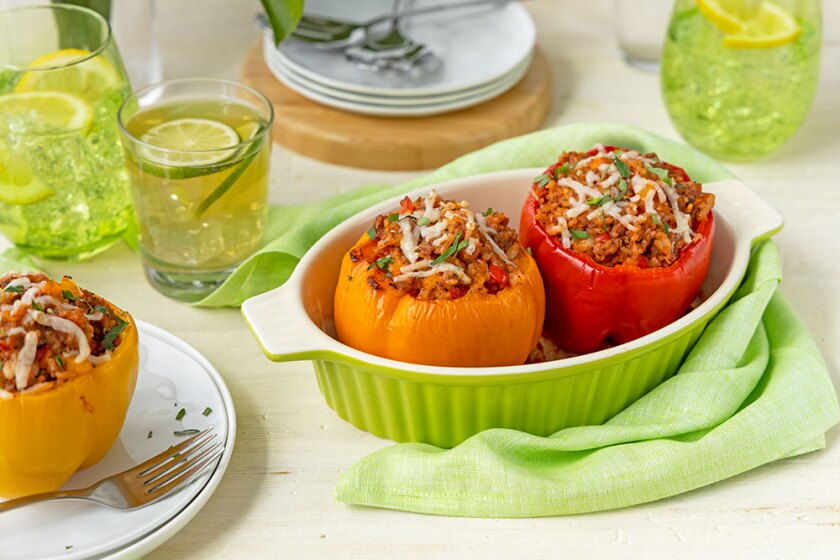 Vegan Italian Stuffed Peppers

Serves 4

Ingredients

2 tablespoons olive oil

1 onion, diced

1/2 teaspoon salt

2 cloves garlic, minced

3 teaspoons Italian seasoning

1/4 teaspoon red pepper flakes

4 red bell peppers, tops removed (save) and seeded

13.7-ounce package Gardein meatless ground beef (or another brand)

1 1/2 cups cooked rice or quinoa

1 cup tomato sauce

1 1/2 cups vegan mozzarella shreds

3 tablespoons chopped fresh basil

Pour a thin layer of water into a greased baking dish. Place the open peppers upright in the pan and bake, uncovered, at 400 degrees F for 20 minutes. While the peppers are cooking, heat the oil in a skillet. Chop the leftover bell pepper tops and add to the skillet along with the onions and the first four seasonings. Once the vegetables are tender, stir in the meatless ground beef until thoroughly heated. Remove the skillet from the stove and add the cooked rice, tomato sauce plus 1 cup of cheese. Stir until blended. Remove the peppers from the oven, then scoop even amounts of the meatless beef and rice mixture into each pepper. Top with the remaining cheese and sprinkle with basil. Bake 5 to 10 minutes longer or until the peppers are tender.