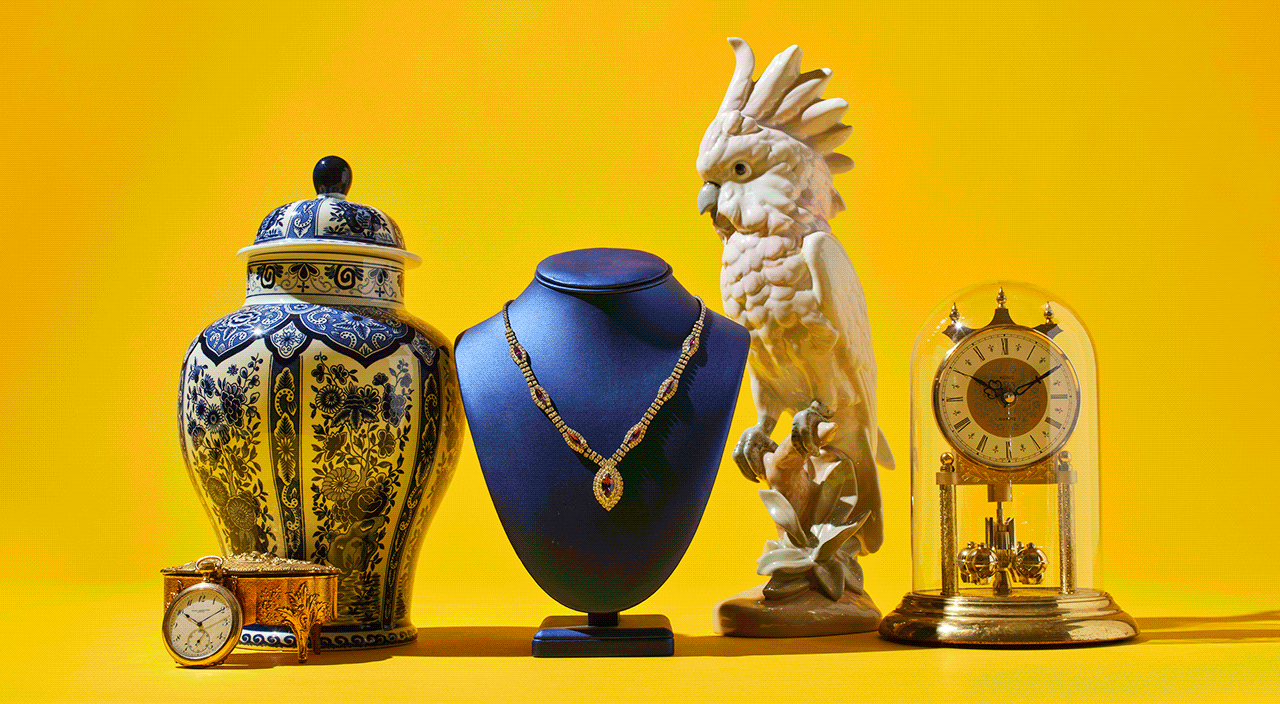 When my mother was in her 80s, she started emptying her cupboards into mine. China, vases, ornate serving dishes. Every time I visited, she took me to her safe-deposit box in the bank, where she stored her jewelry. I dreaded these excursions because I didn't want to face the inevitable: that she would die someday.

Recently my husband started behaving this way with our 29-year-old daughter. He presented a tarnished sterling silver teapot as if it belonged in a museum. She doesn't drink tea and isn't interested in polishing or storing silver in her studio apartment.

Next, he dangled old-fashioned jewelry handed down from a grandmother she'd never met. She tried on a strand of pearls, which I must admit was not her style and looked ridiculous over her sweatshirt. Her only interest was my mother's engagement ring, but only if she could reset it someday.

"Get rid of the rest," she said gently. "It's just sitting in a dark box anyway."

My husband looked hurt. He had emotional attachments to Grandma Ruth's heirloom jewelry. To him, everything was priceless, every ring a family story. Our millennial and Gen Z children have made it clear that they don't want a lot of our "stuff," especially porcelain figurines and old mahogany furniture. Jewelry is different, but complicated.

Don't let this happen to you

Dawn Margolis, an estate sale shopper who resells vintage finds, sees adult children who will "hire a stranger to come in after their parents die, clean everything out and give them cash." She never imagined her older sister would sneak into their mother's joint safe-deposit box and take the pieces from her jewelry collection that she liked best. Their mother had warned them not to fight over her jewelry after she died. "Don't think it can't happen to you," says Margolis. "My sister and I were so close our whole life." Shocked, she confronted her sister with "How could you?" and never spoke to her again.

"Never assume siblings are going to follow a will and split things evenly. Give jewelry to your kids before you pass." One advantage of doing that is that you can make gifts to each child of up to $17,000 in value in 2023 using the annual gift tax exclusion. But how do you decide?

Estate planning starts now

"First determine the fair market value of each piece of jewelry," advises Elizabeth Stewart, a certified member of the Appraisers Association of America and author of No Thanks Mom: The Ten Objects Your Kids Do NOT Want (and what to do with them). "Fair market value isn't what you paid, not what someone told you it was worth 20 years ago."

Determine fair market value by shopping specialty jewelry auctions or researching the database. Take photos to circulate to your children, without citing the value of the items. Let them pick based on what they like. New Jersey elder law and estate attorneys Rice & Quattrone, urge planning ahead to avoid family friction later. In their blog post "Dividing Your Parents' Jewelry in the Estate," they advise:


Ask your children their preferences. If this is straightforward and easy, specify their selections in your will.

Don't be offended if your kids don't share the same emotional memories as you and reject something.

Have them make selections in order of age, or by drawing straws.

Analyze your entire estate — not just the jewelry — to come up with an equitable way to divide, suggests Stewart. Let's say you have four children and two cherished diamonds. They can be offered along with other equal-value items such as a set of flatware or a designer watch. What if two of your children want the sole pair of diamond stud earrings? Give one to each, which they can reset into rings. If pieces are left over, openly discuss options. Do they want you to sell them? Repurpose them into more modern settings? The biggest risk is to leave them in the bank vault for decisions when we're not around.
To sell or not to sell

The values of gold and silver fluctuate daily. "Determine if it's a good market in which to sell," advises Stewart. "Ask yourself: How much can I get for a piece of jewelry that will make me feel good about getting rid of it?"

It might be more advantageous to melt some jewelry down than to sell it. "Owners can be resistant," says Stewart. "The closer you get to sentimentality and symbolism, the less reality is infused into how much it's worth at fair market value. People think their stuff is worth more because they own it."

Even costume jewelry can be hard to let go. Review your collection of inherited jewelry, separating costume from fine. Enjoy trying the pieces on. Keep what you feel especially sentimental about. Wear it, repurpose it, or give to relatives and friends while sharing memories about the person who owned it.

If you decide to sell, antique stores, boutiques and pawn shops will take jewelry on consignment. Ebay works for both costume and fine jewelry. The RealReal focuses on high-end jewelry and luxury brands like Rolex. Craft dynamic descriptions and post clear photos of each item.

Can't bear to give away or sell jewelry infused with your memories and heritage? Be creative. One of Stewart's clients made a shadow box with her favorite jewelry pieces, and they were always there to recall people and events connected to them. Another client donated his late wife's jewelry to a food pantry, grateful that the proceeds would feed needy people.

And what about my mother-in-law's pearls?

Margolis advised me to put them away for 10 years, and then see if my daughter's taste has changed. In the meantime, sometimes I slip them on, picturing the identical pair I inherited from my mother. I gaze in the mirror and feel reconnected to her.

Do any of you have a plan for distributing family heirlooms? Let us know in the comments below.