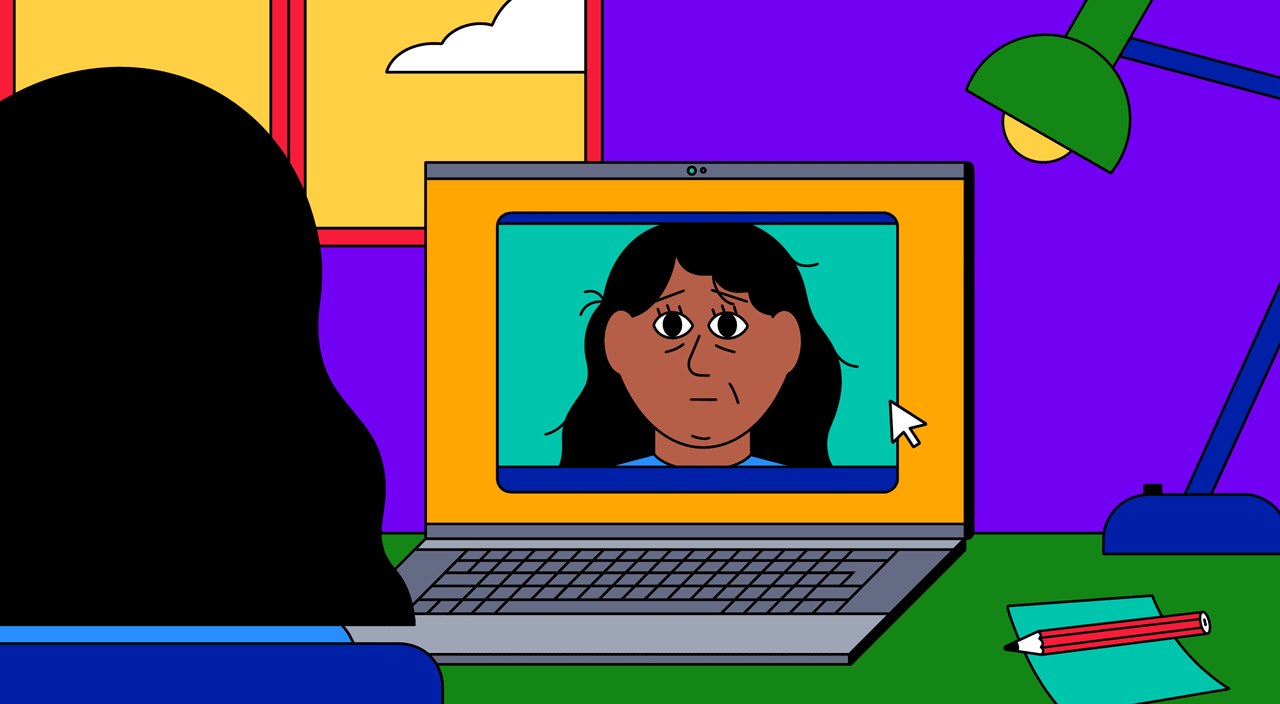 While many of us are back in the office after a year and half of working from home, video conferencing is here to stay. And so is the elective surgery Zoom boom. Negative self-perception and anxiety over close-up screen faces have contributed to a significant uptick in cosmetic surgery procedures.

A valuable tool for sustaining our relationships and professions, video platforms also provide ample opportunity to get lost in our own reflections, quite literally. After spending 18 months on more video calls than I could count, I had the Zooming thing down. From strategizing on a new sales pitch with my colleagues, to singing an off-key "Happy Birthday" to my bashful seven-year-old nephew, I was good at this. There was just one thing I failed to manage: No matter how urgent or engaging the call, I kept sneaking glances at the vaguely familiar face on the screen that was my own.

As we age, most of us do feel more comfortable in our skin. Delivered from the petty insecurities that plague us in our youth, we should no longer be self-flagellating over our changing faces and the wrinkles and neck that begins to fold like an accordion. Or ideally, that is how the growing-mature-and-wiser act should play out.

Yet at age 55, the more time I spent on Zoom and Teams, the more uneasy I was feeling. The dull and furrowed looking face staring back at me, was that really what I looked like?

It appears I am far from the only casualty of the Zoom gloom curse. While younger people who grew up with social media are at ease with taking selfies and seeing themselves on screen, baby boomers are much less so. "Zooming is affecting aging baby boomers more than the younger generation," says Dr. Tina Alster, founding director of the Washington Institute of Dermatologic Laser Surgery and clinical professor of dermatology at Georgetown University Medical Center in Washington, D.C.

Alster adds that at least 50 percent of her clients are over age 50. "Zooming has made their appearance a front-burner issue," continues Alster. "For those of us who grew up in the 1970s and early 1980s, there is still some stigma around getting this kind of work done. We didn't have Facebook and Instagram, and we were raised to not focus so much on our appearance or seem vain. For millennials and Gen Zers, altering features to enhance their look is the norm. To them, going to a dermatologist for a cosmetic procedure is like going to the dentist for a teeth cleaning — it's maintenance."

It appears the stigma surrounding aesthetic surgery is now fading for baby boomers as well. According to a survey of 134 dermatologists, published earlier this year in the International Journal of Women's Dermatology, 86 percent said their patients referenced being on video calls as the reason for seeking cosmetic surgery, neuromodulators (Botox), dermal fillers and laser treatments. Of those who previously had not considered cosmetic treatments, 40 percent state they will pursue corrective procedures based on concerns over their Zoom optics.

In addition, 8 of 10 dermatologists surveyed said their patients reported feeling "somewhat more or significantly more" unhappy with their appearance since jumping on frequent video calls.

This beauty gloom brought on by technology brings to mind the late social psychologist Leon Festinger and his Social Comparison Theory. That is, that we are all continually assessing our abilities and worth based on how we stack up against others. As Festinger notes in A Theory of Social Comparison Processes, we have a "drive for self-evaluation and the necessity for such evaluation being based on comparison with other persons."

Simply put, self-assessment by comparison can be a good thing. But if we fall into the trap of only measuring ourselves against unrealistic and unattainable images, our self-confidence may suffer, which in turn can lead to anxiety and depression. This phenomenon is called "Zoom Dysmorphia," a term coined by Dr. Shadi Kourosh, board certified dermatologist at Massachusetts General Hospital and assistant professor at Harvard Medical School. She is also one of the coauthors behind the cited study on how video conferencing is affecting our self-perception.

However unjust, we live in a country where maintaining a certain level of attractiveness can yield professional and personal advantages. As women entering our second or third acts, we may be less likely to fully succumb to the barrage of highly altered photos popping up on our social media feeds. Nevertheless, the beauty addiction may be difficult to kick.

For those who do decide to spring for some nip-and-tuck, Alster recommends a gradual approach. "The best way for your new look to appear natural is to do these unnatural things one step at a time," she explains. "The rejuvenation treatment may start with Botulinum injections (Botox or Dysport) to minimize creasing of the brow and eyes, specifically the frown lines and crow's feet. A laser treatment of the skin to reduce blotchiness and wrinkles may also be advisable. Then you can move forward with other procedures. But if you still want to look like yourself, remember that slow and steady wins the race."

As far as my own Zoom face goes, it is a work in progress, and I am growing in self-acceptance. While I do not plan on going under the knife anytime soon, I did order the lavish firm-and-lift neck potion recommended by a college professor friend who teaches daily online classes. Not engaging in some measure of nit-picking when you see yourself on screen is an almost impossible ask. But the next time you obsess over your Zoom face, keep in mind that no one is scrutinizing your wrinkles or neck all that closely. Everyone is too focused on their own.