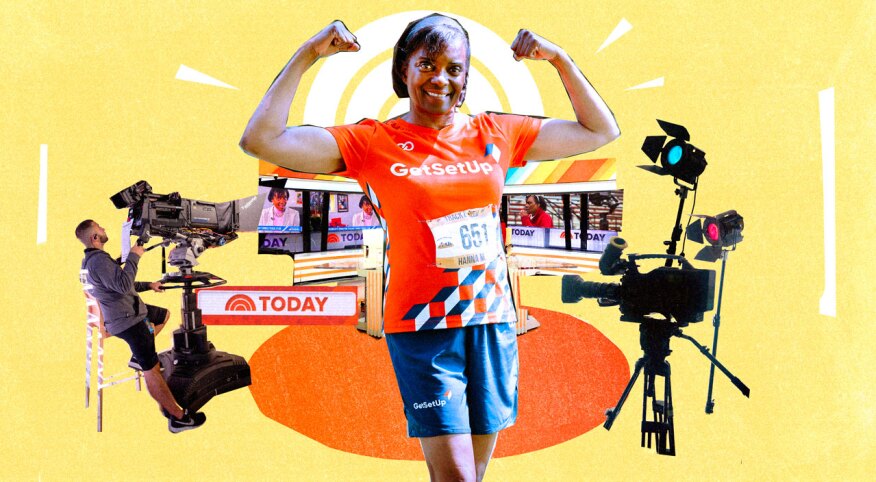 A few weeks before my mother, Evelyn, passed away from cancer at age 87, she and her husband of 70 years, my father, Harold, 92, watched me on the Today show. What a bittersweet farewell. The producers of the show found me when my story was published in The Ethel, How I Became a Track Star in My 60s.

Since that appearance in July 2022, my Second Act Career has been on an accelerated fast track.

I had been a fashion marketing educator who taught for 32 years. Upon retirement, I became a competitive sprinter, who now competes — and wins — at the state level and at the National Senior Games.

My Ethel story documented my journey from fashionista to track star. Having no prior competitive track experience, on a whim I entered the 2011 Washington State Senior Games in the 50-meter and 100-meter events. I won! Two years later, I competed in the National Senior Games competition in the 100m and 4x100m relay dash, winning a bronze medal

My first coach was my husband Steven, a former track coach and sprinter himself. Tragically, after battling three bouts of vocal cord cancer, he passed away in 2018. His dying request was that I continue racing.

The baton was then passed to Coach Marcus Chambers, an Olympic hopeful. I have now won a total of 22 state and three national medals and three ribbons. I am getting older and faster! At the age of 70, I am now preparing for the 2024 Washington State Senior Games and the 2024 Huntsman World Senior Games in Utah.

The road has not been easy, however. In 2014, I was nearing the finish line of a 50-meter race when I heard a loud pop. It was my left Achilles tendon rupturing.

After more than three years of hard work in rehabilitation, and a tendon repair, I returned to competition and two gold medals in 2017.

What a thrill to be contacted by Today producers after they read about my fast-track ascent in The Ethel. They filmed a sit-down interview at my home, track practice and a lifting workout.

A whirlwind filming session of 13 hours at my home, in track practice and in a lifting workout was edited down to a three-and-a-half minute segment that aired January 2023 on the Martin Luther King Jr. holiday. The segment was repeated on June 19 as a Juneteenth special, and the choice of air dates was a special honor for me, being an African-American woman.

Since my debut on Today, a show that averages an audience of 3.076 million daily, I received kudos and comments from all over the country and the world — and lots more media requests. Aside from interviews with various magazines, local TV shows and podcasts, I accepted sponsorship from GetSetUp, an online community of older adults who want to connect with others and unlock new life experiences.

I am the child of parents who endured the Great Depression and oppressive Jim Crow Laws. My mother was born and raised in Alabama. She was one of five children who lived with two parents in a two-bedroom house on a dirt road with no sidewalks.

My father was raised in Missouri, one of 11 siblings, who lived with their parents in an apartment with no hot water. Only one room had heat and electricity. The children's bedroom slept six on the bed and five on the floor.

He enlisted in the Navy and while stationed at Pensacola Naval Base, he met my mother. In the 1950s, they married and moved to Boston, where my father was a young Black man with a white-collar job, as an IBM Tabulating Machine Operator.

In the early 1970s, he was promoted to vice president at a time when few persons of color could rise in the professional ranks as he did. My parents persevered and eventually purchased a house in an all-white neighborhood in Randolph, Massachusetts. I attended an elementary school of 400 students where only two other "colored" students — as we were called back then — were enrolled.

Growing up, I didn't participate in organized sports, although I was very fast chasing neighborhood kids while wearing my black patent leather Mary Janes. Sneakers were not allowed to be worn in school, except during gym class. Long before Title IX, the high school I attended did not have a girls' track team.

While my status as a track star came much later in life, I remember as a young girl dreaming about becoming a star sprinter in the Olympics. I idolized African-American legends Wilma Rudolph and Wyomia Tyus, who broke records as repeated gold medalists.

I also dreamt of a career in the fashion industry. After attending a private retailing institution, in 1973, I was recruited to join the Jordan Marsh department store's executive training program. To relieve the stress of the job, I decided to take tennis lessons at a local club. There I met my future husband, Steven Hanna, a youth counselor.

Transitioning from this career and inspired by my coach-husband, I now call myself a fashionista track star. I train eight months, five days a week, three days on the track and two days lifting weights. Throughout the previous decades, I didn't even work out.

I learned from the experts on my fitness team that it is essential for older women to incorporate strength training along with grueling track workouts. Sprinting is now my life and lifestyle, and I have increased my strength and endurance, along with balance and flexibility. My future goals include breaking state, national and world records in my age category, which is 70 and older. My diet has also changed. I can't remember the last time I enjoyed eating fried chicken. My daily diet is now the following: Breakfast is an omelet, cottage cheese with blueberries, and a bowl of cereal. Lunch consists of a fruit smoothie and a leafy green salad.

Dinner is baked chicken or salmon, always with vegetables. I rarely eat sweets, though sometimes I will sneak in a decadent dessert such as toasted marshmallow butterscotch pie. Since adopting my new diet and vigorous fitness training, at the age of 70, I'm in the best shape of my entire life.

And yes, this fashionista does compete in very cool clothes by designers like Adidas, Nike and DKNY.

I pinch myself that I have become a National Senior Games track star, though I know that diligence, hard work and persistence went into making a childhood dream come true. I learned from my parents, Harold and Evelyn, who persevered through bigotry and never gave up. I will always work my hardest and aim for the top.

Have any of you taken up a sport later in life? Let us know in the comments below.