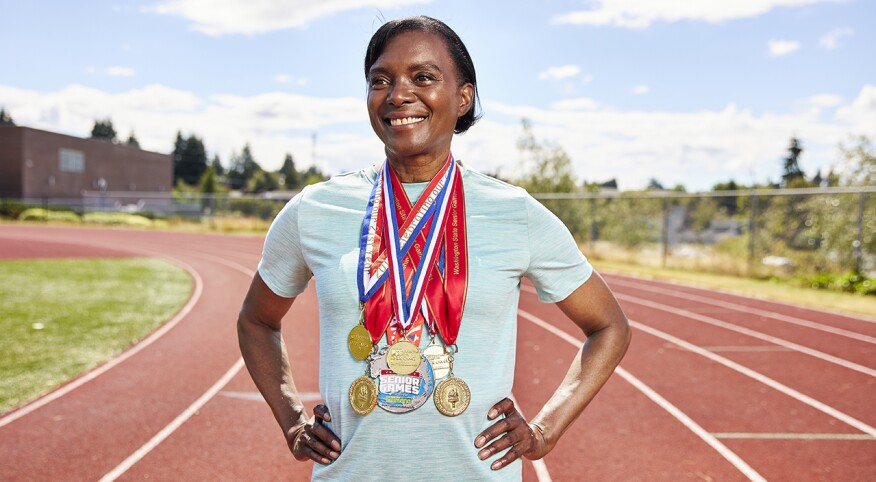 For this Thanksgiving week, we're showcasing a few of our favorite articles from the past few years in this special issue. Enjoy! We hope you have a wonderful holiday with family and friends. We so appreciate each and every one of you.

Imagine waking up one day with a whim to pursue a sport with which you have absolutely no prior experience. Imagine pursuing that whim at the age of 57 and discovering you are good at it!

As an 11-year-old girl, I dreamed of running fast, like 1964 Olympic Gold medalist Wyomia Tyus. I ran the 100-yard dash in my backyard with record-breaking speed! Unfortunately, Stoughton High School in Massachusetts did not offer track-and-field sports for girls.

Time passed, and I abandoned my dream. Instead, I pursued a career in fashion and, later, became a high school teacher of fashion marketing. As fate would have it, I married a sprinter; my husband, Steven, was a former collegiate track athlete and high school track coach.

Listening to Steven's passion for track and field over the years led me to ponder competing in a 100-meter event. After confessing my childhood dream to my husband, my whim of youth was off to the races, with Steven as my coach. Whimsy let to this: I have been running and competing in races for 11 years now.

In my eight races in the Washington State Senior Games, I earned 13 medals and was selected as the January 2020 National Senior Games Association Athlete of the Month. I have now competed in the Senior Games three times, most recently last May, when I received a silver medal. This was my first time competing in a 100-meter final race, and subsequent races have elevated my national track rankings in those games from 16th to 10th. I am getting older and faster! The road has not been easy, however. In 2014, at the age of 61, I was nearing the finish line of a 50-meter race when I heard a loud pop — I thought the starting gun had gone off again, but it was my left Achilles tendon rupturing.

I collapsed over the finish line in second place and was carried off the track. After surgery, I was told that I would need months of physical therapy to walk again and that my sprinting career was over.

When I went to my first PT session, Deb Kristovich, my physical therapist, told me that my age "clearly magnified risk for lifelong physical limitations and an end to my competitive track career." After three and a half months of hard work in rehab, post–Achilles tendon repair, I returned to competition in the 2017 World Senior Games and earned two gold medals!

Strong once more, and eager to be back in the game, I qualified again, in 2018, for the National Senior Games. Then, after a brave third battle with cancer, Steven passed away. Though, ever the loyal coach, he left me with these words: "Keep running and keep competing."

Under these bittersweet circumstances, I was eventually introduced to an elite sprinter, Marcus Chambers, an Olympic hopeful. Imagine me, a 65-year-old, following the instructions of a world-class millennial sprinter.

My husband empowered my amateur competitive sprinting goals, and Chambers is now building on that foundation, as both a personal trainer and someone who has designed a rigorous regimen for me to do on my own at the gym. His prescribed workout includes the rowing machine, push-ups, weight training and multiple track drills.

My involvement with competitive sprinting and the guidance of an elite professional have benefited my overall health and well-being. The time I spend training has improved my balance, stamina, lung capacity and posture. I am also physically and mentally stronger and have an abundance of energy and endurance. Additional benefits include the development of a sleek muscular physique. Were you born to run? Here's some expert advice.

"The capacity for running increases with practice," advises Michelle Gordon, M.D., doctor of osteopathy and founder of Dr. Michele Gordon Coaching, to "help high-achieving entrepreneurs relaunch their lives. Don't expect to sprint like Madonna or run a marathon in weeks. If you have been sedentary for a prolonged period of time, a running program is probably not for you. … Generally, people with severe arthritis and severe deconditioning should not run. Additionally, people with heart disease should consult a cardiologist first."

Once deemed healthy, try this advice on how to train from Erik Waterland, founder of Waterland Performance, a sports physical therapy firm in Tacoma, Washington. "Second to skill training, strength training is the biggest and most important piece of any training regime," Waterland says. "This is the case for any athlete, at any age and for any sport. It is the foundation of athletic fitness, supports performance and is paramount to injury prevention."

My advice for older women who want to try a new sport is to work hard in training — once your doctor gives you the green light — and to be patient. In my case, the patience came with transitioning from my husband's old-school program to the state-of-the art training of a top-level track star. At first, I found Chambers' workouts to be so demanding, I almost bowed out of competing. Yet, with patience, diligence and determination, I pushed through and developed a positive attitude and stunning progress.

What started as my whim has become my new life, with a goal to continue to train and compete as long as I can.

I hope that my later-life athletic prowess will encourage you to act on your own imagined athletic goals, at any age.