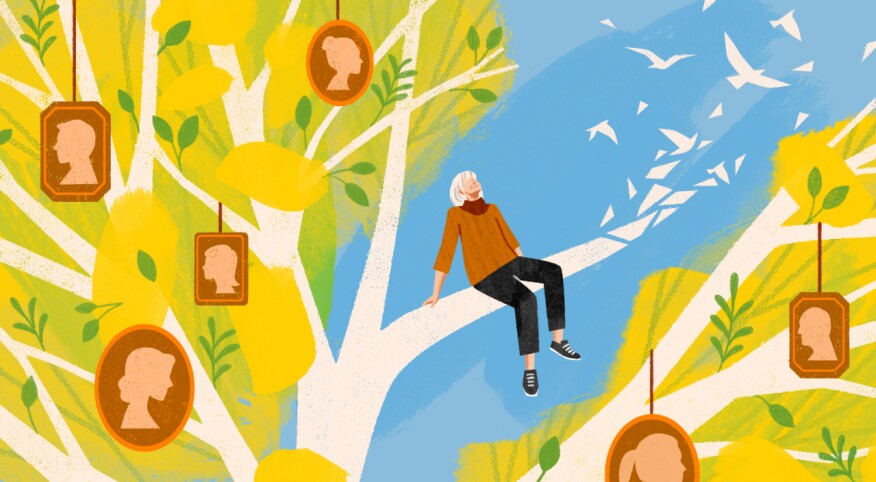 I didn't expect to be single and childless with 70 only a couple of years away. I thought I'd marry late, in my mid-30s, to my soulmate, and we'd have two children and two fulfilling careers.

Love came and went. None of the men I was involved with were candidates for Mr. Kirschenbaum. Would they try to clip my wings or betray me? These were my fears, and they outweighed my desire to be a mother and wife.

Friends of mine were going at motherhood alone. They were either adopting or buying sperm. That didn't interest me.

Along the way, I had three pregnancies. None were planned, and none came to fruition. After the last one, at age 48, I did start preparing for life as a single mother. Then I had a miscarriage.

So, I do ask the obvious questions as I age solo, with no offspring. How will I manage when I'm in need? If I have an accident or come down with a debilitating disease, who will care for me? At the moment, I am not in need.

I am a filmmaker and live in an artists' building, with many people around me. Most residents hold on to their apartments and leave only when death do they part. I get to see my future, as they go through the stages of aging. It starts with a cane, then a walker, then a wheelchair, and finally you're housebound with aides.

When I moved into my apartment, it already had a handicap bar in my bathtub shower from the previous tenant. That came in handy when I had foot surgery.

The big question is, who's going to be there to help me as I age and my needs grow? I don't have relatives nearby who could assist. I'm just now beginning to research who can help me when I can no longer handle my legal issues, bills and appointments — and my life.

Many of my oldest friends have moved away, are ill or have died. Cancer has ripped a hole in my social circle, including taking my older brother. And he was my rock. He never missed sending me a Valentine's Day card. That felt good as I spent many years alone on February 14. I'm left with one brother, who lives several states away.

I'm fortunate to have my mother, who is still sprite and sharp at 99 and living alone. She was my enemy for decades, but in my 50s, I turned that around. Today, although we still butt heads, she's my close friend. This woman who will likely make 100 is an inspiration, and I savor our time together.

Unlike me, my mother had three children, seven grandchildren and seven great-grandchildren. Her independence has been essential to her. However, her illnesses have brought us closer as I stay longer during my visits to assist her in Florida from my home in New York. One caregiving visit lasted a year.

When my brother was dying of cancer, he said, "I want you to know I'm very jealous of you." I was sure he was saying this because I was healthy and he was not. I later asked him why and was shocked by his response.

"Because you've lived your life as a free spirit," he told me. It was only then that I learned that this very successful man, who built a law firm, owned a big house and luxury cars, and had children and grandchildren often felt "trapped."

I sometimes wonder if I made a mistake by living my life alone. Am I going to pay for it as I age? Right now, at this age and stage, with the choices I have made, I am doing quite well.

As I've entered my golden years, I'm joining photography, writing and meditation groups. I'm finding friends who share my athletic interests in tennis, biking and sailing. I have no regrets.

I am grateful for what I've accomplished, and for the lives that have been changed by the films I've made. I still have my health, and my drive and ability to create. Instead of having children to guide to discover their individual passions and pursuits, I did succeed at guiding myself.

If my soulmate gets his GPS to finally work and finds me, my arms and heart will be open to receive him. I pray he is in good health and not in debt.

As for missing out on cuddling kids? While I do love my time with my brothers' children and grandchildren, it's nice to go home to my peaceful and undisturbed home.

As I continue feeding my mind, body and spirit, and my health and wits stay strong, I have a lot more living to do. If I follow my mother's longevity path, this gives me 30 more years to age with finesse and continue to create art that changes lives.

Anyone else aging solo with no kids? Let us know in the comments below.