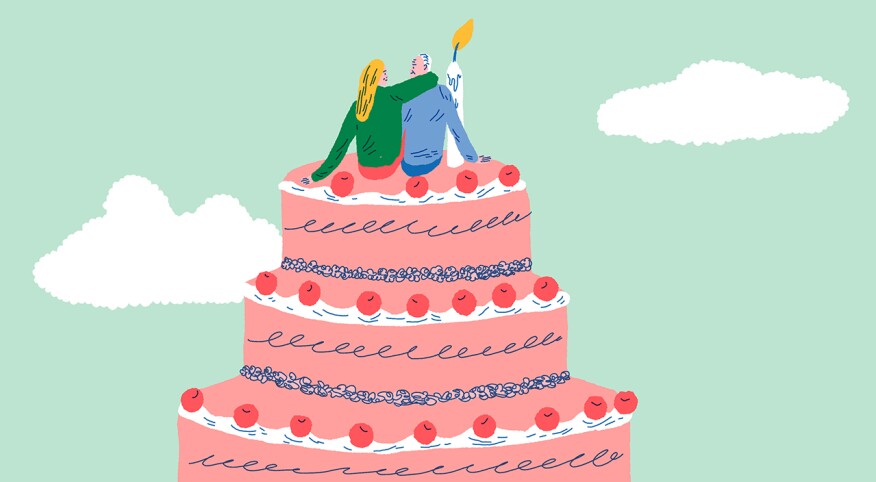 When I met Bruce, in 1983, I never thought any man would consider me attractive, let alone want to spend his life with me. I was recovering from having literally been on fire, caused by a flame attaching itself to my sleeve while removing a kettle from the stove. After years of skin grafts, a stint in the burn unit and physical therapy, I was ready, at 33, to rebuild my life.

Ten years my senior, Bruce didn't find my scars grotesque, as I did, and told me I was beautiful. I fell in love. As a painter with a circle of artistic friends, I was the answer to this triathlete corporate salesman's midlife crisis. I was his Porsche, providing the vroom of the new experiences he craved. Bruce was my loving cheering squad, boosting my confidence, always having my back.

We married in 1984 and were happy for 18 years until we were miserable together. I had grown stronger, and he had lost focus. We divorced when our son was 9 and didn't speak for 10 years — until I urged him to be a paternal role model. I wanted him to encourage our son's participation in marathons and other athletics and steer him away from hanging with kids who were on self-destructive paths. We became cohorts. We never discussed our love or sex lives with other people. I don't think we wanted to know.

I grew to realize that the thing about Bruce that never changed was his unfailing loyalty when he was needed by friends and family, especially by me. Six months before COVID-19 hit hard, I fell and broke my neck.

Alone, in agony on my floor, I called him, then 911. After I had successful spinal fusion surgery, he showed up, took care of me and never left. Retaining his own apartment, he stayed at my home most of the time. The lockdown gave our new togetherness a giant nudge. Now that I'm recovered, we have been inseparable for two years. We spend most of our nights together, usually consider ourselves a "we," sometimes romantic. No man has come as close as he does to feeling like family. I am open with this man when I normally filter around other people. It's a relief to be able to breathe out fully with a person.

The baseline is that we're there for each other. It's a wonderful situation to have and I'm grateful. The only downside is that sometimes I still see the reason I divorced him — money slips through his fingers. I've learned that my expectations are not always his reality and that his generosity shines in other ways. This time around, because we're not legally bound, in the tension is where we grow and find flexibility and acceptance, instead of walking out.

Our son, now 29, is thrilled to be able to be around both parents again. When he visits, he tells us his favorite thing is hearing us read to each other from the other room.

Bruce and I don't define our relationship, but we do make plans. Unlike being married, we don't discuss the distant future, only the near one. As a big thank you for helping me regain the ability to function again, I told Bruce I wanted to take him on a trip when it was safe to travel in the world, someplace like the Caribbean or to view Iceland's northern lights.

On his 80th birthday last summer, I asked how he would like to commemorate it. "I don't feel old, and 80 sounds old. I want to forget my birthday this year," he said.

I certainly couldn't let the occasion go unnoticed. We both believed that birthdays were personal holidays to celebrate.

On that day, father and son played Petanque, the French version of bocce, where each player has their own set of steel balls. Playing his sport with our son on his birthday trumped playing with a whole team of well-wishers. I took them to a trendy restaurant with sunset views for dinner, and with those activities, I thought I had the celebration nailed.

Recently, he woke me up with a kiss and said, "Can we still do a trip for my birthday? I want to go to Israel and climb Masada. I've never been to my Jewish homeland. It's about time." Surprised at this declaration, I said, "Sure, but do you really feel comfortable making a long trip now given COVID? How about in a few months?"

Bruce's blue eyes grew larger and crystalline in a way I hadn't seen in decades. He's a history and archaeology buff, so his anticipation of climbing to an isolated rock plateau, where the ancient fortress stood, was palpable.

I immediately started researching his birthday trip, including viewing Masada's glory at sunrise from sea level, and other must-sees, like Tel Aviv.

I had spent three months in Israel when I was 20 and stayed on a kibbutz, where I learned to cook, swam through grottos in the sea and traveled the country. My relationship with my ex is as peaceful as the ones that I had when I was younger were tumultuous.

Now I look forward to sharing an adventure and celebrating the belated 80th birthday with the only man I married, who is no longer my husband but my best friend. Researched and ready, we'll be in the air when we feel safe to travel. With age comes patience.