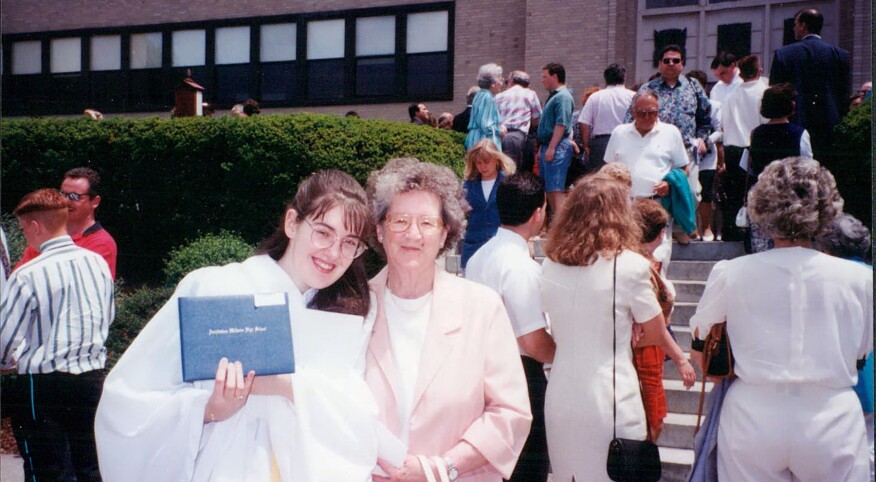 "Ah ya ready? Get ya shoes on!"

My grandmother stood in the foyer of her small South Boston apartment, tightening a trench coat around her waist while glaring at me from under a plastic rain bonnet.

Without taking my eyes off the TV, I tucked my feet under my body and curled into a ball. It was cold outside, and I had no intention of leaving behind Jan, Peter, Cindy and the rest of the bunch.

"I don't want to go out," I whined. "It's raining."

"It's just spittin'," she said about the drizzle. "Come on, we have to go. It's a long walk to the station."

Begrudgingly, I turned off the television and peeled my gangly preteen body from the sofa. As I pulled on my hoodie, my grandmother jingled the keys in her hand — her not-so-subtle way of rushing me to the door.

Although 65 years older than me, my septuagenarian grandmother had seemingly endless reserves of energy. At least once a day, she'd lace up her shoes and head outside, filling hours with visits to various locales. One day might bring a half-mile stroll to my aunt's house, with a stop along the way to pick up Dunkin' Donuts. Another might take her to the train station, where she'd ride the Red Line downtown to pay off her Filene's credit card or grab some lunch at Woolworth's. On Sundays she would stroll to Mass, passing her peers — "old ladies," as she referred to them — who were waiting for the bus to church.

Weather rarely affected these excursions. New England's temperamental meteorological swings only affected her choice of clothing: Spring's rain brought out the light coat and rain bonnet, autumn's crisp chill added a button-down cardigan, and winter's subfreezing climate meant thicker hats and boots. In summer, when the temperatures would soar and the humidity felt like a wet wool blanket, she would shed layers, embarking on her walks in light slacks and a short-sleeve shirt, a tissue in hand to wipe the sweat off her brow.

I was the only child of a single parent; my mother worked full-time and occasionally took on second or third jobs to pay the bills. We lived in the projects, with neighbors who ranged from kindly, elderly alcoholics who wandered around the building after a few too many beers to rage-fueled psychopaths who warned my mother to "watch her back." For this reason, whenever my mother was at work and I was out of school, I was at my grandmother's.

My mother's mother — Nana, as I called her — dragged me along on her daily outings, whether I was interested or not. I could think of countless reasons to stay home: TV, temperate indoor climate, comfortable couch. Why run errands by foot when you could take a cab? Why go out in inclement weather? Why leave the comforts of home to go on walks at all?

But, once out and about, I'd realize, reluctantly, that I was enjoying myself. In an era when phones weren't smart and steps were taken, not counted, we walked. We talked. We laughed. We bonded. Nana told me about her family: The verbally abusive father whose alcoholism kept him unemployed for long stretches, exacerbating their poverty. The mother who tried to shield her children from their father's wrath. The grandfather who stepped in as a paternal figurehead, helping to support Nana and her 10 siblings, keeping them together and out of an orphanage.

She spoke of her family's home: a two-room apartment, where she slept in one bed with her brothers and sisters, a small wood-burning stove the only source of warmth. Her late-night trips to the outhouse, only a small firelit lamp to guide her way. I heard about the little brothers who died — one from a broken leg before the advent of penicillin, one who was run over by a horse-drawn carriage, one from injuries sustained during World War II — and the mourning that enveloped her mother like a shroud. I was fascinated by her upbringing, so different from my own.

Though I didn't realize it at the time, I know now that my grandmother didn't go on these walks for her health or to fulfill a doctor's regimen. It was a way to pass the time, to get outside and to spend time with me. Just the two of us, uninterrupted, far from the siren call of the television screen.

Through each passing season, our jaunts took us to our favorite spots — from the hustle and bustle of the city to the quiet hush of a public library. I'd come home from our trips with novelties — a new book, a Happy Meal prize and knowledge about my grandmother that brought us even closer than the day before.

"All done?" she'd ask at the end of our trips. "Let's go home."

Decades later, I'm standing in the foyer of my Southern California house, jingling keys and watching the clock.

"Are you ready?" I ask. "Let's get your shoes on."

My 2-year-old thrusts himself off the sofa as if shot from a cannon. Energy radiates from his 3-foot frame while he runs in circles around me.

"Come on," I call to my husband. "It's a long drive."

Once gathered, we step outside, the scorching heat nearly knocking us over. Although an autumn morning, the temperature is already approaching 90 — another oppressively hot Los Angeles day. The central air beckons us back inside, but we have to go. The clock is ticking, and the ride from our house to the park will take at least 30 minutes, even at this early hour.

As we park our car, I look out at the sea of purple T-shirts. What would Nana have thought of this event? What would she have made of our outing, done in her honor? The Nana I knew as a child would have secretly appreciated it. Though she'd brush off any form of tributes or praise with a flap of the hand, her flushed cheeks and slight smile would give away her gratitude.

The older Nana, though … I don't quite know how she would have reacted. In her later years, Nana's personality fractured; dementia created an individual whose mood changed as quickly as Boston's often inclement weather. One minute, she was kind and loving, wanting nothing more than to hear all about my new life in Los Angeles, even as I could tell she couldn't quite follow the words falling from my lips. The next minute, her anger was palpable: She'd accuse my mother of trying to poison her, hurl racist slurs at the day nurse, demand to know when her husband — who had died decades earlier — would be home. At times she was wracked with fear, the result of her surroundings, her family, even her own self being completely unfamiliar.

When she passed away in 2007 at the age of 93, I was sad, though I'd felt as though the real Nana — the strong, stubborn, Bostonian who never learned to ride a bike, never learned to drive a car, never rode on an airplane, but who could outpace anyone in a walk throughout the city — had passed on years before. It is that Nana's memory that brings me out to this sun-drenched park on a hot Sunday morning.

I lift my wiggly son out of his car seat and head toward check-in, my heart heavy.

"Hi," a woman says as we approach the table. "Welcome! Are you here in honor of a specific person?"

"Yes," I reply. "We're walking in memory of my grandmother."

With a smile, the woman hands us T-shirts emblazoned with the Alzheimer's Association logo and sends us off to the starting line. Placing one foot in front of the other, I walk. I walk to remember my grandmother's long life, even the last 10 years stolen by Alzheimer's disease. I walk to celebrate the memories we made. And I walk to form new memories with my son, who knows Nana only through my stories.

I use a tissue to wipe the sweat from my brow as I chase after my little boy. For over a mile, my husband, son and I talk. We laugh. We bond. Though the purpose of the day is to raise money for Alzheimer's research, for me it is a link between the past and the present.

As my son's energy wanes, I decide it's time to leave. With a flourish, I swoop him up into my arms and hug him close.

"All done?" I ask. "Let's go home."