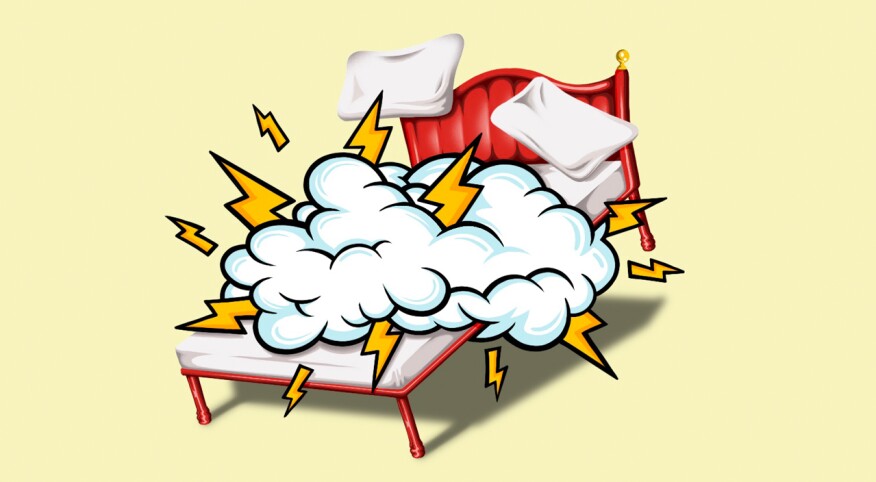 I've been writing and researching sex and relationships for over 30 years and helped numerous couples get their sex lives back on track.

What I wasn't prepared for was just how much sex changes in the second part of you life. Happily, it's often for the better. Here are six important things to remember as we navigate our relationships through life — that apply to every age.

It's OK not to want it — or have it.

Sex stops in relationships for many reasons. For some women, a natural decline in their sex drive, combined with painful post-menopausal sex, makes them perfectly happy to wave it farewell.

Others aren't good at telling their partners what works for them, so they've put up with years of ineffectual technique. Or you're bored: You've done it thousands of times already and simply lost interest. No wonder Netflix is more appealing. It changes its content constantly, which is more than you can say about the average couple's sex routine!

But think long and hard before you do decide to give up on sex — the physical and emotional benefits are tremendous. But there are ways to negotiate a sexless relationship and live happily ever after.

Attitude is more important than aging.

Research has shown conclusively that if you want to have a happy sex life, this trumps menopause, hormones and aging every time. There are solutions for most problems, you just have to want to look for them. In other words, if you want to have great sex until you're 90, you will.

I interviewed hundreds of women for my book, Great Sex Starts at 50, and they divided sharply into two camps. Women who embraced the second part of their lives felt desirable and sexy (even if their breasts did sag), reported highly satisfying sex lives and overcame nearly all of the challenges thrown up by aging or menopause.

The women who focused on their stretch marks and "fat" tummies and saw themselves as "dried up old women" — no surprise here — either weren't having sex or having unsatisfactory sex and experiencing low enjoyment of life in general.

When shame walks in the door, it's not just lust that goes out the window.

You're probably not with the wrong person if you don't want to have sex with your partner anymore.

All relationships move into friendship long term because what fuels love (security, contentment, predictability) kills desire (which wants anxiety, the forbidden, erotic edge). Most couples sensibly opt for love over sex, simply because even the lustiest of us don't have sex all the time.

Realizing this is normal is the first step to reclaiming desire for your partner. Next, have an honest discussion about what still works for both of you sexually and what doesn't. Develop fantasies and stop worrying about who stars in them. If you don't fancy your partner but sure as hell do your boss, run a hot fantasy about that person through your head when you're next having sex.

Your partner can't read your mind and it works in their favor in the end. If that fantasy makes you enjoy sex more with them, your brain associates good sex with your partner, making you more open to doing it in the future.

Sex isn't just intercourse.

Lots of older women find penetrative sex painful. Lots of older men can't achieve an erection, and not all can or want to take Viagra. The reason why lots of women over 60 report highly satisfying sex is because sex moves away from intercourse and becomes more focused on foreplay. This is a great thing for most women.

Foreplay isn't something you do before sex, it is sex.

If you can't talk about sex after 60, you'll probably stop having it.

While researching the book, I met an extraordinary number of couples who'd quietly stopped having sex and never had a conversation about it with their partner. Even if you both decide this decision works for you, you must have the conversation. If you don't, you'll stop being affectionate for fear of it being interpreted as initiating sex. A relationship can survive without sex but not without affection.

Most women start avoiding sex after 60 because it's painful. Most men avoid sex after 60 because their penises don't work like they did, and they're embarrassed to admit it. If you can talk about these things to each other, sex can continue, a less pressured, touch-based, less-orgasm-focused sex that both men and women often prefer. Lots of couples are missing out on this slower, more erotic sex simply because they can't bring themselves to talk about it.

It's not difficult to do. Simply say, "I was thinking the other day that we haven't had sex for ages. I miss it. Can we talk about how to get things going again?"

Sex toys can solve many of your problems.

As our bodies change and medical conditions start to kick in, so do sex problems. But for every problem, there's a solution, and that solution is often a sex toy. Today's lightweight vibrators solve that issue in the press of a button. If you're single or not having sex with your partner, they keep everything in good working order and you sexually satisfied. Masturbating regularly has enormous physical and emotional benefits as orgasms reduce anxiety and may help keep us from getting depressed.

It truly is a case of "use it or lose it" with our genitals after 40, let alone 60. Yet, there's a whole generation of women in their 40s, 50s and over who missed the vibrator revolution and never caught up. If you are a woman over 50 who doesn't own a vibrator, buying and using one will almost certainly guarantee you are more sexually satisfied than you are now. Sex toys are also an instant, effective, low effort way to add variety to a stale sex life.


Tracey Cox is one of the world's most famous sex experts and writers on sex and relationships. She has written 17 books, many of which are bestsellers and available in over 20 languages. Her latest, Great Sex Starts At 50: How to Age-Proof Your Libido, is available now. She is also the new host of "Moms Don't Have Time To Have Sex," a weekly podcast show with book influencer, Zibby Owens. Visit her on her website, Twitter and Instagram.

For more on how older women can enjoy a satisfying sex life, go here.