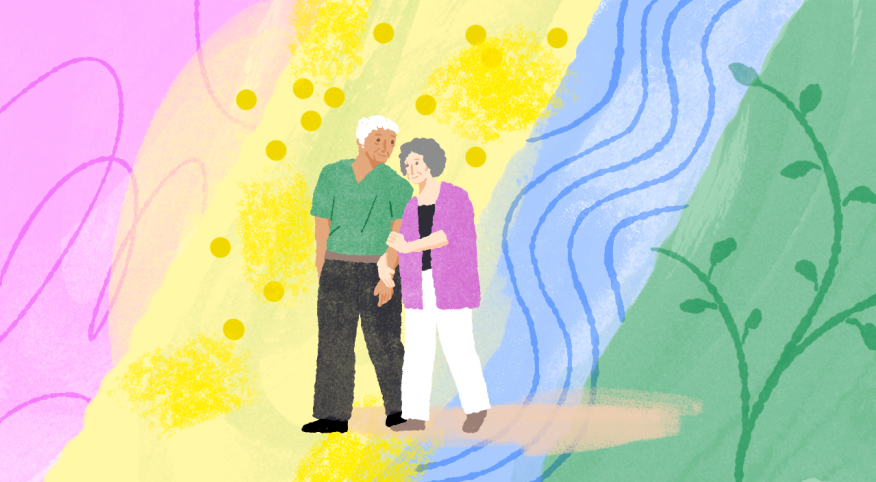 That afternoon, when I told my husband it was time to leave for his doctor's appointment, he checked his watch and said it was only 11:20 a.m. I could see that his watch read 1 p.m. and told him to look again. He made the same mistake twice more, and when we got to the cardiologist's office, he couldn't remember his Social Security number.

When I read it to him, he couldn't write the digits in order. I had gone along on the appointment since Gil is usually more interested in telling his latest joke than asking his doctor questions. But that afternoon, Gil was so noncommunicative that I knew I had to risk offending my criticism-averse husband and tell his doctor what I'd been observing.

Three days later, the neurologist he referred Gil to reported that the brain scan he'd ordered showed an "infarction of the left frontal lobe."

"Infarction?" I asked.

"Your husband had a stroke. From a blood clot in his brain."

I blurted my fear. "Will he recover what he lost?"

"Time will tell," he answered, seeming annoyed at my useless question. He prescribed a blood thinner and explained that since it would take a week to dissolve any remaining clots, I was to call 911 at the first sign of anything unusual. We would have minutes to prevent Gil from turning into a vegetable or dying.

We were in shock. Though Gil was 82, and I was 74, we both felt a decade younger. We had been healthy and strong, played golf, fly-fished, traveled the world. They say a marriage has seasons. Clearly, we had just entered a new one.

Forty-six years earlier, at an afternoon party my then boyfriend was throwing in New Jersey, I saw Gil for the first time. It could have been his semi-dissolute Jean-Paul Belmondo looks, his unruly curls or the way he seemed at once intense and unfocused — but the instant he walked by, I knew he was my future. Months later, he confessed to a similar realization. He saw me across a volleyball net and decided our children would be beautiful.

Privately, I referred to the man giving the party as my place-marker boyfriend, someone to distract me while I recovered from the painful breakup of my starter marriage. Gil had a similar history, but his solution was to avoid commitment by moving quickly from one woman to the next. Though our paths crossed from time, it was six months before we risked going out for coffee — and then we talked nonstop for four hours.

That Friday Gil invited me to dinner at his brother and sister-in-law's. I sensed I was being presented for approval, and later that evening, when he took me to hear Bill Evans, I knew that appreciating this genius jazz pianist was another test Gil hoped I wouldn't fail.

The following week, after another family dinner, Gil walked me home, followed me through the door, and stayed until noon the next day.

A few weeks later, near midnight, he buzzed from my lobby saying he needed to come up to tell me something. I watched as he paced, but instead of what I expected, he announced that at lunch that afternoon, he told his latest girlfriend that he couldn't see her anymore since he had met someone that he was serious about. I was doubly relieved because at dinner that night, I'd broken up with my place-marker boyfriend. I looked at Gil and said, "I told him I'd fallen in love."

"In love? I like that. So, where'd you eat?"

"Café Loup," I said.

"They have great lamb chops. That's what I had there at lunch today."

I was astonished. "We broke things off at the same restaurant on the same day? That's weird."

"Or maybe a sign that we're on to something."

I moved into Gil's apartment, and two years later we were married. The certainty that for some unfathomable reason the universe brought us together became the touchstone we needed each time the hair-tearing, hope-rending, fury-inducing challenges of a marriage between fiercely independent individuals made us want to give up. We no longer need that touchstone. At the 43-year mark, our marriage has become a miracle of love and resilience that amazes us both.

With Gil under stroke watch, we postponed the party we planned for my 75th birthday. A month later, Gil still hadn't recovered his ability to ramble extemporaneously, but his toast made me cry. "I love you. I have always loved you. I love you more every day."

I blew out my sea of candles and stood to say that getting older had taught me the importance of gratitude. With the pandemic, democracy in tatters, so many friends waging battles with one dreaded disease or another, I'd become acutely aware of the value of life, and its tenuousness.

That tenuousness became horrifyingly real as I was returning from accompanying our last guests to their car. I climbed the basement stairs of our Berkshire home, pulled on the door, watched the handle come off in my hand and felt myself propelled backward in flight. I woke sprawled at the bottom of the stairs, my terrified husband and son looking down at me.

They didn't say what would take me 24 hours to understand: I could have snapped my neck and been dead.

They kept me under concussion watch until Monday morning, when we drove to New York City, and it was Gil's turn to wait outside an MRI room. To our great relief, the doctor reported no evidence of a brain bleed, and we walked home very slowly, holding each other's arm. Over the years, as I'd watched older couples shuffle along, I was confident this would never be us, that we were unstoppable. We had become stoppable.

It's now eight months since Gil's stroke and seven months since my backwards flight down the stairs. Those frightening events are receding. What hasn't receded is the realization that we entered a new season of our marriage, but it's not at all what I had imagined.

When I described this idea of a marriage having seasons to a friend, she quipped, "This one sounds like winter."

"No," I protested. "Not at all. Gil and I know how lucky we were to survive, and we're living that way. We're more playful, less rushed, kinder with ourselves and one another. Actually, it feels like spring."

How has your marriage changed as you've grown older? Have you had any health scares? Let us know in the comments below.