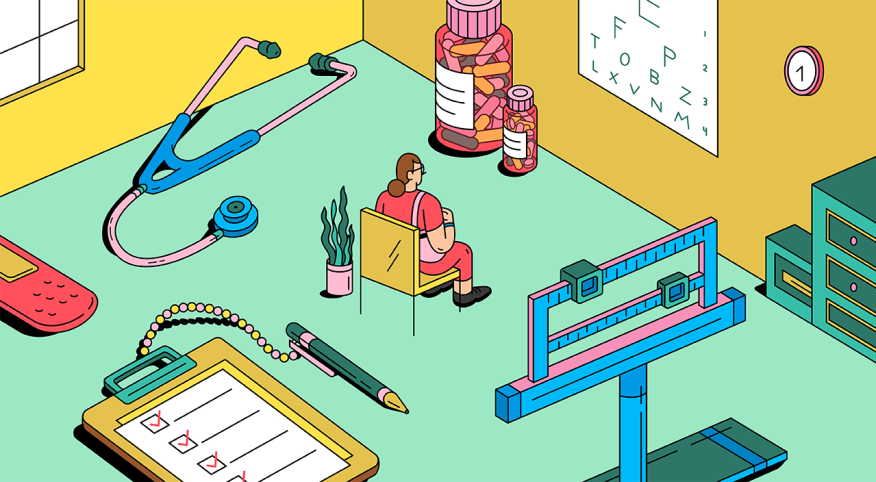 Many of us measure the new year based on the Gregorian calendar: January 1 to December 31. Yet in 2023, the Chinese New Year will commence on January 22 with fireworks and dragon dances. The Islamic New Year won't be until July 18, and in Judaism, Rosh Hashanah varies from September to October.

As a college professor, I've jump-started my annual clock in late August, when everyone is still wearing cutoffs. But in 2022, I began to measure another orbit around the sun on a different calendar: from my second cataract operation (September) to my fourth and final wisdom tooth extraction (12 months later).

I'm grateful to be strong, with age-acquired conditions that can be fixed. But once upon a calendar year, I had just an internist and a gynecologist. Now I have a physical therapist for my lingering ankle tendinitis. An endocrinologist for my thyroid. A cardiologist, who reassures me that my heart palpitations are due to too much thyroid medication, shot-putting me to the endocrinologist, whose blood tests reveal I have an iron deficiency. I'm bounced back to my internist to advise me.

She tells me to get a colonoscopy. I am overdue for one anyway, but I blurt, "I'd rather have COVID again than go through colonoscopy prep."

I had COVID in May (midyear on my calendar), between cataracts and the yanking of my cracked wisdom tooth. My COVID doctor's visit was virtual, on a holiday weekend.

My calendar can fill up with so many appointments, I begin to identify with my 100-year-old mother-in-law — we both have wax removed from our ears by an ENT in the same week, 1,500 miles apart. With such a busy medical calendar, I grow annoyed when doctors run an hour late. If I showed up an hour late for my university classes, my students would have joyfully fled. There is an unwritten rule that after 15 minutes, they can scamper away without penalties.

I've never been late to class. Why can't my doctors use me as an example?

It can take six months just getting an appointment with a doctor eager to stick a camera up my butt before Mercury is in retrograde again. Good thing I have to schedule that procedure on a once-in-five-years calendar.

I lost faith in my previous gastro doc when I was picking up my husband after his last colonoscopy. After 36 hours of fasting and elimination, my husband was savoring hospital graham crackers as if they were foie gras. This doctor, who had done my last two colonoscopies, shook my hand and said, "Nice to meet you."

Guess he recognized me only from the waist down. On my search for a new specialist, I begin to start conversations at dinner with friends, "Who does your colonoscopy?" I never inquire before dinner arrives.

My internist recommends someone who looks like a med student on Grey's Anatomy. A friend's referral lands me in an office plastered with framed Best Doctor awards. He's old school, conducting the pre-visit interview from behind his mahogany desk, facing me, both of us fully clothed.

He looks directly into my 20/20 cataracts with each question.

"Do you drink wine?"

"Yes," I say, always hesitant about truthfully confessing this answer.

"California, Italian or French?" he asks, deadpan.

"All," I say.

He nods, somewhat approvingly.

New gastro doc wants me to also have an endoscopy to determine if my throat clearing is acid reflux — so I'm prescribed the whole enchilada. I tell the scheduler, who says: "We call it The Special."

Back home, my husband is impressed that the new gastro doc invited me into his office. My husband's pet peeve is that doctors are so rushed, they meet you in the exam room, while you are in that ugly paper robe that never stays closed. Then they return to the room to deliver results before you can make a quick fashion change, and while your backside is still partially exposed.

"That's not going to happen anymore," I tell my husband each time he complains. Our now-retired doctor would often chat about books. He was an avid fiction reader and an aspiring writer. I wish I could have charged all the doctors I've seen who begin our visit with, "I've always wanted to be a writer," and then ask me for advice.

Last Yom Kippur, at a visit to the cardiologist, I suggested he write a memoir. "It would be boring," he said. Saving lives is boring? We both expressed remorse at not being in temple, hoping God wouldn't notice.

I returned to the oral surgeon for a final look at the healing of my lost wisdom tooth on Yom Kippur, the lunisolar year of 5783 and the end of my medical calendar year. The new one will begin with my enchilada special. I confess to the oral surgeon that I fear I have no more wisdom left — at least in my mouth.

"Not true," she says. "Wisdom teeth are vestigial. We don't need them anymore, and they create problems. Some people never get them. We view them as 'evolved.' "

In spite of evolution, I can't predict how 2023 will play out on my calendar. Mammogram to bone density? Each year is fluid, a shifting sense of time unattached to any lunar calendar or religion. For all I know, I'll be singing "Auld Lang Syne" to celebrate another negative Pap smear — in March. Robert Burns wrote the words to that song, translated as "days gone by." My new year's wish was to sing "Doctors Gone By."

What doctor's visit do you dread most? Let us know in the comments below.