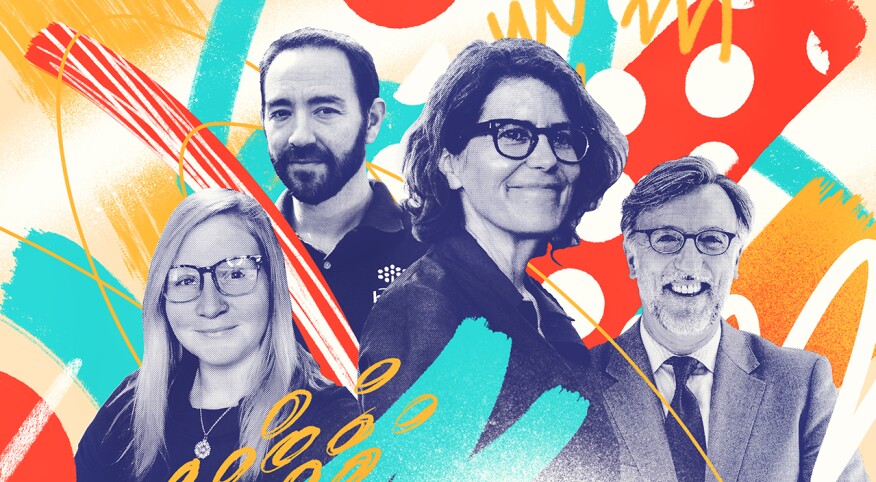 Many are baffled and saddened by the mental health of the tweens and teens in our lives, young people we love and who are struggling. We have gathered the advice and experiences of educators and others whose work takes them into the heart of these challenges.

Here, they offer some sage observations and advice that will help us moms, grandmoms, cousins and aunts change our behaviors, so we can be a source of healing and help.

Encouraging parents to back off

Since 1990, Lee Coffin has been working with teenagers, as the Vice Provost and Dean of Admissions & Financial Aid at Dartmouth College. He says he has seen a "profound shift" in their attitudes and behaviors. And he blames some of their anxiety on the hovering omnipresence of helicopter parents.

"A degree of independence used to be the norm (or students)," he begins. "You might call home once a week and reverse the charges. Now, I'm seeing three, four or five calls home every day, and who knows how many texts in between. This is part of a larger parenting dynamic that's twinned around a growing anxiety for success."

He relays an incident at one of his admissions workshops in 2019. This "really bad interaction" with a high school sophomore was emblematic of how pushy parents can hurt more than help. The teen raised his hand and said: "My mother tells me that college admission is a once-in-a-lifetime opportunity, and that if I blow it, I'm on a different path and won't be successful."

"I said, 'How does that make you feel?' He said 'It makes me feel nervous that I'm going to fail and my parents will be disappointed'."

"My Don Quixote dream is that we somehow get to a place where it's enough for teenagers to be who they are, and maybe that starts with parents easing off. Like: 'We raised you well. You know how to take the training wheels off. Now, go!'"

An unprecedented test of faith

Rabbi Rachel Timoner is the Senior Rabbi of Congregation Beth Elohim in Brooklyn, New York, a position that involves much inter-generational counseling. Some days she is comforting seniors grieving for the loss of life partners; other days she is mentoring tweens into their Bar Mitvah years. She says she is seeing a "deluge of teens in agony in ways I haven't witnessed before."

Earlier in her career, she recalls, the agony may have been a bullying situation or an issue at home that would propel a young congregant to seek her help.

"Now it's this generalized feeling of 'I want out. I don't feel like this world is a good place to be'," Timoner continues. "So many of the things we once counted on are not reliable anymore, like democracy, like justice, like public health, like the future of the Earth itself. If you're a teenager in 2022, you're genuinely worried that we're heading toward mass extinction. The problems now are all-encompassing."

"I think the main thing for parents and grandparents to know is that to love is not to worry. But rather to have rock-solid faith in your children and to express that. When we see our kids suffering or struggling, what they need to hear is, ''I believe in you.' They might not believe in themselves, but knowing 'we'll get through this together' really makes an impact."

What I learned about kids at summer camp

For 23 years, Gabe Chernov has been the director of Camp Birch Trail in Thiensville, Wisconsin. As he puts it, "I thought I'd seen in all." That feeling has dramatically changed as recent summers have shown him dramatic shifts in his campers' mental health.

"The last two years have definitely seen an uptick as far as anxiety, depression, things like eating disorders, and the feeling that kids are under enormous pressure," Chernov starts out. "People point to social media and smartphones as the cause, and that's definitely part of it — the fear of missing out, having everything documented in real time, getting your validations from 'likes'." But we don't allow phones or electronics at camp, and I still see a much higher level of agitation."

He cites a rise in sleeping problems, with kids unable to shut off worries about a troubled outside world and relax into the camp world of play.

"I think they just can't turn their brains off, whether it relates to war in Ukraine, climate change, or whatever's going on politically. Comparatively speaking, ... what earlier camp groups went through the last couple decades — it was a pretty decent time for childhood and adolescence. For these guys, it's a lot tougher. Kids missing out on proms, on graduation ceremonies, on an entire freshman year of college and then some."

Despite the hardships they face, this camp director says he is hopeful that learning how to navigate really hard obstacles will instill resilience and grit that will prepare this generation of youth well for adulthood.

"I see them bouncing back already, and they've adapted in ways nobody could have predicted," he adds. "My intuition is that this generation of adolescents will become great problem solvers and very nimble when it comes to change. They've been through so much, and that's bound to shape who they're going to become."

Straight talk about teen suicide

Amelia Lehto, chief of staff and director of the National Center for the Prevention of Youth Suicide for the American Association of Suicidology, has made a career out of keeping kids hopeful and alive. She shares that she lost a best friend to suicide when she was just 13, and "it shook me to the core."

What should we look for when evaluating a deeply depressed teen or tween?

"There's not just one red flag when someone is thinking about suicide," Lehto explains. "One obvious sign that something is wrong is a complete withdrawal from family and friends. But some teenagers want to talk, even if it comes out as flippant remarks: How am I supposed to live like this? I can't do this. I can't go on. I'm done. Sunday nights before the start of the school week can be especially difficult."

In her 14 years of work in crisis centers, Lehto says, she has handled thousands of calls and texts from youths talking about harming themselves or taking their own lives. She has found that some of their "existential struggles" remains the same, such as "My parents just don't understand." But there are some new challenges.

"Teenagers now see devastating events unfolding around the world and in their community in real time, 24/7," says Lehto. "That can be alienating and overwhelming. You can be connected to thousands of people online and still feel completely isolated. It's a really hard time to be growing up."

She concludes with this urgent warning: If you suspect a young person is considering suicide, don't be afraid to ask straight out, "Do you ever think about killing yourself?" She advises that whatever you hear back, respond in a way that validates their feelings rather than trying to fix whatever ails them.

"You might reflect a statement back to them, as in, 'it sounds like you're feeling discounted because your family isn't taking you seriously.' Then maybe, 'What would you want the relationship to look like? What would feel right for you right now?' Or simply: 'I'm here for you.' There's no one-size-fits-all solution. But being there to listen, reassuring someone that they're not alone, being a steady presence — that can be a lifesaver."

If you or someone you know is in crisis, contact the National Suicide Prevention Lifeline at 800-273-TALK (800-273-8255) or text HELLO to 741-741.

This month AARP is launching an initiative, "Our Kids in Crisis," with a special report in AARP Bulletin, stories throughout aarp.org, The Ethel, The Girlfriend, Sisters From AARP, and The Arrow e-newsletters. Plus, there's a virtual summit with experts and teens on September 20. For more stories, advice and insights, and to register for this important informational event, please join us at aarp.org/teensincrisis.