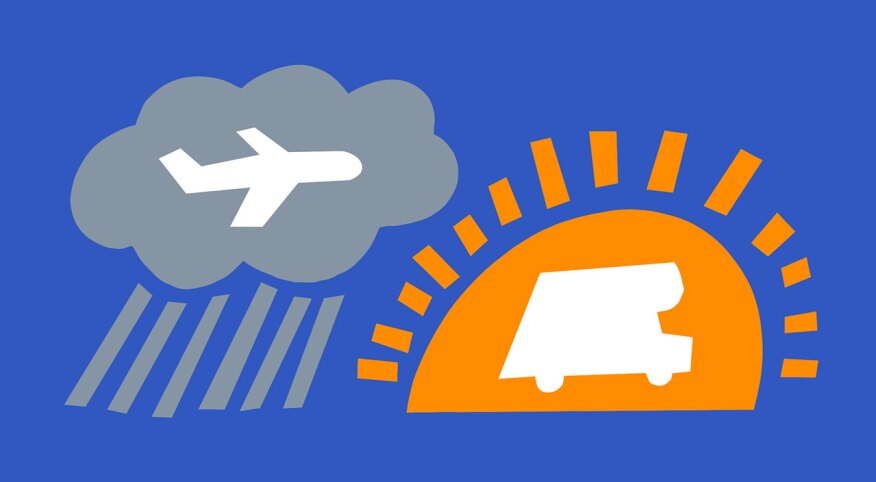 Last June, my husband and I decided to take a long-awaited bucket-list vacation and hit the road in a 24-foot recreational vehicle, or RV. Since it was our maiden voyage, we chose Florida's Highlands Hammock State Park, only a three-hour drive from home. Our little house on wheels included a full bathroom, kitchen and three sleeping areas.

By the time we pulled up to our shaded spot under a large oak, all we had to do was throw some marinated steaks and corn cobs on the outdoor grill for dinner under a canopy of stars. During our three-day road trip, we never touched our laptops. We were too busy exploring nature trails and the park's museum, photographing wildlife and playing horseshoes until the sun went down.

It was one of our most relaxing vacations ever, and that includes our trip to the Bahamas.

We began planning our next adventure as soon as we got home, and soon discovered via the long waiting list to reserve RVs and campsites that we aren't alone in our desire for an outdoor getaway. According to RVShare, 61 percent of Americans planned to take a road trip or vacation in an RV this year, up 13 percent over 2022. Like us, many travelers find it cheaper than hotels and prefer taking spontaneous detours while on the road. And seeing the country from a front-row seat certainly beats crowded airports and delayed flights.

Elizabeth Augier of Deerfield Beach, Florida, runs Green Escapes RV Rentals. She and her husband, Leo, started the business during the pandemic, when they bought their first RV and realized the high demand for rentals. As they approach retirement age, she says camping has become the easiest and most economical way to explore the country.

"From deserts to snowy mountain peaks, lakes to canyons and sandy beaches, we've seen it all from our RV," says Augier, who often travels with their children. "We've also visited many national and state parks. At our age, these trips have been healthy for our minds and spirits and have helped us bond more deeply with the family."

This mode of travel is increasingly popular among retirees with open-ended schedules and seniors living on fixed incomes. Many rely on special RV planners who serve as travel agents to ensure a getaway that runs smoothly. He reiterates that RVs are the way to go for older travelers.

"It's a mobile apartment on wheels with the comfort of a kitchen, your own bathroom and, even better, your own bed," says Douglas Setzer, a travel agent whose site is RVtravel.com. "Plus, you can mind your budget and focus on exploring the country's natural beauty in depth."

He does see a growing popularity among the 55-plus demographic that often chooses destinations like Royal Coachman in Nokomis, Florida, "because it has activities an older crowd enjoys, such as pickleball, mah-jongg, crafting and a woodshop."

One of Setzer's own favorite camping stopovers is the City of Rocks State Park in the Chihuahuan desert region of southwestern New Mexico, elevation 5,200 feet.

Some folks love hitting the road so much they sell their houses and opt to live the RV-lifestyle full time. One such person is E. Curley Conley, 59, from Oklahoma City, whose home is now a 38-foot fifth wheel RV, a non-drivable vehicle towed behind a truck. She started RV-ing in 2022, has already visited 40 states and experienced Mardi Gras parades, rocket launches, family reunions, sightseeing in Vegas and floating down rivers in Missouri. She says these travels have literally been a lifesaver, as the RV adventures came after she endured a series of serious health issues.

Conley describes her RV dream life: "We have a change of scenery as often as we please, and we're never lonely. Being on the open road is great because we meet the most interesting, diverse people." She prefers KAO campgrounds (Kampgrounds of America) since they offer many amenities, including pools, clubhouses, senior get-togethers and accessible RV parking spots at reasonable prices.

Along with these perks, one of the best parts of RV travel is that Conley gets to bring her beloved pets along for the ride. "They get to go on the adventure with us."

Here are a few tips to consider as you book your own RV adventures:

1. Rent an RV before buying one. Start with a smaller camper that you'll feel comfortable operating. A fully equipped bathroom is preferable for first-time campers.

2. From our own experience, I recommend that for your first-time RV voyage, you book a campground close to home. Keep the trip short, three to five days, to get used to the vehicle and the lifestyle.

3. Pack light. You'll only need a few simple outfits, appropriate for the weather, comfortable shoes for hiking and minimal toiletries (as there are stores along the way). Most rental RVs come with pillows, linens, towels, plus all necessary kitchen utensils, a pull-out awning and outdoor lighting.

4. Plan your menu beforehand and prep as much food as possible at home (RV kitchens are notoriously small). Bring an extra cooler for beverages since the refrigerators are also small.

My husband and I are now planning RV trips that are more ambitious than our first. We'd like to see the brilliant fall colors in New England and explore the Anasazi cliff dwellings in Colorado's Mesa Verde National Park.

"It's not the destination, it's the journey," is a quote popularly attributed to Ralph Waldo Emerson. Those wise words have never meant more to me than after viewing our beautiful country from a front-row seat in an RV.

These websites, along with those above, can help you plan your great RV getaway:

Travel+Leisure, "The Best Place to Camp in Each of the 50 States"

Find an RV Park

Our Two-Week Safecation Trip


Have any of you ever traveled in an RV? Let us know in the comments below.