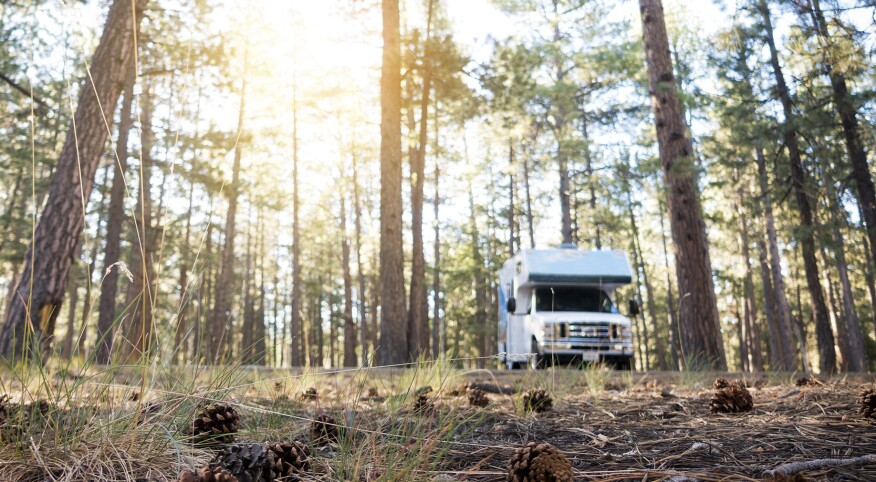 In Kilgore, Idaho, we were about to turn onto a 15-mile gravel-and-dirt road when a bison wandered onto the highway. It lumbered by our RV, at one point a mere 18 inches away from us, as we watched, stunned by its size, its casual gait, its command of the space around it.

Those are a couple of sentences I never expected to write. Like the rest of the world when the pandemic hit, my husband, Peter, and I found ourselves trying to figure out what to do with our lives. Peter had just resigned from a job in which he had been miserably unhappy. He was confident he would find more work in the airline and aerospace industries, where he has spent most of his 38-year career.

As a freelance writer, I didn't feel much of a change in my work life during the pandemic. Still, it was a big adjustment having Peter home most of the time; as luck would have it, jobs in the aerospace and airline industries had become rare. After months of household projects, gardening, reading many books, watching too much of the news, Zoom parties and hours spent discussing what we were going to do when "this" was all over, we decided to do something Peter has wanted to do for as long as I've known him.

We rented an RV and went on a road trip. I realize RV trips are a regular part of many people's lives. For me, the idea of traveling in an RV sounded romantic. Still, the facts — the small space, the less-than-luxurious accommodations, the great outdoors, the many hours of driving — seemed daunting. I knew two things, though. Peter really wanted to do this and, because neither of us wanted to fly, it was the only way we were going to get away from home and see anything new — which we very much needed to do.

So, we threw ourselves into planning what we came to call our "safecation." Traveling in an RV for two weeks takes a considerable amount of preparation, but I am an excellent planner. I made lists of food to bring and supplies to buy and itineraries. I printed maps and contacted RV parks. Peter bought hammocks and a small propane grill. We packed everything in large containers, picked up the RV, loaded the containers into the RV and then bought lots of food and bottled water. Then we headed out on an unexpectedly fantastic two-week vacation.

The RV parks we chose were in some of the most remote parts of the eight states we traveled through, including California, Oregon, Idaho, Wyoming, Montana, Arizona, Utah and Nevada. Because of that, Google maps took us on small highways with fantastic scenery, some like we had never seen before.

While we were driving, we didn't talk much; we were too busy looking out the window. We saw multicolored mountains, countless cows and endless bales of hay, dusty fields that suddenly turned into bright green acres of grass, rivers, lakes, waterfalls and streams, abandoned houses that were as beautiful as they were iconic. In places, fire-scorched acres interrupted the beauty, softened by new growth poking up through the burnt trees.

We drove through tiny little towns with populations numbering in three figures and no stoplights. Still, there was always a church and a gas station, and the towns seemed peaceful, and I hoped as pleasant as Mayberry. We stopped for coffee and doughnuts and cupcakes at small coffee shops where everyone wore masks. While some people were wary of us, most were friendly. We were strangers, and it's a strange time.

There were a few bumps along the winding roads. For most of the trip, WiFi and cell service were spotty, and in some places nonexistent. RV camps, for the most part, offer access, but depending on how many guests are using it, or how remote the camp is, it is unreliable. In a way, being offline added to the experience instead of detracting from it — I read six books on the trip since there weren't any notifications or updates to distract me.

Our bed was small, uncomfortable and crowded with Peter me, and our dog (who was a champion traveler) all vying for space. The shower was less than satisfactory, to put it mildly. RVing involves feeling grimy most of the time. Many of the camps didn't allow open flames due to fire season, so we were glad we had a propane grill — fine for burgers, but not so great for the s'mores I had looked forward to enjoying, but we made it work. After all, what's camping without s'mores?

For two people who are not very adventurous, this trip brought some much-needed excitement into our lives. The pandemic had sapped so much of our energy. Peter turned 60 this year, and I'm not far behind. It felt like we were being pushed into old age a lot sooner than we anticipated, being confined to our home and, for Peter, not working. It made for a lot of angst. As good as our marriage is, our lives, just like so many other people's, were robbed of much joy. Seeing so many unique and beautiful places, pretty much right in our backyard, was something we would never have done before this pandemic.

We were delighted and amazed by how much we enjoyed ourselves. Of all the things we saw, that bison in Idaho was our favorite. He was just so comfortable with himself. Driving almost 3,000 miles together, my husband and I were comfortable, too. It was a good trip.

Extra tip: YouTube videos are terrific for learning how to pack and shop for an RV.