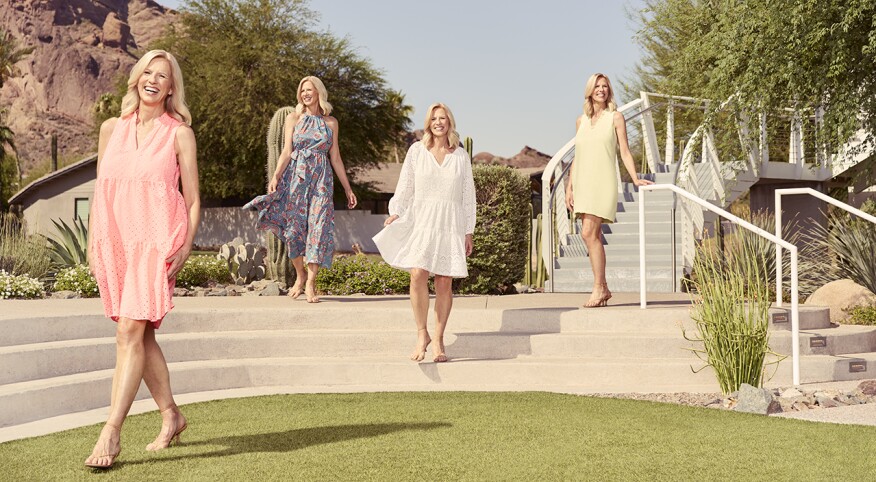 By their very nature, sundresses are meant to be light, floaty, comfortable confections that make the summertime heat more bearable. It was true in the 1940s when American fashion pioneer Claire McCardell introduced the concept with a bare halter-top design, and it continues this summer as well.

Through the years, sundresses have evolved to include a variety of styles, lengths and attitudes. With all that latitude, it's easy to wander too far into fussy and flouncy territory — a place where confection turns saccharine and ultimately leaves a too-sweet aftertaste. That's not to say we have to sacrifice feminine touches, only that at a certain stage of life we must choose them wisely.

And speaking of wisely, let's not forget last summer's missteps: the nap dress and the TikTok sundress challenge. One degree away from a nightgown, the nap dress was the seasonal extension of winter's pandemic sweatsuits, something that shouldn't have left the house but found its way outdoors nevertheless. The same could be said for last year's sundress challenge on TikTok, which involved having sex in a public place while wearing a sundress. Like many things about 2021, these are best forgotten.

But enough of all that. The sun's out and sundresses are in — in style and (soon) in your closet. Just be mindful of the fussy touches to avoid: no gingham, no shoulder ties, no flounces and no froufrou.

Ruffles

When it comes to sundresses, the best for us have either tight folds like the fluting on a piecrust or big, bold waves that call attention to themselves. At Tommy Bahama, the Two Palms Ruffle Linen Dress ($118 at tommybahama.com) finds the right balance with compact ruffles framing the V-neckline and a raw-edge hem that adds sophistication. For a more dramatic statement, slip on Boden's Ruffle Detail Jersey Dress ($98 at bodenusa.com) with its shoulder-baring style and eye-catching double ruffle.

Fabrics

Breathable materials like cotton and linen make the ideal sundress. Each allows body heat to escape rather than trapping it close to the skin on a hot day. Neither silk nor synthetics can handle the job quite as effectively. With its punched-out holes, breezy cotton eyelet is the quintessential sundress fabric for any age, and this summer you can choose from accents or all-over designs. Karen Kane's Tiered Eyelet Dress ($111 at bloomingdales.com) offers full-on white eyelet in a flowing style that hits at the knee. As an accent, Madewell's Linen-Blend Eyelet-Sleeve Lucie Smocked Midi Dress ($90 at madewell.com) features eyelet sleeves on a long stretch of pale lavender linen.

Prints

The returning midi and maxi lengths create the ideal canvas for bold patterns and prints that defy fussiness. The saturated colors in the full and flowing PQ Tiered Maxi Dress ($154 at anthropologie.com) illustrate how even florals can fight the too-delicate label. Large-scale tropical prints are a staple for the FARM Rio line, which serves them up sundress style in the Tropical Graphic Placed Maxi Dress with trendy crochet accents ($265) and the Banana Leaves Off-the-Shoulder Midi Dress ($235, both at farmrio.com). At Eloquii, where sizes 14 to 28 are the focus, the bare-shoulder theme continues with a dramatic abstract print on its Off-the-Shoulder Smocked Bodice Dress ($130 at eloquii.com).

Silhouettes

You can have it all this summer — short styles to show off tanned legs, long and lean silhouettes to skim the body or full and floaty designs to provide a bit of camouflage. Here's what to look for.


Short and (not too) sweet: The ideal knee-baring options put a twist on the traditional to make them so summer of 2022. Lilly Pulitzer, who helped redefine the sundress in the 1960s, does it with a bold pop of coral in the sleeveless Novella Eyelet Swing Dress ($198 at lillypulitzer.com). Faherty balances a comfortable cut with distinctive details like pintucking and a contrasting band at the hemline to elevate its Isha Linen Mini Dress ($168 at bloomingdales.com). An added bonus? They're both washable.

Long and lean: Two body-skimming silhouettes return to inspire the summer of '22's sundresses. With all the comfort of a long T-shirt (but decidedly more panache), tank midi dresses like Loft's black and gray options ($85 at loft.com) offer sleek alternatives for everyday outings. The slip dress makes a return engagement this season, and styles like Karen Kane's Snake-Print Racerback Midi ($128 at bloomingdales.com) capture its uncomplicated allure. Both silhouettes feature a side slit to make sure you can hit your stride and show some leg.

Full and floaty: A relaxed fit and long length deliver summertime versatility. Together, they are as comfortable scouting the farmers market by day as dining al fresco at night. The ba&sh line totally captures this vibe, especially in its Vally Slit Back Maxi Dress ($420 at bloomingdales.com) with accent banding and a V-neckline that's ready for accessorizing. A throwback to the early 2000s, the halter boomerangs back to inspire Boden's Halterneck Tiered Maxi Dress ($180 at bodenusa.com) in solid or print cotton and complete with matching belt for even more options.

Trendy touches

The season's big trends find their unique interpretations in sundresses. You'll see bright colors like chartreuse in the Devotion Tiered Midi Dress ($286 at anthropologie.com). Black and white lines bring summer's affection for stripes into sharp focus as they cut across the scoop-neck bodice and flared skirt of the Striped Tie Waist Midi Dress ($90 at loft.com).

And the cottagecore explosion — characterized by homespun touches of smocking, crochet, embroidery and appliques — is hard to miss. Smocking defines bodices at Madewell while crocheting emphasizes seams at FARM Rio. Colorful embroidery outlines the burnout features of Anthropologie's Tina Puff-Sleeved Embroidered Maxi Dress ($360 at anthropologie.com) and adorns the white yoke and sleeves of Boden's Embroidered Linen Shift Dress ($180 at bodenusa.com).

Just slather on some sunscreen, and you're set!