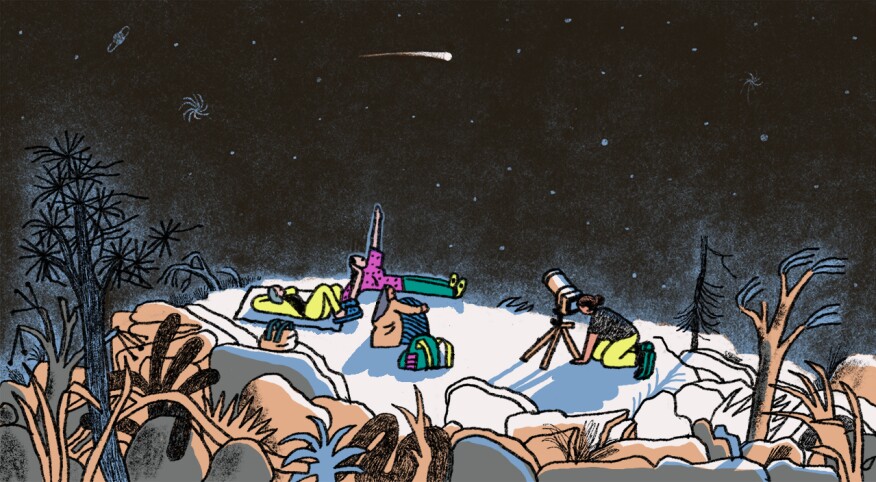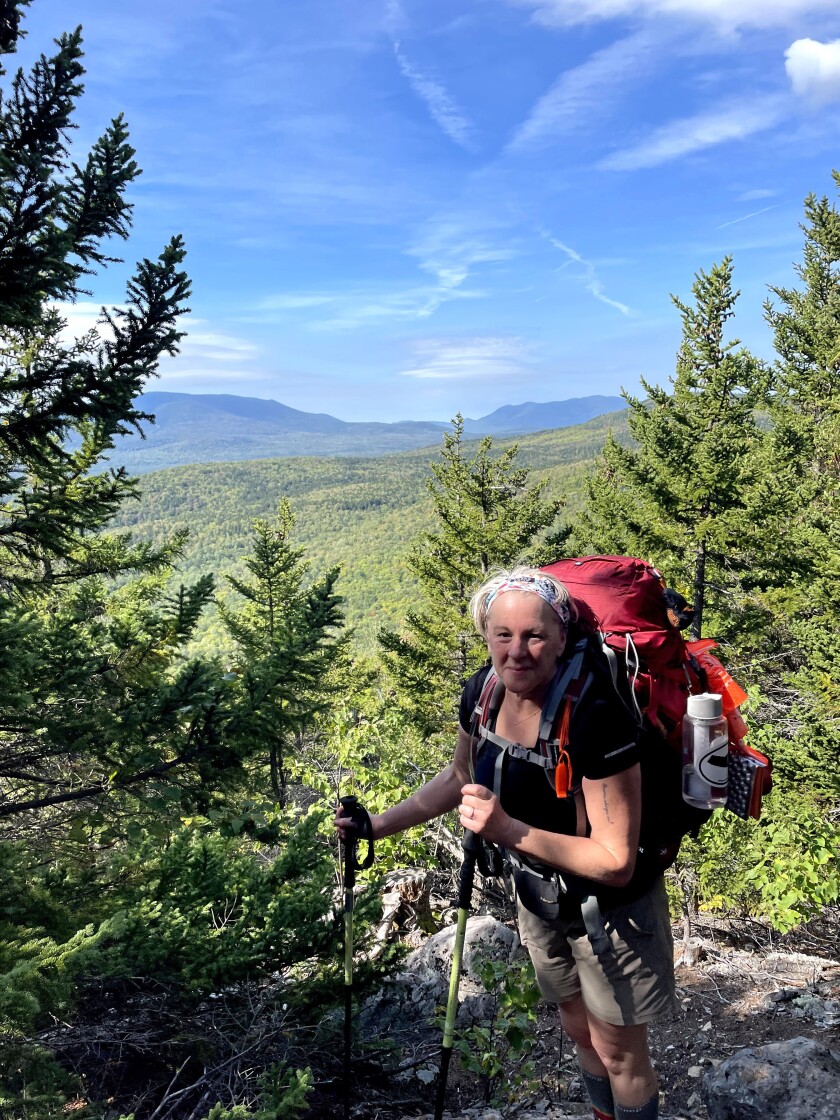 One Mississippi, two Mississippi, three — I silently counted the seconds between lightning and thunder like I had learned to do when I was little — five Mississippis between flash and boom equaled one mile of distance.

Our guides, Chloë and Jenny, crouched low and balanced on the balls of their feet to demonstrate lightning position. When the storm was less a mile away, we would minimize contact with the ground, make ourselves small, and cross our fingers.

We were in Maine's 100 Mile Wilderness, the northernmost section of the Appalachian Trail — dozens of forested miles away from the nearest town. I was on the seven-day, 52-mile section hike to push my 59-year-old body and challenge myself to find the wild and woodsy girl I used to be.

When the sky darkened and fat raindrops splattered the ground like bullets, we ran for our two-person tents, flimsy protection from the towering hemlock trees all around us. Distant rumbles grew to cracks and booms, and the rain blew sideways. But the storm wasn't the first thing to scare me.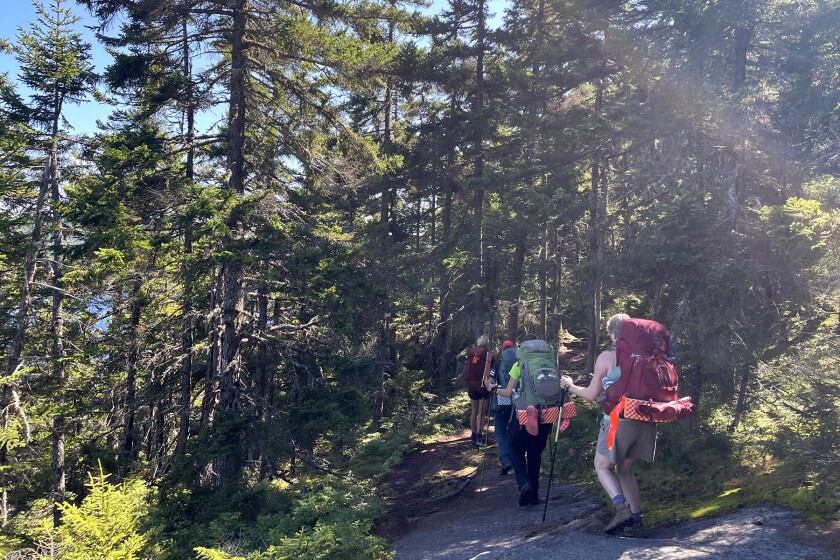 I'd been afraid since I'd signed up for the trip. One fellow hiker, Jenny, and I had worked together, but I wouldn't know anyone else in the group. What if I couldn't keep up? I was the oldest by decades. What if I'd packed the wrong things? What if I didn't fit in with the others?

"What about bears?" I asked, as night closed in on our first campsite. We'd hung our food bags on a line to prevent smaller critters from midnight snacking.

Chloë, an experienced wilderness hiker, shrugged. "What are you going to do?" she asked. "Black bears won't bother you if you don't have food in your tent." I zipped up my sleeping bag, thinking how freeing it must be to prepare for the risks and then let go of the outcome.

On the trail, the colors of our packs — orange, purple and red — stood out against the endless expanse of pine-green forest, shimmering navy lakes and granite ledges. When we reached the shore of Nahmakanta Lake in the late afternoon of day two, Chloë made macaroni and cheese over a gas flame while Jenny gave us writing prompts to help us tune in to our surroundings and set our intentions for the rest of the trip.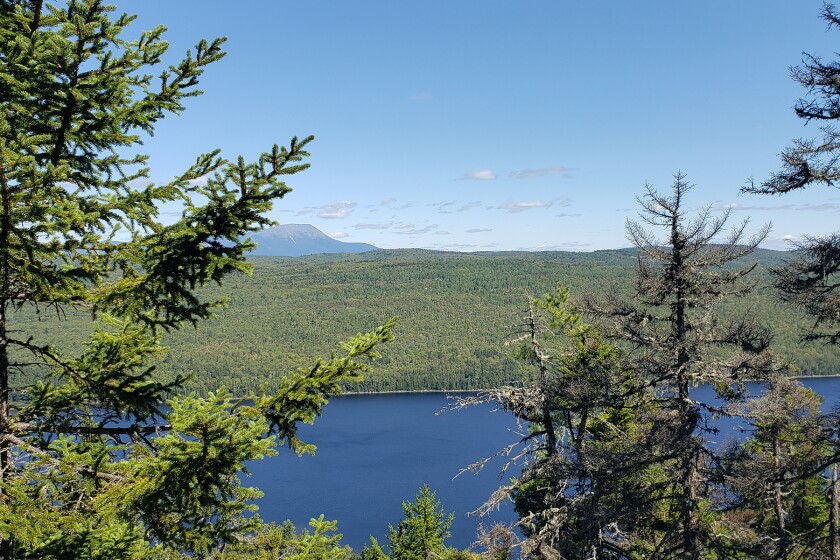 The air smelled like line-dried sheets and distant campfires. I grabbed a handful of the gravel beach, which felt like wet pennies and broken shells. It was almost autumn, and the leaves reflected a yellow glow on the lake in the twilight. My pen flowed across my journal pages. "What is your power?" Jenny prompted. My power is tenacity. I wrote without hesitation. I'm persistent. I keep going no matter what.

A few minutes later, Jenny asked, "What is your need?" I stopped. My needs were an unfamiliar subject, a weakness I didn't know how to describe. I glanced at Courtney and Meghan, the other hikers — even though we'd met just two days earlier, we'd become friends. They flipped pages in their notebooks, not lifting their heads, while I doodled in the margins and wondered, what's it like to be unafraid to ask for what you deserve?

The following day, we inched forward for three miles, leaving ample space between each other, so it felt like I was alone in the vast expanse of birch, pine and maple. I floated along in the gold-green sunlight until I could no longer ignore the blister forming on my heel. This, despite my well-worn-in hiking boots and thick wool socks. I leaned my pack against a tree and sat on a mossy rock to inspect my tender foot.

It wasn't long before Jenny caught up and saw my predicament. While she retrieved her first aid kit, I apologized, said it was no big deal and insisted I would be fine.

"You need to speak up," she said, applying a doughnut of padded moleskin and covering the wound with duct tape. "If you'd waited until you couldn't walk, that would have held everyone back."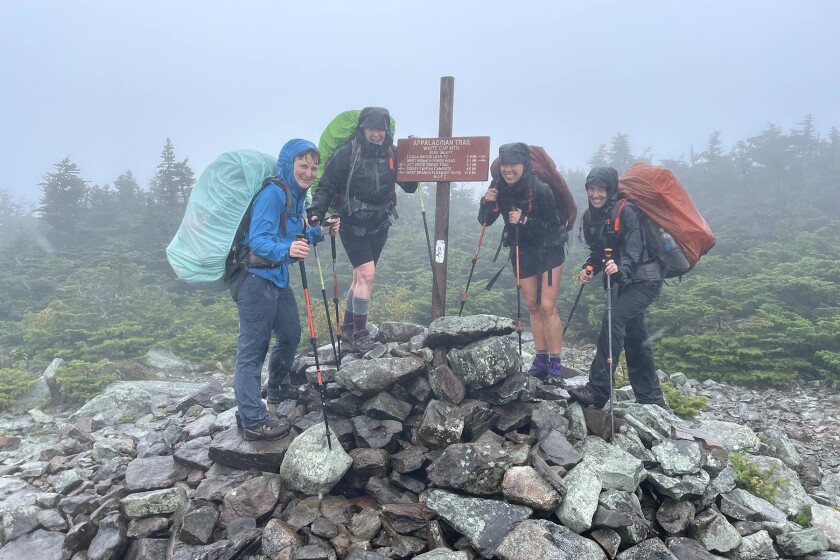 I searched for a funny retort, the kind I used as a defense when my weakness showed. Of everything in my 40-pound pack, it seemed I'd forgotten to pack my usual snark.

Later that night, after the thunderstorm passed, the sky over Jo-Mary Lake blistered with stars. This area of Maine is designated as an International Dark Sky Park, which makes for perfect stargazing. Everyone lay on their backs to watch the sky, giddy with the day's excitement. Not me — I was intent on getting the perfect photo.

I tried to balance my zoom camera on a tiny tripod that kept tumbling over on the rocky beach. The resulting images looked like cloudy smudges on black velvet. I'd wanted to impress; instead, I pouted about my failed attempt as the other hikers giggled in the darkness.

"We came up with a trail name for you!" they said, instantly transforming my insecurities into a superpower. From that night on, I would be known as "Star Blur." It was impossible not to laugh at myself.

For two days, we hiked in relentless rain to summit the three highest peaks on our route. Cautious on slippery tree roots and rocks, our views were largely downward, limited to squishy boots and mud puddles. When we reached a swollen stream a few yards from our final campsite, my legs were rubber.

"I need help," I said.

Without hesitation, Courtney lifted my pack from my shoulders, and suddenly I realized the heaviest weight I'd been carrying all week was my fear of vulnerability. I've always despised feeling like a weak link, but as Jenny talked me step-by-mossy-step over the rushing water, I knew I had to let go of that fear. "Thank you," I said, "I'm" — I stopped and swallowed the urge to apologize. Like many women, saying "I'm sorry" had become a reflex. But I knew I had nothing to be sorry about.

Though my muscles ached, I didn't feel weak; I felt complete. By carrying my weight through storms and over mountains, I'd faced my fears and rediscovered my wild and woodsy self.

Getting there:

Monson, Maine.

Known as the gateway to Maine's 100 Mile Wilderness, Monson is a two-hour drive from Bangor International Airport (BGR) and 3½ hours from Portland International Jetport (PWM).

Hiking the 100 Mile Wilderness requires preparation in consultation with experienced outdoor guides. The Appalachian Trail Conservancy offers resources to help you plan your trip, or you could join a guided hike such as the one covered in this article.

Would you love to visit one of America's fabulous national parks? Here are six grand lodges in national parks to check out.

Have you ever been to Maine? Where did you go? Let us know in the comments below.