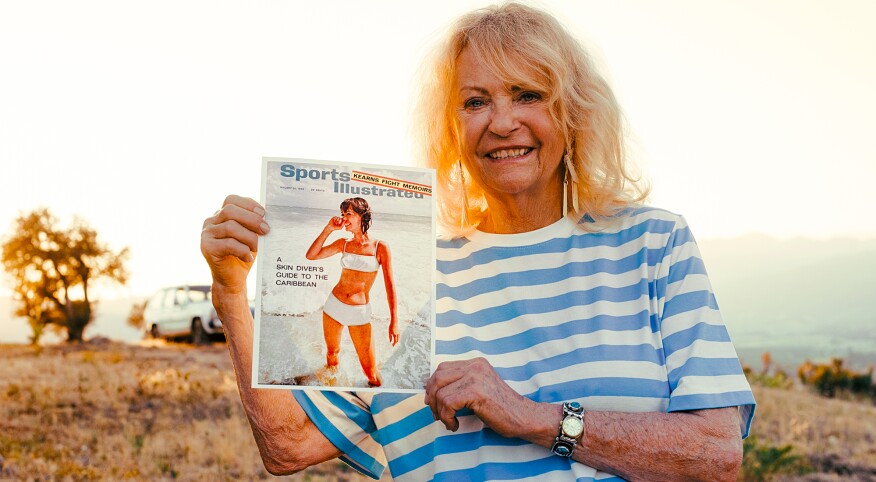 There once was a beauty named Babette, who had brunette bangs and bright green eyes — and a bathing suit that drove her bonkers.

The two-piece suit looked groovy when she stood still. But when she frolicked in the surf during a photo shoot in Mexico, the white leather "hip rider" bottom trapped water in the most unflattering places.


"I hated that bathing suit," Babette Beatty told me, laughing. She's also not too crazy about the photo of her wearing it that ended up on the cover of the first Sports Illustrated swimsuit issue. Her stance, she says, is more "goofy schoolgirl" than "sex goddess," and she's wiping her nose like she just snorted seawater.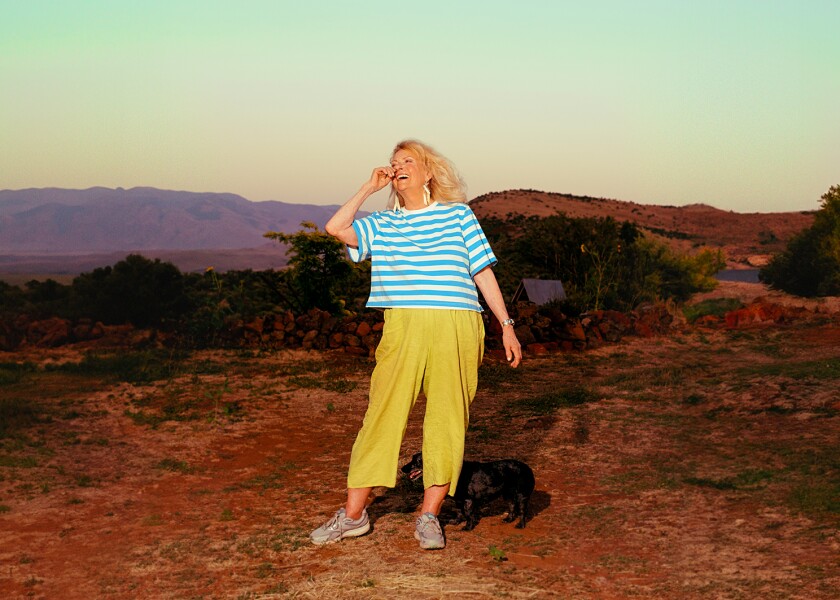 Not that the magazine's fans minded.

When the issue hit the stands in January 1964 — with Babette in the loathsome leather on the cover and in a sexy see-through maillot on the five-page spread inside — the 22-year-old model was swept up in a wave of a whole new kind. She became the famous "first" who launched a cultural phenomenon. Cheryl Tiegs, Christie Brinkley, Elle MacPherson, Kathy Ireland, Tyra Banks, Beyoncé — they and their fabulous bods all followed Babette as swimsuit-issue cover stars.

And now, there's Martha. In May, lifestyle entrepreneur Martha Stewart became the oldest model to grace the cover of the Sports Illustrated swimsuit issue. She wore a white swimsuit with a plunging neckline that cradled her cleavage, an orange wrap that cuddled her shoulders and a wide smile.

"Look at Martha. I love her. She knows how to dish it out," Beatty exclaims. "And did you know? Martha and I were born on the very same day: August 3, 1941."

As both women hit 82, we wondered: Would Babette do it all over again now, 60 years later? Would she feel lucky to get the job, as she did then? Does she want to be ogled as an octogenarian?

"I'm so glad Martha did that and not me because some of the comments on the cover that she did are so awful and nasty, about how she's so privileged, and she can do it because she has the money for face-lifts. I don't want the stress," Beatty says. (Stewart denies having a face-lift but admits to having used Botox and fillers.)

Born in Berlin, Germany, five days before the Soviet Union began bombing the city during World War II, Babette Beatty now lives in a town "a block long" — Halfway, Oregon, where she and her husband, Dale, create art and build businesses.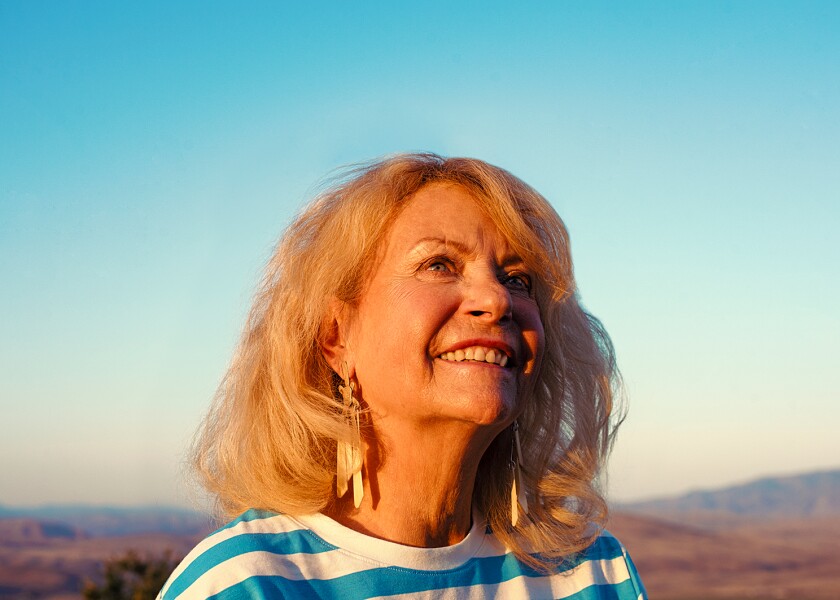 They've owned a lodge, a restaurant and a gallery there over the years. She paints large, colorful canvases — while fully clothed, she notes, often in flowing linen shirts.

"I still get fan mail every week," Beatty says. "All from men. They all love me." They send her copies of the 1964 cover they pull off the internet and ask her to sign them — so they can sell them for a hundred dollars or more.

"One guy sent me 10 copies! Does he think I have a secretary?" she laughs.

What she does have is guts, a necessity when you come to New York as a teenager with $500 in your pocket. Her look got the attention of Eileen Ford of Ford Models: the slight gap in her teeth, dramatic eyelashes, high cheekbones. But it was the famous photographers of the day — Bert Stern, Richard Avedon, J. Frederick Smith — who really discovered her. They told her to buy Levi's and bleach them to make them look worn, and they sent her to Vidal Sassoon to get her sassy haircut.

A few years before Twiggy hit the scene, Babette was among the highest-paid models in the world, making $85,000 in 1966, according to a 1967 story in the Montreal Gazette. "She's 5 feet 8 inches tall, flat-chested, and has long, thin arms and legs, healthy shiny hair and wide-set eyes," the story said.

J. Frederick Smith got the job to photograph the first Sports Illustrated swimsuit spread, which began as a way to sell magazines during a week when there were no big sporting events. He selected Babette for the 10-day shoot in and around Cozumel, Mexico.

She thought it would be a breezy gig on a beach. No makeup artists or hairstylists. Just one other model, an art director, the photographer and a bag of swimsuits. "We never thought it would be a cover," she recalls.

But the world was about to tilt. The cover photo was taken Nov. 21, 1963. "The next day, we flew back to the United States and landed in Dallas," Beatty remembers. "President Kennedy had just been killed. Everyone was hysterical, screaming and crying. I'll never forget it."

In Sports Illustrated, the poses soon got more provocative and the swimsuits got skimpier. "Some were slutty. Sorry," Beatty says.

This year, the issue's 28 models include a plus-size woman, a transgender singer and actress Megan Fox, who says she has "body dysmorphia" and doesn't see herself the way others see her. The editor of the issue, MJ Day, writes of her "hope that women can live in a world where they feel no limitations, internally or externally."

Martha Stewart told The New York Times that posing like a sex cougar was "part of my ongoing self-creation … it took a bit of vanity but also a bit of confidence." After all, she did Pilates three times a week for two months to look good.

Sidenote to potential posers: "Posture, posture, posture! Pilates promotes proper posture. That helps you look 10 years younger, and it builds confidence," says Darla O'Brien of Winston-Salem, North Carolina, who's been teaching Pilates for more than 30 years.


Would Babette Beatty pose again? No. She would still fit in that white leather two-piece — if it had a touch of forgiving spandex — but her body is no longer her currency.

"I'm not a fame seeker," she says. "Martha and I … we are born on the same day, but we are different stars."

What did you think of Martha Stewart appearing as a recent cover girl? Let us know in the comments below.