Women tend to be the command center of the family. We commonly do everything for others, yet not enough for ourselves. As a holistic health coach, I recognize that most of us need a push to engage in essential self-care. Costa Rica is the ideal destination for R&R amid gorgeous oceanside, mountain, rainforest and cloud forest landscapes.


Following are some of the sensory-pleasing pastimes in the country most stamped in my passport:
Decompress at a spa

There are hundreds of pampering resorts in this Central American country, many with all-inclusive packages. However, if you're a person who likes to DIY, consider putting one of these restorative places on your schedule.

Tabacón, the Springs and Baldi are three reasonably priced natural hot spring resorts near Arenal, an active white-peaked volcano.

Bathe in luxuriant mineral springs that form beguiling shallow swimming pools, waterfalls and ponds.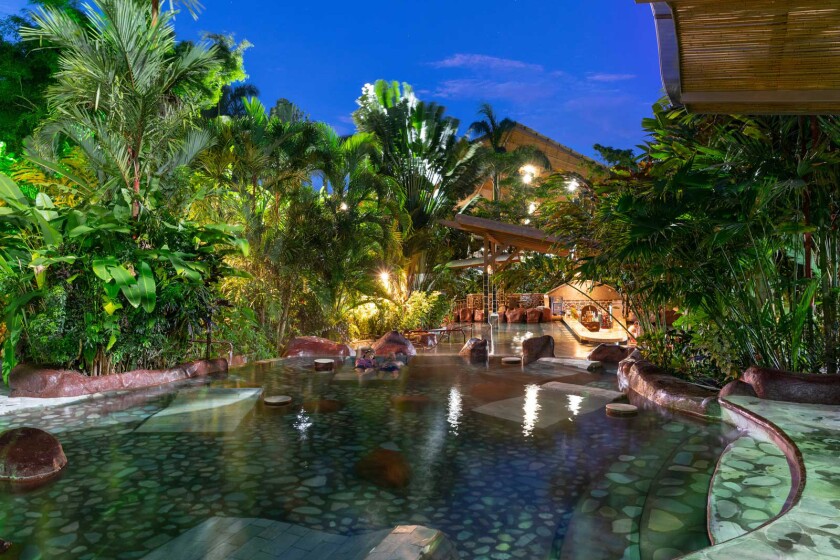 This as you gaze at lush rainforest vistas and the starlit conical volcano. And you will eat well!

Tabacón's fusion menu includes pumpkin cream soup and pan-fried trout served with cauliflower puree. Save room for the black cherry cacao mousse for dessert.

Along with many overnight wellness retreats are lots of inexpensive day spas. I indulged in a four-hour session of rejuvenating exfoliation, facial and full-body massage for the price of a one-hour massage in the States.

Bask on a beach

Worries melt away when you sink into warm sand, listen to the rush and ripple of the waves, feel the sea breeze on your skin and sip fresh coconut water. For about a dollar, you can watch a welcoming native wield a machete to lop off the top of the fruit and insert a straw. If you ask, after you hydrate, the coconut vendor will slash the woody husk and use the detached wedge to scoop out the succulent meat.

Depending on your athleticism and desires, you can ramp it up or cool down when you hit the Atlantic or Pacific coast, which both hug Costa Rica. Ride the waves on a boogie board or put your beach chair at the lip of the ocean and dangle your feet in the water. Explore the surroundings by hiking or on an ATV, Criollo horse or catamaran. Soak up the sun while snoozing in a hammock or read a novel from an umbrella-shaded chaise lounge.

At night, slip under your covers in Gilligan Island-castaway accommodations — from open-air tree houses to rustic B&Bs — all situated amidst towering trees and a dazzling rainbow of tropical flowers.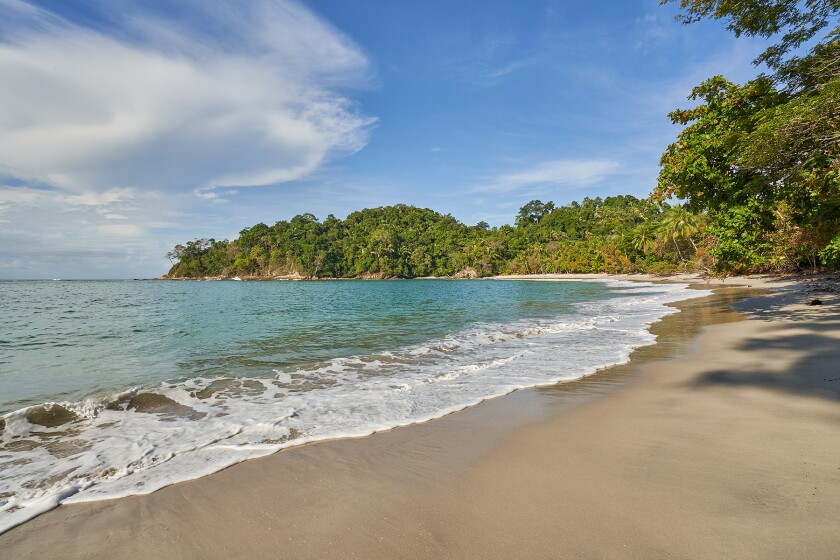 I'm mesmerized by the tranquil hideaways of two national parks, Tortuguero and Manuel Antonio.

The latter, on the Pacific Ocean, is an easy three-hour drive from the capital, San José. Tortuguero, on the Caribbean coast, is a longer journey as the park is accessible by small craft or plane. Travel on a slow boat via narrow winding canals and rivers for an unforgettable smorgasbord for the senses.

The two parks' undeveloped sandy coastlines frame expansive emerald-green habitats for tree-hugging sloths, endangered iguanas, sea turtles, howler monkeys and hundreds of species of brightly colored birds, including the ubiquitous toucan with its long bill striped in neon brights. These animal havens are a far cry from overbuilt tropical destinations.

To maximize your sightings, hire one of the certified naturalist guides, who will set up telescopes, make bird calls and use laser pointers to zoom in on the wondrous creatures.

From Manuel Antonio, instead of returning directly to San José, take a 45-mile detour up the Pacific coast to Jacó. Only a 90-minute drive from the capital, Jacó was the first beach in Central America to be made fully wheelchair accessible.
Jacó also is home to many farmers markets and a variety of dining spots, where it's easy to find Costa Rica's traditional casado, a superfood of protein, fiber and greens, served with tortillas.

Indulge in coffee and cacao

Immerse yourself in the rituals, aromas and flavors of soul-satisfying precious beans, abundant in this country. Although cacao predates the caffeinated berry, coffee is paramount to the Costa Rican citizens and economy. Arabica coffee exports topped $370 million last year, according to the Observatory of Economic Complexity.

There are three primary coffee producers near San José. One million visitors have attended the Café Britt tour since 1991. The Doka estate is situated on rolling hills lined with a prism of flowers. But my favorite is the award-winning Hacienda La Chimba and its Hotel Don Ernesto. Stay for a couple of hours — or a week — to relax and relish the coffee culture.

La Chimba's tour covers the entire coffee-making process, from the harvest buckets to the rows of 100-pound sacks awaiting shipment to the U.S. and France. Go back in time as you visit a coffee plantation house circa 1920, where on view are photos of barefoot women in white dresses picking the crop. This as you watch modern workers in jeans, T-shirts, gym shoes and bandannas fill big baskets with multicolored beans.

For your chocolate immersion, La Casa del Cacao in downtown San José is in the historic 1907 Steinvorth Building, an architectural icon. Indulge in authentic French crepes, hot chocolate and intricately decorated bonbons. You can also learn the process from bean to beverage in a hands-on lesson for $30 per person.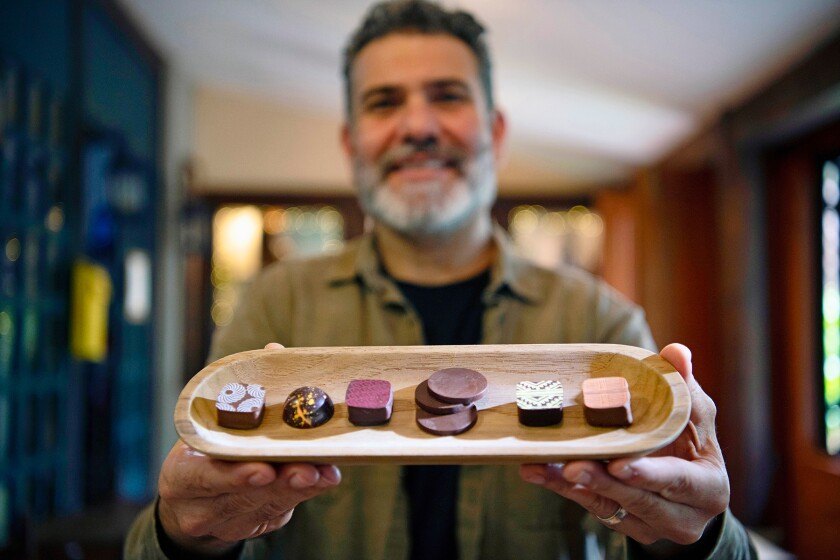 The chocolatier Sibö prides itself on selecting only the best beans to create a silkier chocolate product. Visit its Escazú café and store and savor orange cinnamon truffles and hot chocolate laced with mint. For an artisan chocolate workshop with master chocolatiers, plus a lunch, head to the Sibö cottage in San Isidro, just beyond San José.

My tastebuds, and all my senses, can't wait to return to Costa Rica. I'm counting the days before my next trip, when I'll drink avocado mango smoothies and enjoy sunrise yoga, encircled by orchids, including the luminous purple Guaria morada, the country's national flower.

Getting around

Mind the gap. Bring sturdy flat shoes and practice mindful walking to avoid steep curbside flood-control drainage openings and uneven sidewalks.

Expect rain and shine. Bring a windbreaker, collapsible umbrella and sun hat. September through November are times of sunny days with intermittent heavy downpours. Temperatures hover between 60 and 80, with coastal zones a bit warmer.

Travel off-season. Save money and avoid crowds. Southwest, Jet Blue and Spirit Airlines usually have lower rates through October. The best weather in Costa Rica is between December and April, when the climate is at its driest and brightest. May, June and November are when the national parks are quieter.

FYI: The newer Liberia airport is closer to the burgeoning northern Pacific and Nicoya Peninsula resorts.

Photo credits: Courtesy Tabacón Thermal Resort & Spa, Courtesy Baldi Springs Resort Hotel & Spa, Getty Images (2) , Courtesy Sibö Chocolate
Have you ever been to Central America? Let us know in the comments below.