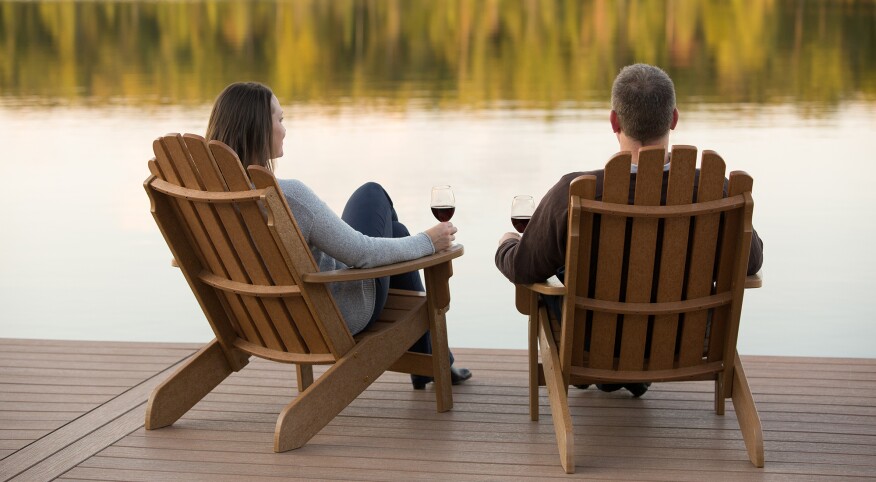 Standing in a spa swimming pool, clad in my trusty one-piece, I warily eye the metal rod in front of me. God help me, I've signed up for aquatic pole dancing.

"Why are you taking this class?" I ask the woman next to me.

She doesn't miss a beat.

"Why the hell not?" she responds.

What a perfect description of my two-day visit to The Lodge at Woodloch, an East Coast spa that's equal parts summer camp and luxury. I tried new things, got wonderfully pampered, ate well, and enjoyed an atmosphere that was elegant but not pretentious.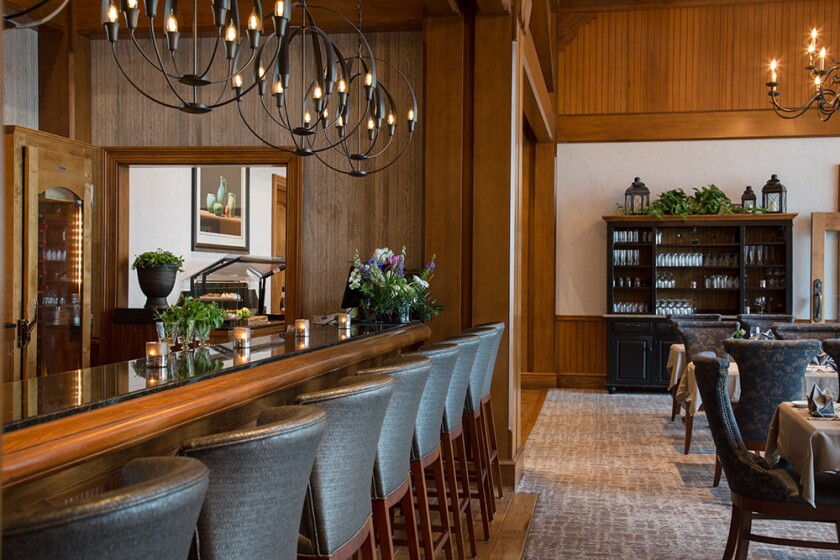 The Woodloch, which opened in 2006, sits on more than 500 acres in the Pocono region of Pennsylvania. It's a 2.5-hour drive from New York City, 3 hours from Philadelphia and 4.5 hours from Boston. The resort is all-inclusive, including three meals a day, gratuities and access to the spa and most classes. Spa services and alcohol are extra. Yes, alcohol.
At lunch, two women next to us ordered salads, "with dressing on the side." Shortly afterwards, two good-sized cosmopolitans were delivered to their table. You can eat light if you want, but the Woodloch has more than spa cuisine. My husband, Michael, had a ribeye steak for dinner.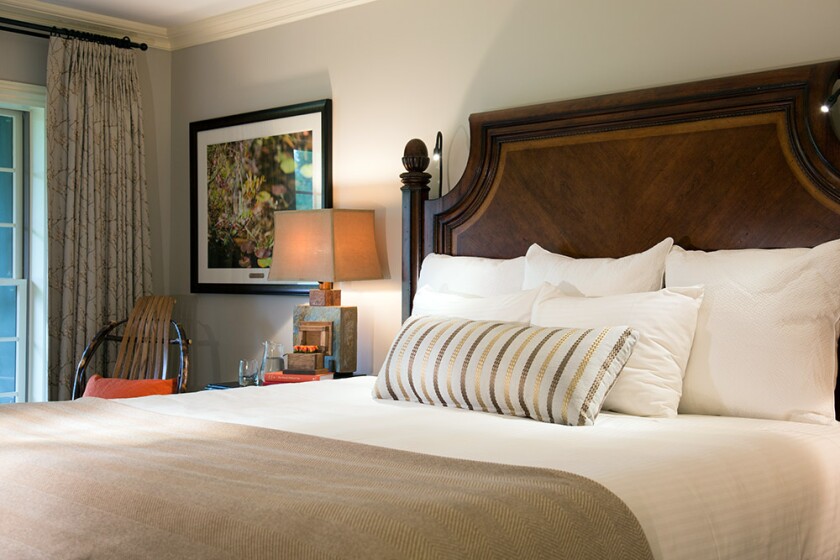 We were among a handful of couples. The clientele when we were there was mainly women — groups of friends, mothers and daughters, and single women. (Management says that on average, 60 percent of guests are female; 40 percent male.) Guests came in all shapes and sizes and seem to skew to the 40 and over crowd.
When you hear Poconos, don't think heart-shaped tubs. The rooms are airy and modern, and all have decks. Ours looked over the woods. Bathrooms are outfitted with rosemary-mint products, and thick terry cloth robes and slippers, which guests wear to and from the spa.

More than 50 workout and wellness classes are offered every day. Though I do like yoga, I wanted to try things I couldn't ordinarily do at home. Turns out I fit squarely into the spa's zeitgeist.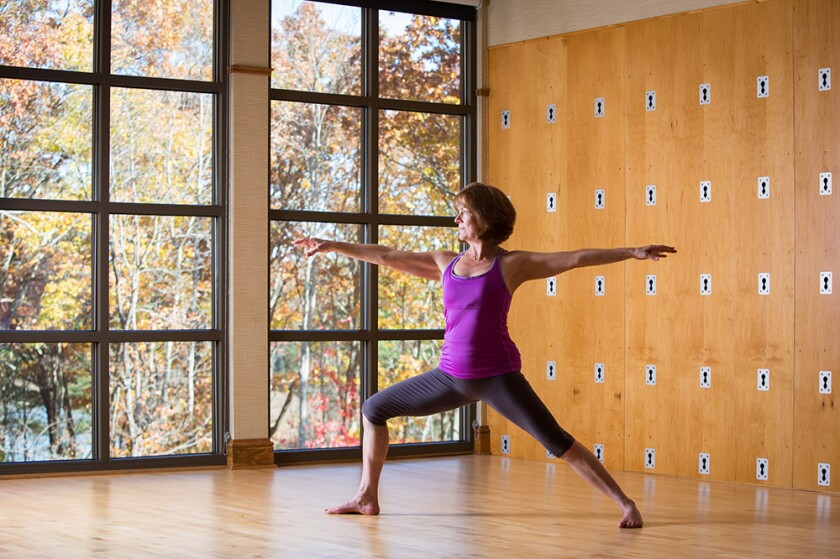 "The philosophy of our lodge is personal awakening, and for women in their 50s and 60s, that can be remembering who you were before children or career, or both," says Woodloch spokeswoman Brooke Jennings. "It's finding those lost pieces of yourself and letting them flourish."

Our first activity was "forest bathing." The idea is to immerse yourself in the woods using all five senses. Our guide, Derrick, pointed out maples, birches, white oaks, red oaks and pitch pines. As he walked us over the fern-covered forest floor, he explained that trees emit phytoncides, which can biologically reduce stress and boost energy. In Japan, Derrick says, doctors prescribe three days in the woods for their patients.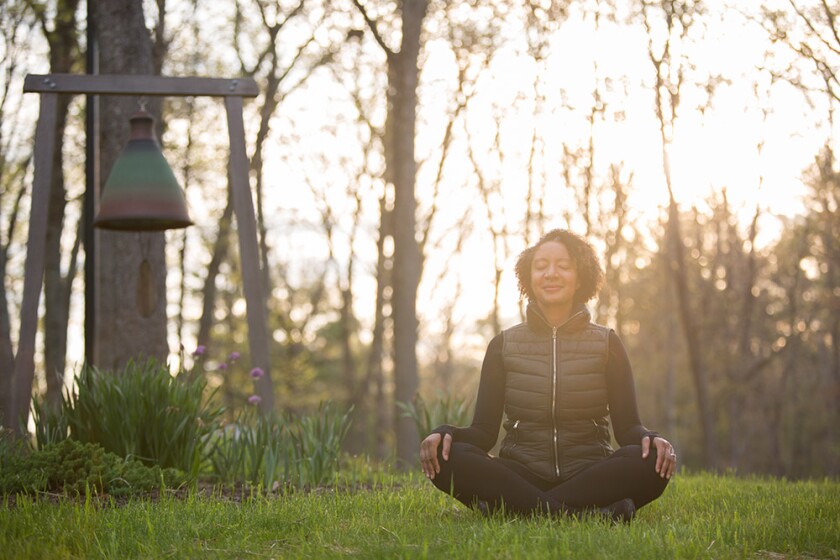 Getting people to slow down and experience the woods is his biggest challenge. As a regular goal-oriented hiker (who — full disclosure — thought forest bathing sounded silly), I plead guilty. Meanwhile, thunder was rumbling, and our forest bath soon turned into a shower. We took cover under a tent on the property's farm.

Instead of meditating in the forest, Derrick suggested trying it in the tent. I closed my eyes, listened to the rain pelt the canvas, felt mist blowing in that smelled of garden herbs, and truly relaxed. Incidentally, the farm provides lettuce, herbs and vegetables for the spa restaurant year-round, thanks to the greenhouse.

Our next class was "hatchet throwing." I'd signed up Michael, because it sounded manly, but as soon as I saw the weapons, I wanted in. At first, my hatchet fell short of the target, bouncing on the ground with a pathetic pinging sound. But Nathan, our bearded instructor, demonstrated a two-handed overhead throw, and soon I got my groove. It was a blast.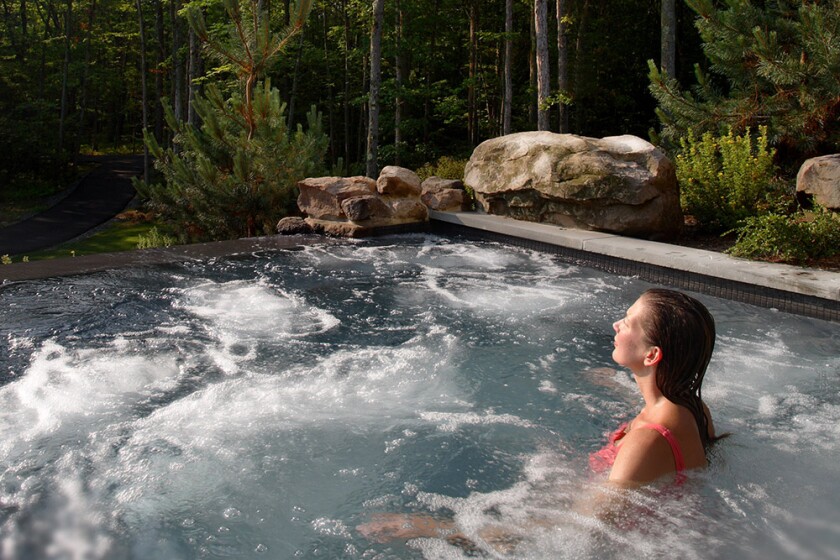 After this, we visited the spa hot tub, which has two very cool "hydromassage water walls." You can position yourself so your shoulders (a bit sore after all that throwing) are pounded with gallons of hot water.

The dining room has floor-to-ceiling windows, and people dress up a bit for dinner. The food didn't always meet dietary guidelines, but it was always excellent, ranging from salmon in a mustard glaze to vegetable paella over saffron rice to charbroiled meat dishes. A singer/guitarist strums in the background.

What about pampering? The Woodloch offers 15 different kinds of facials, 10 varieties of full body massages, seven types of "body work" (think cranial massage, healing light therapy and other specialties), body treatments, treatments for men and salon services. I chose the "rosemary awakening." At 100 minutes long, this treatment was the gift that kept on giving.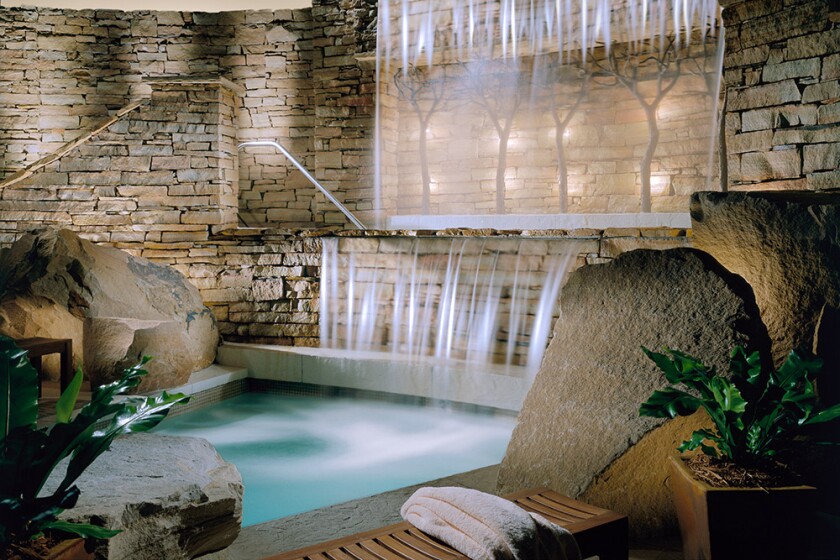 First, the "body polish of rosemary and mint" felt like being gently scrubbed with scented sandpaper. The Swedish massage that followed was deeply relaxing. Next, I felt warm oil being trickled on my head, and then a scalp massage. Johanna, my masseuse, finished up with foot reflexology. By the end I was so transported that I stumbled out of the room without my underwear. (Thank God for the spa robe.)

Next was the aquatic pole dancing class. Picture six women of various ages and shapes in the pool. The poles are in heavy plastic stands that affix to the pool bottom with suction cups. Brittany, our instructor, demonstrated dance moves on the deck while we attempted to copy them in the water.

The grand finale involved a sexy move of straddling the dance pole, legs stretched into a V. As I grabbed the pole, the suction cups gave up, and somehow, I bonked myself in the forehead. I laughed so hard I took in water.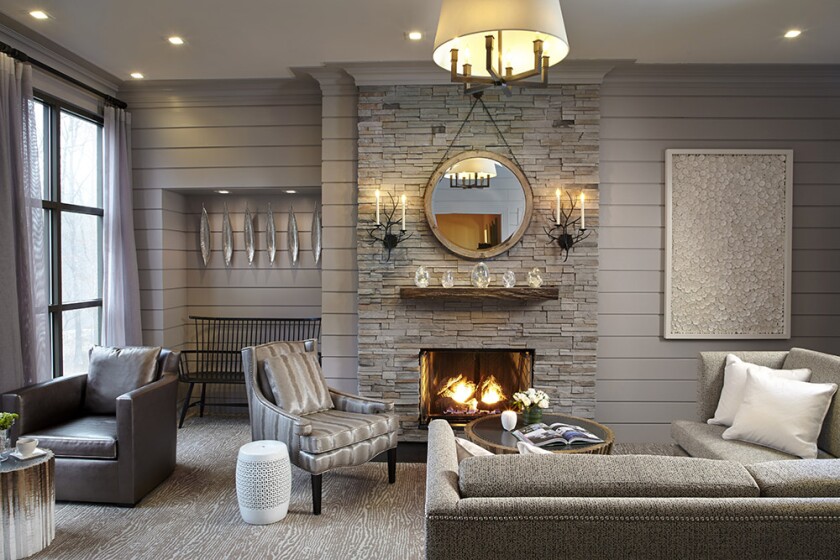 We visited the spa in the most economical way possible — midweek, which can be 20 to 43 percent off weekend rates — but it still wasn't cheap. Prices depend on room layouts, and can range from $479 to $769 per person a night (based on double occupancy), plus 7.5 percent tax and a 20 percent resort fee.

Special packages are available for girlfriend getaways, mother-daughter pairs, and others. You can also save by booking as far out as possible and signing up for the Woodloch's "last-minute club."

The resort offers activities for each season, including cross-country skiing and skating in the winter. On our last evening, we took a guided kayak tour on the spa's lake. It was calm and peaceful but for the sounds of the birds and aquatic life. Our two days at the The Lodge over the summer were a relaxing and perfect reset that's still having an effect.

Anyone planning a road trip? Here's what you need to know before you do.