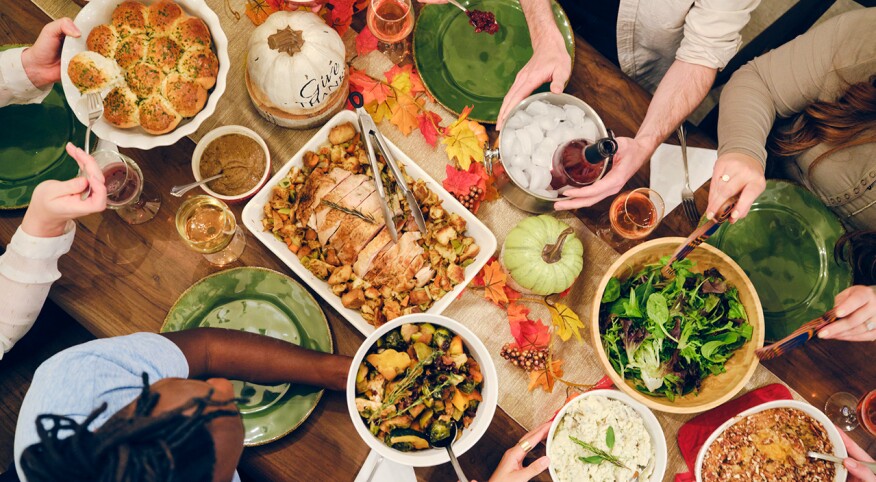 Are any of you seeking connections with other older women? Are you hoping to make new friends? Then please request to join The Ethel Circle, a closed Facebook group where older women can talk openly and honestly about the challenges associated with aging. And many members are meeting up and making friends in real life!


Spending Thanksgiving with family can be a mixed blessing — emotional baggage, stressful conversations, exhausting travel. Plus, if you're the host, you may feel like you spend more hours planning, cooking and cleaning up than you do enjoying the holiday.

That's why Friendsgiving is so brilliant. It's a more informal and usually potluck meal shared with pals, neighbors and holiday orphans. The idea is to relax and have fun. It's usually held just before or after Thanksgiving and, best of all, no turkey is required.

The term Friendsgiving — and no, it did not originate with the Friends TV series — was officially added in 2020 to the Merriam-Webster dictionary, even though the name was first used in 2007 on social media, according to the dictionary's word sleuths.

After that, Friendsgiving started showing up in lifestyle articles and then got a big bump of publicity in 2011 when Bailey's Irish Cream used the word in an ad campaign. These days, celebrities like Jennifer Aniston, Taylor Swift and Rob Lowe regularly share photos in magazines and on Instagram of their famous friends gathered for Friendsgiving.

While Friendsgiving was originally designed to be an antidote to fraught family get-togethers, by 2019, New York Times restaurant critic Pete Wells thought things had gone too far. He wrote in the newspaper that the stream of magazine and food websites offering "essential rules" for a "perfect Friendsgiving" had become "a bigger pain in the wishbone than Thanksgiving."

Cranky critics aside, these so-called rules — guidelines, really — can be helpful, especially if your Friendsgiving meal needs to include options for guests who are vegetarian, vegan, gluten-free or who have other food restrictions. The idea is to make everyone feel welcome and not excluded because of their dietary needs.

In fact, nearly 40 percent of Americans say it's good party-hosting behavior to ask guests ahead of time about dietary limitations, according to a 2016 Pew Research survey.

Kristin Donnelly, author of the Modern Potluck cookbook, says the great thing about a potluck meal "is if you have dietary restrictions, you can always contribute a dish you know you can eat without feeling like you're inconveniencing the host or guests."

When she is invited to a potluck, Donnelly typically brings vegetable side dishes, such as a roasted carrot salad served over lentils, to appeal to a wide range of people. When she hosts, she provides labels and markers when potluck guests arrive "so they can label their dish and mark if it's appropriate for certain diets or food intolerances, such as vegan or gluten-free."

Here are some suggestions for making your Friendsgiving a delicious and inclusive success:

Use a formal sign-up sheet.

Just telling people to bring whatever they like can often result in too many of one dish and not enough of others. Send out an online sign-up sheet and have each guest enter what dish they would like to bring. Also, let them know what may be needed, including for those with dietary limitations — for example, a no-nut side dish or a dairy-free dessert.

Include a super side dish.

A hearty side dish featuring plant protein — for example, rice pilaf with protein from nuts, seeds, beans or chickpeas — is a nourishing choice. Or go for an easy-to-make lentil salad (see recipe below) with colorful fresh vegetables, feta cheese and a lemony vinaigrette.

Aim for an array of appetizers.

"It's important to have something available to eat as soon as people arrive, in case people have traveled a long way or have skipped a meal before the party," says cookbook author Donnelly. And whatever you do, she warns, "don't assign appetizers to people who are typically late."

Now go enjoy a no-stress holiday get-together, whether it's Friendsgiving or just a no-reason-needed potluck with your favorite people.

Here are some of my favorite potluck recipes.

Sheet Pan Roast Chicken with Carrots, Apricots and Almonds

If I'm hosting, I like to serve this sweet-and-spicy main dish. Roasting the chicken and vegetables on a sheet pan gives them deeper color and more crispiness. Use two sheet pans to double the recipe.

Serve 4 to 6

1/3 cup red wine vinegar

4 tablespoons fresh orange juice

1/4 cup extra-virgin olive oil

3 tablespoons whole-grain mustard

4 tablespoons honey

1/2 teaspoon hot red pepper flakes or hot paprika

3 cloves garlic, chopped

1 teaspoon dried thyme

2 teaspoons kosher salt

4 to 5 pounds of bone-in chicken thighs and drumsticks

1 12-ounce bag peeled baby carrots, or 2 1/2 cups sliced carrots

1 medium yellow onion, thinly sliced

1 cup sliced dried apricots

1/3 cup sliced, roasted almonds, for garnish

Minced fresh parsley, optional, for garnish

Make the marinade: In a medium bowl, combine the red wine vinegar, orange juice, olive oil, mustard, honey, hot pepper flakes, garlic, thyme and salt. Mix well.

In a re-sealable plastic bag or sealable container, place chicken, carrots, onion and apricots; add marinade, seal bag or container, and turn to evenly coat ingredients. Refrigerate, turning occasionally to keep everything well-coated, and marinate for at least two hours.

Move the oven rack to the middle position and preheat the oven to 425 degrees F.

Transfer the chicken and the rest of the ingredients, including the marinade, to the baking sheet. Turn chicken skin side up. Roast until chicken skin has lightly browned and meat has cooked through, about 45 minutes. Halfway through, stir carrots and other vegetables so they cook evenly. Once it's done, if you want chicken skin to be crispier, place the sheet under the broiler for about a minute. Watch carefully to avoid burning.

Arrange chicken, vegetables and any pan liquids on a serving platter. Before serving, garnish with sliced almonds and, if desired, chopped parsley.

Lentil salad

This has been a hit at every potluck I've brought it to. The recipe is flexible — you can adjust the amounts or types of chopped vegetables if you like. It's easily doubled for larger crowds.

Serves 6

For the lentils:

1 cup uncooked green lentils, rinsed well

3 cups vegetable broth or water or a combo of both

1 large seedless cucumber, diced

1/2 red, orange or yellow bell pepper, diced

2 to 3 medium carrots, peeled and diced

1/2 small sweet red onion, diced

1/4 cup finely chopped Italian (flat-leaf) parsley

1/3 cup cubed or crumbled feta cheese, optional

For the dressing:

1/4 cup olive oil

2 tablespoons fresh lemon or lime juice

1 teaspoon Dijon mustard

1 teaspoon honey

1 clove garlic, minced

Salt and black pepper, to taste

Prepare vegetables and set aside.

In a medium pot, bring broth and/or water and lentils to a boil, then reduce heat and allow lentils to simmer for about 15 minutes. Start checking their texture at 12 minutes by tasting a few. You want lentils to be tender, but still able to hold their shape. They shouldn't be mushy.

While the lentils are cooking, prepare the dressing by whisking together olive oil, lemon juice, mustard, honey and garlic until well-blended. And salt and pepper to taste.

When the lentils are done, drain in a colander. Place warm lentils in a large bowl; toss with diced vegetables (and feta cheese, if desired), and dressing. Taste and adjust the seasoning before serving.

Have you ever hosted or attended a Friendsgiving? How did it go? Let us know in the comments below.