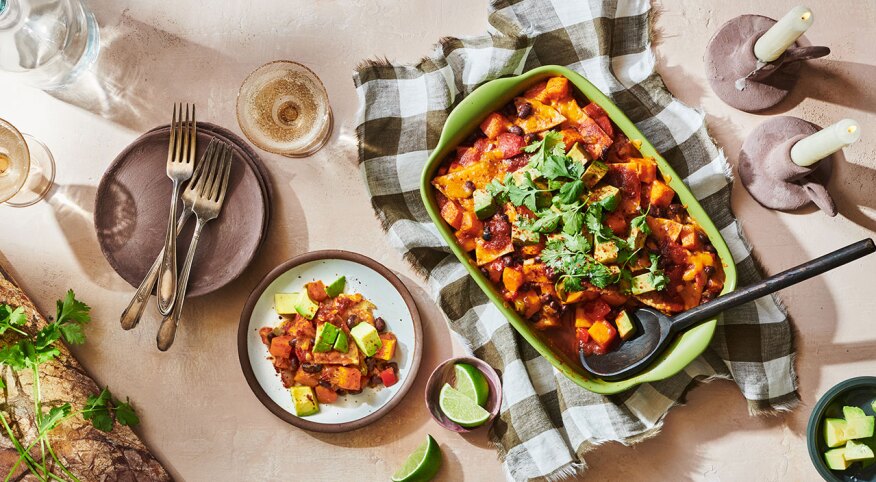 For years I've been known as the "Casserole Queen" among friends and family because I always bring one of my hearty dishes to our potluck dinners. I raised my four children on casseroles, as money was tight with so many mouths to feed and there was no better way to eat on a budget than a one-pan meal. I discovered I could stretch the meal — and my dollars — by doubling each recipe and putting one pan in the freezer. These easy, budget-friendly meals are sure to warm bellies and lift spirits on cold winter nights. This is not diet food … though always comfort food!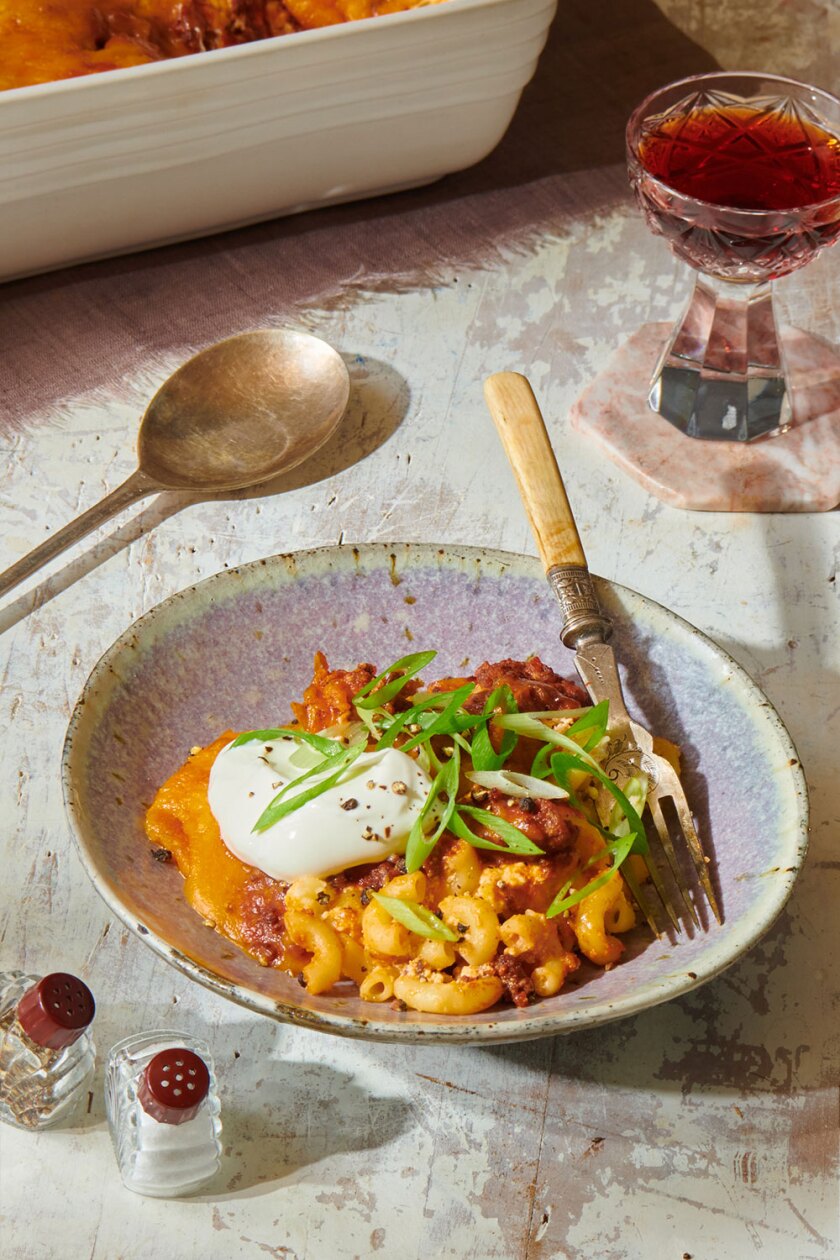 Beef and Sour Cream Casserole

The flavor is reminiscent of lasagna, but the recipe takes it up a notch by using cream cheese and sour cream (can use low-fat versions) rather than ricotta cheese.

Serves 6

1 Tbsp. olive oil

1 1/2 lbs. ground beef or ground turkey

1 tsp. minced garlic

2 (8-ounce) cans tomato sauce

1 tsp. sugar

Salt and pepper to taste

1 (8-ounce) package elbow macaroni

6-ounce cream cheese softened

1 1/4 cup sour cream

5 to 6 scallions, chopped

2 cups cheddar cheese, grated

Brown beef and garlic in skillet. Add tomato sauce, sugar, salt and pepper. Simmer for 20 minutes on medium heat. While sauce is cooking, boil noodles, drain and set aside. In a bowl, combine sour cream, cream cheese and scallions. Set aside. To assemble casserole, place macaroni at the bottom of a greased baking dish. Spread cream cheese mixture over noodles. Next, pour meat sauce all over. Top with cheddar cheese and bake at 350°F for 45 minutes.

Easy Chicken Divan

This recipe can be put together in no time and looks great on a plate with the bright broccoli spears, chicken and cheese sauce sprinkled with buttery breadcrumbs. I like to serve it with a side of roasted potatoes and onions.

Serves 4

4 cups cooked, cubed chicken

2 (10-ounce) packages frozen broccoli spears, cooked

1 can cream of chicken soup

2/3 cup mayonnaise

1/3 cup milk

3 Tbsp. white wine

1 cup grated cheddar cheese

2 tsp. lemon juice

3 Tbsp. melted butter

3/4 cup dried breadcrumbs

Arrange broccoli in greased casserole dish. Top with chicken pieces. Mix soup, mayo, milk, wine, cheese and lemon juice in a bowl. Pour over chicken. In saucepan, melt butter, mix in breadcrumbs until well coated. Sprinkle over casserole. Bake at 350°F for 30 minutes.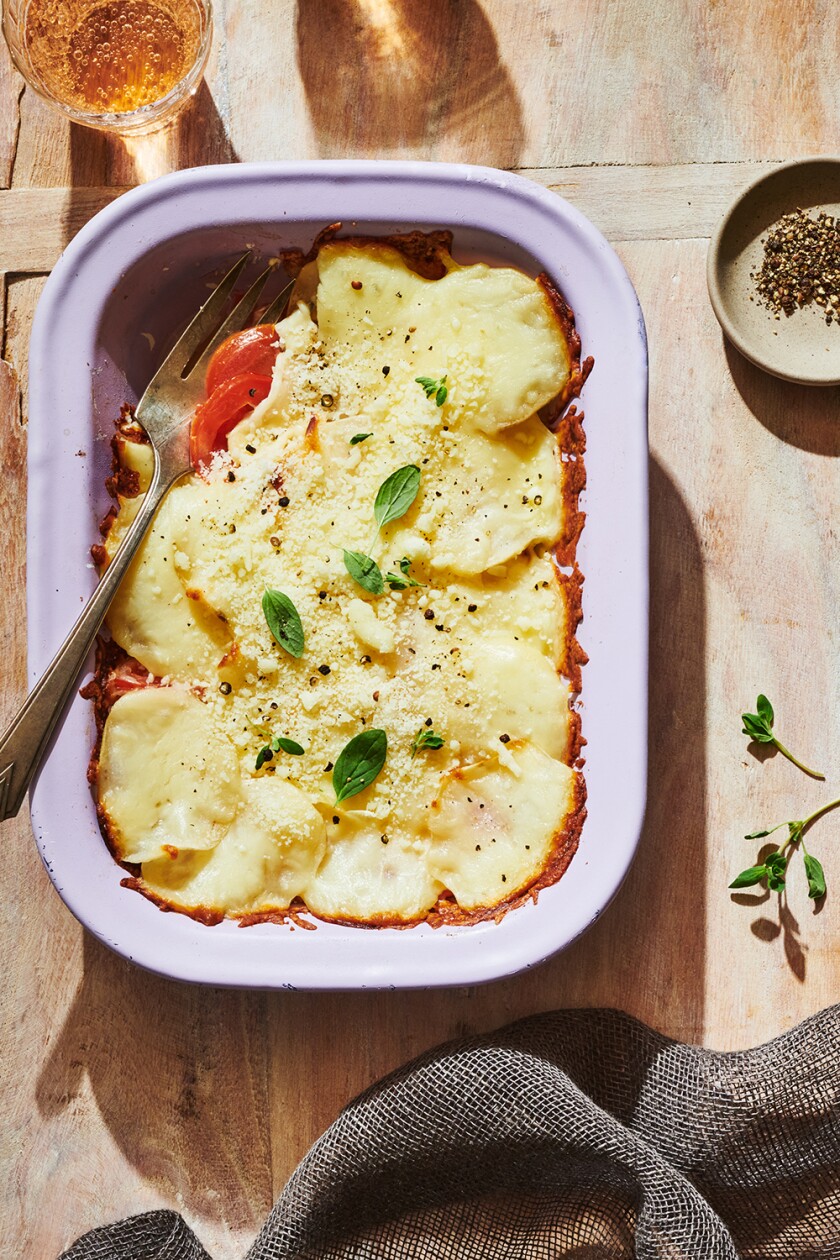 Italian Tomato and Potato Casserole

I love this vegetarian recipe because it can be served as a side dish or as the main meal, since it has protein, vegetables and carbs.

Serves 4

4 medium-to-large russet potatoes

1 Tbsp. olive oil

3 tomatoes, thinly sliced

1 large Spanish onion, thinly sliced

1/2 cup grated Parmesan cheese (plus a little extra for top)

3/4 cup shredded provolone cheese (plus a little extra for top)

1/2 tsp. oregano

1 1/2 tsp. salt

1/8 tsp. pepper

3 Tbsp. butter

Peel and slice potatoes 1/4 inch thick

Grease baking dish with oil, then arrange 1/3 of potatoes in the bottom. Top with 1/3 tomato, 1/3 onion, 1/3 of the cheeses and 1/3 of the seasonings. Make 2 more layers, topping the final layer with potato slices. Sprinkle extra cheese all over, then dot the top with bits of butter. Bake at 400°F for 50 minutes or until veggies are tender and top is lightly browned.

Classic Tuna Casserole

I've had dozens of basic tuna casseroles over the years, and most taste the same. The onions' crunchiness with the creamy pasta takes this version up to a new level of yumminess.

Serves 4

3 cups cooked rotini pasta

1 can cream of mushroom soup

1 can cream of chicken soup

1/2 cup frozen peas

5-ounce/6 1/2-ounce canned albacore tuna

1 cup grated cheddar

3-ounce french fried onions

Mix the first five ingredients together in a large bowl and pour into a greased baking dish. Top with cheese and bake at 350°F for 20 minutes. Add fried onions on top and bake another 5 minutes.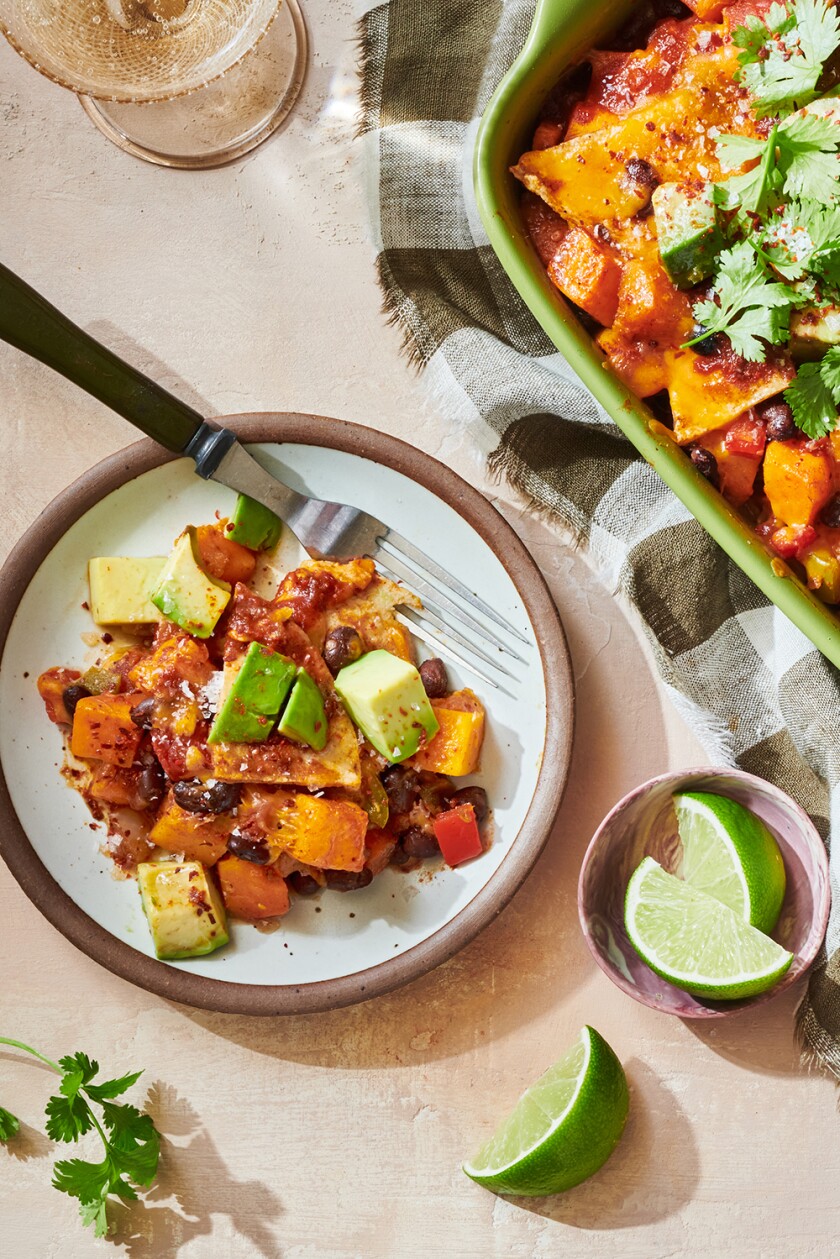 Roasted Vegetable Enchiladas

No casserole collection would be complete without a meal inspired by food from south of the border. This vegetarian enchilada is spicy, soul-warming and delicious

Serves 6

6 cups cubed butternut squash (or you can substitute with yellow potato)

3/4 cup red bell pepper, diced

3/4 cup green bell pepper, diced

1 cup yellow onion, diced

3 Tbsp. olive oil

1 tsp. ground cumin

1 1/2 tsp. chili powder

1 tsp. garlic powder

Salt and pepper to taste

2 cans black beans, drained and rinsed

1 small can green chili peppers, diced

1 (10-ounce) can diced tomatoes, drained

8 corn tortillas, cut into bite-size pieces

2 cups enchilada sauce

2 cups shredded cheddar cheese

Toppings: sour cream, avocado, cilantro

Preheat oven to 400°F degrees. In a greased casserole dish, mix the first 4 vegetables together with the spices and olive oil. Bake for 50 minutes, turning veggies once after 25 minutes, until tender. Lower oven temperature to 375°F. In a large bowl, combine roasted veggies with black beans, chili peppers, diced tomatoes and tortilla pieces. Add enchilada sauce and 1 1/2 cups of cheese. Mix together and pour into a greased casserole dish. Top with remaining 1/2 cup cheese and bake for 20 minutes or until cheese is bubbly on top. Serve with sour cream, chopped cilantro, avocado and extra enchilada sauce, if desired.

What's your go-to casserole on a cold winter night? Let us know in the comments below.