I went to my first cannabis dispensary with my millennial daughter. I thought I'd be the oldest, but the line was filled with boomers scanning a menu in a hefty binder resembling a wine list in a steak house. Some of my gray-haired peers, sometimes known as stoner boomers, were here to get high. I'd done that, in the 1960s. I needed dreamland.

My shopping expedition gave me an education on what I'd called "pot" or "marijuana" in college. Cannabis is the scientific name of the hemp plant and has more than 100 ingredients. CBD (cannabidiol) is extracted from the hemp plant and doesn't contain much, if any, intoxicating qualities. THC (tetrahydrocannabinol) is what gets you high.

I purchased blackberry sleep chews from a cheery 20-something, a balance of 2 mg THC and 5 mg CBD. "I take these instead of Ativan," she said, referring to an anti-anxiety medication. "I don't have a hangover in the morning."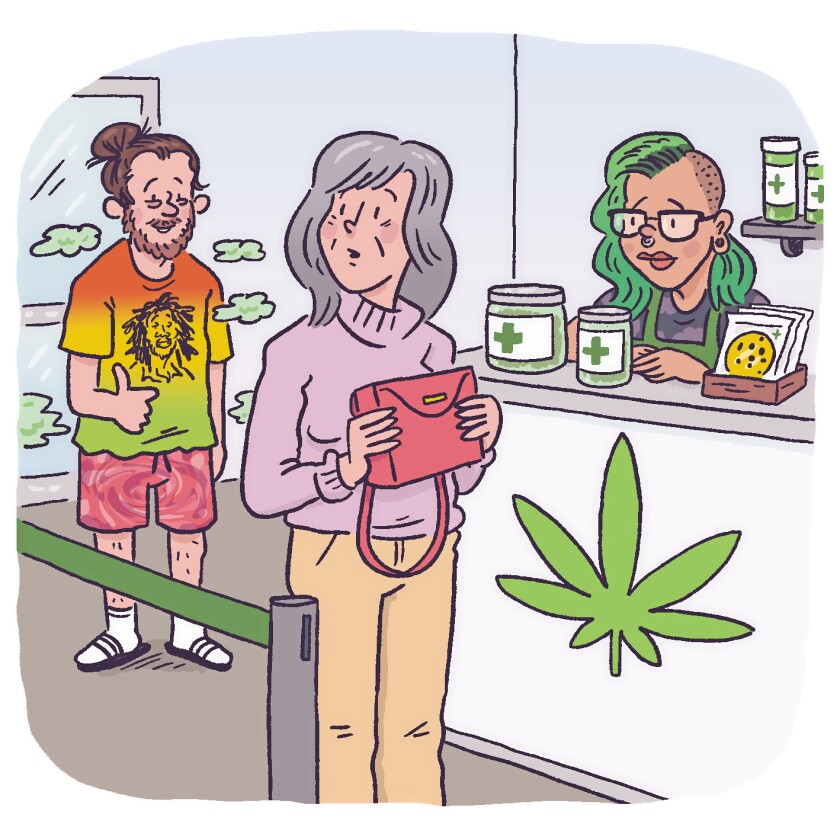 According to a study conducted by the Sleep Foundation, 30 percent of adults 60-plus have sleep problems. Sleeping pills can knock you out, but within an hour of ingesting small doses of THC and CBD, I felt relaxed and calm — not high — yet cruising into sleep.

"Cannabis is a natural plant, it's been around forever," says Nancy Gruskin Warner, CEO and founder of AssurPack, a company specializing in childproof packaging for cannabis edibles. "Cannabis is holistic and beats pharmaceutical products like Ambien. It's not a cure-all, but it can help the quality and enjoyment of your life."

Marijuana use among older adults

A study published in February 2020 in JAMA Internal Medicine estimated that cannabis use in adults 65 and older climbed from 2.4 percent to 4.2 percent in the United States, a hefty increase of 75 percent, between 2015 and 2018. Dana Robison has seen a rise in users 60-plus in her practice as a board family nurse practitioner in Portland, Maine, a clinical specialty in psychiatric nursing.

Certified in cannabis therapeutics, Robison supports research that cannabis may help a range of medical conditions, including migraines, multiple sclerosis, Parkinson's, dementia and side effects from cancer treatment — and consults patients in her practice with a range of these and other disorders.

Nearly half of Americans can legally buy adult-use marijuana in 21 states plus the District of Columbia; and 37 states permit medical marijuana prescribed by a medical practitioner. In states where recreational marijuana is legal, anyone 21 and older can shop at retailers with a state-issued business license.

The first licensed dispensary opened in New York City a few days before New Year's 2022, run by the nonprofit Housing Works, which fights AIDS and homelessness. Initially, lines were four hours long!

Medical marijuana

"The biggest advantage to speaking to a medical provider is getting guidance and idealized recommendations for use," Robison says.

(Please don't try medical marijuana or recreational marijuana without speaking to your health care provider.)

"I trust the medical products for quality, production and testing," Robison said. "Medical marijuana is also less expensive, as the taxes are lower."

First decide if you want to smoke, use liquid under your tongue, spread topical rubs for inflammation or arthritis, or imbibe edibles such as gummies and chocolate. Inhaling has immediate effects, delivering the product directly into your bloodstream, with a shorter lifespan. Edibles take an hour to start working through the digestive system and last six to eight hours.

"The golden rule is to start low, go slow," Robison says. "Everyone has a different tolerance."

Some studies suggest that CBD may ease anxiety and inflammation, whereas THC is a muscle relaxer and the active ingredient that elevates your mood. Robison's patients find a one-to-one ratio of THC and CBD helps them the most, especially if they're just starting out.

"Everyone's tolerance is different," says Robison, who stresses that doses should be individualized. For example, sleep problems can be related to pain and anxiety. Solving those two can help you sleep.

Recreational adult use

If you select from the full spectrum of products offered at adult-use dispensaries, you'll have to determine the doses and balances yourself. It can be daunting at first. The pot used by boomers in the '60s was much less potent than what's commonly called weed. And since our metabolisms slow as we age, we need even less. "It's easier to over-consume, with products that taste good," geriatric nurse practitioner Eloise Theisen writes in the National Survey of Drug Use and Health.

Even their names are appetizing: Pillow Talk, Island Times, Pomegranate Blueberry Acai, Watermelon Lemonade Gummies, Chocolate Peanut Butter Cups. It takes time and information to be a wise shopper.

During my dispensary trip, it seemed that everyone in line was buying "wedding cake." No one likes cake more than I do, but I quickly learned this referred to a 1-gram pre-rolled joint with high THC guaranteed to get you high, when I wanted to go low.

Beware the risks of mixing cannabis with alcohol and prescribed drugs, especially anti-seizure medications and blood thinners. Keep track of any side effects. Ask your doctor if THC would interfere with your medications. In addition, new research led by Stanford Medicine scientists found smoking pot more than once a month can increase the risk of cardiovascular disease and heart attack in middle age.

(To find out even more, go here.)

The menu

At legal recreational dispensaries, bring a current driver's license, state ID or passport. Search the app Weedmaps to find dispensaries; avoid gray-market retailers. Be prepared to come with a specific reason why you are there. To combat depression? To sleep better? Gain symptom relief?

Menus offer pre-rolls to smoke, THC and CBD cannabis concentrates, tinctures and CBD creams. Micro doses (2.5 to 5 mg of THC mixed with CBD) deliver a calming feeling rather than a "high." Salespeople, known as budtenders, are well-versed and have probably tried all products. Ask about dosages and the strength of each strain.

Once back home, store edibles in the refrigerator. When grandchildren visit, remember that child-resistant packaging is tested only for children under 4 and for consumers 60-plus to make sure they can open jars. "Once a child is able to read, buy a locked box to store products," says Warner, CEO of AssurPack.

The number of incidents in which children younger than 6 accidentally ate edible cannabis products, which look like candy, rose to 3,054 in 2021, according to a Jan. 3, 2023 article in The Washington Post. There are reports of dogs getting cannabis poisoning, so watch what your puppy munches on as well.

Some dispensaries offer discounts as high as 20 percent on Silver Sundays or Senior Appreciation Days, sometimes with free delivery.

I start off chewing a sleep gummy every night, cutting it in half as 10 grams of THC is quite strong. I'm amazed how much better I feel and function after a decent night's sleep. After a few weeks, I can sometimes fall asleep on my own, except when I feel especially keyed up or unable to unwind. Again, obviously, always check with your health care provider with questions about medicinal marijuana.

Have you tried medicinal marijuana? Let us know in the comments below.