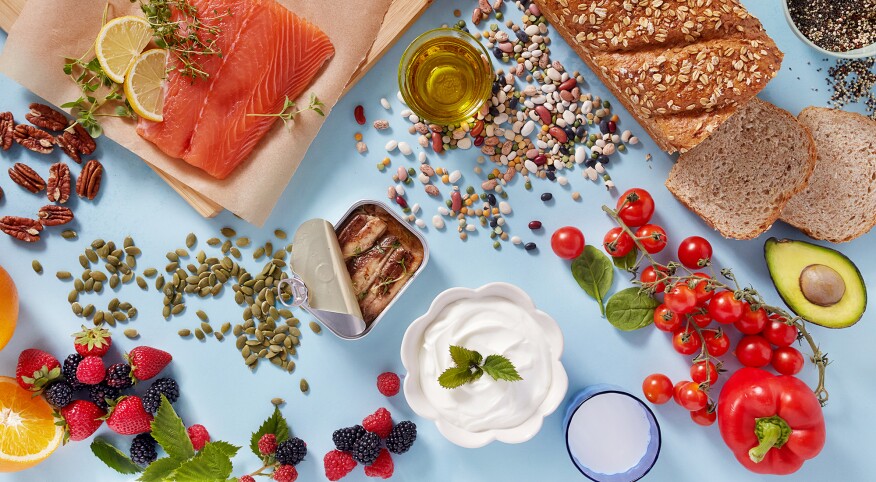 Like many women, my interest piques when I hear about the latest research on longevity. Decades of studies point to multiple factors that contribute to healthy aging, from genetics and exercise to lowering stress levels and a balanced diet.

Experts in food health, including those at the U.S. Food and Drug Administration, advise that we need a daily mix of fruits, vegetables, whole grains, lower-fat dairy, protein and healthier oils like canola and olive. To be avoided are foods high in salt, saturated fat and sugar. Maintaining a balanced diet can help ward off strokes, obesity, diabetes, heart disease and support a strong immune system. So, you really are what you eat.

Here are the top foods to incorporate into your daily meal plans:

Fruits

Nutrients: Vitamins B, C, E and K, thiamine, potassium, riboflavin and copper

Benefits: Antioxidants to fight diseases, inflammation and the risk of dementia. Boost energy, provide enough fiber to keep you regular and maintain healthy cholesterol levels

Best picks:

Berries (especially blueberries)

Oranges

Apples

Avocado

Low-fat dairy

Nutrients: Calcium, protein, B vitamins, vitamin D

Benefits: A good source of protein for bone, dental and muscle health. Yogurt, especially, may help digestion, weight management and overall gut health.

Best picks:

Plain Greek yogurt

Low-fat milk

Soy or almond milk with added calcium

Vegetables

Nutrients: Vitamins A, B, C, K, calcium, magnesium, dietary fiber, niacin, folate, riboflavin, thiamine, copper, potassium, manganese

Benefits: Nutrient-dense vegetables have antioxidants that may help fight cancer, reduce tumor growth, lower the risk of diabetes, prevent blood sugar spikes and reduce the risk of Alzheimer's

Best picks:

Spinach or kale (and anything dark green)

Red peppers

Beets

Healthy proteins

Nutrients: Fiber, folate, potassium, iron, magnesium, B-12, vitamin E, iodine, omega-3, 6 and 9 fatty acids.

Benefits: Help to reduce the risk of heart disease, high cholesterol, high blood pressure, dementia and digestive illness. Also help to restore muscle mass, protect bone health, manage weight and promote better sleep

Best picks:

Canned fish such as sardines and mackerel

Salmon

Lentils and beans

Nuts and seeds

Whole grains

Nutrients: Vitamin A, E, thiamin, riboflavin, niacin, pyridoxine, folate, iron, magnesium, phosphorus, selenium

Benefits: Help to reduce risk of bad cholesterol levels, heart and blood disease, stroke, type 2 diabetes and colorectal cancer. Also help to lower insulin levels and blood pressure and create the feeling of fullness for weight control

Best whole grains:

Brown rice

Quinoa

Whole-grain bread

Plant oils

Nutrients: Vitamin E and K, unsaturated fatty acids and antioxidants.

Benefits: Help to lower LDL cholesterol, kill harmful bacteria, boost metabolism, increase energy and reduce inflammation

Best plant oils:

Extra-virgin olive oil

Avocado oil

Sesame oil

Recipes for your health!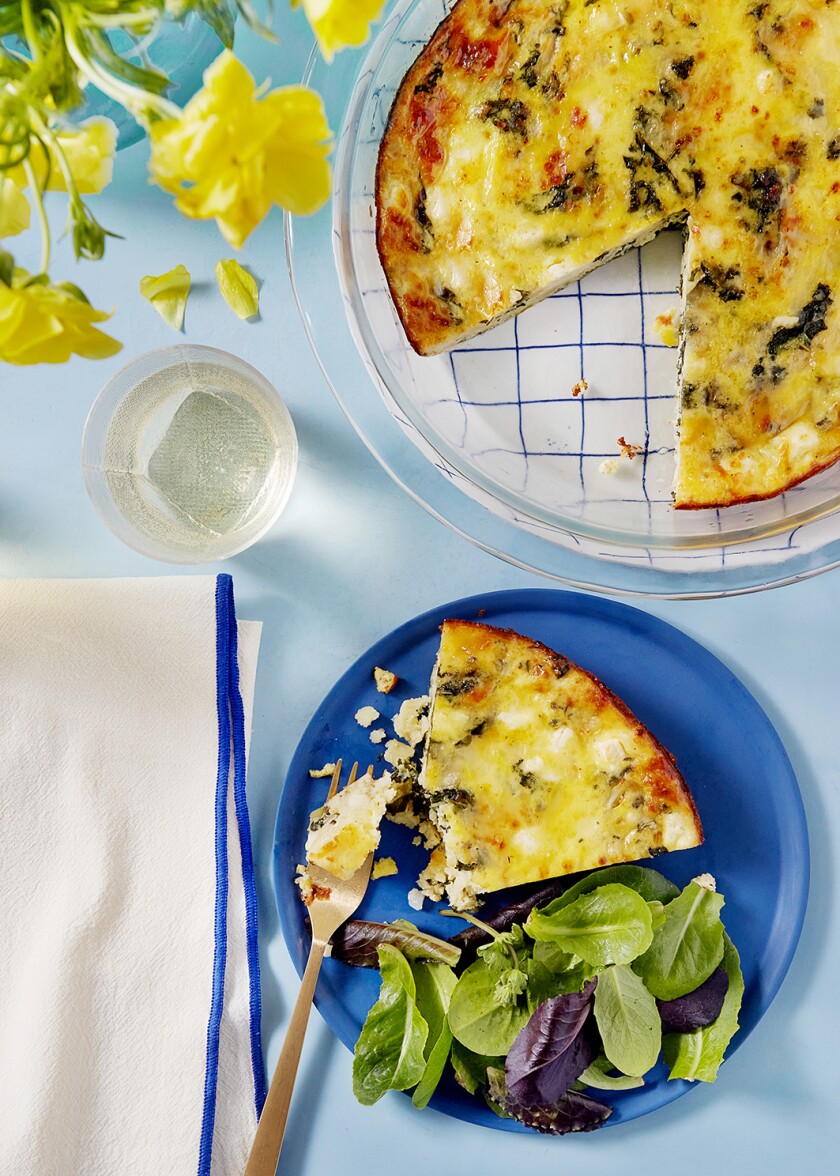 Kale and Feta Crustless Quiche

This healthy, low-carb recipe, adapted from Eating Bird Food is packed with nutrients. I tweaked some of the ingredients for my family's preferences.

Serves 4

1-2 tablespoons extra-virgin olive oil

2 cloves garlic, minced

1 onion, diced

3-4 cups kale

1/2 teaspoon dried Italian seasoning

Salt and pepper to taste

4 eggs

2/3 cup unsweetened almond milk

Pinch of nutmeg

1/3 cup feta cheese

1/4 cup parmesan cheese

1/2 cup mozzarella cheese, shredded

Preheat oven to 400, then add oil to a skillet over medium-high heat. Sauté garlic, then add vegetables and seasonings. Cook until vegetables are tender, adding a little water to the pan. Whisk together eggs, almond milk and nutmeg in a small bowl. Spread out the mixture in a greased 9-inch pie pan, then sprinkle all three cheeses over the top. Pour egg mixture over cheese and veggies, making sure everything is covered. Bake until edges are set, about 25 minutes. Let quiche rest 10 more minutes until set. Cut into 4 slices and serve.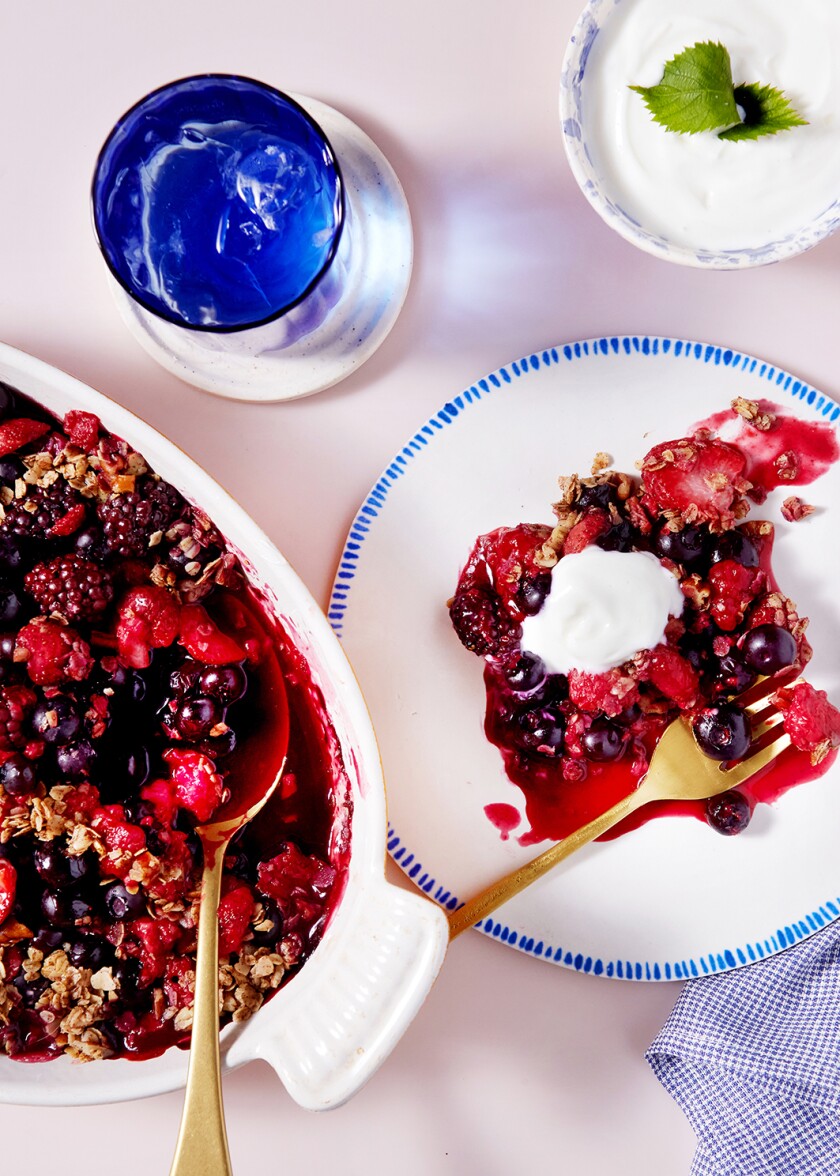 Berry Crisp

Delicious for dessert or breakfast, treat yourself to this yummy, healthier version of berry cobbler.

Serves 4

4 cups fresh or frozen berries

2 tablespoons maple syrup

1 teaspoon vanilla extract

1/4 teaspoon lemon juice

1 tablespoon cornstarch

1 cup oats

1/2 cup chopped pecans

1 teaspoon cinnamon

1/2 teaspoon ginger

1/4 teaspoon nutmeg

2 tablespoons coconut oil

Pinch of salt

Optional topping: vanilla Greek yogurt

In a bowl, mix berries with 1 tablespoon of the maple syrup, then add vanilla, lemon and cornstarch. Pour into a greased 8-by-8-inch pan. In bowl, mix oats with the remaining tablespoon of syrup, then add all other ingredients until blended. Sprinkle over berries and bake at 350 for 30 minutes until golden brown on top. Let stand 15 minutes, then serve with a dollop of vanilla Greek yogurt on top.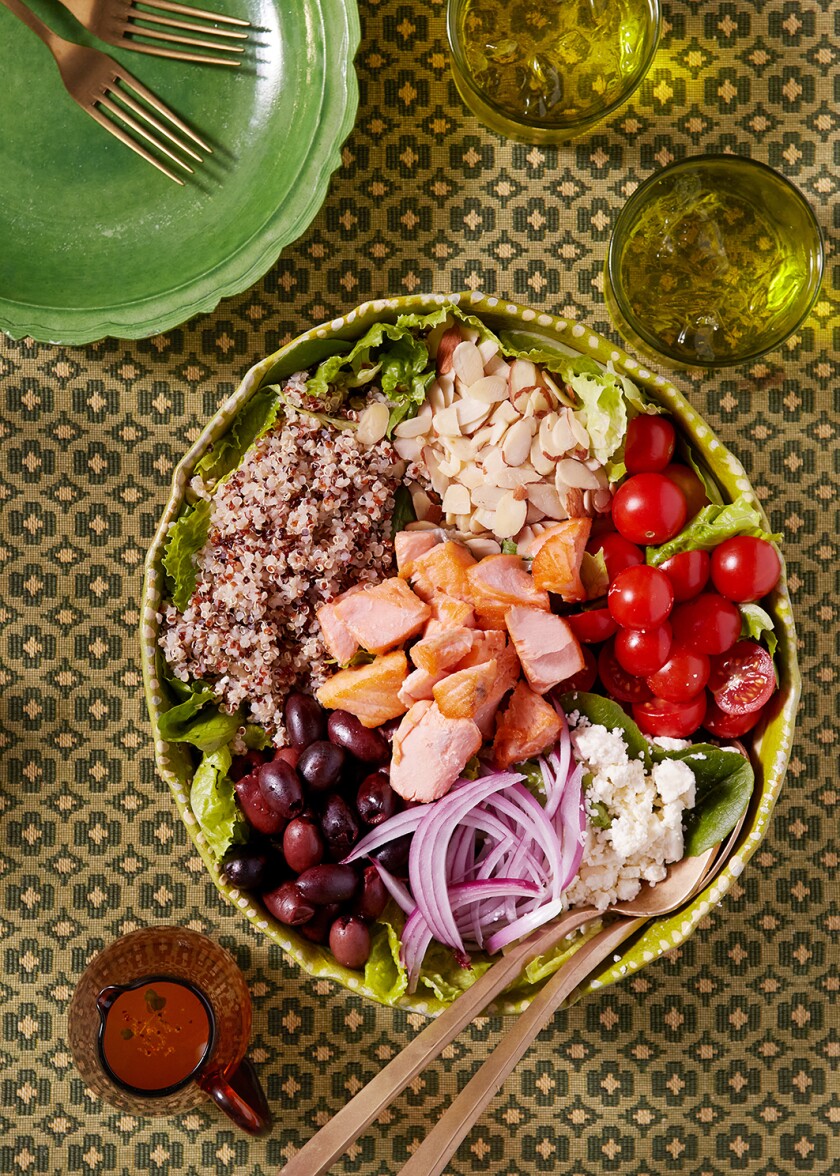 Quick Mediterranean Salad

There are no specific measurements for this recipe — mix and match to your taste!

Grilled salmon cut into chunks

Romaine lettuce and fresh spinach leaves

Red onion, thinly sliced

Cherry tomatoes

Feta cheese

Sliced almonds

Cooked quinoa

Kalamata olives

Salt and pepper

Olive oil and lemon dressing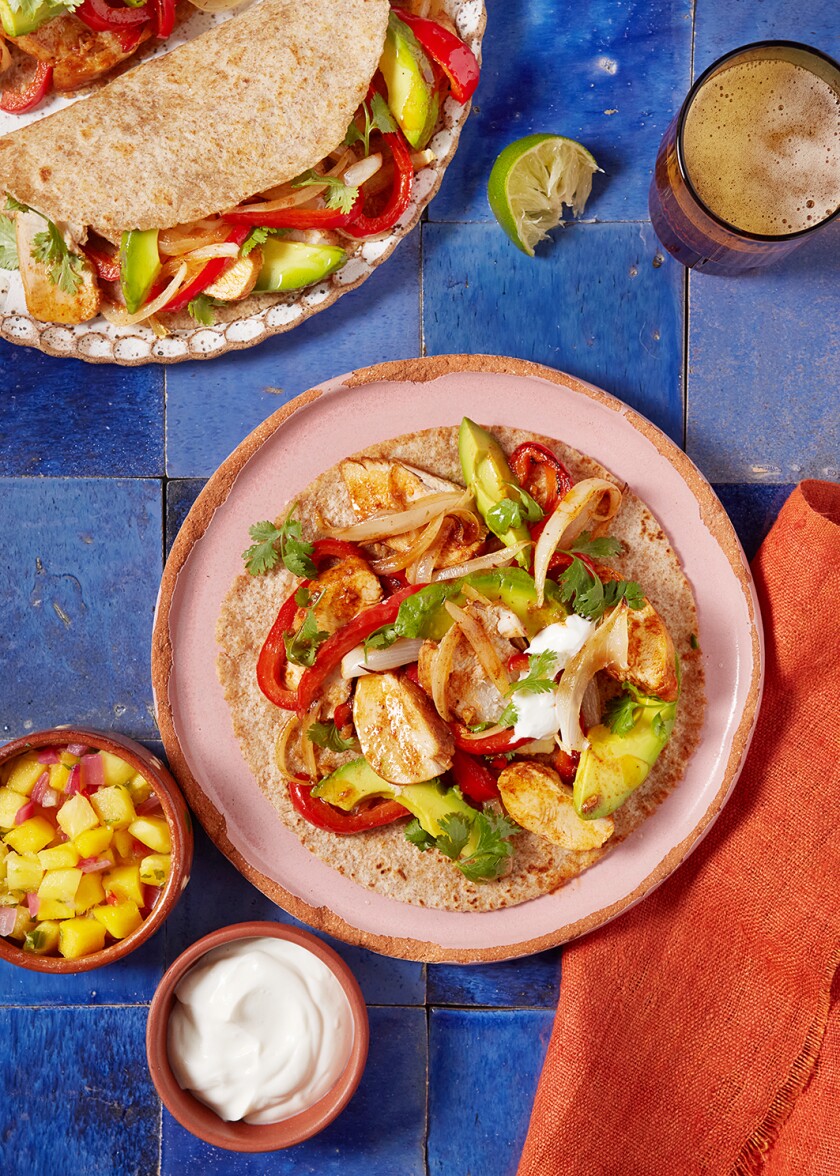 Chicken and Veggie Fajitas

This dish is great with chicken or tofu since the seasonings are what give it a flavor boost.

Serves 4

2-3 tablespoons avocado oil

2 pounds boneless chicken breasts, cut into strips

2 tablespoons lime juice

1 teaspoon chili powder

1 teaspoon paprika

1 large clove garlic, minced

1 teaspoon cumin

Salt and pepper to taste

3 red bell peppers, thinly sliced

1 medium onion, thinly sliced

Whole wheat tortillas

Optional toppings: avocado slices, chopped cilantro, sour cream, salsa, shredded cheddar

Mix lime juice, garlic and all seasonings in a bowl. Add chicken, mix well and let marinate 1 hour. In a large skillet, heat 2 tablespoons oil and cook the chicken 5-7 minutes per side. Add a little water to the pan if necessary to prevent sticking. Remove chicken and set aside. Add remaining oil to the skillet and sauté pepper and onions until tender (add more water if needed). Stir chicken back into the pan until everything is warm. Serve in warmed tortillas with preferred toppings.

On days you are too busy to cook, grab a fast, nutritional boost by eating dense protein such as peanut butter, hard-boiled egg or canned fish on whole grain bread. Another quick meal is a simple smoothie with Greek yogurt, almond butter, fruit, spinach and chia seeds.

Once you start eating healthier, you'll notice an improvement in energy levels and digestion. Best of all, you might be adding years to your life.

What healthy food do you try to regularly eat? Let us know in the comments below.