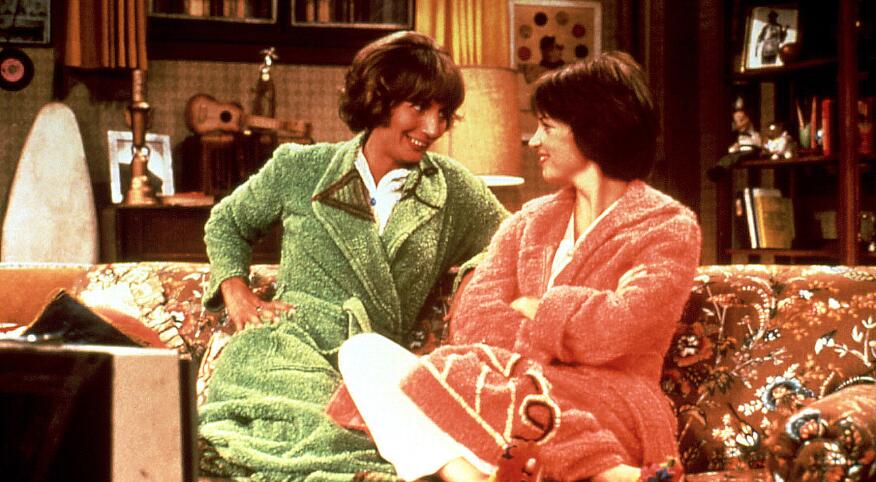 Director Penny Marshall's 30-year-old female baseball movie A League of Their Own is finding a new fan base in its latest incarnation on Amazon Prime as a video series, shining a light on multiple story lines the movie left out. With that hit film coupled with Big, Marshall was the first woman in history to break the $100 million mark at the box office.

When Abbi Jacobson, star and series cocreator of Broad City, spoke with Marshall in 2018, the director — who died in December 2018 — supported the then-controversial idea of focusing on the private lives of athletes who were LGBTQ+ and persons of color during World War II.

Given her notorious chutzpah — on- and off-screen — it isn't surprising that Marshall was not afraid to tell someone to take a creative risk. It only makes me value her more.

The television show Happy Days, which ran on Tuesday nights in the '70s, was part of the soundtrack of my life growing up. Since that show mainly focused on the dating life of boys, I was thrilled when the 1976 spinoff Laverne & Shirley aired starring female characters, Penny Marshall as Laverne DeFazio and Cindy Williams as Shirley Feeney.

Their blue-collar lifestyle as friends and roommates working as bottle cappers at Shotz Brewery in the late 1950s in Milwaukee was a far cry from my childhood in Long Island growing up the daughter of a white-collar executive in strip-mall suburbia. But the character of Laverne captivated me.

I, too, had an over-protective papa who ruled the house, a man I tried hard to please. If we wanted to go out for Mexican food and he wanted Chinese, I knew the tacos would have to wait until I was alone with my sister and mom. I rarely voiced my opinion, because I didn't think anybody wanted to hear it.

I admired worldly Laverne because, unlike me and innocent, meek Shirley Feeney, she had a big mouth and quippy retorts, and she didn't mind standing out. My liability was her badge of honor. She was a wisecracking, tough-talking, strong woman with the ability to finesse any situation — the bravado I lacked. Though we did share this quality: She was busty, and all those L letters monogrammed on her shirts and sweaters accentuated that fact.

In a nod to Laverne, for my senior year home economics project I sewed an attention-getting polyester pink pantsuit that called attention to my curves. I felt like the odd one out in my school, because I loved nerdy pursuits like reading, singing and acting, this in a sea of jocks. The big excitement was going to the outlets or taking the train into New York City a few times a year to see a Broadway show.

I wanted to escape my environment and had unrealized big ambitions and, yes, dreams of fame like Laverne and Shirley — so the lyrics in their show's theme song, "Making Our Dreams Come True," resonated with me.

Parallel to Laverne and Shirley's journeys from bottle cappers in Milwaukee to stardom seekers in Burbank, California, once I left for Boston and then New York City, I never looked back. Instead, I toiled in 15 low-level jobs until I found my calling as a magazine editor and journalist.

My father was not happy I wasted (as he put it) my four-year college degree working as a highly paid executive secretary, but at least I didn't mortify him with a stint as a Playboy Bunny, like Laverne did in the show.

As I built my career, I focused on accruing experiences way beyond my Long Island upbringing. I smoked flavored tobacco in a hookah bar in Amsterdam, was hoisted up on a float and threw beads to the crowds during Mardi Gras in New Orleans, and learned how to administer healing energy from a Tibetan monk on a press tour for his new book. Despite these heady experiences, I never got to fly a plane my first time flying, like Laverne did in one episode when the pilot passed out.

Long before the #MeToo movement, when a male boss tried to kiss and fondle me, I replied with a Laverne-worthy eye roll and retort: "Down boy." It wasn't quite the same as Laverne's comment to a pool hall competitor who threatens her — "Touch my L, sweetie, and your teeth go to Peoria!" But it made an impact.

Although Laverne's marital future was unclear, I got married in midlife, despite reading the now-debunked study that a woman over 40 had as much chance of getting killed by a terrorist as of getting married. "I define my own reality and nobody else," I asserted in true Laverne-like fashion when, after infertility treatment, I gave birth to my now-teenage daughter in my 40s, defying conventional wisdom.

I don't wear an L on my chest, but Marshall's portrayal of Laverne left an imprint on my life, and to me, it will never be forgotten. Now, thanks to the TV series taking her movie forward, neither will her inspiration on this generation of women.

Who else loved "Laverne & Shirley"? Let us know in the comments below.