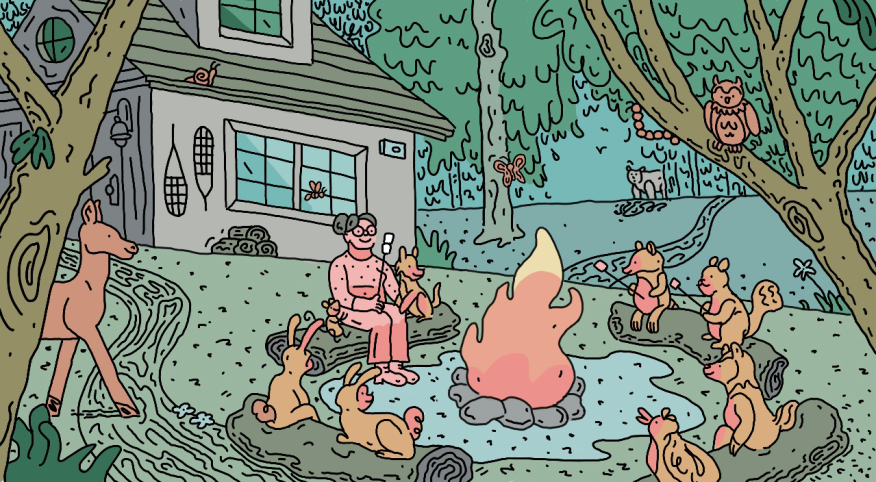 Moving from city to country meant getting to know all the local wildlife — big and small, pleasant and pesty. Critters are a year-round thing hereabouts in rural upstate New York.

My husband, Marv, and I loved sitting on the back porch, watching the deer, learning to recognize the occasional woodpecker or hawk. When it came to the less pleasant critters, our routine consisted of me screaming and running for cover and my husband setting the mouse or ant traps. Now, as a recent widow, I am on my own in the wilderness. As far as critters are concerned, this year turned out to be the wildest of my life.

It began one morning last November, when three peacocks landed on my front porch rail and stayed all morning. They were our first peacocks, and it was a thrill. I took some pictures of these dazzling creatures with incandescent feathers and wished my husband were next to me.

Then there were the birds that built two nests under the eaves of the back porch. Every time they flew over to add a twig or two, my dog, Pete, went nuts, barking and trying to jump up and catch them. The birds fluttered back at him in defiance. So between the barking and the showdown, it was impossible to sit on the porch, and while I was outside, a neighbor offered to knock down the nests. I thought of my husband and me, building this "nest" of a country house, and I said no.

Giant moths showed up in my bedroom one night, and while I chased them, Pete chased me. As I got up on the bed and stood teetering and swatting, trying to reach the ceiling, I could imagine my husband saying, "You're gonna kill yourself. For God's sake, be careful."

I also had an invasion of something called cluster flies, which, according to the owner of the hardware store where I went for insecticide, are slow-moving houseflies that all hatch at once. These tiny, annoying critters appeared on a Sunday evening, inside the house, all over my living room window.

It was like something out of a Hitchcock film. There I was, screaming and spraying and cursing, thinking, Where are you when I need you? I realized how much I had always counted on having Marv at my side, calming my fears. And I wondered anew how I was going to do this without him.

Then, on an unseasonably warm autumn day, I was sitting in the front yard, reading. Pete was on a leash by my side. The next moment, I was standing at the edge of the woods, and our 20- pound shih tzu was between the paws of a huge black bear. The bear's mouth was on him, and our dog was struggling to break free. The open garage door was feet away. The bear, with Pete in his teeth and claws, was feet away.

If I ran into the garage, I would be safe, but Pete would be maimed or killed. If I charged the bear and tried to free Pete, I would be maimed or killed.

I heard someone screaming "no, no" and "Pete, Pete" and realized it was me, but I couldn't stop. I couldn't accept that it was happening, and I couldn't think of anything else to do. I have seen and heard people collapse, screaming "no, no," as they stand in from of a loved one's coffin being lowered into the ground.

I must have felt that same desperate grief, because I was sure Pete was already a dead dog.

But I wanted so badly to save him, so I kept screaming "come, come" to Pete, who never obeys my commands, hoping this time he would listen. And he did. He got free of the bear and came to me, and I pulled him inside the garage and quickly closed the door.

Pete was bloody all over his back, and there were tears in his eyes. I wrapped him in a towel and took him to the emergency clinic. The rest of the day, hours at the clinic, reporting the attack to the local wildlife authorities, went by in a blur.

But within that blur, something in me changed. Acceptance comes as unexpectedly as bouts of loneliness. You never know when one or the other is going to hit you. That day when I saved my dog's life, I knew that I had done it alone, and it was a truth that could make me grieve or celebrate.

When my husband and I bought this house and moved here from the city, it was our adventure and our sanctuary. I see now that I have to live it for both of us. I don't know if I will ever get used to saying, "Come see the wild turkeys on the front lawn," to an empty chair next to me. But I do know that I have to try, and that I am up to the job.

What do you do when you're feeling lonely? Let us know in the comments below.