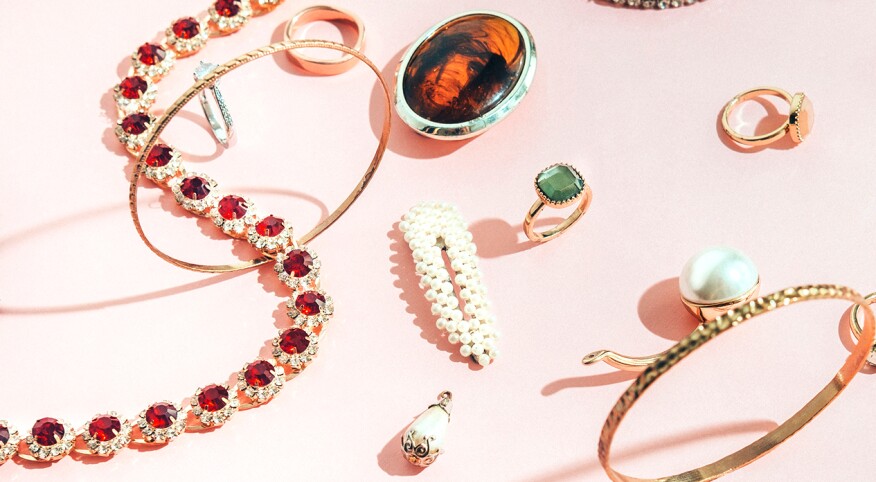 "Whenever I'm feeling a bit flat, a sequin will do it for me. Sequins give me a certain life when I may not have that life in me." — Trinny Woodall, 58, creator of the Trinny London beauty empire, style expert and sequin fan

I just bought a quilted gold coat so shiny it makes me look like a Mylar balloon. Perhaps I'll wear it over the ivory sequined blazer I got to pair with my wide-leg jeans and white platform sneakers. Or maybe I'll just dance around the house in it and reflect light.

There are three little words I thought I'd never say, but here I am, 66 and sparkly, and here we go: "I wear flair."

I scour eBay for sequins on sale and stalk designer discounts at resale shops. How else to get an exquisitely embroidered Chloé jacket (retail price $2,000) for $100? Or a paillette-encrusted bolero for $40?

You remember "pieces of flair" — the glittery buttons and doodads Jennifer Aniston's character in the movie Office Space was forced to stick on her waitress uniform. Pieces of flair show personality, her boss tells her. She eventually tells him to stick his flair where the sequins don't shine.

I ridiculed flair in 1999, when that movie came out. I'd sneer at 60-something women wearing festive, dangling earrings and bracelets engraved with affirmations like "You Are Stronger Than You Think."

Oh, they're trying too hard, my smug 43-year-old self thought.

I was a busy career gal rocking serious career-gal separates from Banana Republic. I dismissed "pieces of flair" as lame attention grabbers for women who were too old or too dumpy to power pinstripes.

But life has a way of turning an earnest executive back into a princess.

The matte-finish minimalism I once touted has faded not to black but to metallics. And I find myself cherishing pretty little things, store-bought sparkle, luminous baubles and whimsical mugs and vases I don't need … and yet I do.

I crave pretty little things. They make me feel lighter, like a brisk walk in winter.

I know what's going on. In the musical Pippin, the answer is in a song: And time weaves ribbons of memory to sweeten life when youth is through ...

Ribbons tie our hearts together when they've been broken. We don't think about this too much when we're young and ricocheting from corporate crisis to crisis in our careers while we try to balance work, children and spouses.

By 60, we've had some time to assess the damage: Pain is a product of living.

Our hearts are destined to crack — a million hairline fractures and a few big crevasses. It's impossible to avoid and delusional to deny it.

Japanese artists mend broken pottery with lacquer mixed with gold dust, an art form known as kintsugi. This way, the cracks become a beautiful part of the object. The repair becomes part of the flair. That's why I gave in to festive earrings, bright pink lip gloss and sequined jackets.

I've outlived the tyranny of my own condescension. My boyfriend has his own version of flair. He keeps dozens of notes and photos under a clear vinyl mat on his desk. There are pictures of his late wife, pictures of me, pictures of his children, phone numbers scribbled on napkins, a playing card – the queen of hearts – with his high school girlfriend's name written on it: "Betty." He has kept that playing card for 60 years.

Wherever he moves, he takes his desktop scrapbook. He adds things, buries things, shifts the position of things. "How do you decide what to keep?" I asked him.

"Nothing here causes pain," he said. That's another way of saying: "These tiny scraps of memory remind me to be happy."

We need reminders. We need tiny splurges. Pretty things pick us up.

There's a phenomenon known as the "lipstick index": Lipstick sales often go up when women are depressed — like during a recession or a global pandemic. Maybe most women won't spend $400 on a shiny gold coat — but $15 on a shiny lipstick? Yes!

Sure enough, lipstick sales grew 37 percent through the third quarter of 2022 versus the year before, according to beauty analysts in the NPD Group.

One beauty maven who saw a boom in lip gloss sales is Trinny Woodall, CEO of Trinny London, a $217 million beauty brand. Woodall was already well-known in Britain for her What Not to Wear TV show and YouTube fashion tutorials when she started Trinny London in 2017. Her online "Trinny Tribe" — hundreds of thousands of women who prefer bright over blah — follow her "Trinny TV" closet confessionals, where she shows how to dress for edge and presence. Dare to be noticed! Banish the boring! Are you brave enough to bling up the basic black pantsuit?

Woodall wears sequins 24/7 — mixing sequined blazers with T-shirts and "trainers," aka sneakers. "Sequins … my favorite subject, the most joyful thing I could be talking about," Woodall says in one video. "I love them."

So do I. My closet is starting to look like I work as a circus performer. I could not be happier.

Susan Gordon knows about shiny things. Eighty-five years ago, her grandfather, Alfred Lieberman, started Algy Trimming Co., an embroidery and sequins firm, in New York. Her father, Herbert, invented the acetate sequins we know today.

"My father was even in a Jeopardy! question, in the 'sparkly things' category," Gordon says from her home near Miami. The question: "By making them durable, Herbert Lieberman was the Henry Ford of these shiny discs."

The Liebermans were pioneers of flair.

"During World War II, when everything was so hard to come by, women would put little sequin pins on their sweaters," Gordon said. "My father made sequin motifs for Woolworth."

Gordon worked for Algy for 42 years, creating bling for dance kids, drum majors and drag queens. She just retired, and she still can't resist a T-shirt with sequins.

"We made costumes for dance teams, color guards and majorettes," she said. "If you want to talk about happiness, nothing is as thrilling as getting a new uniform. They want to sparkle forever!" They know a secret: There's no such thing as trying too hard when you're letting your light shine.

What do you think about clothing with sequins and glitter? Let us know in the comments below.