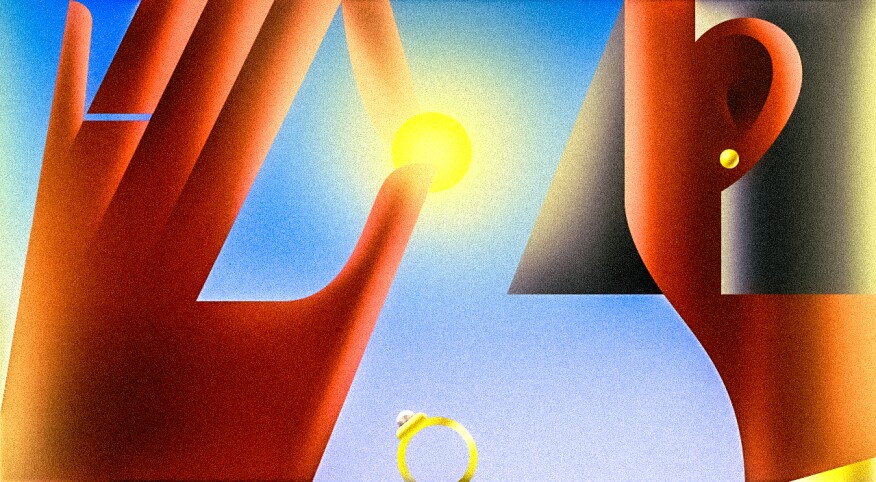 Sixteen years ago, I was the poster girl for the panic-stricken 50-year-old control freak who had lost control.

My husband of 17 years had just left me and our family. He exited in a blaze of blame — screaming his list of grievances for an hour after I collapsed to the tile floor of the kitchen.

That was my hard stop: the cold, white tile floor. My salvation: the soothing words of poet and spiritual teacher Mark Nepo, author of The Book of Awakening, a volume of daily meditations that became my map to self-awareness and my guide to my own slow, painful and complicated awakening.

"Pain is often a sign that something needs to change," Nepo writes. "We may need to withstand great pain, great heartache, great disappointment and loss in order to unfold into the rest of our lives."

The more tightly wound you are, the more this unfolding process hurts.

I couldn't eat, and I couldn't sleep, and I got scary skinny. I lost 20 pounds in a month, and that was just the wreckage people could see. Inside, I was the embodiment of one of Nepo's truths: "What is not ex-pressed is de-pressed."

I had worked so hard trying to "fix" things I could not control — a pattern developed after my father died of a heart attack when I was 9 — I had de-pressed my own emotional needs. I pushed them down so far, most people didn't notice. My best friends understood: My husband might have swung the hammer, but I built that glass tower of illusion all by myself.

Author Nepo gets it, too. He's a self-described people pleaser who survived a critical and dominating mother, the breakup of his first marriage and then excruciating physical pain while recovering from a rare lymphoma. His body literally could not tolerate all the pain it was holding, and in the act of feeling and healing, he wrote:

"Misery is a moment of suffering allowed to become everything. So, when feeling miserable, we must look wider than what hurts. When feeling a splinter, we must, while trying to remove it, remember there is a body that is not splinter, and a spirit that is not splinter, and a world that is not splinter."

Similar to the format of author Melody Beattie's daybook, The Language of Letting Go, Nepo wrote 365 essays, lessons to awaken us to "having the life you want by being present to the life you have."

Beattie's work also is a lifesaver for boundary-challenged codependents like me and Mark Nepo. I got my first copy of The Language of Letting Go from my college roommate Jo Beth, who had just gone through a divorce herself. I flipped it open and saw a line I would repeat to myself: "This moment, we are right where we need to be, right where we are meant to be." And then another passage I needed: "We need only allow ourselves to feel vulnerable enough to feel hurt, when that's appropriate, and take responsibility for our feelings, behaviors and what we need to do to take care of ourselves. We don't have to analyze or justify our feelings. We need to feel them and try not to let them control our behavior."

My big lesson: It's OK to feel and not fix. It's OK to stop tap dancing.

I bought several copies of both books and left them all over my house. When I'd feel the panic rising up, I'd tell myself: "Look wider than what hurts … you are right where you need to be…"

First published in 2000, The Book of Awakening became a No. 1 New York Times bestseller, with more than a million copies sold. One fan: Actress Jamie Lee Curtis, who wrote the forward to the 20th anniversary volume of the book. Curtis sometimes shares passages from the book on Instagram, like an essay about forgiveness that starts this way: "The pain was necessary to know the truth, but we don't have to keep the pain alive to keep the truth alive."

As I let go of my pain, I hung on to every one of Nepo's words. Because each of his daily essays is short, I could digest them — even when all I could stomach was milk and mashed potatoes.

Even today, each page holds a comfort for me. I learned to calm myself with deep breaths and diversions that snap me out of my anxiety.

When I feel myself getting nervous, for example, I stop and simply open my hands and hold them out, palms up. The physical act of opening my fingers helps me open my heart and mind. It is an act of ex-pression, of literally opening myself.

I forgave my ex-husband. Turns out, our divorce was my great emancipation. But it took Nepo's words and Beattie's wisdom and years of therapy until I understood that one chapter of my life had closed, and I had to write the next one a different way.

I had to start at the beginning: just get myself up off the kitchen floor … and pick up a life-changing book.

What book completely changed your life? Let us know in the comments below.