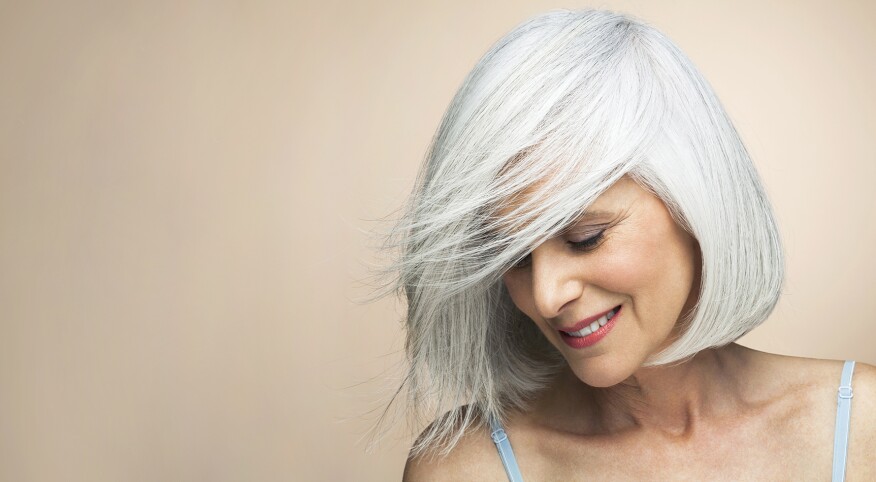 I am technically old enough to have teenage grandchildren who could be going off to college but I don't, and am not into the traditional grandma look.

After nine months in isolation, the first six due to an accident and then mandatory stay-at-home orders, I became very well acquainted with my true hair color. I discovered I had a fabulous silver streak going back from the center of my forehead. My hair had grown well below my shoulders in the 10 months since my last salon visit. The bottom half was brown with bold gold highlights. The top, my natural umber, had enough gray strands to read dark but dingy. A friend I hadn't seen in months said, "I love your multicolored hair. It's so cool." I wondered if this could be a thing. However, I missed the look that had identified me in better times, pre-accident, pre-pandemic.

Salons just opened and I made an appointment to visit one in the small town near where I was spending the quarantine. I told the proprietor that I wanted to keep the silver streak. She said that in her country they called the white in front the money piece. Sounded excellent. I was proud to have one. I emerged looking like the old me with blond instead of gray threads in my dark hair plus the streak.

However, I, and the world, have changed in the last year, hopefully growing wiser and appreciating what we have. I realized, after altering it, I liked my hair of many colors. It was a thing I could embrace. When the gray strands grow out again I will add fewer blond ones, while waiting to become salt and pepper. I hadn't been ready in the frenzy of getting back to normal to realize we are creating a new normal.

Hair is your tell. An indicator of hipness, sometimes age. A big factor is how your gray grows in. Is it thickly silver at the roots all over your head? Do you fight it by dying it a solid color? There's nothing hip about a brown scalp from years of coloring. Take the leap, let it grow out and see your natural patterns of light and darker. Every woman I know who gave up the old dyed scalp looks much better, more interesting, and not older. If you have naturally light hair, the gray will give you a cool multicolored look, which is much more lively than a one-color job.

However, the keys to looking gray and hip are attitude and the cut. Get a good stylist. Gray has many shades that add movement and texture to hair. As an obsessive observer of people, seasoned by decades of riding the subway, my favorites are close-cropped for women with kinky, super curly or wiry hair to pixie cut with a few longer strands framing your face. There's courage in those looks. Short, buzzed on the nape of the neck, fading into longer on top either falling to a side, slicked back or standing straight up is stunning. Play around with earring options, the more the better. Long silver locks are cool with enough product on them to minimize frizz. The versatility of length lends itself to a ponytail, high single braid or just up with a few locks trailing down. Pull it back into in a slick sophisticated bun balanced by wearing something black or very colorful that accentuates your body's assets and with earrings you love.

For the bold, join my friends who add a dark stripe or two to the gray. Another pal parts her hair on the side, keeping half of it gray and dyes the other half the color she's been known for most of her adult life.

White is the new platinum. Flaunt it, play with it, let it grow. Have it cut in a dramatic style that is perfect for your face. It's your crowning glory and canvas to accentuate your eyes, with cool frames for glasses and some makeup. Maybe play with adding one streak of pink, red, blue, green or purple. A friend had white hair by the time she was in her 30s. You could always spot her in a crowd, as well as the woman walking across the beach with a short cap of white hair contrasting with her tanned skin. The gray-to-white spectrum is so much hipper than a flat color that has nothing to do with your face or all the things you've experienced and become.


The Ethel is a great resource for older women. Consider supporting us by joining AARP or renewing your membership.