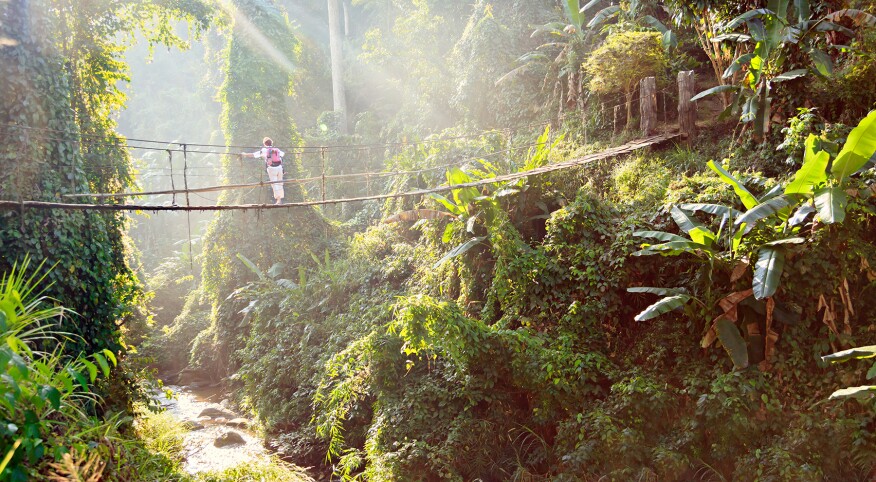 The last time we were in Phuket (Thailand), about a decade ago, my husband and I discussed buying a home there for retirement. We had been living in Thailand for two years and had fallen in love with the country. We weren't only hooked by the endlessly warm weather, delectable food and fascinating culture. Those were all huge factors, but the real selling point for us was first-class health care available at bargain-basement prices.

Thailand was the fifth country my husband and I lived in together, having met in South Africa in 1996 when we were both young expatriates in search of adventure. From South Africa we moved to his native Holland and then back to South Africa. After our daughter was born in 2000, we decided to try living in my home country and relocated to Connecticut, but after 9/11 we were desperate to move overseas again.

It took four years, but when my husband was offered a position at an international bank in Singapore, we jumped. Two years later we were transferred to Bangkok. With our daughter and son (born in 2003) in tow, our tidy family of four had become intrepid travelers and cultural explorers. Having learned firsthand that many countries offer luxurious lifestyles at a fraction of the cost of living in the U.S., retiring abroad seemed like a no-brainer.

Ten years later, the dream endures. Unfortunately, the marriage doesn't. In 2012 my husband left me for another woman. By that time we had been back in the U.S. for a year, living in my small New England hometown. My now-single status hasn't dimmed my enthusiasm for retiring abroad, however. In fact, my divorce — and accompanying socioeconomic slide — have only strengthened my desire to move overseas. My ex-husband and I wanted to live abroad so we could have a luxurious lifestyle; post-divorce I'm looking for a way to afford both health care and food in old age.

When I first thought of retiring abroad it was a relatively radical idea; now it's mainstream, according to Jennifer Stevens, executive director of International Living, a website and publication that advises people on living, working and retiring overseas. The government currently sends more than 693,000 Social Security payments overseas — a 40 percent increase over the past 10 years — but Stevens says the majority of retirees continue to bank in the U.S., so the number of retirees abroad is far higher. Then there are the growing number of Americans who retire abroad long before they are eligible to collect Social Security.

Why are the numbers increasing? For the same reasons I want to retire abroad: lower cost of living and good, affordable health care. I have Thailand in mind because it ticks both those boxes and is familiar, not to mention warm. International Living does a yearly ranking of the 25 best places to retire based on considerations such as safety, climate, cost of living, access to health care, entertainment and amenities, visas and ease of fitting in. This year, the top three are Panama, Costa Rica and Mexico (Thailand comes in at number 9). Stevens says the recommendations are the same for singles as for couples, but there may be some nuance when it comes to specific towns or cities.

"If you're considering going overseas alone — and many of our readers do — then you'll find it easiest to get settled and connect with a community if you head to a place where there's already a well-established expat presence, particularly if you don't speak the local language well," Stevens told me in an email, adding that she always recommends learning enough of the language to be polite and make a few local friends.

As an example, she cited San Miguel de Allende, Mexico, a popular destination for single (and coupled) American retirees.

"It's an easy place to drop into because there are plenty of networking opportunities — restaurants where expats gather, organized volunteer activities, a great Spanish-language school, classes for yoga, salsa, art, and more. All that's useful whether you're part of a couple or single. But as a single, it gives you an instant safety net and can make your transition abroad alone less potentially isolating or lonely," Stevens says.

Another popular destination is Ecuador (number 4 on the list). Stevens says a nicely furnished two-bedroom apartment in the historic district of Cuenca rents for less than $500 per month. A meal at a café costs about $6, you'll pay $15-$20 for an entrée at a high-end international restaurant, and a housekeeper will set you back $15 a day.

"The kinds of comforts and luxuries the 1% benefit from at home, the average Joe can access in the best-value spots abroad," Stevens says.

Unfortunately, for some Americans, health care falls into the luxury category, which is why retiring abroad is such an attractive option. During a visit to Thailand in 2016, I had an age spot on my face removed with a laser. My dermatologist in the U.S. quoted about $2,000 for the procedure. I had it done at an upscale hospital in Bangkok for roughly $60 — plus $3 for the nurse. I paid out of pocket, which is what many expats do abroad, according to Stevens.

There are many health care options overseas, from hospital-based subscription insurance plans, to global health insurance (which typically don't cover the U.S.), to enrolling in the local health care program. In Ecuador, it can cost as little as $100 per month per person, and in Mexico under $400 per month, for example.

"This gives you access to state-run hospitals where you'll rarely pay more than a few dollars for care and where expats report the care is good," Stevens says.

It's worth noting that expats can't use Medicare as insurance overseas, but most Medicare Advantage plans include worldwide emergency medical coverage. Stevens advises folks who plan to live part time in the U.S., or who may move back eventually, to continue paying their premiums.

Like many women in my position, I have a compelling financial reason to retire overseas (actually, I plan to continue working), but even if economics weren't a factor, I would do it for the sheer adventure. I moved to South Africa alone when I was 30 and it was one of the best decisions I ever made. Over 20 years later — older but infinitely wiser — I am looking forward to the next great adventure. Who knows? I might even end up on Phuket.

Jaimie Seaton has been a journalist for over 20 years, and is a former Newsweek correspondent in Thailand. Her work has appeared in numerous publications, including the Washington Post, New York magazine and O, The Oprah Magazine.